Halloumi and quinoa keftedes are not your average "meatball". It's my take on a Greek meatball using halloumi and quinoa.
I really struggled with this recipe and post.
The recipe all worked out fine it's just that I wasn't sure what to call this creation.
I thought about using "balls", patties and even meatballs! But meatballs didn't really go as there is no meat in this recipe. Fritters would have been the best option but alas these were baked, not fried.
Finally I decided on "keftedes" the Greek word for meatballs. Ironically, "keftedes" is used a lot in many recipes where there is no meat.
Just recently I posted my tomato fritters- "domatokeftedes" recipe which was completely vegetarian.
Ok. Now that we have the name out of the way, how did my halloumi and quinoa keftedes taste?
Surprisingly these were good.
I mean they have halloumi in them, how can they not taste good!
Shaping them was "interesting". I used wet hands (like I do with regular meatballs) and whilst they were a little fragile they kept their shape.
I've flavoured them with a little red capsicum, parsley, mint, dill and a little cumin.
To give them a little bulk and to keep them together I've used a combination of tapioca flour and a little almond meal.
To accompany them I made a "spur of the moment" dipping sauce made from semi dried tomatoes and walnuts.
Overall, a worthwhile experiment and one recipe I will be attempting again.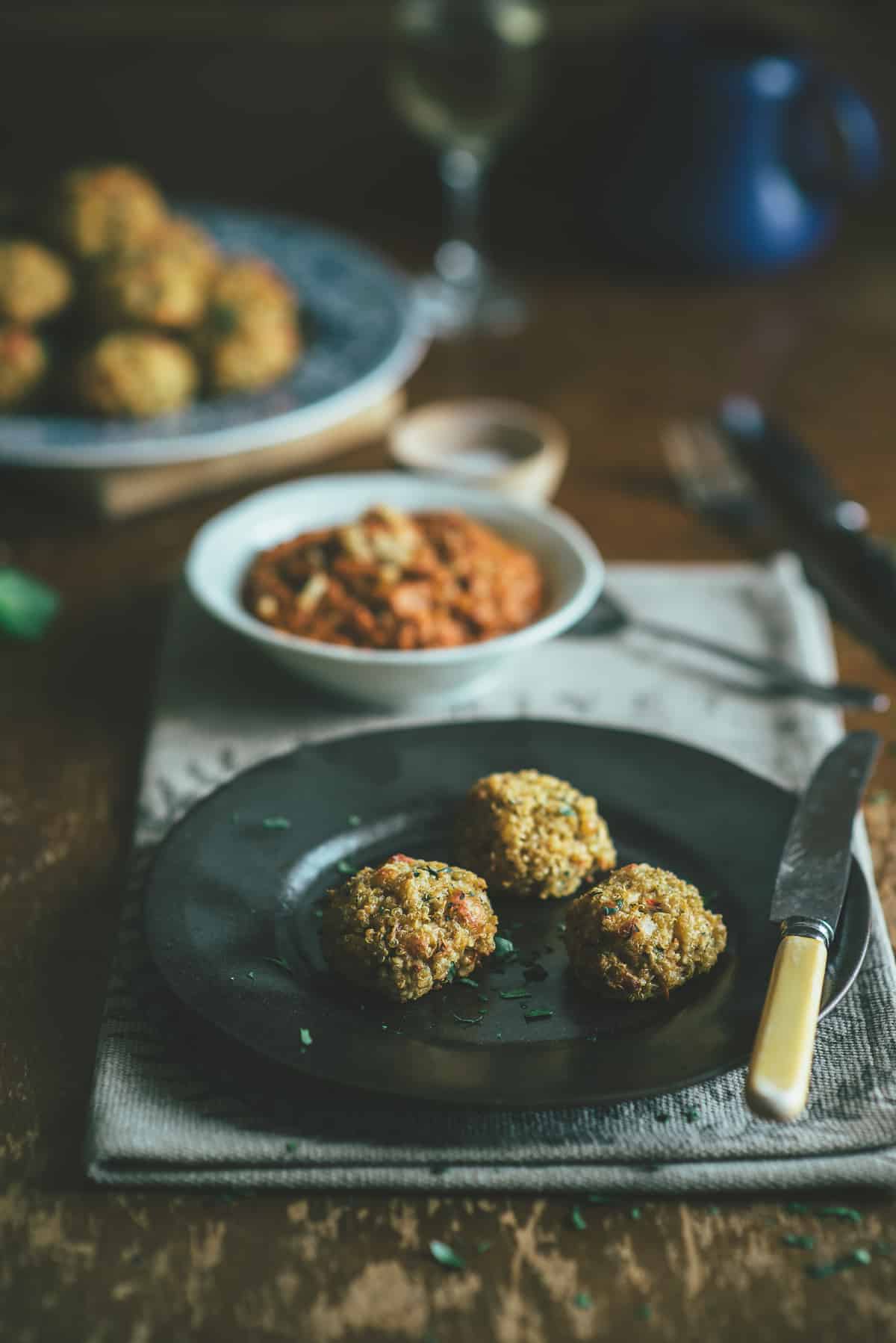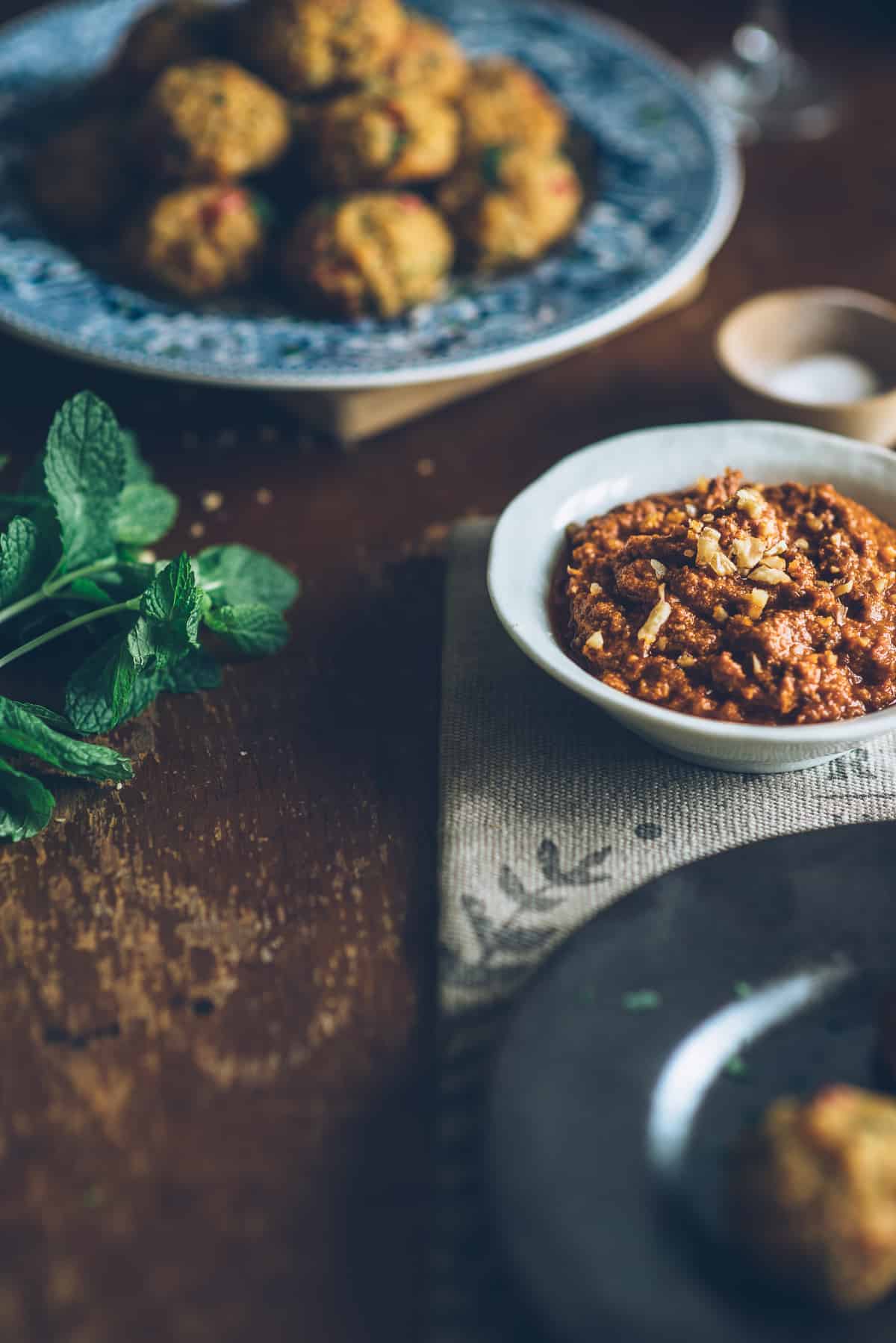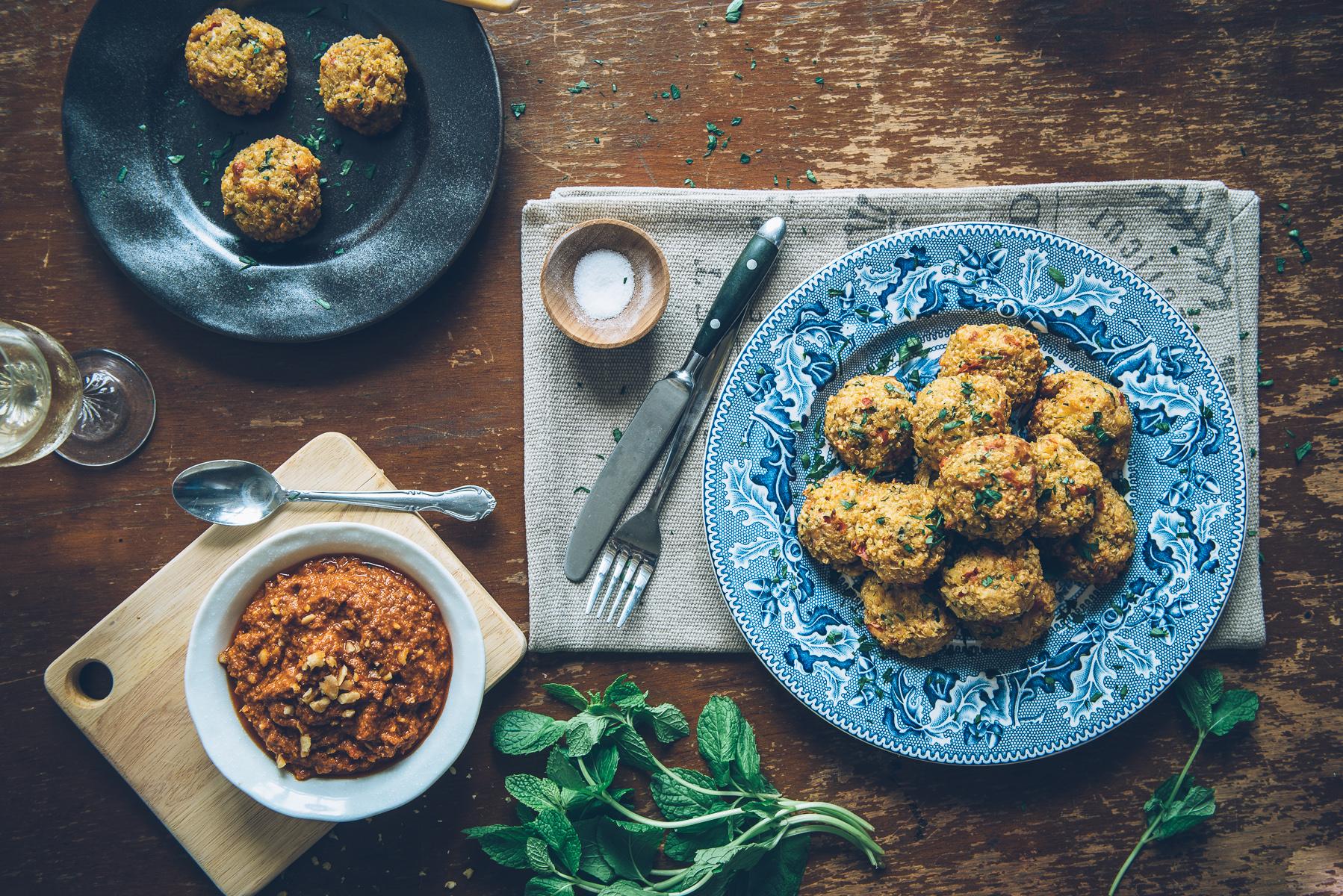 QUINOA AND HALLOUMI "KEFTEDES" RECIPE
Ingredients:
1/2 red capsicum, finely diced
1 red onion, finely diced
3 cloves garlic
1 cup cooked quinoa
250g grated halloumi cheese
3 small or 2 large eggs lightly beaten
1 cup freshly chopped flat leaf parsley
1/2 cup freshly chopped mint
2 tbsp freshly chopped dill
1 tsp ground cumin
4 tbsp tapioca flour
1/4 cup ground almond meal
1 tsp salt
1 tsp white pepper
Instructions:
Preheat your oven to 190 deg C and line a baking tray with baking paper.
In a hot pan with a little olive oil, sauté the capsicum, onions and garlic for 3 mins until softened. Set aside and allow to cool completely.
In a large bowl combine the cooked quinoa, the softened capsicum/onion/garlic, halloumi cheese, eggs, herbs, cumin, tapioca, almond meal and seasoning. Mix well with your hands, cover and place in the fridge for half an hour.
Using wet hands roll into 24 equal sized balls. Place on baking tray and cook for 20 mins, making sure to turn the tray around halfway through.
Allow to cool for 10 mins before serving with semi dried tomato dip.
Notes
The technique to get a round ball is a little "tricky". Once you have the mixture in your palm form into a round shape and "cup" with your other hand.
SEMI DRIED TOMATO AND WALNUT DIP
Ingredients:
100g semi dried tomatoes
50g raw, shelled walnuts
1 tbsp petimezi (Greek grape molasses) you can substitute with pomegranate molasses
pinch salt
pinch pepper
60ml olive oil
Instructions:
Combine all the ingredients in a food processor and blend until smooth. Garnish with extra chopped walnuts and serve immediately with the quinoa keftedes.