Today I present a Christmas feast that will delight and excite your senses.  It's fresh, modern and a little bit Australian.
You know I nearly forgot about Xmas this year.  With all that was going on with my family, it's hard to maintain a "ho ho ho" happy existence during this festive time.  However, I feel that blogging is the thing that helps me keep going and makes me feel better.  So on with today's post.
I know that most people are running around like headless chooks at this time of the year.  There's a lot to organise with Christmas lunch and/or dinner.  And don't forget shopping for presents. If you're not the organised type you're probably scrambling around looking for that "perfect gift". Good luck. There are many like you!
The part I want to talk about however, is the food. It's my favourite topic!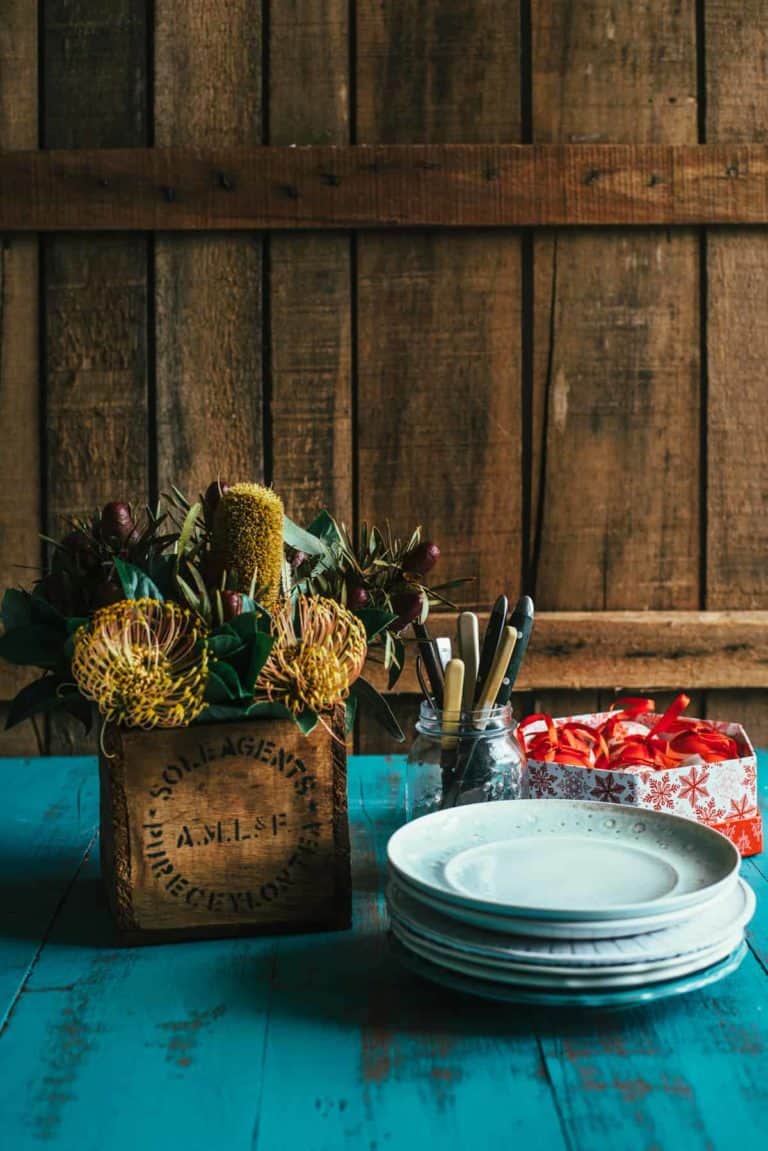 I was very excited when I was approached by Coles to create a Christmas feast using a number of their signature products.  I'm not sure if you've had a chance to visit your local Coles but if you're a regular there you would have noticed a very different type of supermarket.  My local Coles even has a pizza bar and cafe! Now that's progress.  It certainly is very different from when I used to work there nearly thirty years ago! I was hired as a trolley boy and shopping bag packer!
Who is old enough to remember paper bags at their supermarket?
Anyway…I digress.
On top of the modern renovations you'll notice a bigger array of high quality food products.  My goal today is to help you see that Xmas food preparation is not hard. You just have to be smart.  I'll be showcasing a number of recipes today featuring the Coles Finest and Heston for Coles brand.
My hopes that  you take some inspiration from this post.  If you don't you can always look for inspiration on the Taste.com.au website to help make your Xmas food prep easier.  It's as easy as clicking a few options and presto! Your shopping lists are all produced ready to shop online.  And Curtis Stone is there to lend a helping hand with his recipe creations.
Who said it was hard to get a celebrity chef into your kitchen? It's easier than winning the lottery…
Coles let me loose in their supermarket and I've designed a menu to share with friends and family.
I've kept it fun, fresh and fabulous!
And here it is...
The perfect way to start the Christmas feast is with a welcoming cocktail. My concoction is a mixture of vodka, Coles Finest cloudy apple juice, orange blossom water and pomegranate syrup and tendrils.
It's a little sweet, a little tart and all the flavours are brought together with the magical aroma of the orange blossom water.
To whet people's appetites I've served this with a selection of olives.
I know it's quite "textbook" to serve prawns at an Aussie Xmas and I have decided to keep up with this Aussie tradition.
My casual starter is a prawn platter served with a lime aioli. You can whip up your own aioli base or buy a good store bought version. Just add fresh lime juice and the zest of one lime for a refreshing, summery "zing".
There was quite a lot going on with my main event but I can assure you it did not take me more than a few hours of prep.  The star of the show was the baked ham.  I have to say, I was quite nervous about cooking it as I had always assumed it required a lot of work. I was in for a pleasant surprise.  It was as simple as removing the rind, scoring the fat, adding the cloves and glazing it.
I used a Coles Finest Australian Free Range Half Leg Ham. It weighed approximately 3.5 kg and took one hour to cook.  After researching what seemed like a million glazes on the internet I came up with a recipe that used pomegranate molasses, Coles Finest blood orange marmalade and a little Dijon mustard.
Oh yeah!
Sticky. Sweet. Tart. Intoxicating.
I was in piggy heaven!
I also served up a roast beef with a chimichurri for a little variety.  To accompany this feast I included four sides.
CHRISTMAS FEAST SIDE DISHES
A potato salad tossed with tzatziki. You might be thinking "what?". But this actually works. It's better than any mayo based dressings!
A raw cauliflower "couscous" salad made with chargrilled peppers, preserved lemons, coriander and pomegranate tendrils.
A cucumber and "quick pickle onion" salad, for a little crunch and bite.
A tomato and avocado salad topped with a lime vinaigrette and coriander.
When I cook and eat, I do not do things by halves!
There needs to be variety, colour and choice.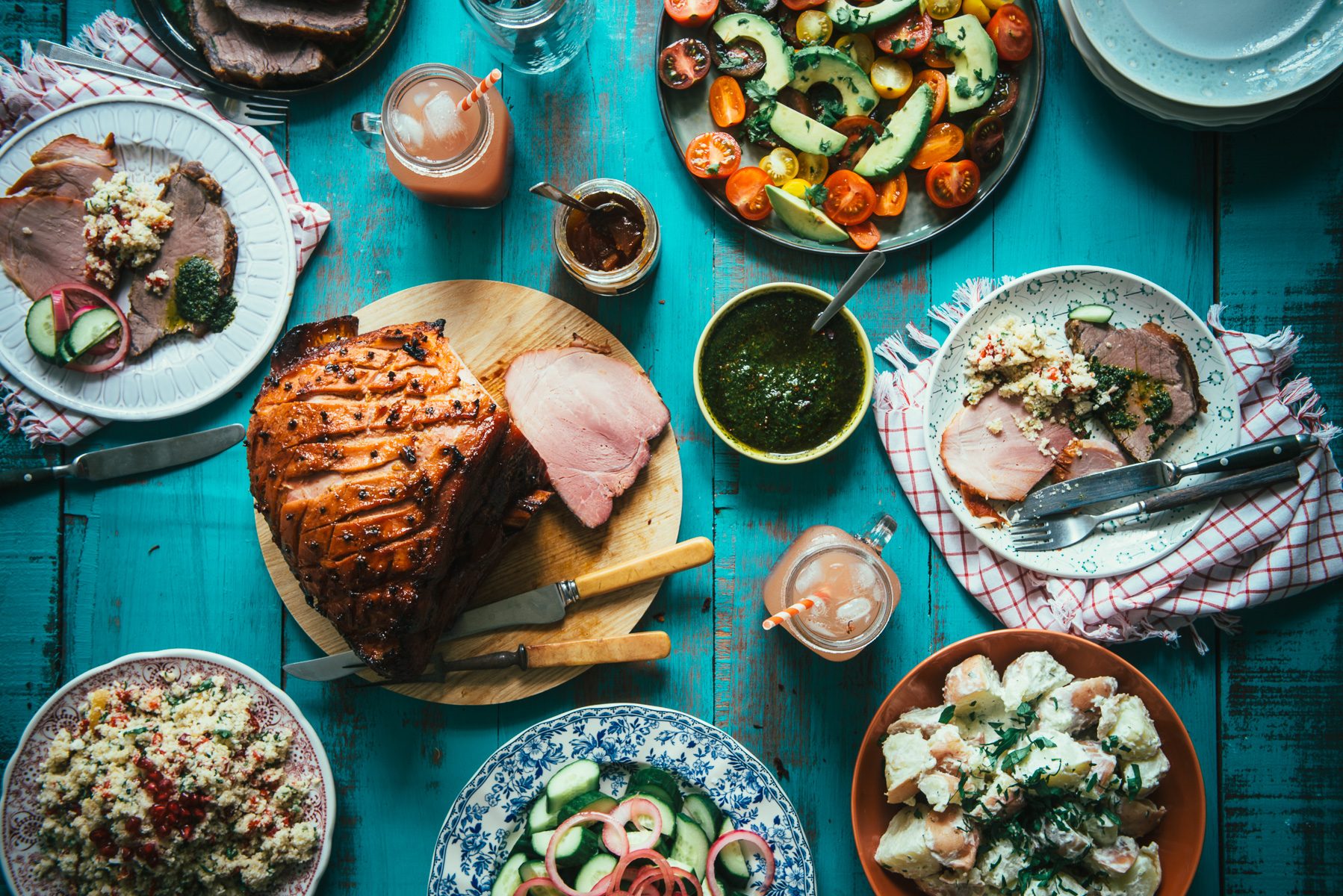 When it comes to serving desserts as part of my Christmas feast, I like to mix it up a little.  For today's offering I've added a few store favourites and a few of my own.
The Coles Finest Belgian Chocolate & Cherry Pies were the real winner at my Xmas lunch. The cherry filling enclosed in a chocolate pastry had people reaching for seconds and thirds.  Heston also came to the party with two of his creations.  His Hidden Caramel Sauce Figgy Christmas Pudding was served with a custard. It was rich, a little spicy and bursting with caramel, a little piece went a long way.
If you're looking for another alternative to the many fruit mince pies on the market I can highly recommend his spiced shortcrust fruit mince pies.  For something a little fresh I also served up a "quick" mango ice cream and a festive fruit salad (watermelon, strawberries, blackberries, raspberries, red currants) tossed with rose water and sprinkled with mint.
I hope you've enjoyed this Christmas feast and I hope you can take some inspiration to get creative in your own kitchen this holiday season.
I should be back next week with one more post before the holidays begin.
All the best.
Souvlaki For The Soul would like to acknowledge its partnership with Coles for this sponsored post. The recipes above were created, developed and photographed by Souvlaki For The Soul using Coles products.