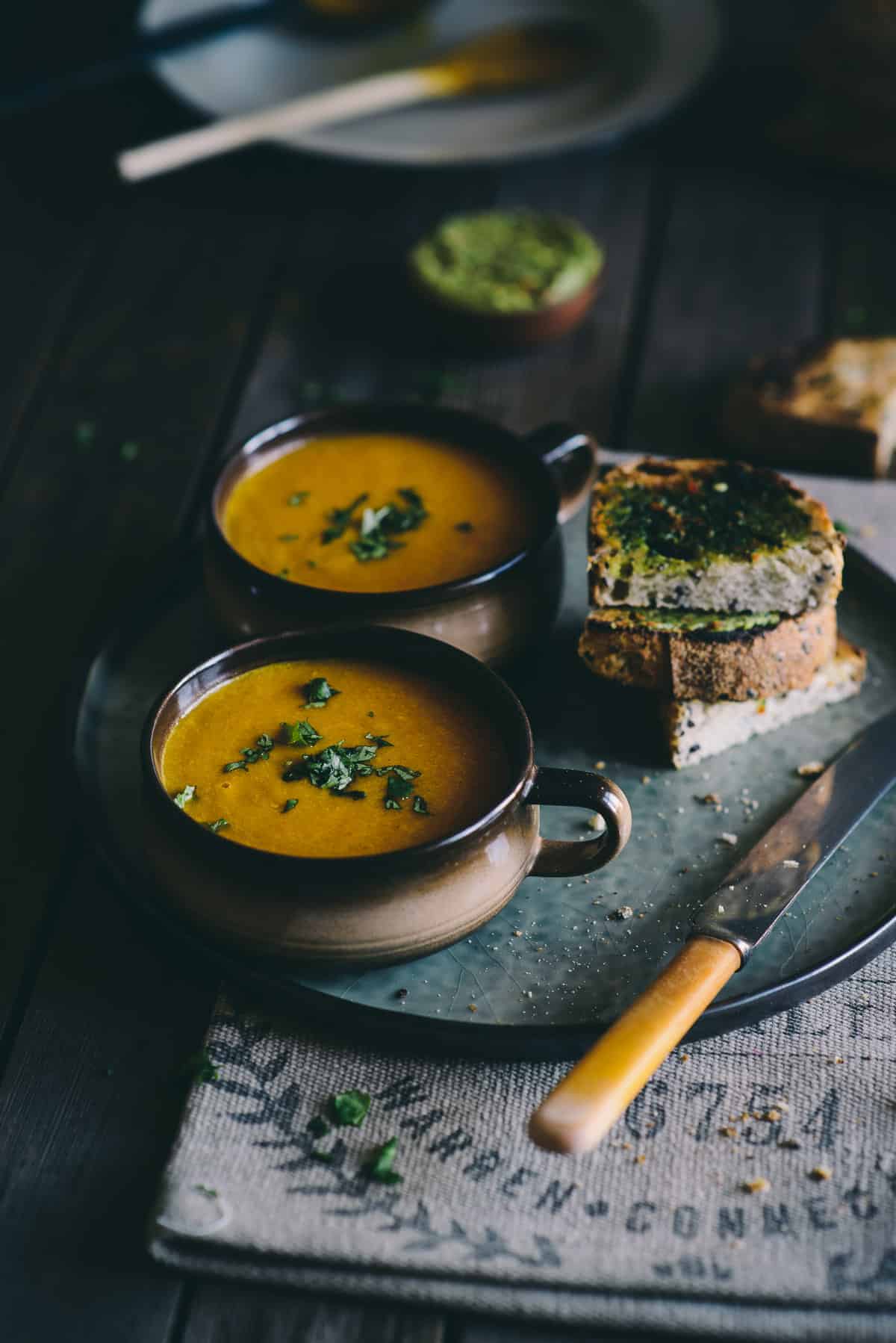 When I originally planned this dish I had my sights on firmly making a salad.
I had envisioned julienned carrots, plump orange segments and fresh coriander all finished with a vibrant red wine vinaigrette.
And then all that changed…
My food choices are very much dictated by the weather. And since the current weather seems to be going through a "Jekyll and Hyde" phase my cooking also tends to follow the seasons.
Do you do that? Or am I alone on this one?
So in the end I made soup. And what a surprising yet gorgeous combination this turned out to be.
I personally love the idea of blending fruits with veggies - this one manages to successfully combine the earthy, yet sweet flavour of the carrots and the zing of the oranges.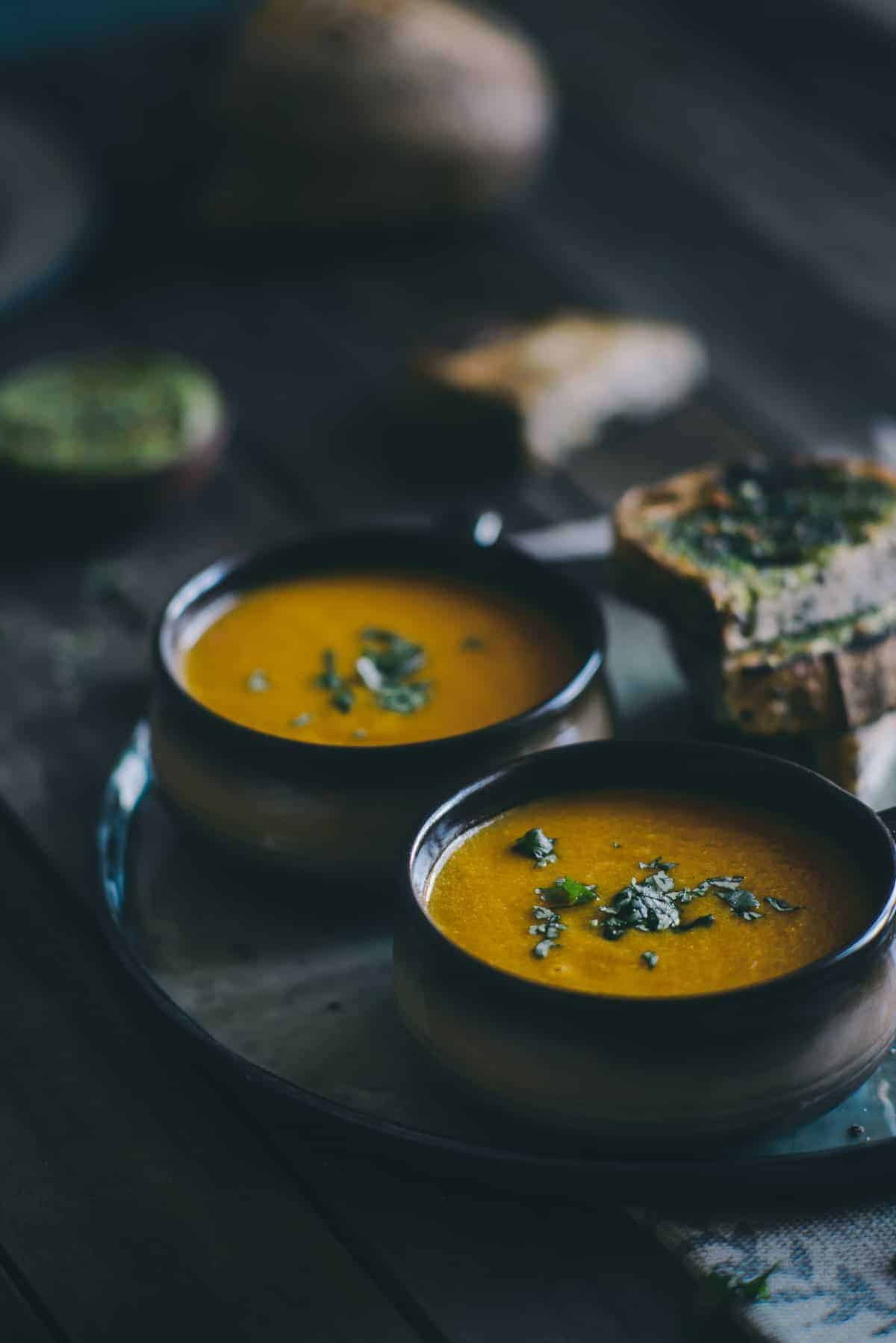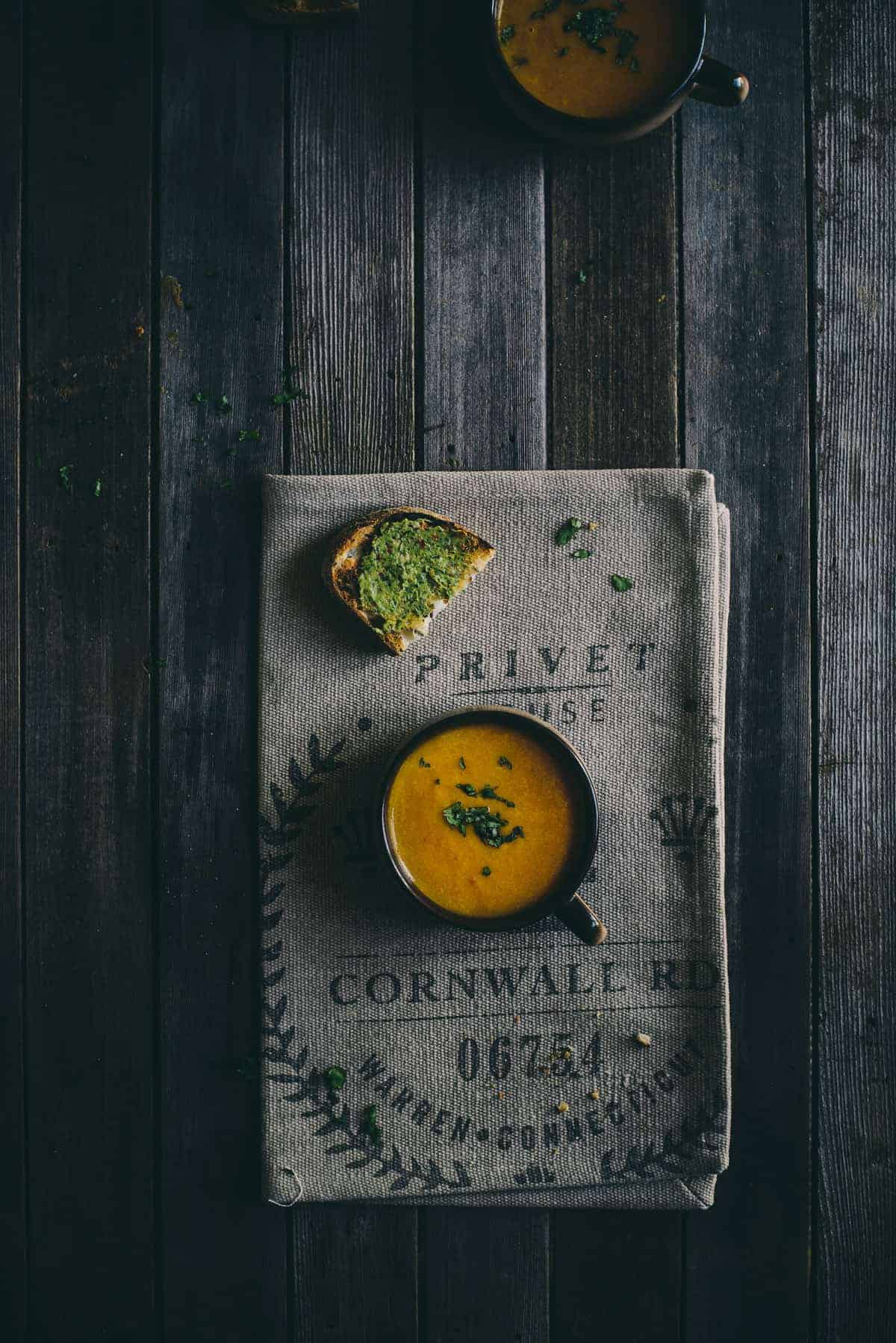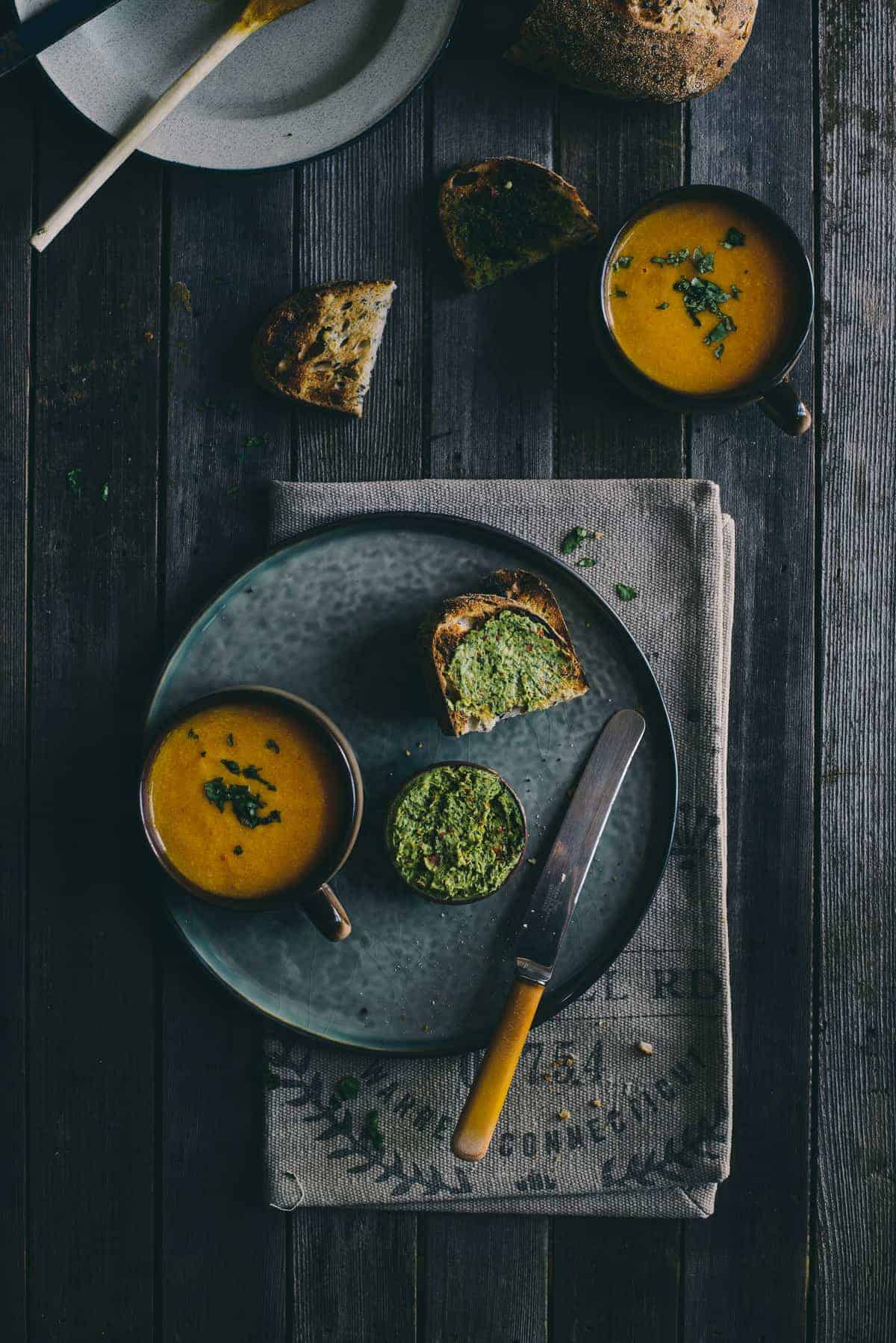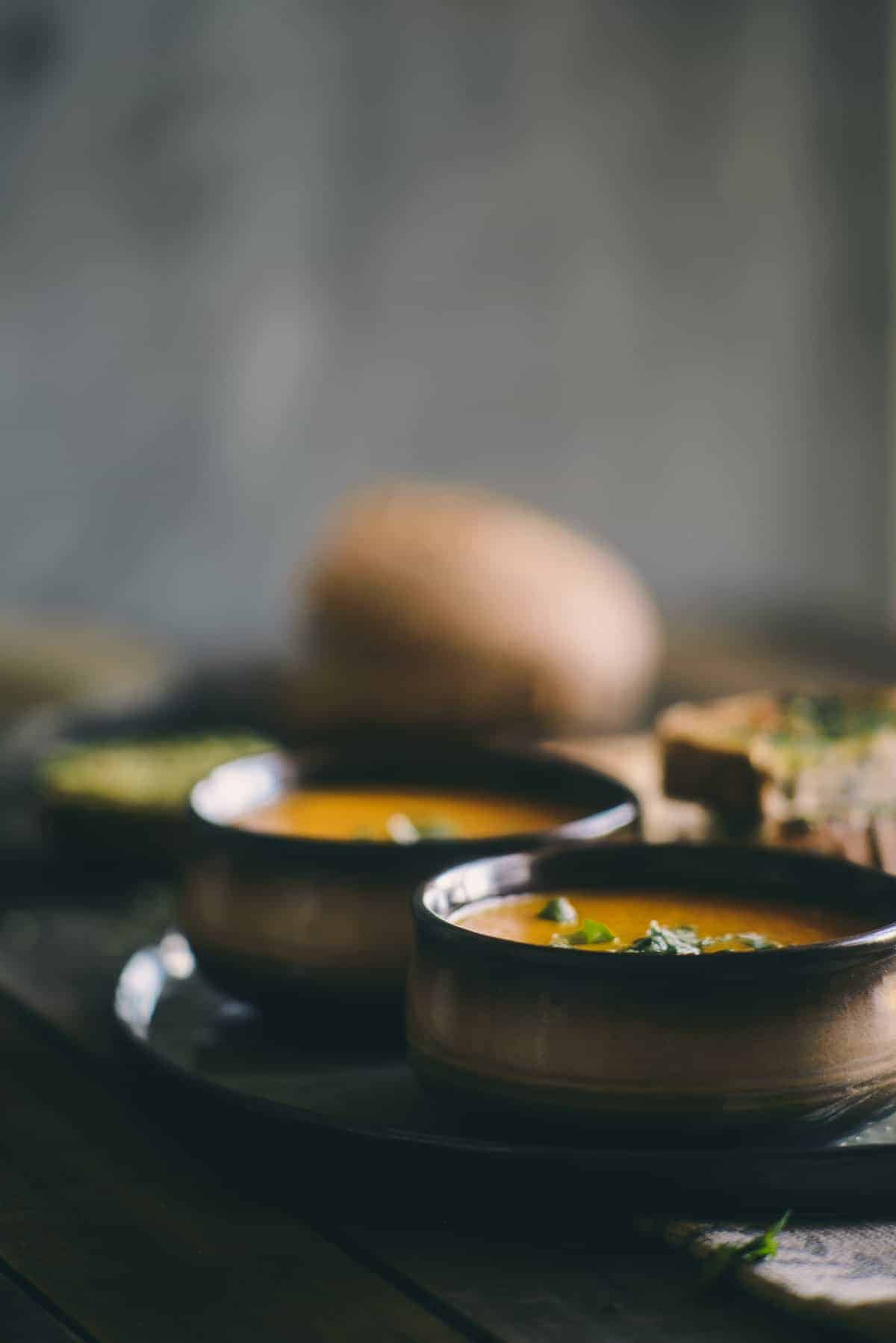 I've included orange zest for aroma, a little juice for flavour and upped the ante by adding some fresh ginger to the spice mix.
There's also a little chilli for heat and some honey for sweetness.
And finally (because I can't just have one thing!) I made some coriander and chilli butter that I eagerly spread over some toasted spelt bread.
I served this carrot and orange soup in some large mugs that I had found a thrift shop. (How very vintage!).
Salads can wait till summer I say...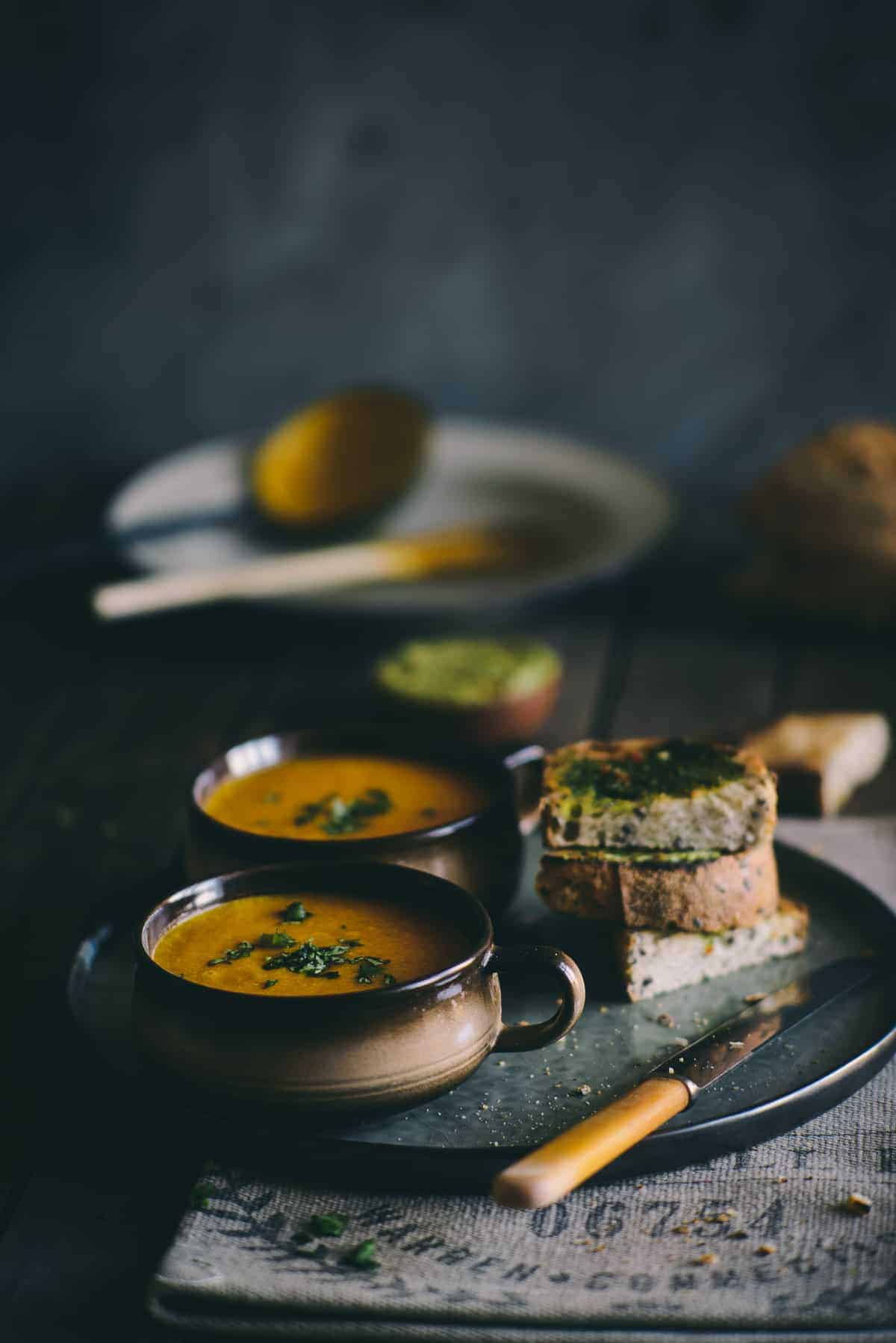 CARROT AND ORANGE SOUP RECIPE
Serves 6-8
Ingredients:
2-3 tbsp olive oil
1 red onion finely diced
2 cloves garlic minced
1 whole chilli finely chopped
1 5cm piece of ginger grated
zest of 2 oranges
8 medium sized carrots, chopped into even chunks
¼ cup dried lentils (optional)
4 cups chicken or veggie stock
2 tbsp honey
juice of half an orange
salt and pepper to season
chopped coriander for garnish
Instructions:
Heat the olive oil in a medium to large pot and lightly saute the onion, garlic, chilli, ginger and zest until translucent (approx 2-3 mins).
Add the carrots and lentils if using and stir to combine for another minute. add the stock and cook for 40 mins or until the carrots are tender.
Blend the soup using a hand blender or food processor until smooth and creamy. Add the honey, juice and seasoning and cook on the heat for a further 5 mins.
Garnish with freshly chopped coriander and serve immedaitely.
CORIANDER AND CHILLI BUTTER RECIPE
Ingredients:
75 grams butter
2 heaped tbsp chopped coriander
1 whole chilli
pinch sea salt
Instructions:
Combine all the ingredients in a food processor and blend until smooth.
Spread over warm toasted bread.