These beef kofta are perfect summer fare.  Along with my grain free tabouli it makes a complete meal.
Meat on a stick.
It sounds so primal doesn't it?  However there is no escaping its deliciousness.  I could bore you with another souvlaki recipe but I don't want to push the friendship.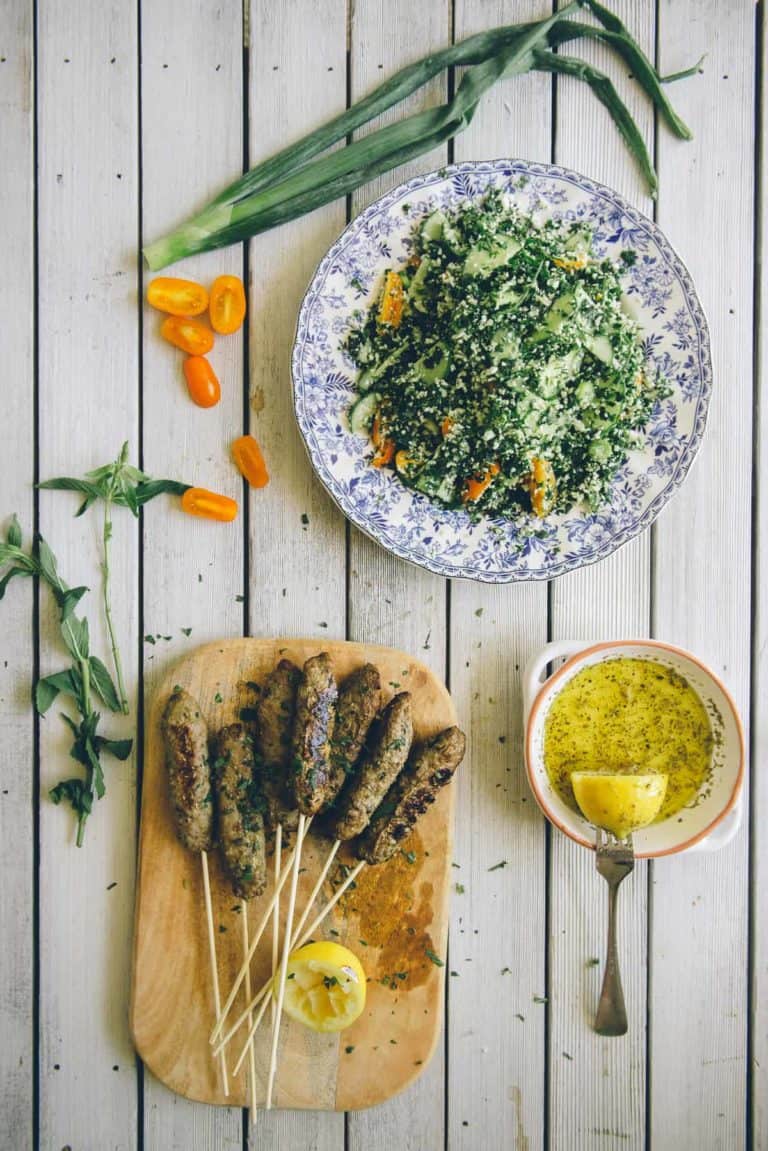 On the blog you can find a souvlaki made with a myriad of meats and seafood.
Pork…
This little invention known as kofta is not new.
It's sort of like an oblong shaped meatball that has been seasoned and wrapped around a skewer.  For today's recipe I've used beef however feel free to swap it for either lamb or pork.  It all works well.  I served these up with a very "non traditional" tabouli made with parsley and grated cauliflower.
I've also taken a little "Greek liberty" and drizzled over some ladoleono (basically a lemon , olive oil and oregano vinaigrette).  This dish is perfect during the summer time.  Add some pita bread and some tzatziki if you so wish and enjoy it outside.
Cheers!
Scroll down for the recipes…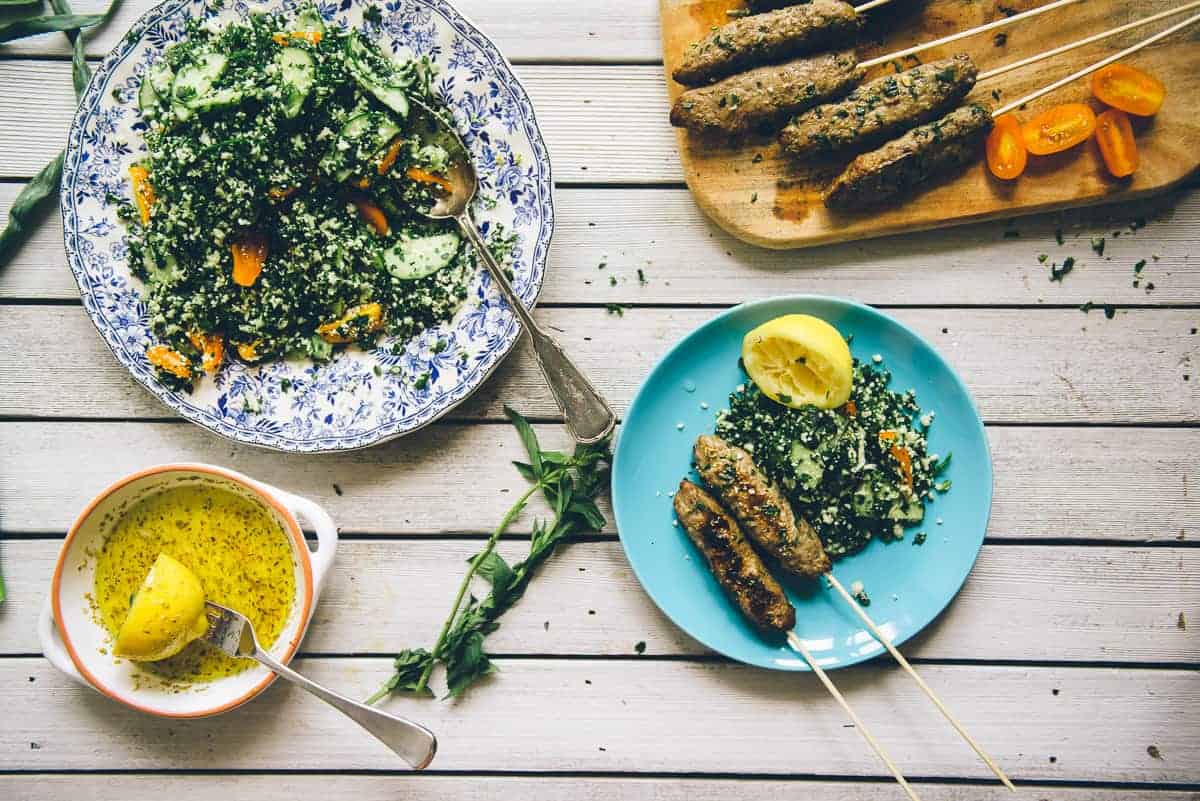 Beef Kofta with Grain Free Tabouli
Ingredients
Beef Kofta

500g minced beef
1 onion, grated
1 cup parsley leaves, finely diced
a handful fresh mint, finely diced
1 tsp ground cumin
1 egg
½ cup ground oats or breadcrumbs
pinch sea salt
pinch white pepper


"Grain Free" Tabouli

4 cups freshly chopped parsley leaves
½ cup freshly chopped mint leaves
¼ of cauliflower, grated
1 large spring onion, thinly sliced
a handful of cherry tomatoes, chopped in half
1 Lebanese cucumber, seeds removed and thinly sliced
juice of 1 lemon
2 tbsp olive oil
salt and pepper to taste
Instructions
Beef Kofta

Combine all the ingredients together in a large bowl. Take approx. 50g of the beef mixture and shape it into an oblong shape over a skewer. It should cover apprx. ⅓ of the skewer. Repeat until you have 10 skewers made.
Preheat your grill or pan or bbq. Cook the kofta 5 mins. each side until browned and cooked through.
Combine 3 parts oil to 1 part lemon juice and a tbsp of Greek oregano. Mix well and drizzle over just cooked kofta.

"Grain Free" Tabouli

Combine the parsley, mint, grated cauliflower, spring onion, tomatoes and cucumber in a large bowl. Add the lemon juice, oilve oil and season to taste.
Serve immediately with the beef kofta.