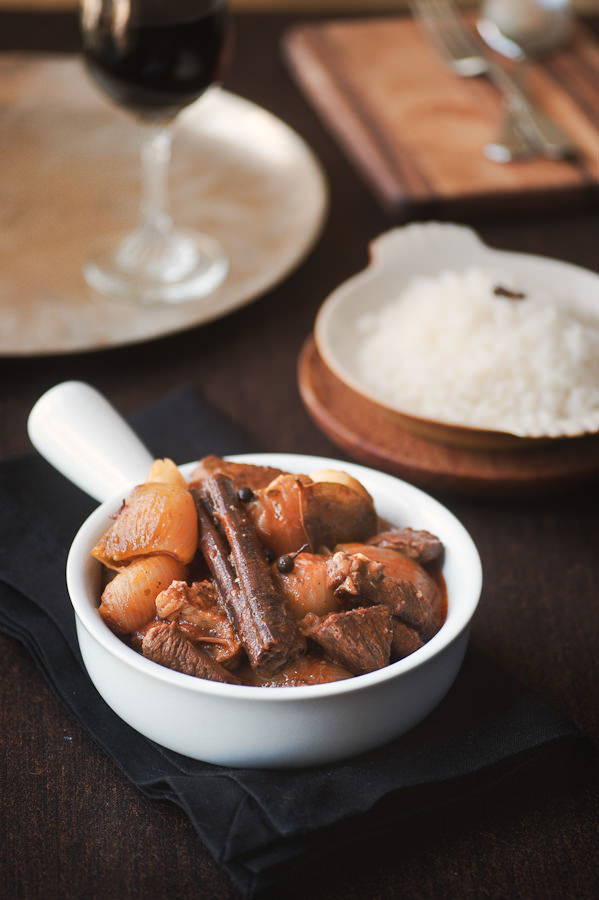 Cooler weather demands comfort food. And lots of red wine! That's my motto and I'm sticking to it!
Seriously though, that's probably the best part about winter. The stews, braises and casseroles.
This time around I wanted to attempt that classic Greek dish called "stifado". It's a one pot aromatic stew utilising baby onions, red wine vinegar and cinnamon to a name a few ingredients. This dish traditionally uses wild hare (usually hunted by and army of Greek uncles!) or rabbit. My friend Peter a.k.a. "Kalofagas" made a stifado using rabbit and you can read his very informative and entertaining post here.
I had purchased a whole heap of chuck steak from the butchers recently and preferred to use this in my preparation of this dish. Chuck steak is ideal (and a very cheap cut of meat) for stewing and braising because "it contains a lot of connective tissue including collagen. Collagen melts during the cooking of the meat, making the flavor intensely stronger" Source: Wikipedia.
I also substituted whole eschalots instead of baby onions. The main trick with stifado is to marinate your meat, preferably overnight, to really enjoy it's distinctive strong aroma.
Once cooked it all comes together beautifully. It's hearty, rich and very satisfying!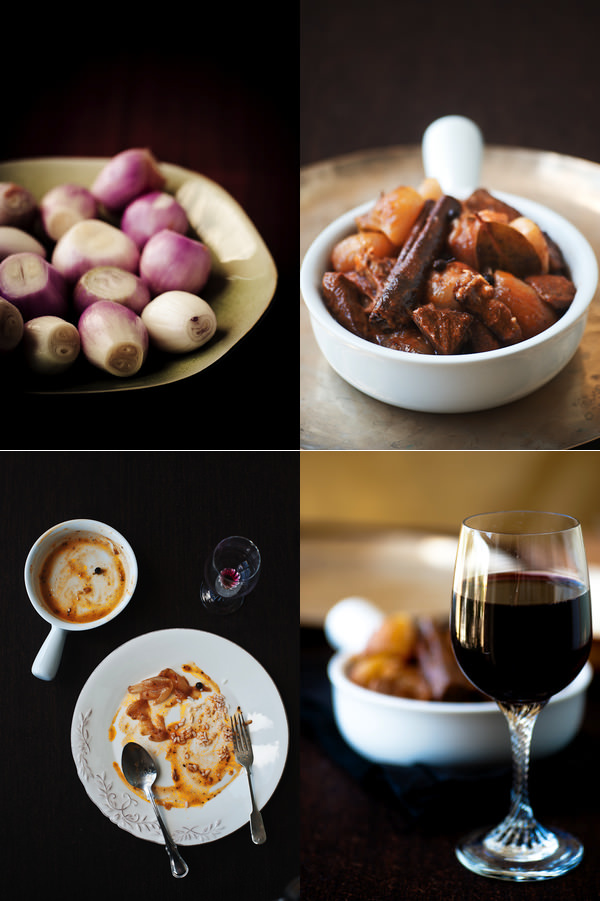 RECIPE FOR BEEF STIFADO (adapted from "Modern Greek" by Andy Harris
1 kg of cubed chuck steak
750 grams of whole peeled eschalots
1 heaped tablespoon of tomato paste
FOR THE MARINADE:
¾ cup of red wine
4 tbsps of red wine vinegar
4 garlic cloves, peeled and thinly sliced
2 bay leaves
1 cinnamon stick
5 whole cloves
2 teaspoons of allspice berries
salt and freshly cracked pepper
Place the chuck steak in a non reactive bowl along with the marinade and refrigerate for a minimum of 6 hours or preferably overnight.
Heat some olive oil in a large sauce pan and saute the eschalots for about 10 mins. We want them to soften a little and get lovely and caramelised. Remove them with a slotted spoon and set aside.
Saute the chuck steak until it has browned in the same saucepan. Add the onions back along with the marinade mixture, the tomato paste and enough water to cover everything.
Bring to the boil and then leave to simmer for about 2 hours or until the sauce has a lovely rich, thick consistency.
Serve with some plain steamed rice and a big glass of Aussie shiraz!