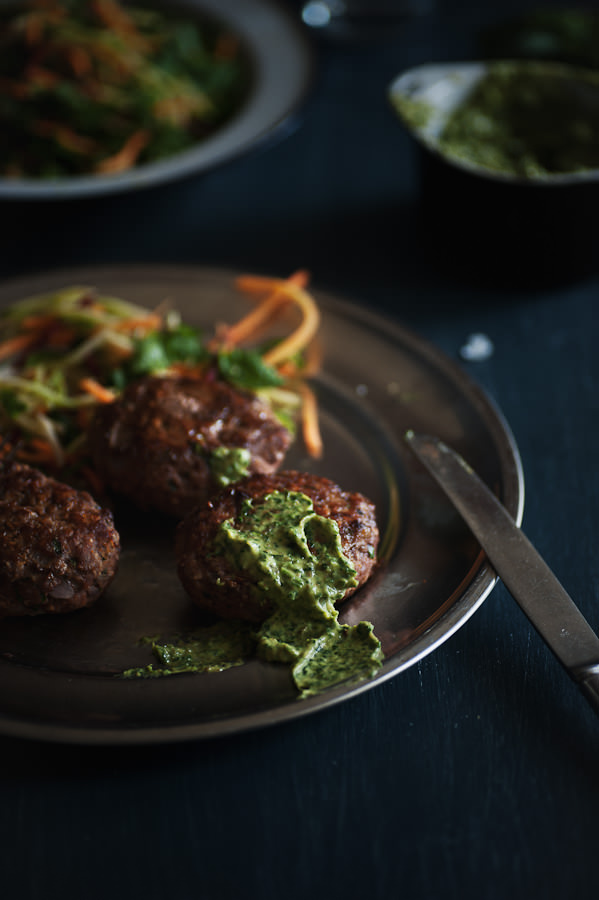 I think I may have a "thing" for sauces. If you scan through the archives you can find my recipe for chimichurri salsa, roasted corn salsa and walnut skordalia. What can I say? I like a good sauce to accompany a dish. It makes it all the more satisfying.
Regarding the recipe today, "biftekia" are  basically hamburgers. I like to think that the Greeks do biftekia exceptionally well and most taverns will serve up a version on their menus. My recipe for biftekia today is adapted from what I watched my parents make over the years. The only thing I've done is add my own spin on things.
I like to add some sort of bread/breadcrumb to the mix but lately I've gotten into using instant oatmeal packs. It does a fantastic job and it's quite healthy too. I also like to bind everything using an egg. Think of it as the "glue" which brings everything together.
The spices are entirely up to you. I've omitted garlic from today's recipe (because there was plenty in the salsa verde) but generally I like to add some to the mix. I also prefer to use dried herbs as they provide maximum flavour. In the end, play around with what you like. My current fave is Spanish paprika. It gives just the right amount of smokiness to the burger.
The idea to serve them up with salsa verde came about after opening the fridge and having a "what can I do with all these leftover herbs?" moment. I've eaten salsa verde many times over the years and was surprised to find that it includes mustard in the mix. Yum! It also features anchovies and capers so be wary about the amount of salt you add in as mine was a little on the salty side!
To complete the meal I made a simple "slaw" of carrots, celery and spinach.
Scan down further for more photos and the recipes.