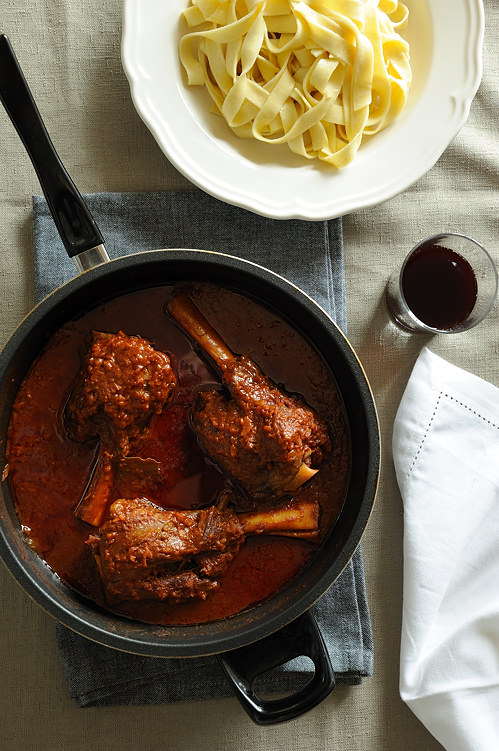 Mention the word "Bessemer" to any Greek (or Italian!) and you will immediately see their faces light up!  It's true…I'm not kidding.
"My mum still has a lot of their stuff…"  "The cookware has been in my
family for years" are just some of the reactions that come up in conversations with like minded foodies.
What is Bessemer you may ask?
Bessemer is a range of cookware produced here in Australia.  The company has been in operation since the early 60's selling their range of goodies through a party plan system.  The funny thing is, I remember attending a lot of those parties as a kid, along with my mother.  We lived in a predominantly Greek populated neighbourhood in Melbourne and I swear there was a Bessemer party held nearly every weekend for a whole year!  You could say everyone was well stocked!
What makes Bessemer so special?
Without getting too technical it basically comes down to their sturdy design.  They are constructed using a heavy cast aluminium that allows for even heating and better heat retention.  They are also "non stick" so it makes those trickier cooking techniques like braising for longer periods and frying a breeze.  You can find a lot more information regarding their design here.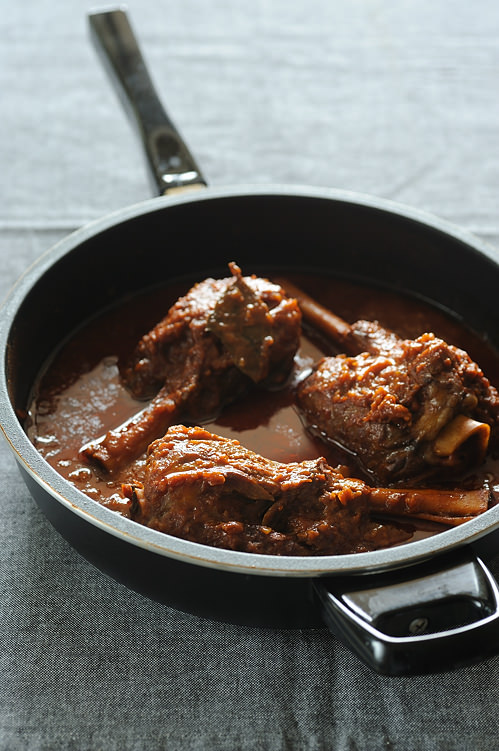 It's funny you know.  When my parents decided to move back to Greece my mother asked me if I was interested in any of her beloved kitchen items, I jumped at the chance and asked for one of her Bessemer pots (I couldn't be greedy and ask for all of them?…could I?).
She's had it for just under 20 years and you wouldn't even know it!  Apart from a little wear and tear it still looks great and performs remarkably well in my tiny kitchen!  I was even more excited when I spoke with Pip from Woosh and she asked me if I was keen on trying some of the newer Bessemer cookware.
Was I keen????  Oh yes!  you betcha!  A few days later I found myself excitedly unwrapping the delivery box with a frypan from the Country Kitchen range.
To bring back a little nostalgia I'm cooking up a Greek dish in honor of all the Greeks here in Australia who use this product.
I braised some lamb shanks in a tomato sauce that was flavored with cinnamon.  I love this flavor combination.
I know a lot of people aren't keen on cinnamon and you could omit it but it wouldn't be the same in my opinion .   Originally I wanted to braise some goat but couldn't source any  however the lamb shanks work well.
Just a note- your house will really take on an enticing aroma when you are cooking this dish-you have been warned!
A traditional way of serving this would be with "hilopites"- a Greek home made pasta. I didn't have any on hand at the time, so I used some dried egg noodles.
After a few hours of braising the shanks in your Country Kitchen pan, the meat should be falling off the bone.  I like to pull all the meat off the bone and add it back to the rich, red sauce and serve it tosssed with the noodles. For a final Greek touch grate some "mizithra" over it-if you don't have any Pecorino or Romano make good substitutes.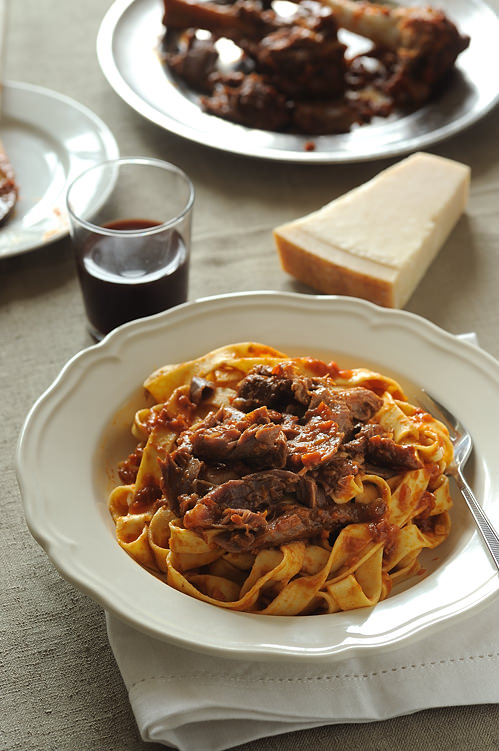 Cinnamon Braised Lamb Shanks Recipe
Lamb shanks braised with cinnamon and tomatoes.
Ingredients
1 onion finely diced
1 carrot finely diced
1 stalk of celery finely diced
2-3 cloves of garlic finely diced
4 lamb shanks
2 cups of sieved tomatoes or a large bottle of passata (mine was 690grams)
1 tablespoon of tomato paste
1 large stick of cinnamon or 2 smaller ones
1 cup of chicken stock
⅓ cup of red wine
2 dried bay leaves
salt and pepper to taste
Instructions
Heat a little olive oil in a deep frypan, add the shanks and lightly brown on all sides. Remove and set aside.
Add a little more oil, the onion, carrot, garlic and celery and fry until translucent.
Add the tomatoes, tomato paste, stock, red wine, cinnamon stick and bay leaves and give everything a good stir.
Add the browned shanks and bring to the boil and then lower your heat to a simmer.
Simmer shanks on a low heat for approximately 2-3 hours (this will depend on their size) or until the meat is falling off the bone
Remove the shanks and set aside to cool down. Once cooled down a little proceed to remove meat completely from the bone.
Remove the bay leaves and cinnamon stick from the sauce and add back the shredded meat.
Give everything a good stir and ladle the sauce and meat over some cooked egg noodles.
Top with a sharp grated cheese such as mizithra or Romano.