I hope everyone had a great start to 2011.
I was away and managed to miss most of the festivities. So far, I've had quite a slothful start to the new year. I hope this is not a sign of things to come! (Perhaps a better word would be "relaxing" rather than slothful!).A few weeks ago I made soutzoukakia.
Don't be put off by their hard to pronounce Greek name. They are basically meat balls shaped like asmall sausage. (Mine are probably a little longer than the usual plump soutzoukakia you find in many Greek taverns).
I can remember these being present at many Greek gatherings and barbecues whilst I was growing up. The funny thing is I haven't made them in ages and I'm actually glad I got a chance to play around with them recently. They were delicious and almost like I remembered them. I cooked mine on the stove top using a griddle pan and then finished them off in a pungent tomato sauce flavoured with cinnamon. Cooking them in a sauce like this changes the name of the dish to "soutzoukakia Smyrneika".
It's a reference to the Greeks who left Smyrna and brought this dish with them to Greece.
Politics aside, the sauce is delicious and works well with a side dish of rice pilaf, mash potatoes or french fries. I've served mine with some steamed rice and some blanched green beans.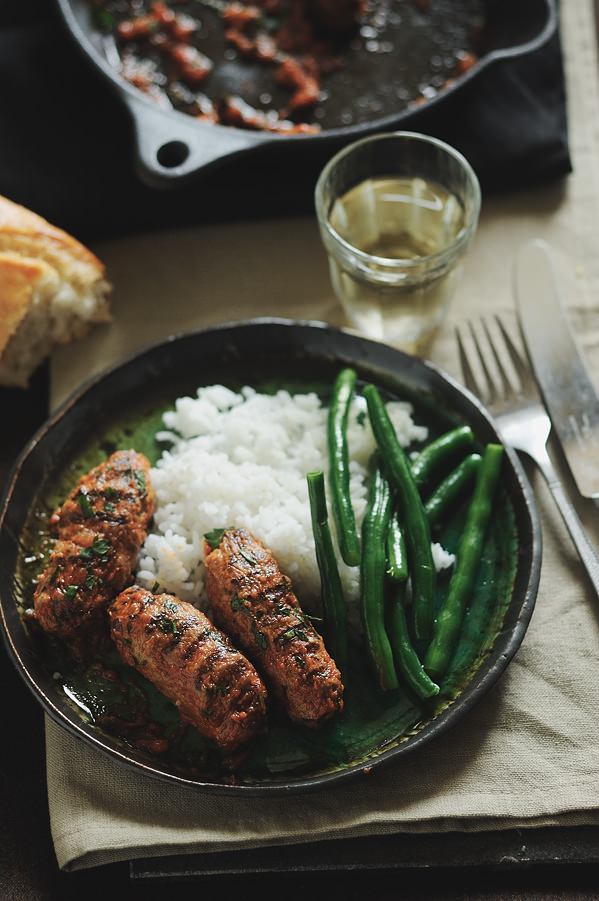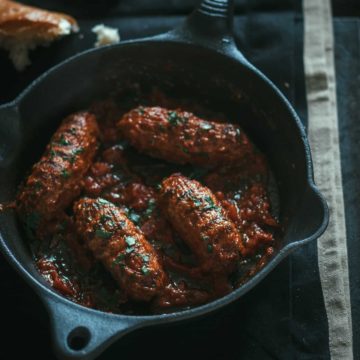 Soutzoukakia Smyrneika Recipe
Tap or hover on serving amount to change
Sausage shaped meatballs are cooked in a pungent tomato and cinnamon sauce.
Ingredients
For the soutzoukakia:
500

grams

of beef mince

2

thick slices of day old bread with the crusts removed

1/4

cup

of red wine

1

red onion finely chopped

2

garlic cloves minced

1

egg lightly beaten

a good "handful" of chopped flat leaf parsley

1/2

teaspoon

of ground cumin

salt and pepper to taste
For the tomato sauce:
A few tablespoons of olive oil

1

small onion

,

finely chopped

1

can of chopped tomatoes

1

clove

of garlic

,

finely chopped

1

teaspoon

of ground cinnamon

salt and pepper to taste
Instructions
Start off by preparing your sauce. Heat up your oil on a medium heat in a large pot and proceed to add the chopped onions and garlic. Allow them to cook for about 5 mins until they become translucent.

Add the tomatoes, cinnamon, salt and pepper. Bring to the boil, drop the heat down to low and allow the sauce to simmer and thicken for about 30 mins.

Allow to cool and let the flavours infuse.

Prepare your soutzoukakia by soaking the bread in the wine until it has softened. Squeeze the wine out of the bread and add it to the remaining ingredients in a large bowl.

Mix well ensuring everything is combined. The mixture should feel soft.

Cover and chill in the refrigerator for 1-2 hours.

Remove from the refrigerator and using moistened hands, pinch off portions of the meat mixture and shape into oblong-ish patties. Place them on some baking paper as you prepare them.

Heat up a griddle pan brushed with olive oil and proceed to cook the soutzoukakia until they are browned on all sides. Approx. 5-7 mins.

Once they are cooked re-heat your sauce and add them to the sauce mixture.

Cook the soutzoukakia for another 15 mins.
Made this recipe?
Let me know how you went and tag @souvlakiman on Instagram!
(Adapted from Vefa's Kitchen)
Serve immediately with rice, mash or fried potatoes. For a little treat I like to serve any left over soutzoukakia (the next day...if there is any) at room temperature sandwiched between a cut baguette. Beer, crisps and I'm set! 😉