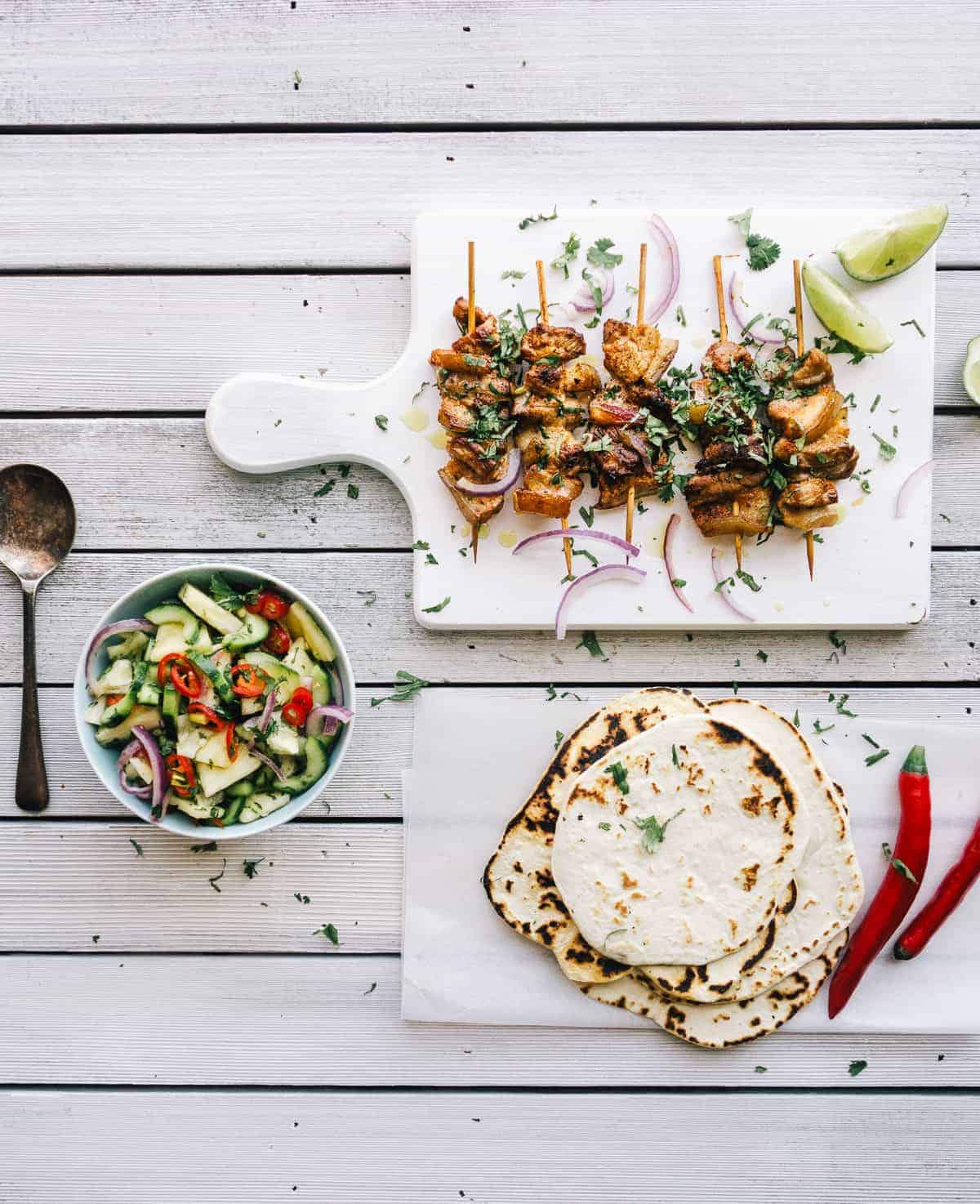 "Quick and easy".
This will be my new mantra for 2013.
I especially want to apply this philosophy, to at least one recipe a week on the blog this year.
Like I explained on my  san choy bau recipe post, I've been really enjoying the whole Jamie Oliver 15 & 30 minute meal shows and recipes.
Yes I enjoy his recipes immensly.
And no. I don't time myself!
I think his whole philosophy points to getting people off their bums and to get cooking. That can't be bad!
Let's get to it then with some pork souvlaki.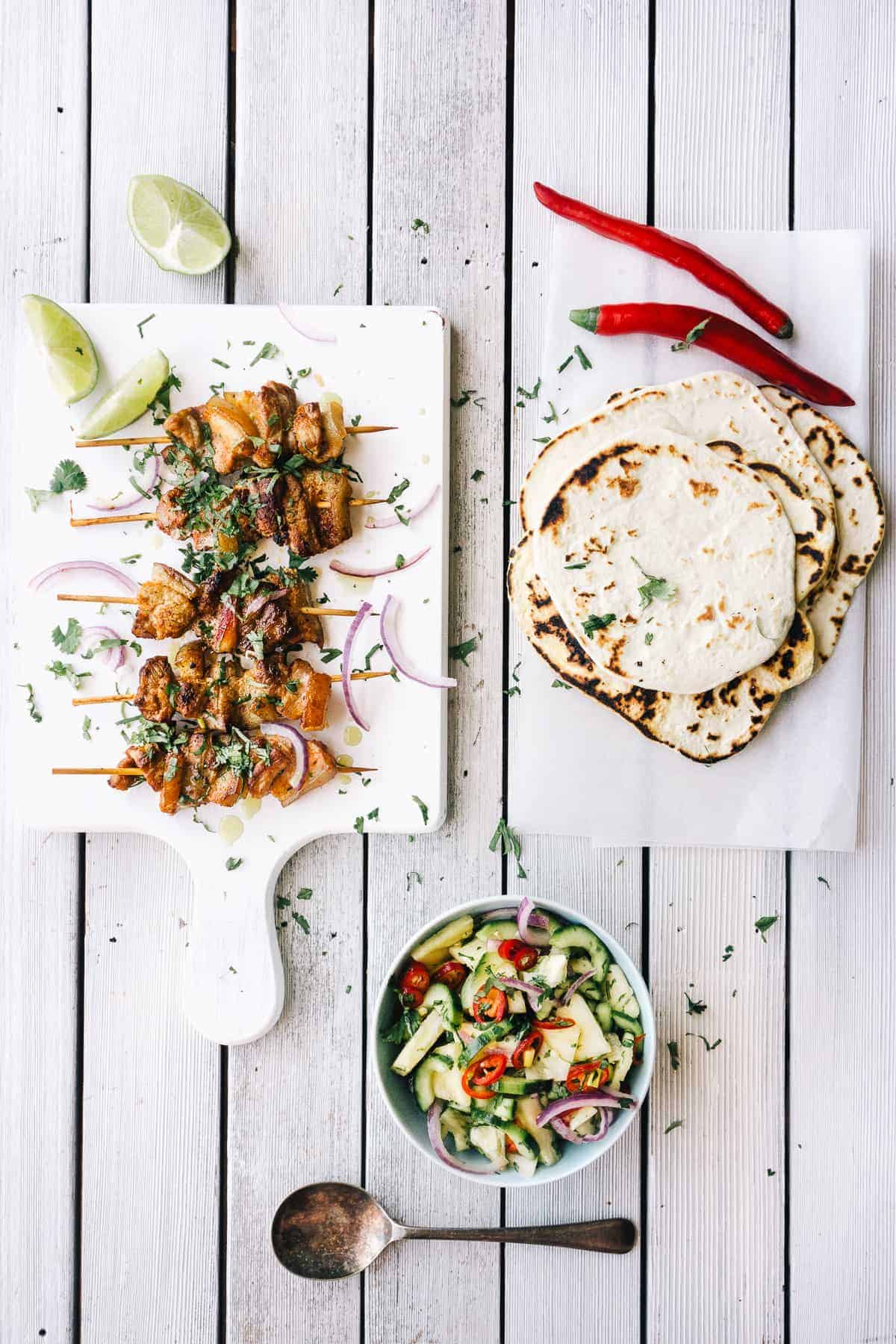 Pork souvlaki. Or "meat on a stick"! If you've been reading for awhile now you'll know that I have a number of souvlaki recipes on the blog.
Salmon souvlaki. Swordfish souvlaki. Lamb souvlaki. I'm thinking one more can't hurt!
The pork meat was marinated in a dry rub of smoked Spanish paprika, ground fennel and a touch of cumin. The added flavour came as the dish was finished with freshly chopped coriander and freshly squeezed lime juice.
Think of this pork souvlaki as a nice Tex-Mex and Greek marriage!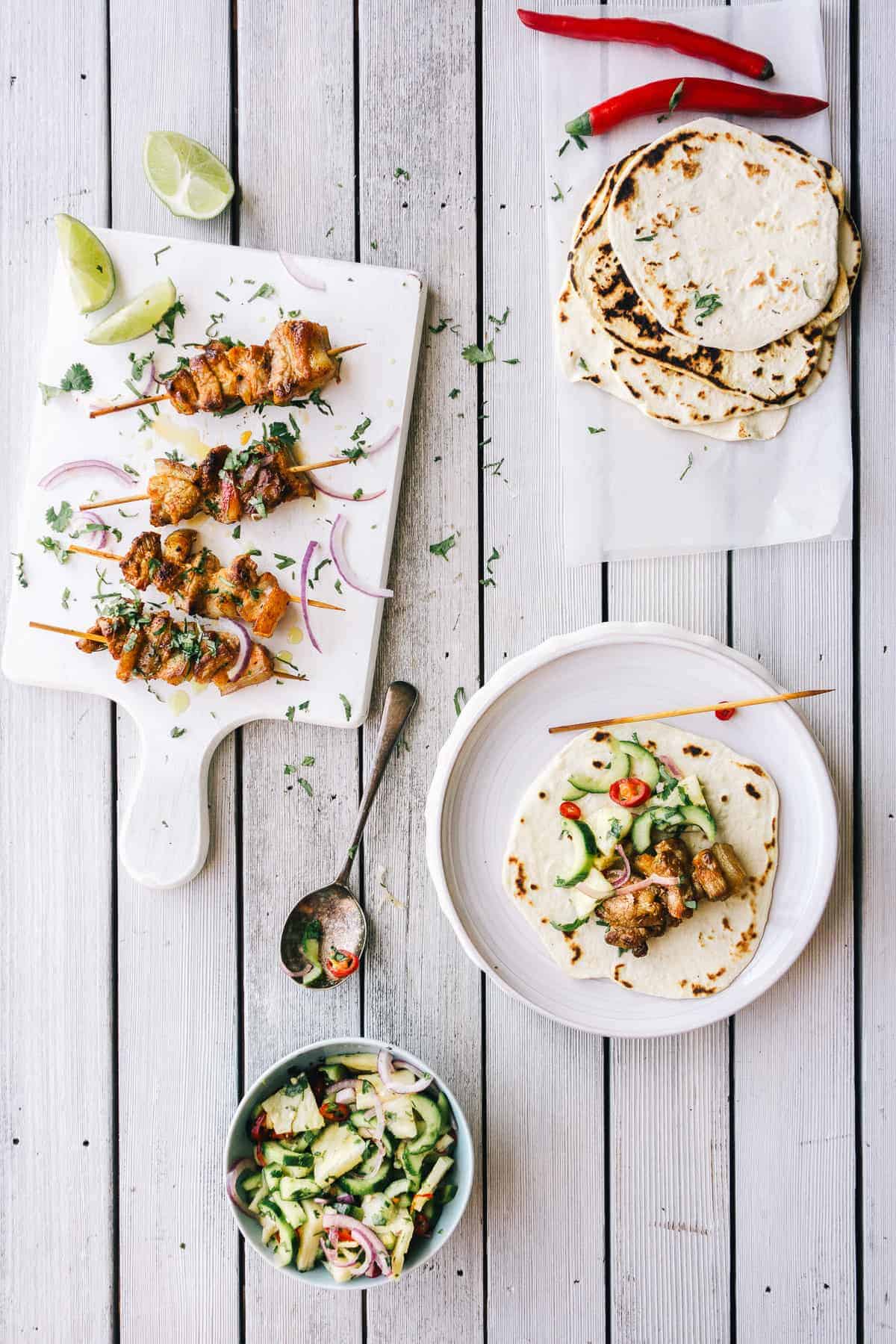 The salsa part of the dish came about after sampling a pineapple and cucumber salsa on a recent trip to the US.
I was intrigued!
I walked away thinking I had to somehow reproduce it.
First off I made mine slightly chunkier. I added some chopped red onion, a whole chilli, coriander, lime juice, olive oil and salt!
It was so fresh and complemented the spiciness of the souvlaki perfectly.
It's a real summer time dish and it's a must that you use fresh pineapple. I'm not a snob when it comes to canned foods but in this case don't do it.
Serve it up with some home made flour tortillas, a nice cold beer and enjoy.
Cheers!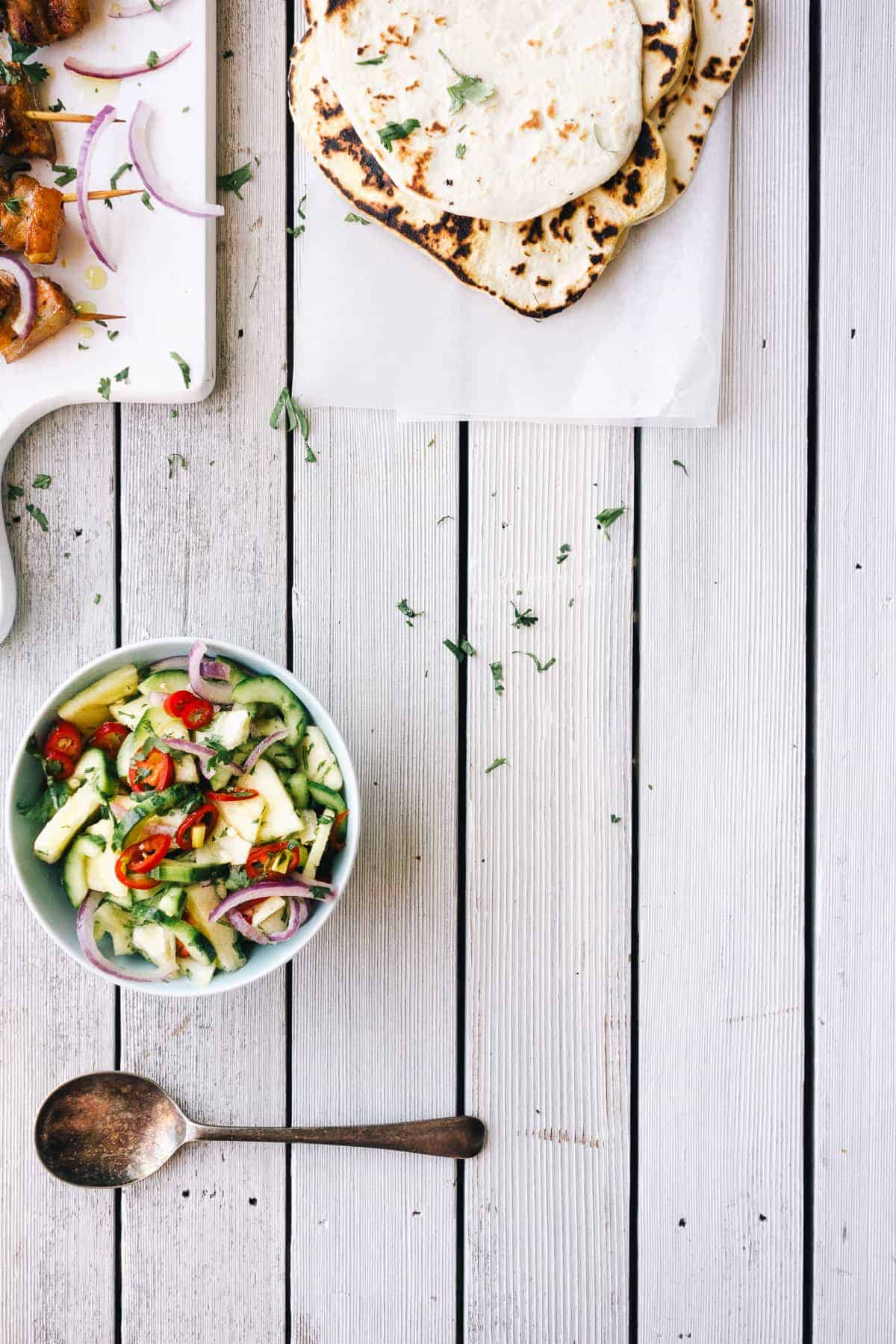 PORK SOUVLAKI RECIPE WITH A PINEAPPLE AND CUCUMBER SALSA RECIPE
Ingredients:
Pineapple and Cucumber Salsa
150 grams fresh pineapple chopped into 1 cm even chunks
1 Lebanese or small cucumber, deseeded and chopped into even slices
½ red onion thinly sliced
1 whole chilli, thinly sliced
2 tablespoon freshly chopped coriander (cilantro)
1 teaspoon salt
juice of half a lime
Pork Souvlaki
50 grams pork belly or pork butt, cut into even cubes
1 teaspoon spanish smoked paprika
1 teaspoon ground fennel
½ teaspoon ground cumin
2 teaspoon sea salt
ground black pepper
Instructions:
To make the salsa combine all the ingredients in a medium sized bowl, stir and place in the fridge till the souvlaki is cooked.
Make the souvlaki by combining all the dry rub ingredients and massaging it into the meat. Depending on the size of your skewers, pierce the meat ensuring there is space on either end.
Heat up your grill pan on a medium-high heat. Once it's hot add some olive oil to coat the pan and add the souvlaki, ensuring there is room for them to cook. Do not over crowd them.
Allow them to cook for 8-10 minutes turning them occasionally so they are cooked on all sides.
Once cooked, garnish with some extra chopped coriander, a squeeze of lime and some thinly sliced red onions.
Serve immediately with the pineapple and cucumber salsa and some warm flour tortillas.
Notes
I used smaller skewers for this recipe and ended up with 8 souvlakia.
You may wish to soak your skewers in advance but I didn't bother.