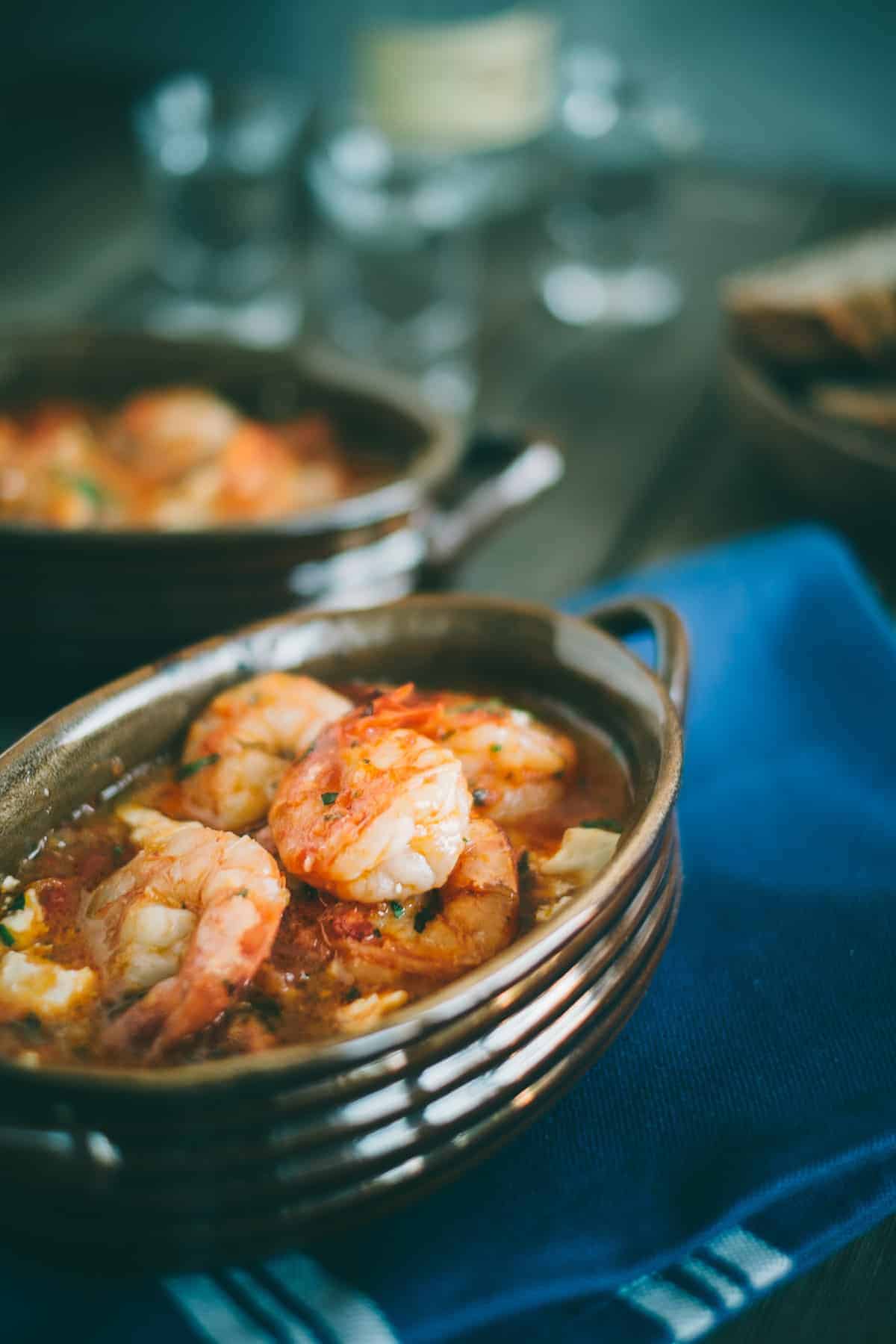 When people recount their Greek holiday experiences to me the subject inevitably turns to food.
Always.
"Oooh!…the feta".
"The moussaka was to die for…".
"The sganaki was melt in the mouth delicious…do you know how to make it?".
The saganaki remark always leads me to ask "which" saganaki dish are they referring to?
I won't harp on too much about the confusion this can cause but as I explained in my saganaki cheese post, saganaki usually refers to the cooking vessel the ingredients were cooked in.
Sometimes it's a small clay pot but most times it's a small frying pan.
Phew!
Let's ignore the semantics for today and focus on this prawn saganaki I whipped up the other day.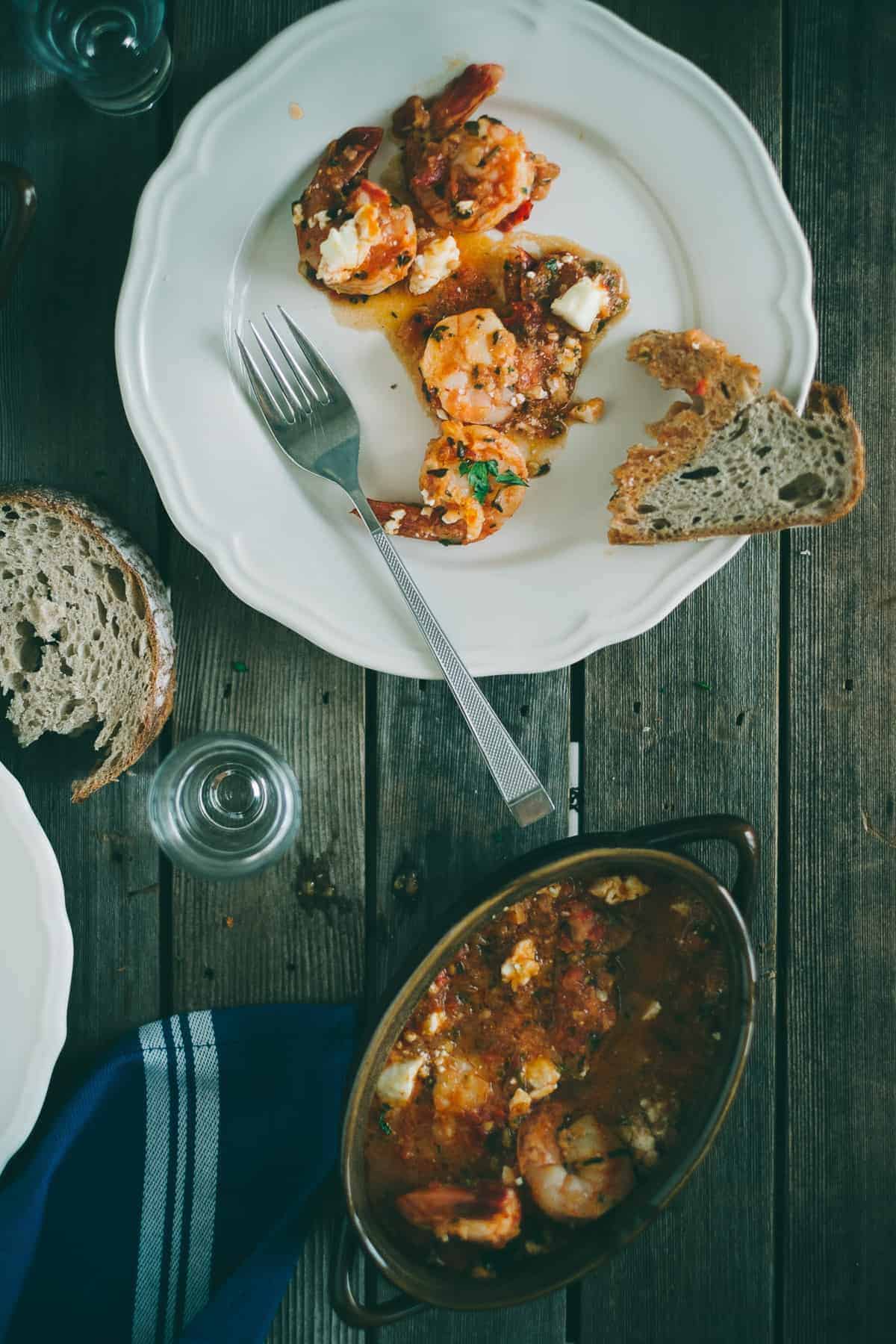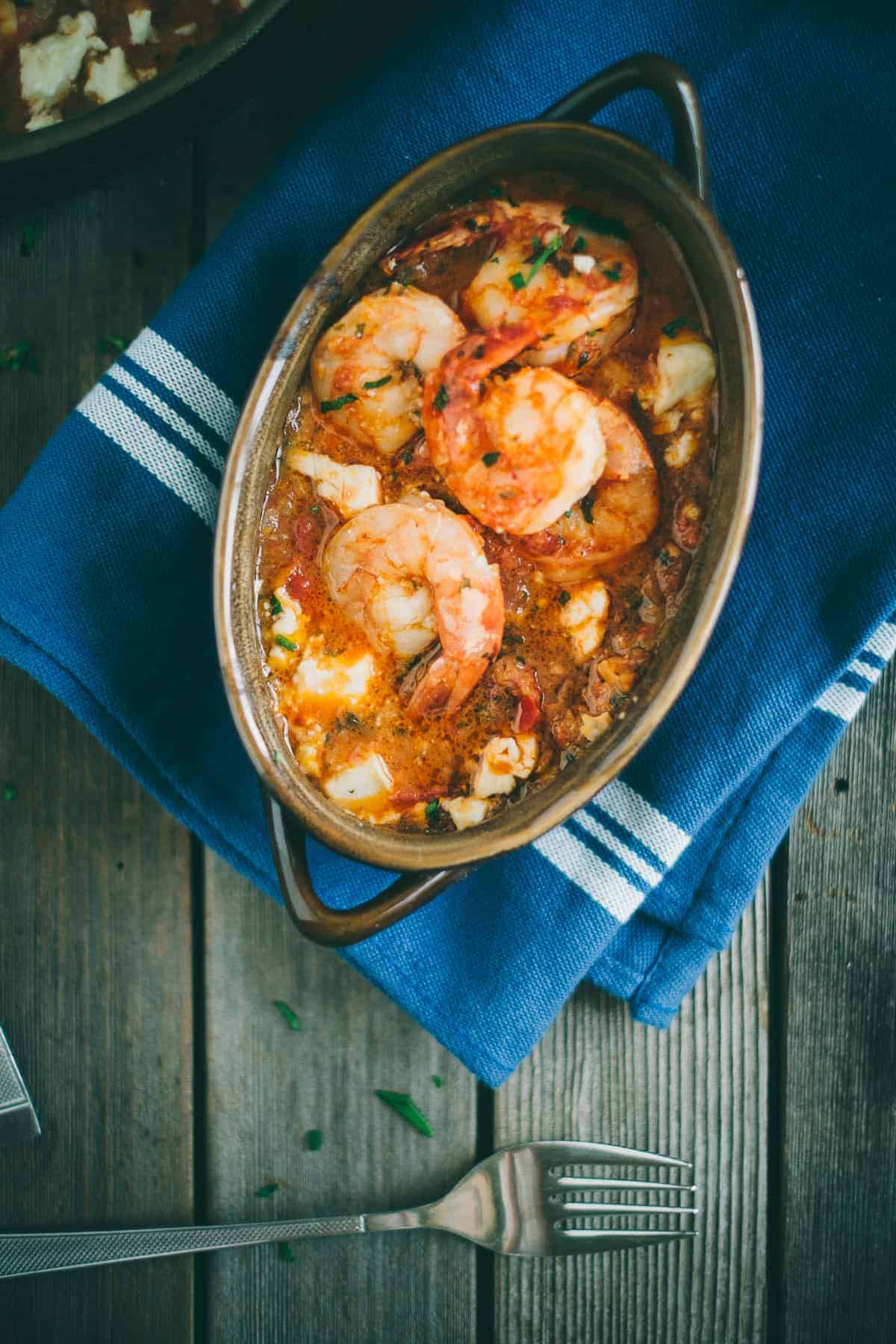 This dish is definitely one for the seafood lovers.
Ideally you would be enjoying this on a tranquil Greek isle along with a crisp Greek white and the sound of the bouzouki humming along in the background.
But the reality for me is, it's winter. It's cool outside and this prawn saganaki recipe brings joy and warmth to my being!
Traditionally it's a dish that would be served in the summer time but I think it adapts to the cooler temepratures perfectly. Also don't stress if you don't have the traditional bowls or frying pan. It works well in a deep dish frying pan.
There's a little chilli, a dash of ouzo and it all marries perfectly with melted feta cheese on top. Think of it as a "quick" prawn casserole!
As per usual, make sure you have some good quality sourdough nearby to dip in the hearty sauce.
Sip some ouzo and create your won Greek magic.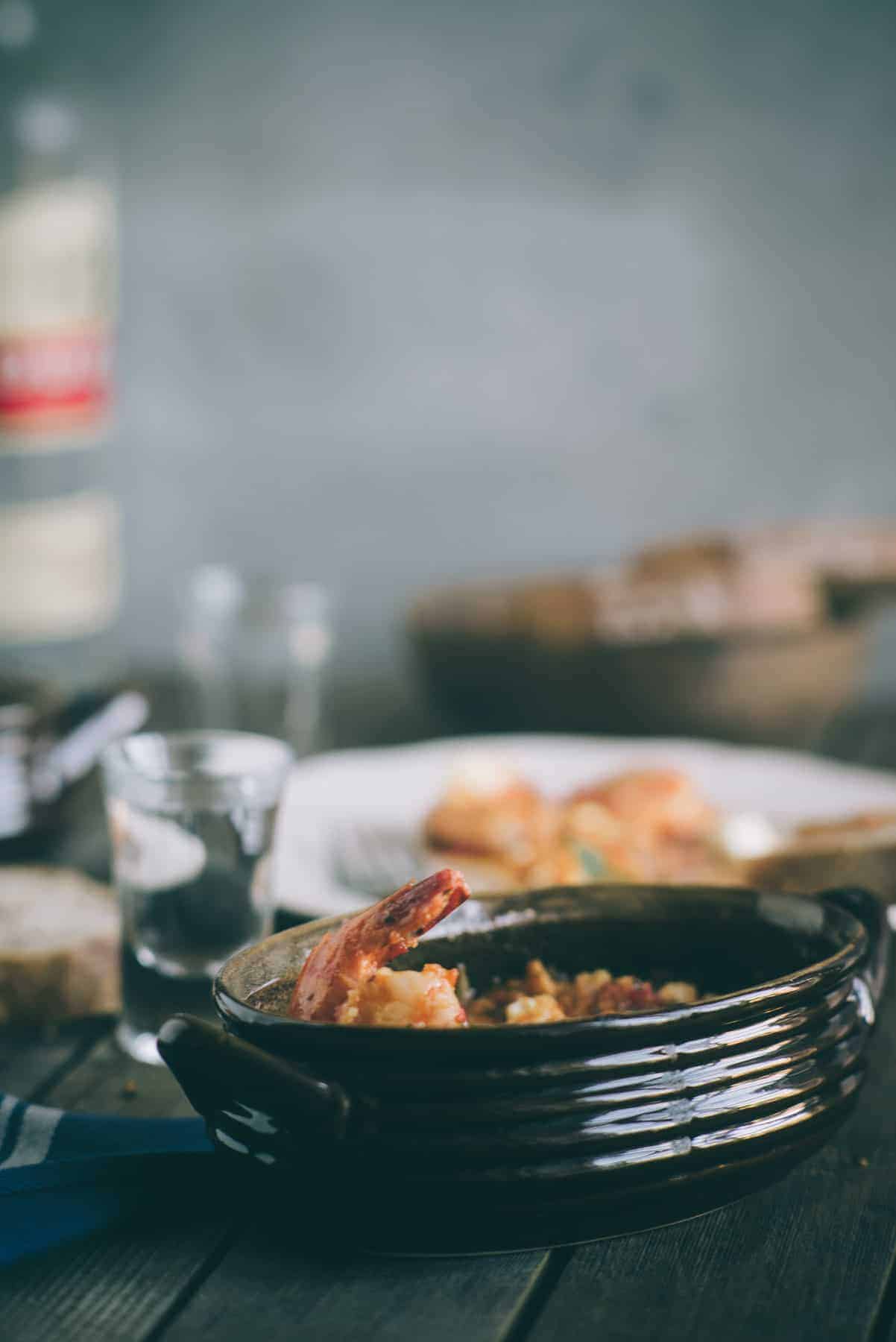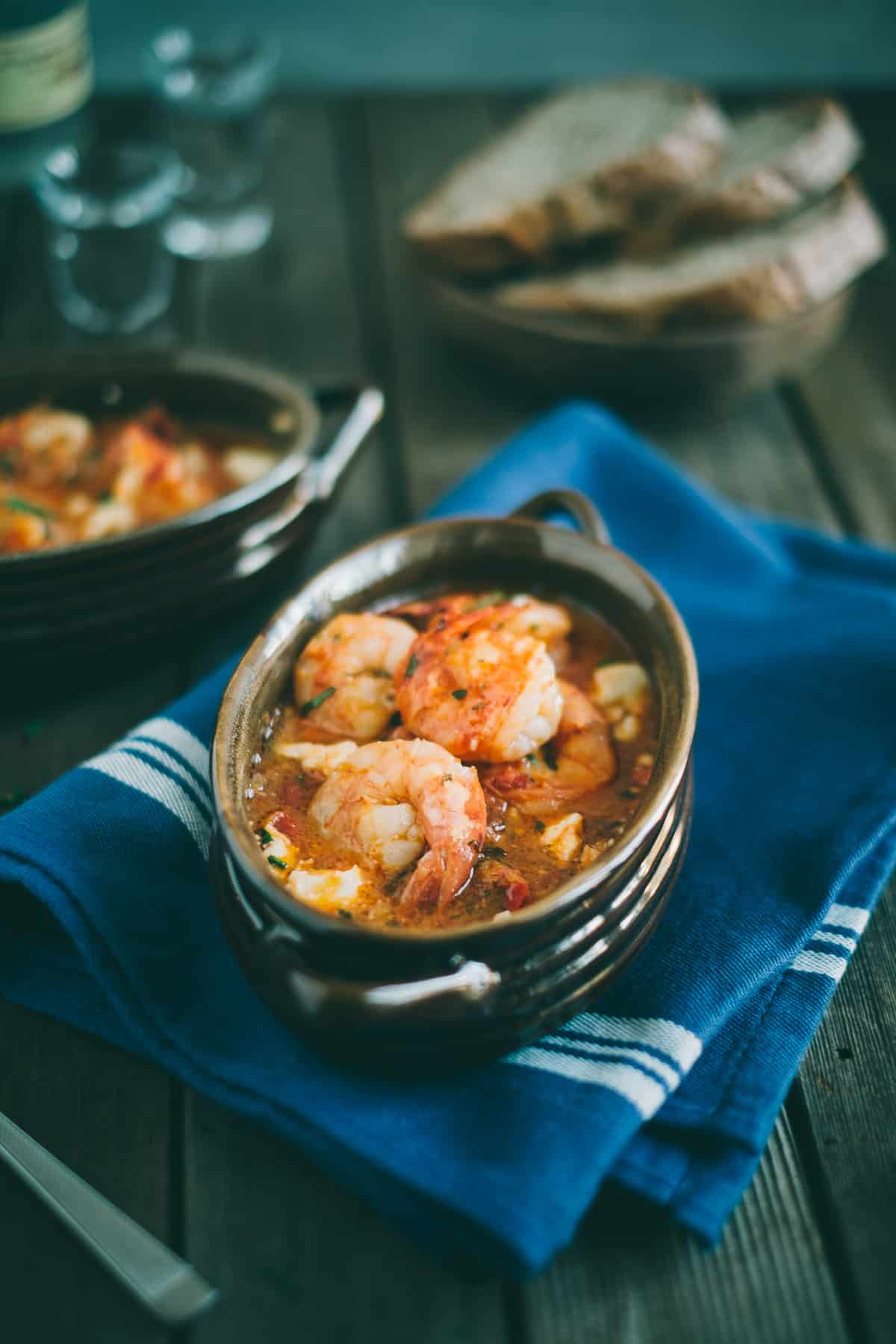 PRAWN SAGANAKI RECIPE
Serves 4 (as a meze)
Ingredients:
* 250 grams fresh prawns, cleaned deveined and tails left intact
* 1/4 cup olive oil
* 1 red onion finely diced
* 2 cloves garlic, finely minced
* 1 long red chili, finely chopped
* 1 large bullhorn or banana chilli, finely sliced
* 2-3 tbsp ouzo
* 200 grams canned tomatoes (or 2 large tomatoes pureed in a blender)
* 1/4 cup freshly chopped, flat leaf parsley
* salt and pepper for seasoning
* 100 grams feta cheese
Instructions:
1. Heat the olive oil on a medium heat in a large deep frying pan. Once heated through add the onion, garlic and chillis. Allow the mixture to soften and become translucent after a few mins.
2. Add the prawns and saute gently for a few mins.
3. Add the ouzo, tomatoes, parsley, salt and pepper and allow the mixture to come to a boil. Once it reaches boiling point turn the temperature down to a medium-low simmer. Cook for 10 mins.
4. Transfer the prawn saganaki mixture to oven safe ceramic bowls and crumble the feta on top. Place under a hot grill (broiler) until the feta melts and oozes into the sauce.
Notes
If you don't have oven safe ceramic bowls you can use the same frying pan…just make sure it's safe to use in the oven!!