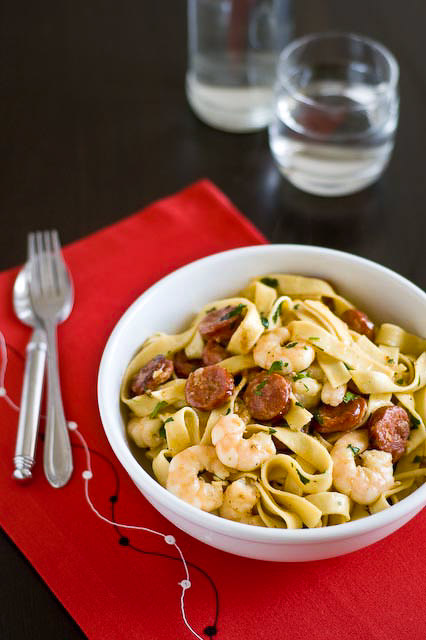 This is a simple "throw everything together" kind of pasta dish that I enjoyed a few weeks ago and only got around to posting now.  Remember when I prepared last month's Joust entry and I used prawns?  Well I had so may leftover that I had to use them quickly.  A great idea came to me to pair the prawns with some of the loukaniko I also had lying around.
What a great match.  All that smoked porky goodness paired well with the prawns.  The "loukaniko's" orange peel flavour was present but not too dominating.  Mixed with garlic, white wine and parsley and we were in Mediterranean food group heaven!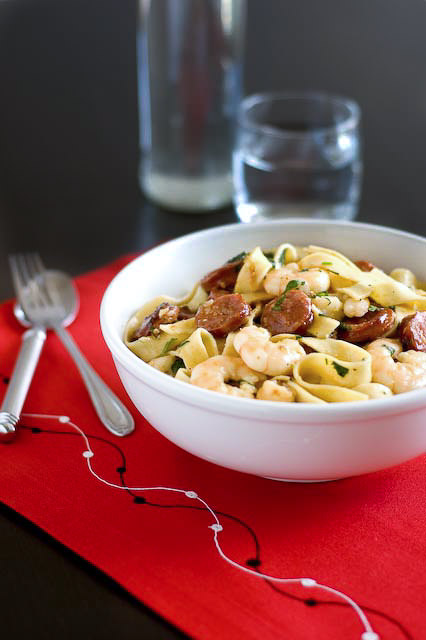 There isn't a "real recipe" as such.  But I'll quickly go through the steps of what I did.  I had cleaned and deveined my prawns earlier and also chopped up my loukaniko into small disc sized shapes.  I heated my trusty cast iron pan with a good lug of olive oil.  I added a few minced cloves of garlic and let them cook until they became fragrant.  I then added the loukaniko and let it fry off until it reached a "semi crispy" stage.  In went the prawns and I gave them a good stir through.  I then threw in a good handful of chopped parsley and a half a glass of white wine.  I let it all emulsify on a mediumish heat (not to high) and let the alcohol cook off.  And last but not least I added my cooked flat egg noodles and tossed everything together.  Dinner was served!  I thought about grating some fresh Parmesan cheese but decided the loukaniko's flavours were too good to be overpowerd by another flavour.  Quick, easy and delicious.  What more could you ask for?