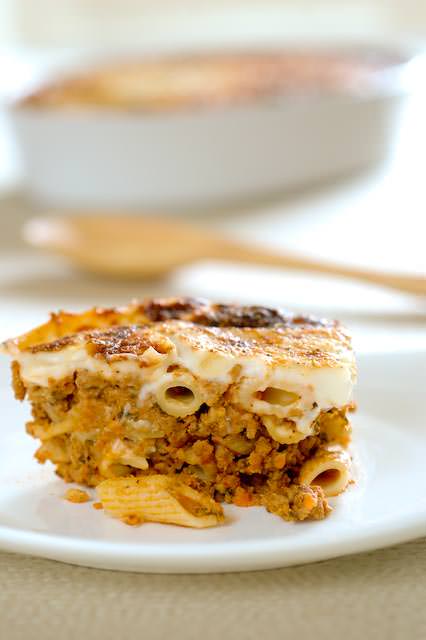 This ladies and gentlemen is one of my favourite comfort foods! Baked pasta, Greek style aka as "pastitsio".  A bit of a pain to assemble often resulting in a chaotic kitchen but absolutely delicious.  I used to crave this all the time as a kid, requesting it be cooked at least once a week.  At gGeek buffets (relatives' houses...LOL) it was the first thing on my plate.  I sort of see it as a grown up version of pasta bolognaise.  The bechamel topping gives it that extra lift and transforms it into something else!
Up until recently I thought I knew everything about this dish.  Then I learn it has a vegetarian cousin!  Seriously, Laurie from "Mediterranean Cooking In Alaska" does a fantastic vegie version of this using greens instead of a meat sauce...please I implore you to look here and see how she constructs her version of it.  Truly delicious as well.  And then I saw Ivy do her version of this and on top of providing a very detailed post, she gives some great history on this dish.  I always suspected it was a dish related to our Italian cousins but admittedly history is not one of my better subjects.
One thing I am aware of is how this dish varies from region to region in Greece.  I always watched my father the "chief pastitsio maker", make this dish and I picked up a variety of tips off him.  As I got older, I changed certain elements to suit my own tastes.  For eg I tend to use Parmesan cheese instead of myzithra, sometimes I add peas in my bolognaise sauce and more often than not I make it using a shorter tubular pasta such as rigatoni or penne instead of the traditional bucatini.  The one thing I never change or substitute is the nutmeg.  Pastitsio has the distinct aroma of ground nutmeg and you can really smell it when it comes out of the oven.  The other thing I like about this dish is that it can be served cold and I really do enjoy it better the day after its been cooked.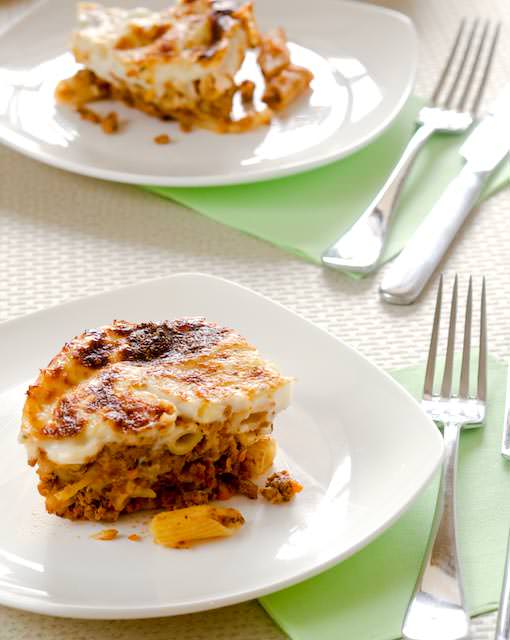 Now I won't go into a huge detailed version of how to boil the pasta.  I just recommend you use a good tubular pasta and make a nice, rich beef ragu.  I make my beef ragu using 500g each of pork and veal mince.  I add a few herbs, namely oregano and some basil and I use passata (400 ml bottle) as my tomato base. I also use a medium sized baking dish (a lasagna one is perfect).
The construction of this dish also varies.  I've seen many variations and arguments (oh! those passionate Greeks!) about how the dish should be layered.  I mix everything together.  Once my pasta and bolognaise sauce have cooled down I place them in the baking dish with one egg, a good grating of fresh nutmeg and about a cup of fresh parmesan cheese.  Using my hands I mix it all up making sure everything spreads evenly.  Your hands will smell nice but they won't look pretty!
The next part is to top it off with a rich creamy bechamel sauce.  This is the recipe for bechamel sauce.
80 grams of butter
100 grams of flour
800 ml of hot milk (let it come to a boil once and then take it off the heat)
1 teaspoon of grated nutmeg
salt and pepper to taste
1 cup of grated parmesan cheese (optional)
Melt the butter on a medium heat
Add the flour and make a "roux".  Keep on stirring with a whisk for a couple of mins.  (We're trying to eliminate that floury taste)
Add the hot milk and whisk quickly and thoroughly.  (Using the hot milk will speed up the thickening process).
Whisk till the sauce thickens.  Should be about 5 mins at the most.
Add the cheese and salt and pepper and mix through.
Once the sauce is ready pour it over the pasta/meat sauce mixture, ensuring it covers the whole top of the pan. Sprinkle with some more cheese and bake in a pre heated (180 deg C) oven for 40 mins.  The pastitso is ready when it's a nice golden color on top.  The aroma will be killing you in the meantime!
Let it rest for about half an hour before serving with a side salad.  Alternatively, eat it the next day..its just as good.