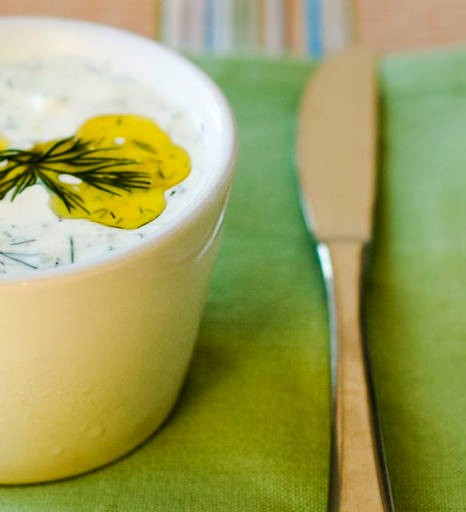 Tzatziki is probably one of Greece's most famous dips.
It utilises ingredients which are plentiful in that country.
We're talking thick, creamy sheep's milk yougurt. Crisp, cooling cucumbers. And loads of garlic.
It's commonly used in souvlaki that are served in many restaurants and it often comes out as a starter as well.
Whack it on some fresh bread and you are in heaven.
It's very easy to prepare and the secret lies in the yogurt. Please be wary if you make this NOT to use revolting low fat yogurt.
Try to find a natural or organic one, often labelled as "Greek Style". Many years ago I remember my father buying the yogurt and letting it strain in a muslin cloth in the refrigerator for a few days. He wanted really thick yogurt and he claimed it was too "thin" straight out of the container.
Also be wary on who you breathe on the next day. The garlic content isn't that high but it certainly makes an impact.
Tzatziki is a very versatile dish and I love using it in a number of ways. It's fantastic served over char grilled or bbq'd lamb chops or even roast lamb in the cooler months.
I recently served it as part of my summer antipasto and it went down a treat.
Tzatziki
A recipe for traditional Greek tzatziki
Ingredients
250 Grams of good Greek yogurt. The natural, thick one!
3 small or "lebanese" cucumbers finely grated
2-3 finely minced garlic cloves
A good handful of dill finely chopped
Another good handful of fresh mint roughly chopped
A "splash" of extra virgin olive oil
juice of half a lemon
salt and pepper to taste
Instructions
Peel and deseed the cucumbers. Finely grate them using a grater.
Once this has been done squeeze the excess water out of them. (We don't want them too wet).
Place the grated cucumber into the yogurt along with the remaining ingredients.
Mix well, cover and place in the refrigerator.
Notes
Once everything is combined I recommend you place the tzatziki into the fridge and let it rest a little while. We want the flavours of the garlic to permeate. It's a good idea to make this the day before. That way all the flavours get to develop really well. My recent batch stayed with me for 4 days. It's so addictive and the flavour just gets better and better.