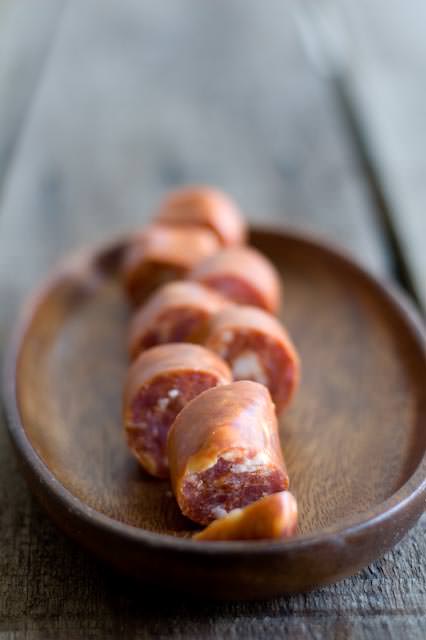 "Loukaniko" is the Greek word for sausage.  The best way for me to describe it would be to compare it to the Spanish chorizo, without any offence to the Spaniards.  Loukaniko is full of porky goodness (Heather are you listening?…LOL!) often flavoured with fennel seeds or orange peel.  It's a dry sausage and its usually prepared smoked.  The Northern Greek version is often spicier with the addition of chili or "pipperies".  People are puzzled when I explain that orange peel is used for flavouring.  (this version is primarily found in the Southern Peleponnese).  The orange marries perfectly with the smoked pork and it can be very addictive.  I love it served as part of a "meze" platter.  There's just something satisfying about the fried tatse of the pork!  But all these foods should be consumed in moderation because they do tend to have a higher fat content than normal.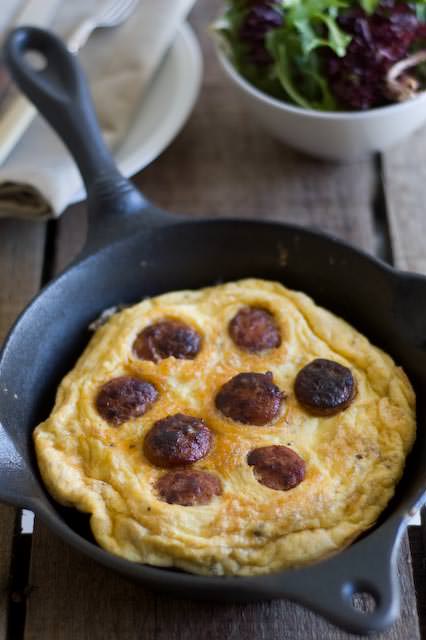 When I craved this recently I really wanted to have it with eggs as part of a Sunday brunch.  My dad used to prepare this with eggs when I was younger as a stand by meal.  I used to love eating it with lots of bread!  So when I picked up some from my Greek butcher recently, I set about on making a frittata.  Or a puffy type of omelette.  Call it whatever you like.  It was perfect with a small green side salad and a really refreshing mixed berry juice.
RECIPE FOR LOUKANIKO WITH EGGS
*I like to use a well oiled cast iron pan when I cook eggs in this manner.  It really helps with finishing off the eggs in a hot oven for the last few minutes and gives it it's puffy perfection*
4 organic or free range eggs
salt and pepper
a good splash of water
olive oil for frying
2 medium sized Greek loukanika cut into fat discs
crumbled feta is optional
Pre heat oven to 200-220 deg C
Lightly beat the eggs with some water and salt and pepper
Heat some olive oil in the pan and let it get hot.  Fry  the loukaniko ensuring it cooks through really well.  A crispy outside is nice but don't over cook it.
Pour your lightly beaten eggs into the pan with the loukaniko and do your "egg thing"!  Move the mixture around with a fork ensuring all the top egg mixture sets. This can take a few mins…surely some of you have done this before! (at this point you may want to add your feta)
Place the "semi set" omelette/frittata in your hot oven.  Leave it for about 7-10 mins.  We want it to turn golden on top. Nice and puffy.
Serve hot with bread and a nice side salad
*This dish can also be served cold.  It's delicious like that as well!