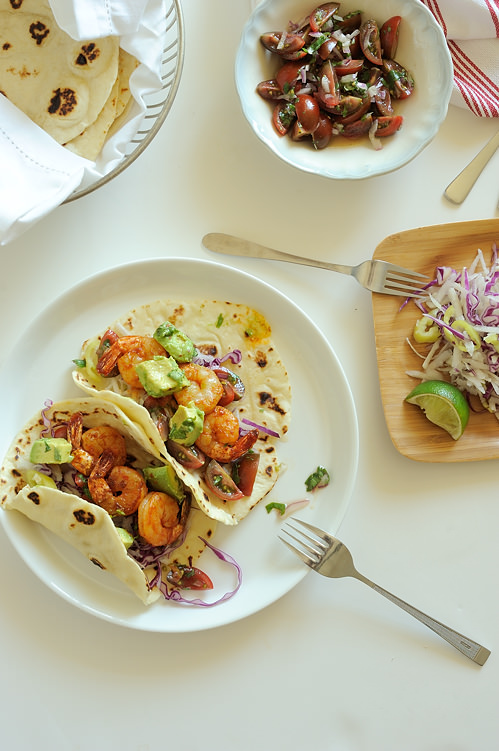 "Hola!"…we're going to Mexico!  Beautiful Mexico with its wonderful Margaritas, tacos and tortillas. The lovely Joan from Foodalogue is hosting her annual "culinary tour around the world" and she's inviting us to join her on this 13 week extravaganza.  The theme this time is "South of the Border".  First stop, Mexico.  Click on the badge to the right and get the full details of our itinerary.  I urge you all to join us on this virtual culinary tour.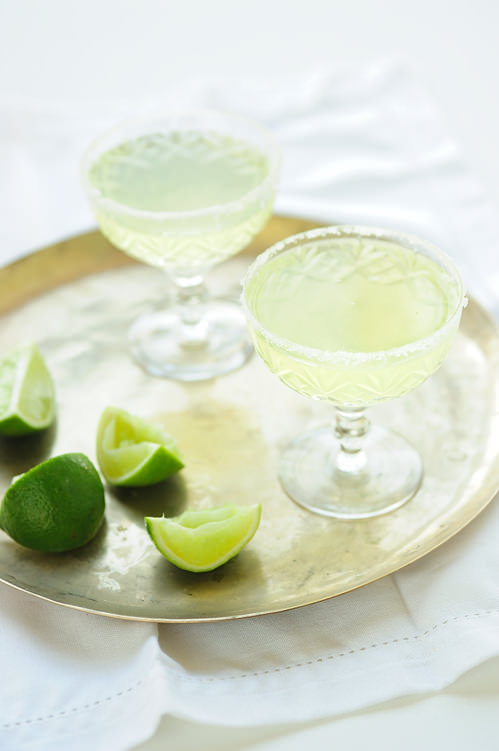 When I saw that Mexico was the first place on our tour my mind went straight to Margaritas!  Maybe it's a little clichéd but this cocktail is the perfect cooling blend of tequila, triple sec and lime.  In fact, limes feature quite heavily in the dish I prepared today.  I also wanted it to be colourful because I have always associated Mexico with strong vibrant colours of orange, green, yellow and red.  It was quite a challenge trying to find a dish to recreate that didn't require a lot of "specialty" spices and ingredients.  I kept it simple and did prawn tacos and served it up with a kohlrabi slaw. The prawn or shrimp tacos are  a specialty of the Baja California region.  And I'm proud to say I made the tortillas myself!  I had initially planned on making corn tortillas but couldn't locate any masa so I opted to make flour tortillas instead.  Surfing Youtube one night, I somehow found myself looking at a recipe for flour tortillas provided by producer/director Robert Rodriguez. The video is quite edgy and I got very hungry watching it.  The recipe called for a combination of butter and lard.  Lard is not something I have never cooked with before and needless to say I will not be using it again. It was a little "strong" for my liking.  It worked well in the tortillas but next time I plan on using butter as my only fat.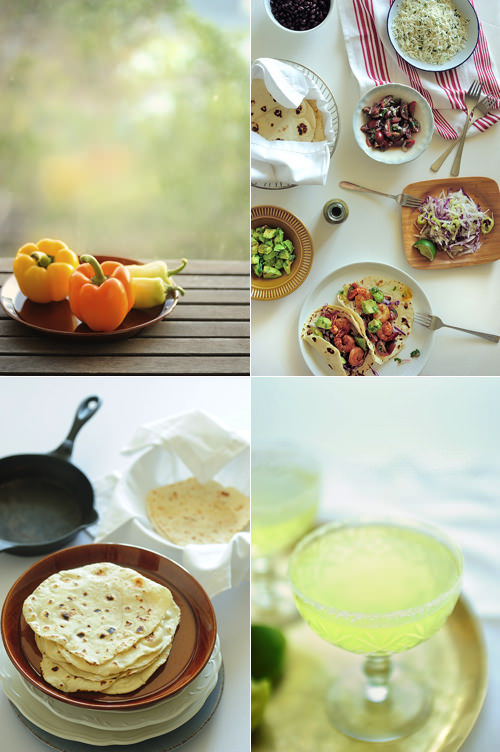 I also made a kohlrabi slaw.  A vegetable that I am enjoying using more and more around the kitchen.  I combined the kohlrabi with shredded red cabbage and sliced banana chillies.  I couldn't forget the guacamole but opted instead to make a "chunky" version of it, combining thick pieces of chopped avocado with lime juice, chili, coriander and salt.  I also played my "salsa cards" different too.  Again, I went with a chunky, cherry kumato salsa mixed with chopped coriander, chopped red onions and lime juice.  And I'm still not finished with the limes yet!  My prawns were marinated in a mixture of lime juice, a little olive oil, ground cumin, coriander and chili.  Assembling the soft tacos was fun and I loved the whole combination of flavours.   Joan, thanks for letting me join the our,  experiment a little and learn a lot in the process.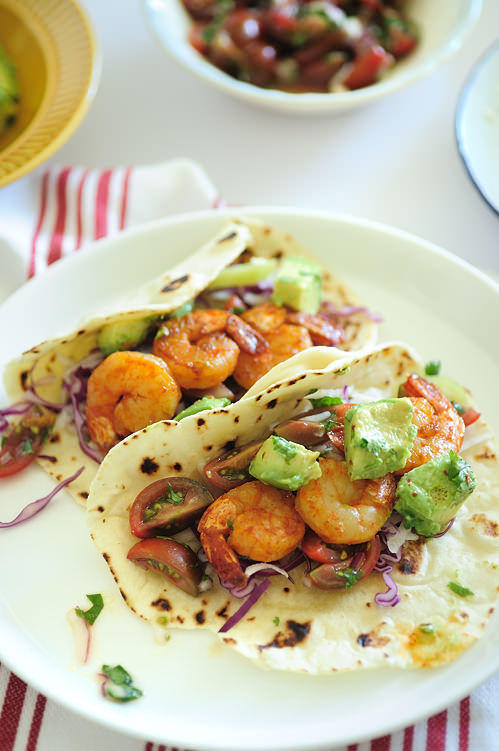 RECIPE FOR FLOUR TORTILLAS
(Adapted from Robert Rodriguez)
2 cups of plain flour
1/2 tsp of salt
1/2 tsp of baking powder
30 grams of lard
30 grams of butter
3/4 cup of hot to lukewarm water
Place all the dry ingredients in a large bowl and mix thoroughly.
Mix the lard and butter through the flour with your fingers until it is all blended through and the mixture resembles coarse breadcrumbs
Slowly add your water incorporating into the mixture until you have a lovely elastic dough.
Pinch pieces of dough until you end up with 8-9 golf sized pieces.
Rest for 20 mins and then roll out into thin round circles.
Cook on a hot flat grill or pan-about 8-10 seconds.  Once you see the tortillas puffing up, turn them over and cook  the other side for the same time.
Place on a kitchen towel lined basket as you cook to keep them warm
RECIPE FOR PRAWNS
125 grams of  green, deveined, shelled, prawns (with tails intact)
1 tsp of ground cumin
1 tsp of ground coriander
1 tsp of ground chillies (more if you prefer it hotter)
juice of 1 lime
a splash of olive oil
Combine the prawns with all the ingredients in a non reactive bowl and let it marinate for about half an hour
Cook on a barbecue, hot plate or pan for approx 5 mins or until the prawns turn a pinkish colour.
RECIPE FOR KOHLRABI SLAW
1 head of kohlrabi peeled and shredded
1/4 of a head of purple cabbage finely shredded
1 banana chili finely sliced
juice of 1 lime
1 handful of finely chopped coriander
Combine all the ingredients and set aside
Serve immediately with kumato and avocado salsas and add fillings to soft tortillas according to your liking.   Coriander rice and black beans are great side dishes too.  And don't forget the Margaritas!!!