If you have any spare oil oil and citrus lying around the house, consider using it to make this gorgeous, aromatic, lemon infused olive oil.
It all started with that  picture.
That's how this blog post begins.
As you're aware I've shopped up big on lemons and limes.
The apartment is beginning to smell like a citrus orchard (not that that's a bad thing).
I was bored earlier today and thought it would be a good exercise to shoot some still life images of all this abundant citrus produce.
After that was done I was still faced with the dilemma of what to do with it all.
I thought about whipping up a lime, yoghurt and olive oil cake but I just wasn't in a baking mood-yet.
The only other abundant product that I ALWAYS have in the house is olive oil. It's been with me "like forever". LOL!
I am very lucky that I have it sent from Greece. I get a shipment every few years and enjoy it quite a bit in many of the Greek and Greek inspired recipes I make.
I'd actually been thinking for quite a while now to make some sort of infused olive oil concoction as the commercial ones are very expensive and frankly not worth it.
In the end I decided to make a batch of lemon infused olive oil.
The process was quite simple actually. The oil needs to be gently simmered with a little lemon peel for about ten to fifteen minutes. Once it cools, strain it and seal your bottle, before storing it in a cool, dark place.
I'll let you know how the flavours develop over time. It will definitely need a few weeks to do this.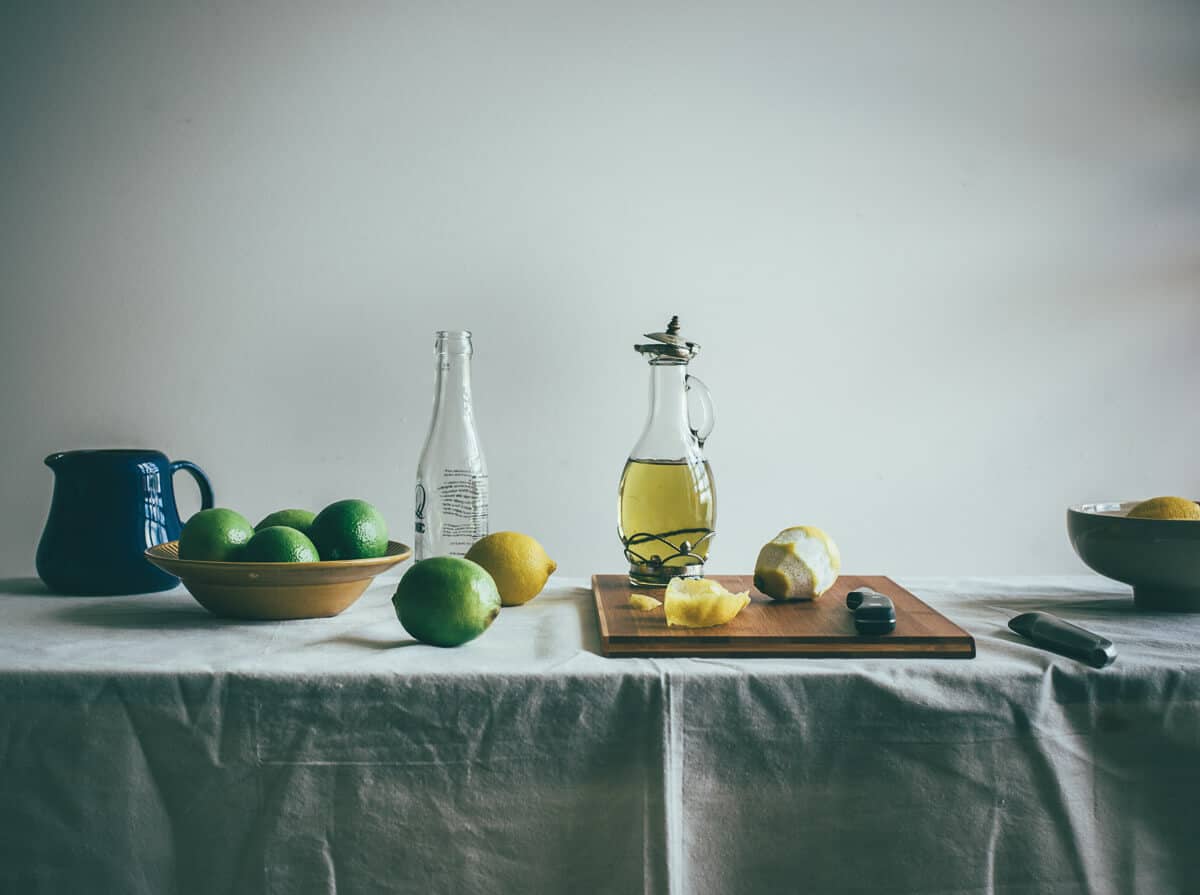 Lemon infused Olive Oil Recipe
A beautiful, aromatic oil with a hint of citrus
Ingredients
1 cup, extra virgin olive oil
Peel from 1 or 2 lemons
Instructions
Scrub your lemons quite thoroughly before peeling them.
Peel your lemons avoiding any of the white pith.
Place the lemon peel with the olive oil in a sauce pan and cook over a very low heat for 10-15 mins. (make sure the mixture does not boil. We want to the flavours to infuse nice and slowly)
Remove from the heat and allow the olive oil to cool down completely.
Remove the peel and pour the oil in a glass bottle or jar.
Store in a cool, dark place to allow the flavours to develop.