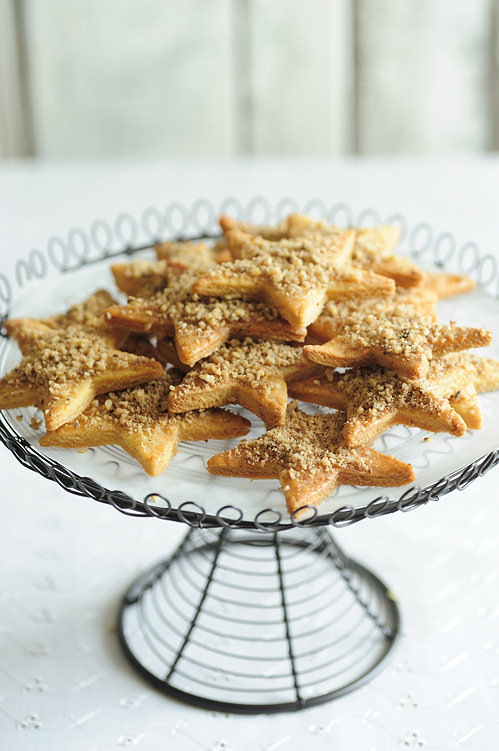 The baking is continuing!  (Truth be told I made these about a week ago and distributed them at a friend's Xmas party).  Melomakarona, along with kourabiethes are a festive biscuit or cookie made usually around Christmas and New Year.  However, I have seen them be prepared for namedays, birthdays and many other celebrations. Whether this is an Australian/Greek thing I'm not sure.  The word itself literally translates as a honey macaron.  And they have nothing in common with that macaron. I adore them and can quite easily consume many in one go!  They are quite a sweet biscuit and this is due to the honey syrup that is poured over them once they come out of the oven.  Again, as with most Greek cooking there are a few variations to this biscuit.  My mother used to fill them with walnuts and I have seen sesame seeds sprinkled on top along with the traditional walnuts.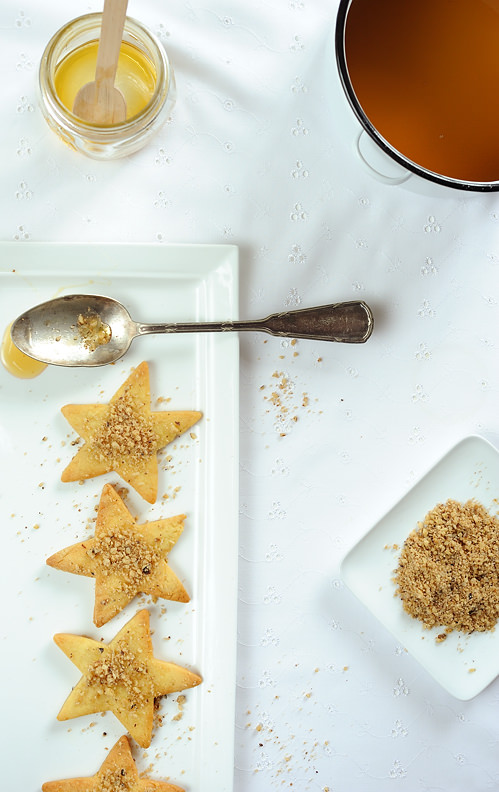 The only "untraditional" thing I did was to shape them as stars using a cookie cutter.  Like I said before, it's good to play around with food ideas and I think the festive Christmas stars play well with this concept.  They can be a little time consuming but they are well worth it.  If you're a cinnamon addict and you love a little spice in a biscuit, these will be perfect for you to enjoy.  I hope you like my slight variation.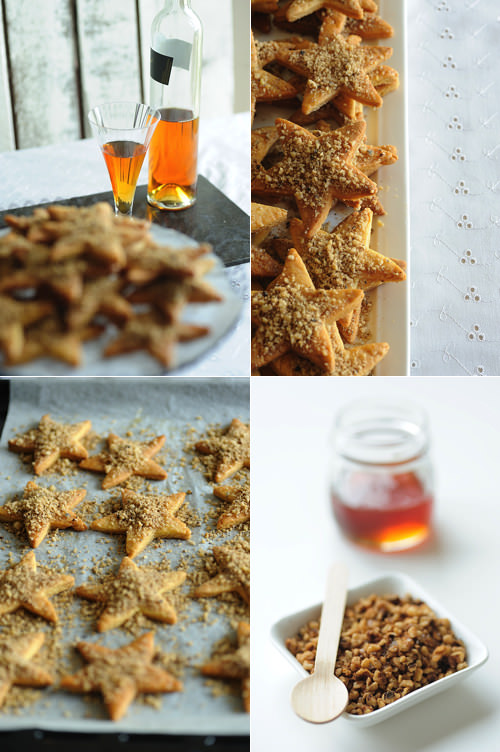 RECIPE FOR MELOMAKARONA
Makes approx. 30 medium sized stars
(The traditional recipe calls for a little brandy.  I used muscat because that's what I had on hand.  Also, I might have "over processed" the walnuts in the food processor.  I recommend you go for a more coarse grind on the walnuts.  And be wary that the dough is very soft!).
For the dough:
450 grams of plain, sifted flour
1 tsp of baking powder
150ml of olive oil
75 grams of unsalted butter
100 grams of caster sugar
⅔ cup of freshly squeezed orange juice
1 heaped tbsp of grated orange zest
2 tbsps of brandy or muscat
Sift the flour and baking powder in a large bowl, making a well in the centre.
Put the remaining ingredients for the dough into a food processor and blend at a high speed ensuring everything is mixed well.
Pour the liquid mixture into the bowl with the flour and mix well to combine to form a very soft dough.
Roll out the dough to about 1-2 cm thick (depending how you like your stars) and proceed to stamp out the stars using a cookie cutter.
Place the stars on a lined baking tray ( I used a floured spatula) and place in a pre heated 180 deg C oven.
Bake for about 25-30 mins or until golden in colour.
For the syrup:
¾ cup of honey
1 cup of caster sugar
juice of 1 lemon
¼ cup of water
Make the syrup by adding all the syrup ingredients to a pot and bring to a boil. Stir to ensure the sugar has dissolved. Allow to cool slightly.
For the topping:
1 cup of walnuts finely chopped
1 tsp of ground cinnamon
½ tsp of ground cloves
Combine the above ingredients together.  Set aside to use as the last step
PUTTING IT ALL TOGETHER
Once you remove the melomakarona out of the oven allow to cool for 5 mins and then using a slotted spoon dip each star into the syrup ensuring it absorbs a little of the syrup.
Place the stars on a large platter and top with the spiced walnut mixture.