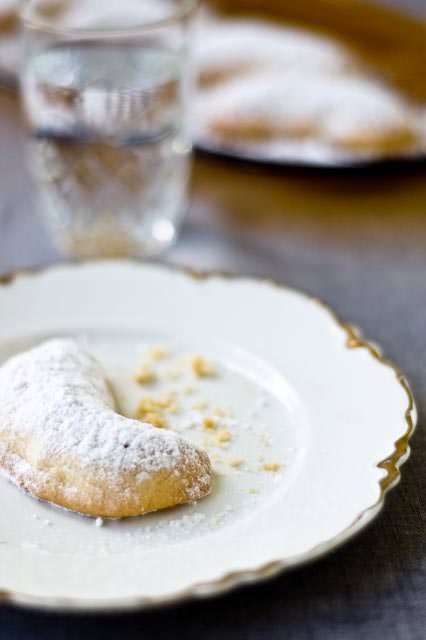 Where would Greek food and culture be without "kourabiethes"? (pronounced koo-ra-bee-e-thes).  They are synonymous with celebrations, often being produced during the very busy Easter period, namedays, birthdays and of course Christmas.  They're basically a shortbread biscuit that usually has almonds incorporated through it and they are finished off with dusted icing sugar.
This was my first attempt at making these "bikkies" and of course I had to consult my mother, aunties and godmother!  Each one gave a different recipe and this just confused me more.  My mother shuns using butter for the soft dough prefering to use oilve oil.  She believes the biscuits come out much "crumblier" and has a beter shelf life.  My godmother prefers not to use almond pieces in the dough, believing that the biscuit itself needs to be the star.  So in the end, I took a little bit of each recipe and made it my own.  That was always going to be the way anyway!  I loved these as a kid and my favourite part was watching the rose water being doused on the biscuits once they had been taken out of the oven.  The aroma was mesmerising and smelt quite exotic!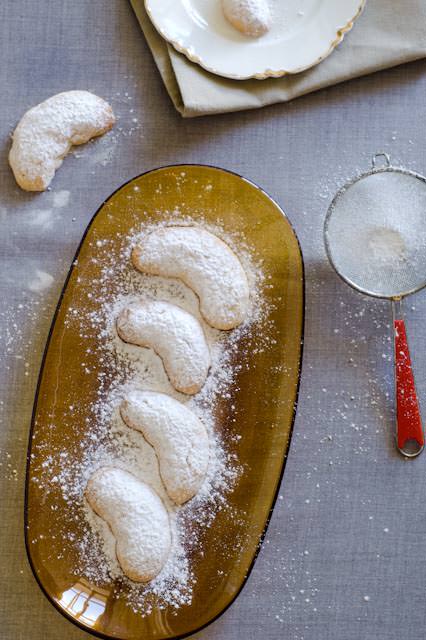 I've never made shortbread before and I did find certain elements a little challenging.  The dough came out way too soft from the mixer so I ended up adding another ½ a cup of flour to make it easier to mould.  Make sure to remove them from the oven once they have turned golden.  Anything more than that and they turn out a little "hard"..ahem!  (that was my first batch!).  It was all fun in the end though!
RECIPE FOR KOURABIETHES  (makes approx 30)

250 grams of softened unsalted butter
2 cups of pure icing sugar
1 egg
a "splash" of vanilla extract
1 tsp of salt
100 grams of blanched, chopped almonds
2 ½ cups of flour
rose water
icing sugar to decorate
METHOD
Preheat your oven to 180 deg C
Using a stand mixer, blend the butter and icing sugar until it goes all soft and fluffy
Add the egg, vanilla and salt and incorporate well.
Add the chopped almond pieces and the flour ensuring the dough comes together
Remove the dough from the mixer, ensuring it is not too soft and  sticky.  It needs to be workable but ensure also it is not too stiff.
Form into a large disc.
Scoop out walnut sized pieces of dough and form into a crescent shapes.
Fill up a lined baking tray, allowing for some space between the kourabiethes.
Place into a hot oven and cook for about 15-20 mins.  You may need to turn your baking tray around halfway during the process.
When the shortbread have turned golden remove from the oven and douse with drops of rose water.
Allow to cool
Once cooled, dust the biscuits with a generous amount of pure icing sugar.
Serve with a cold glass of water.
N.B.  I had a little dough leftover at the end and I made some of my kourabiethes into a round ball shape.  Something different...