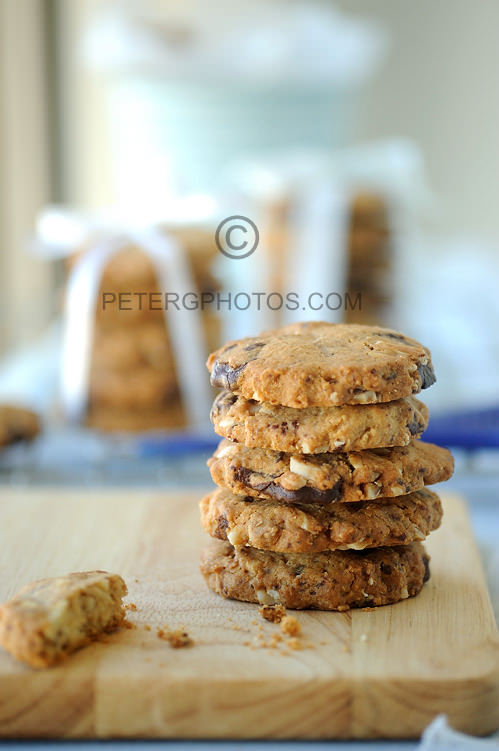 I've never "officially" made cookies before.  I'm talking about the American style biscuit that can be enjoyed either soft or crunchy.  I've often bought them in my travels in the US and usually enjoyed them with a cup of coffee.  If you do a search on the world wide web, I'm sure you'll come up with a lot of cookie recipes!  Well I'm here to add my own to that pool.   I loved these.  They were addictive and did not last long in the house.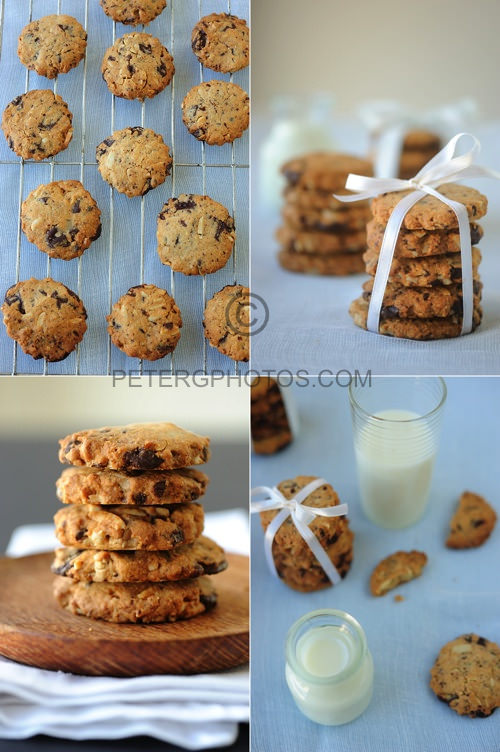 The chocolate I used in these delightful morsels comes courtesy of Green and Blacks Chocolate.  I was lucky enough to be sent a batch, which included "milk", "white and vanilla" and their award winning "Maya Gold".  The Maya Gold is a personal favourite of mine and this is the type I used in my cookie recipe.  It's a dark chocolate blended with orange, cinnamon, nutmeg and a hint of vanilla.  It's kind of "exotic" and definitely very sexy.  The recipe for the cookies is on their website.  What I did was substitute the brazil nuts for slivered almonds and I used the whole block of the Maya Gold.
N.B  Just to let you know, I was under no obligation to write anything about the chocolate or reproduce any recipe.  I did it because I like this brand and have been eating it their chocolate for a long time now.  And they also have heaps of recipes on their website.  Also, who says no to free chocolate?!!!
RECIPE FOR CHOCOLATE AND ALMOND COOKIES
(recipe from the Green and Black's website and recipe slightly altered by me)
Ingredients
75g unsalted butter
60g caster sugar
1 large egg, beaten
175g wholemeal self-raising flour
½ teaspoon vanilla extract
½ tablespoon milk
1 block of Maya Gold chocolate, roughly chopped
50g slivered almonds
Pinch of salt
Preheat the oven to 180°C. Grease a baking sheet with melted butter.
Cream together the butter and sugar in a bowl until light and fluffy. Beat in the egg. Sift the flour once, returning
the bran to the sifted flour, then fold it into the mixture. The bran gives a distinctive flavour and texture to the
cookies. Beat well, adding the vanilla extract and sufficient milk to make a pliable dough. Mix it with your hands,
adding the milk in stages until the dough is fairly soft, but not sticky. Add the chopped chocolate, nuts and salt
and distribute evenly through the dough. Roll out on to a lightly floured board to a thickness of about 5mm.
Using a 6.5cm cookie cutter, stamp into rounds and place the cookies, spaced well apart, on the greased baking sheet.
Bake in the centre of the oven for about 20 minutes. Watch them carefully so they don't overcook. Remove from
the oven and leave to cool on the baking tray for a few minutes before transferring to a wire rack to cool
completely.
HINT: All flour should be sifted before you use it. Sifting flour is important, not just to remove any little foreign
bodies that may be in the flour, but also to aerate it.