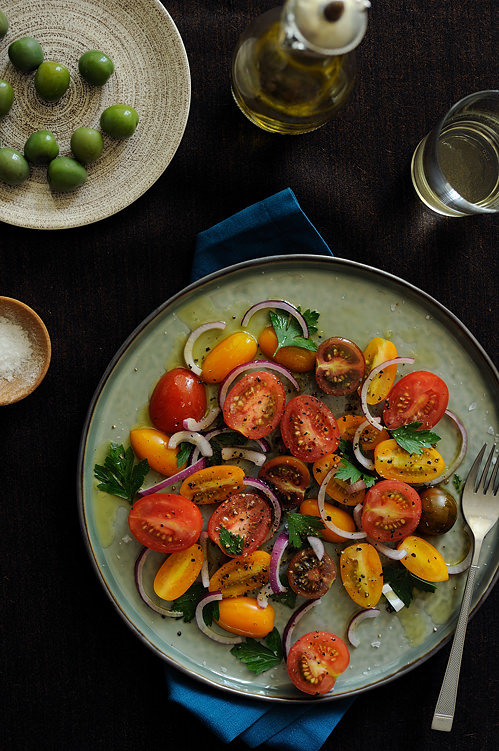 Another mission accomplished.
I found heirloom tomatoes here in Sydney! Finally! (The closest I've come to heirloom tomatoes was finding these kumatoes early last year). I fell in love with these fruit when I first tried them in San Francisco a few years ago, after reading about them on so many blogs.
There's just something about them.
I love how they have these odd shapes and different shades of colours.
Other words that come to mind to describe them, include: "sexy", "exotic" and even "bohemian".
When I first got to sample them I finally understood what all the fuss was about. It's hard to describe...sure, they're tomatoes but they taste like a real tomato should. Nothing like those "watery, supermarket" tomatoes! In fact, they remind me a lot of the tomatoes we had growing in our back garden when I was a kid.
These heirloom tomatoes are available during the later part of the summer months and are still perfect to enjoy with our very unseasonal warm weather here in Sydney.
Their colours had me hypnotised. Bright yellow, dark green with zebra stripes, pink ones and even gold ones. I wanted to photograph every single one of them...and I did!
I cooked with them for a whole week, making a variety of dishes that I can't want to share with you. I can't wait...I hope you're all tomato fans!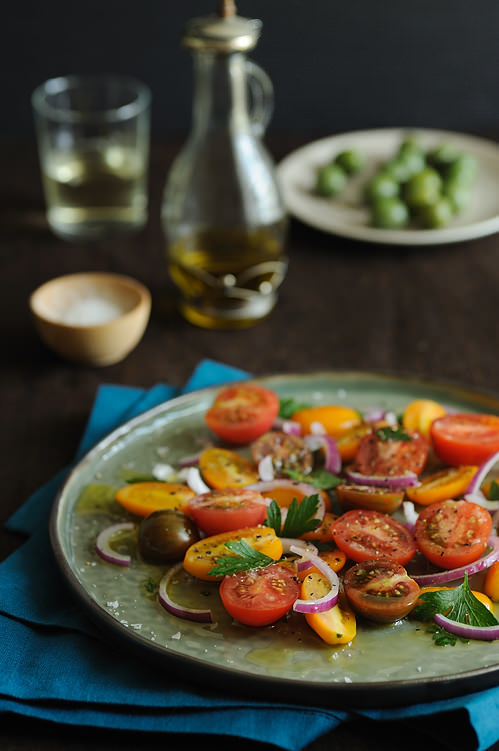 Let's start the proceedings with something simple...and you know how much I love simplicity.
Heirloom tomatoes don't need much. A few other simple ingredients and this salad becomes lunch or a starter to a bigger meal, in no time.
Slice up your heirloom tomatoes, add some sliced red onions, a few sprigs of parsley, season with your finest sea salt and cracked black pepper and drizzle with some extra virgin olive oil...Voila! Beauty and taste on a plate!
And don't forget to serve a plate of bread. And olives...oh and wine!.....