Mushroom, chorizo and haloumi tacos are the new holy trinity.  Make these for an unforgettable summer lunch.
I hope everyone had an enjoyable Christmas.  Did you all manage to overindulge?  To be honest, I kind of like the post Christmas gluttony period. (And when I talk about gluttony, I'm not only talking about the food).  I can now focus on myself, friends and the new year!
With summer in full swing here in Sydney, I'm all about informal get togethers and casual eating.  I try to keep it simple and nothing could be more simpler than cooking with mushrooms.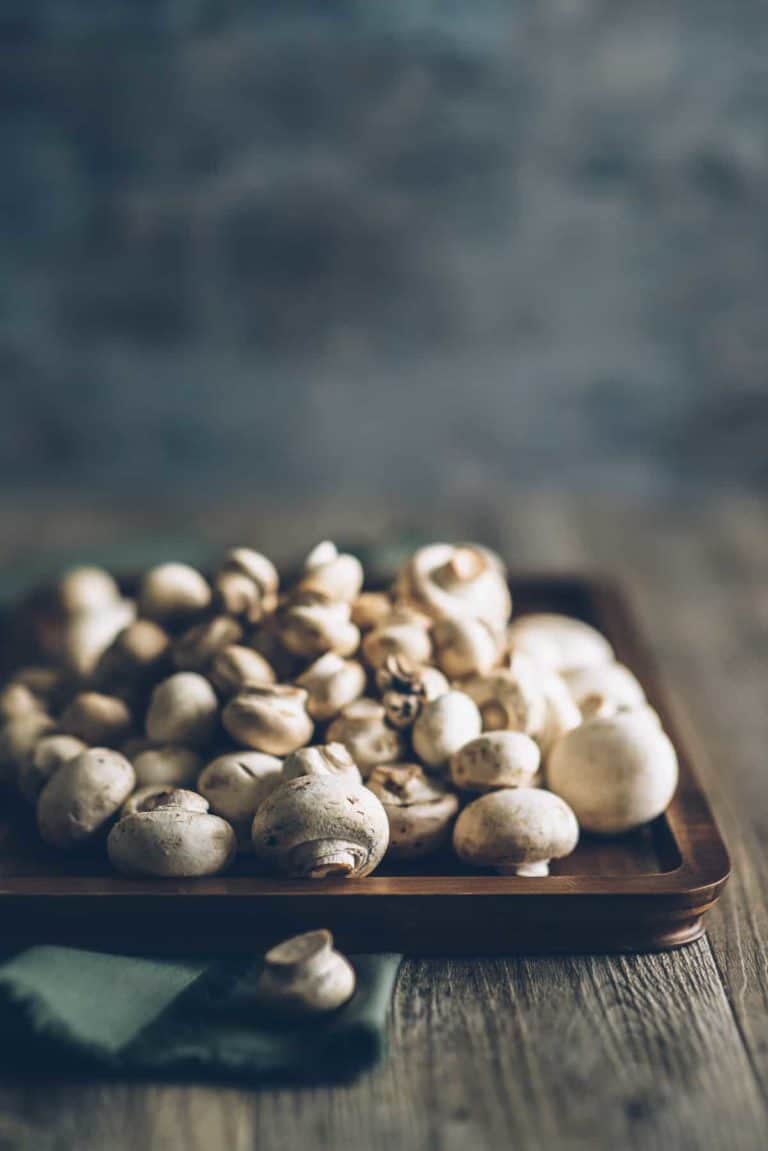 I'm back again this year working with the Australian Mushroom Growers developing some unique recipes that will hopefully provide some inspiration as we transition over to the new year this summer.  For this recipe I've taken that old favourite - the humble taco and paired it with some haloumi, chorizo and button mushrooms.
As usual you can be quite flexible here. If you don't want to use pre bought tortillas you can always make your own. In fact, the ones used in this recipe today are home made, based on an old Greek pita bread recipe! (recipe coming soon I promise!).  The chorizo and haloumi work really well together. I consider them another one of those "perfect marriages".  The button mushrooms round out the flavours perfectly. And when you pile all three into a warm, soft home made tortilla, it really doesn't get any better!
You can always add some freshly grated cabbage if you wish and I think some of my avocado tzatziki would do wonders here.  Top them with some freshly sliced chillies, sprinkle some coriander and serve them with a cold beer.
Mushroom, chorizo and haloumi tacos are the "new black".  Trust me!
Summer has only just begun...
Scroll down for the recipe...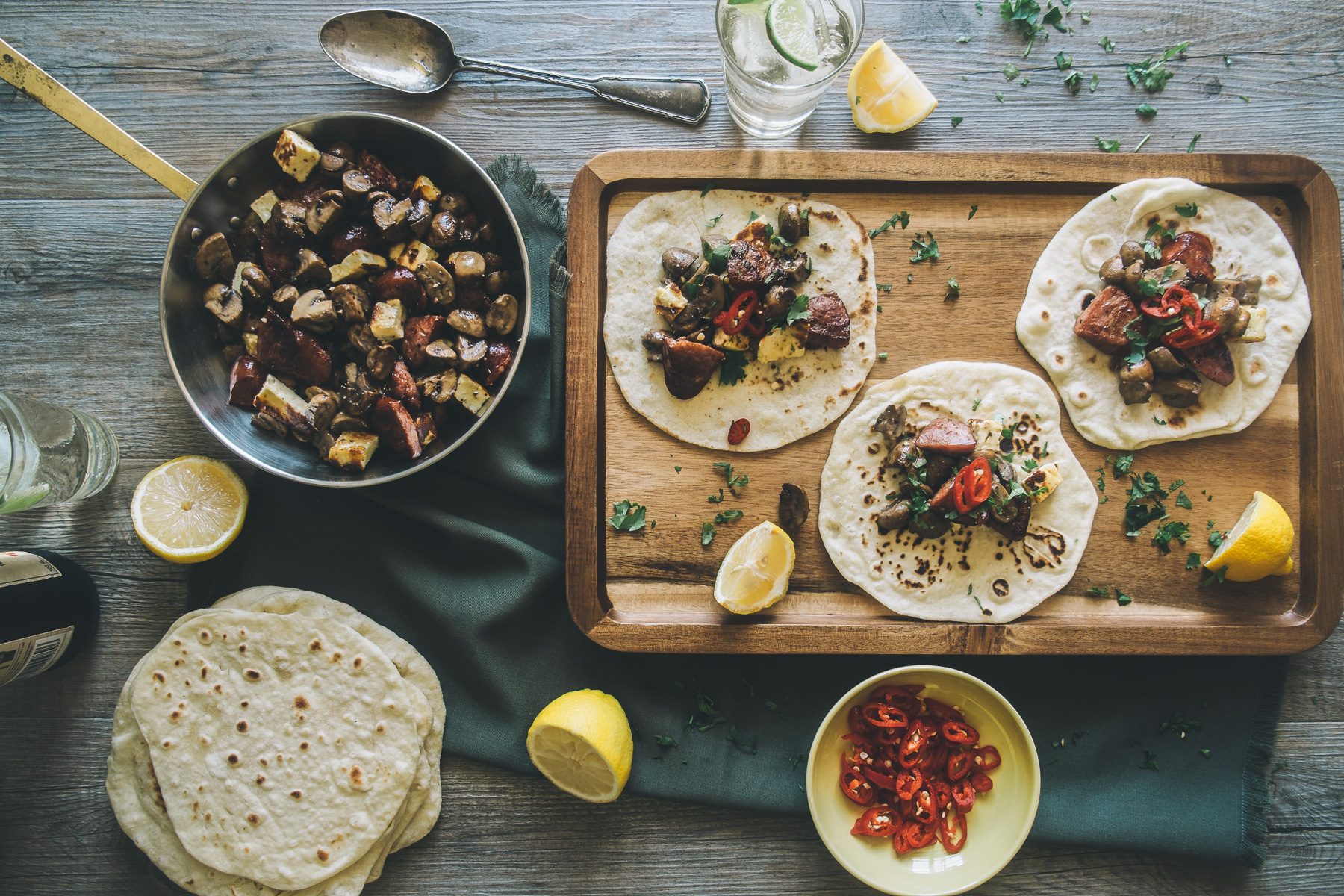 Mushroom, Chorizo and Haloumi "Tacos"
An unforgettable combination of mushrooms, chorizo and halloumi cheese. Serve them up with home made tortillas and pour yourself a beer.
Ingredients
500g button mushrooms, wiped clean, cut into quarters
3 tbsp olive oil
1 tsp salt
1 tsp black pepper
small pinch Greek dried oregano
1 large cooked chorizo sausage (approx. 125g), sliced into 1cm even chunks
200g haloumi cheese, sliced in half
8 medium sized tortillas, warmed in a pan
freshly chopped chilies
chopped coriander
Instructions
Combine the mushrooms, olive oil, salt, pepper and oregano in a bowl. Place on baking tray and cook in a 200 deg C oven for 30-35 mins. Remove and set aside and allow to cool slightly.
Preheat a little oil in a pan cook the chorizo on a medium high heat for a few mins until crispy. Remove and set aside.
In the same pan pan fry the halloumi for 2 mins each side until, browned and soft. Once cooked cut the haloumi into small even slices.
Combine the mushrooms, chorizo and haloumi in a separate bowl.
To make a taco place a 2-3 tbsps of the mushroom mixture into a warmed tortilla. Garnish with fresh chilies and coriander and serve immediately.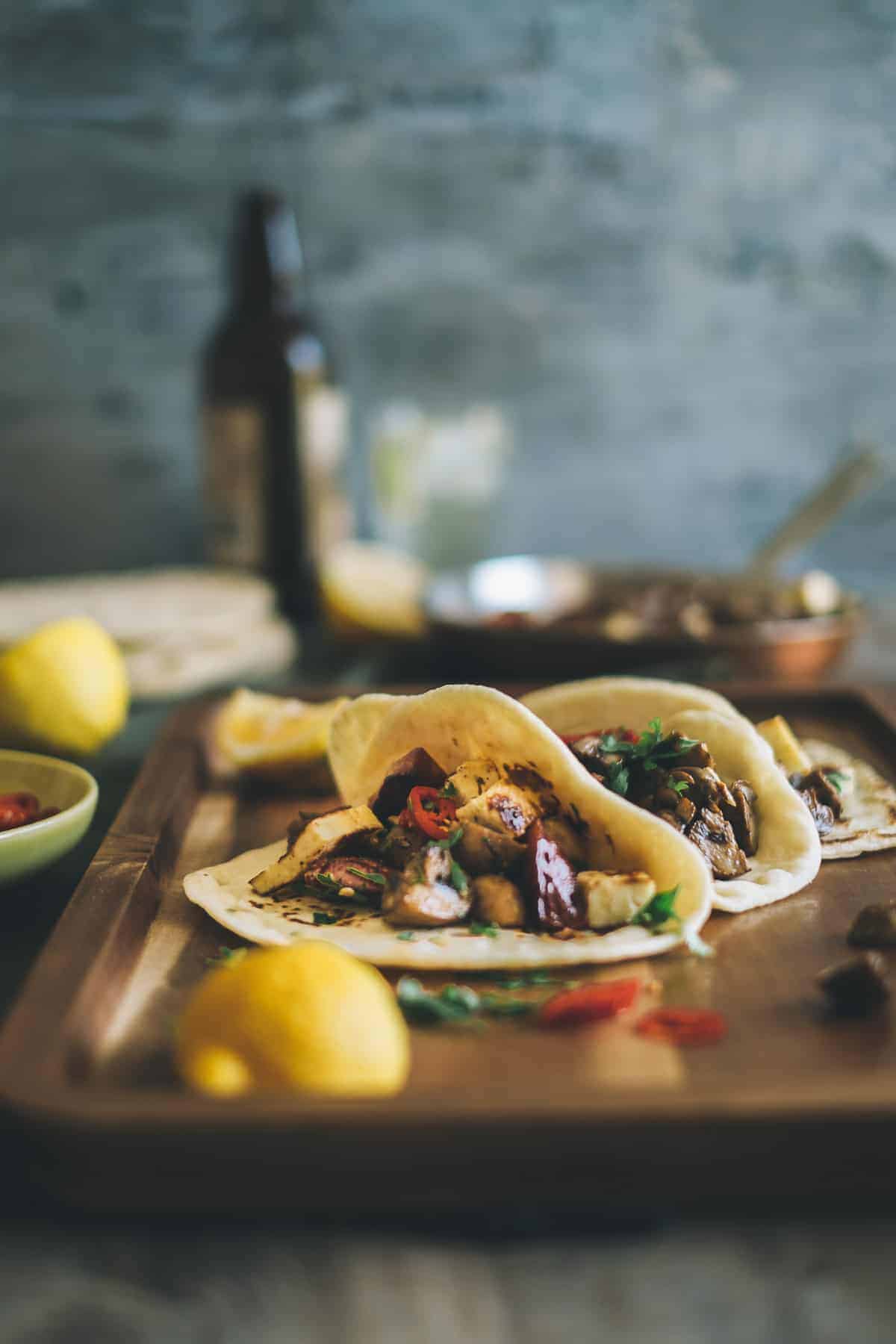 Souvlaki For The Soul would like to acknowledge its partnership with the Australian Mushroom Growers Association for this sponsored post. The recipe above - mushroom, chorizo and halloumi tacos - was created, developed and photographed by Souvlaki For The Soul using button mushrooms.