This mango and coconut cake is definitely one to make in the summertime.  Or anytime a tropical craving takes over!
The other day I was on a mission to clean out the fridge and use some of the "overabundant" items hiding in there.  I also wanted to clear the pantry of those packets and bottles that were not quite empty.  You know the ones.  I'm sure most people are familiar with this scenario.  I was this close to getting rid of them but I knew that I could save the good flesh and use it somehow.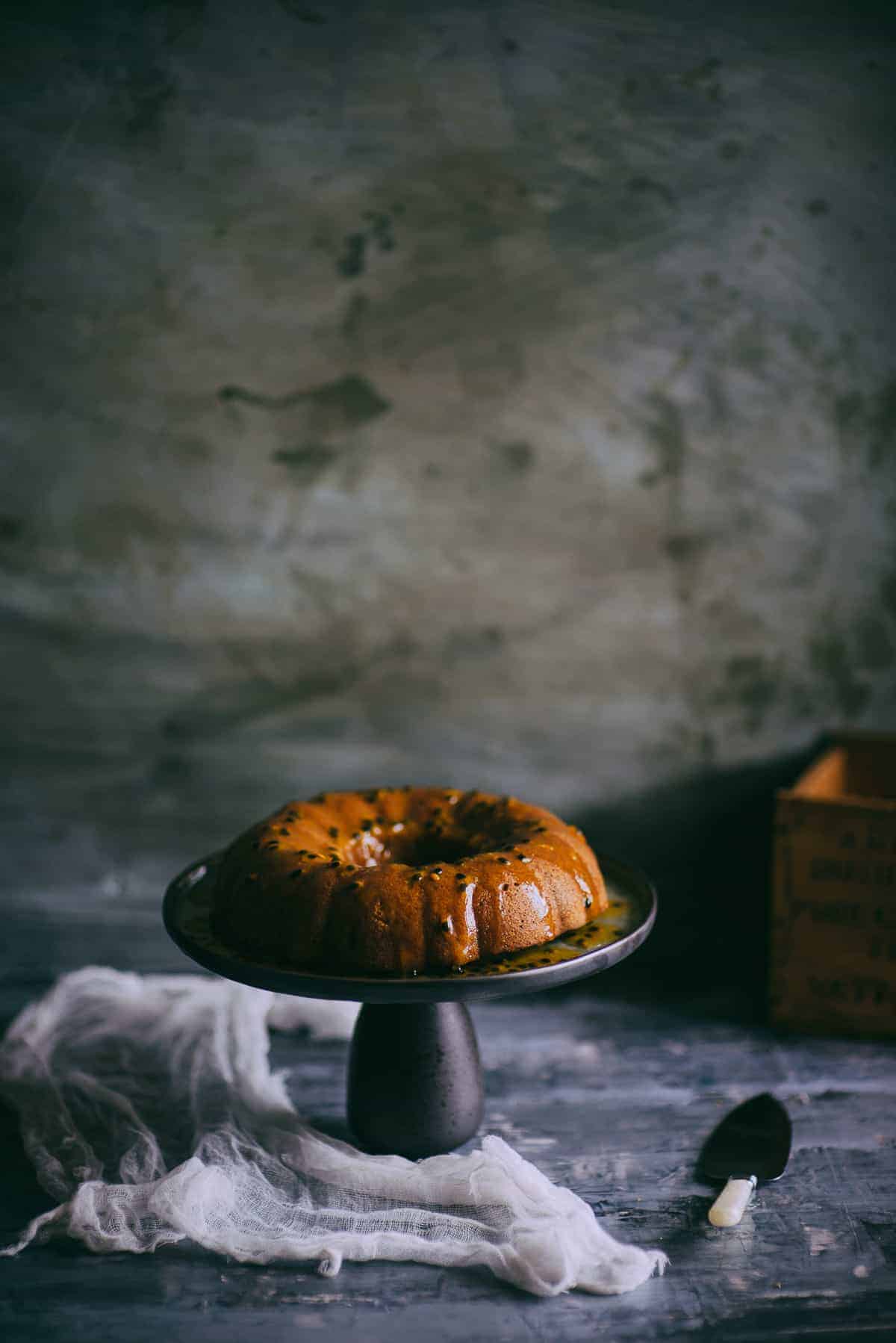 So I made cake…I know.  Another cake.  But I quite like that I came up with this tropical inspired mango and coconut cake.  I was after a "summery" cake.  Something similar to my "happy cake" – my lime, yoghurt and olive oil cake.  I threw everything in together and hoped for the best!
The mango flavour wasn't as strong as I was hoping for. It was more of a background flavour.  The desiccated coconut added a slight chewiness to the whole cake and gave that off that wonderful, familiar, coco-nutty flavour that people either love or hate.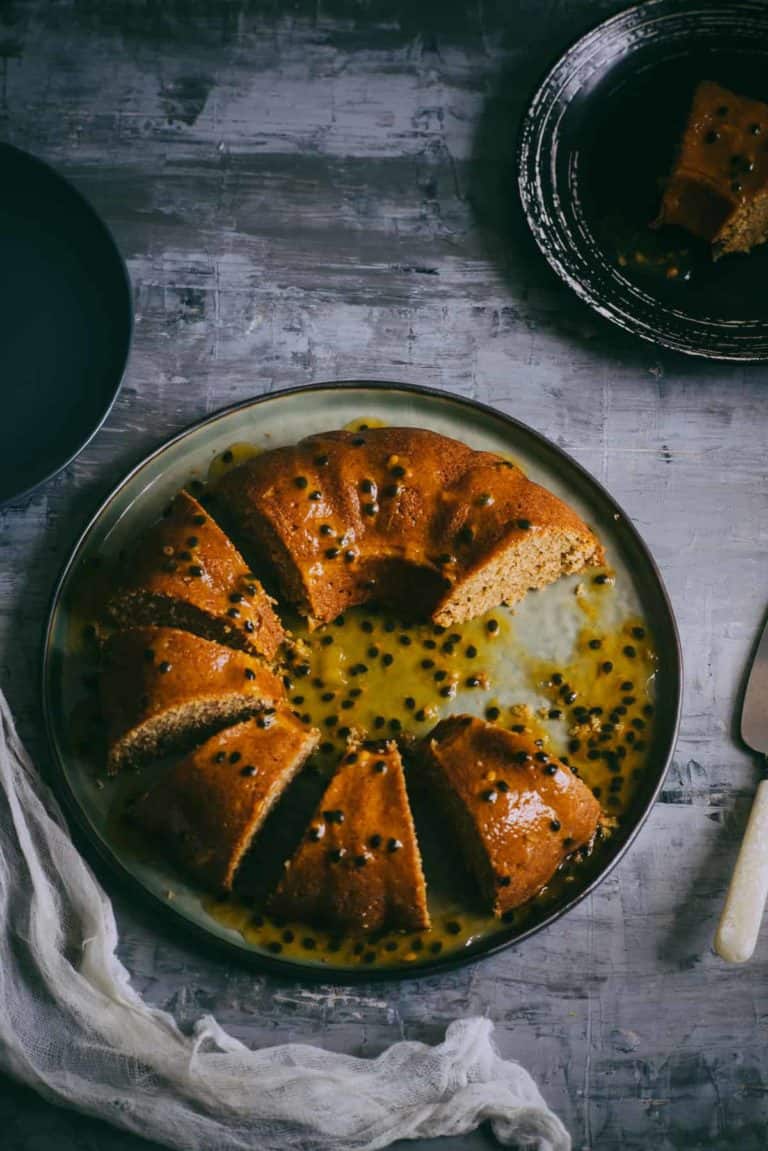 The passionfruit glaze on the other hand, is quite interesting.  For the last few weeks I somehow could not get my hands on fresh passionfruit.  Thinking there was some kind of conspiracy, I gave up!  Anyway, I found a can lurking in the pantry and used that to glaze my cake.  Don't judge! I bought it in a jetlagged daze one day at the supermarket and as you can see it came in quite handy.
Enjoy this mango and coconut cake!  Scroll down for the recipe and more pictures.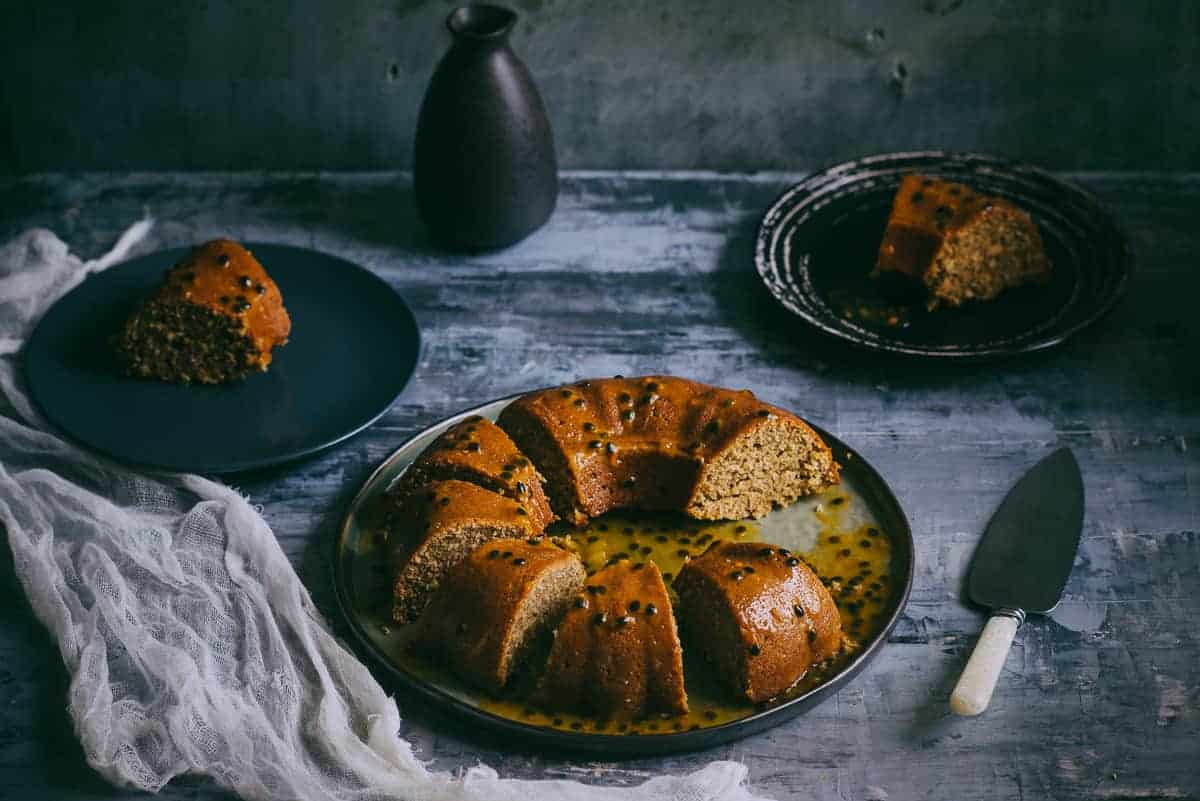 Mango and Coconut Cake with a Passionfruit Glaze
Mangoes and coconut make a beautiful pairing in this tropical inspired summer cake.
Ingredients
230g white spelt flour
100g desiccated coconut
2 tsp baking powder
50g brown sugar
pinch salt
100g melted butter
80ml honey
350g pureed mago flesh
2 eggs
170g can passionfruit pulp
1 tsp corn flour
1 tbsp water
Instructions
Preheat your oven to 180 deg C (fan forced) and grease a 25cm bundt cake tin.
In one bowl combine the flour, coconut, baking powder, sugar and salt. Stir to combine thoroughly and set aside.
In another bowl, combine the melted butter, honey, mango, and eggs. Stir well ensuring it is all mixed and pour into the bowl with the dry ingredients. Stir to combine thoroughly and pour into bundt cake tin. Bake in the oven for 35-40 mins until a skewer inserted comes out clean. Allow the cake to rest for 20 mins before inverting onto a cake cooler.
Place the passionfruit pulp in a small saucepan over a medium-high heat. Stir the corn flour with the water to make a paste and stir into the passionfruit. Allow it to cook for a few mins before it thickens. Allow to cool before using.
Pour the passionfruit glaze over the cake and serve immediately.