Pasta alla Norma is one dish I ate constantly on my travels in Sicily.  Here I've tried to recreate it as best as I can.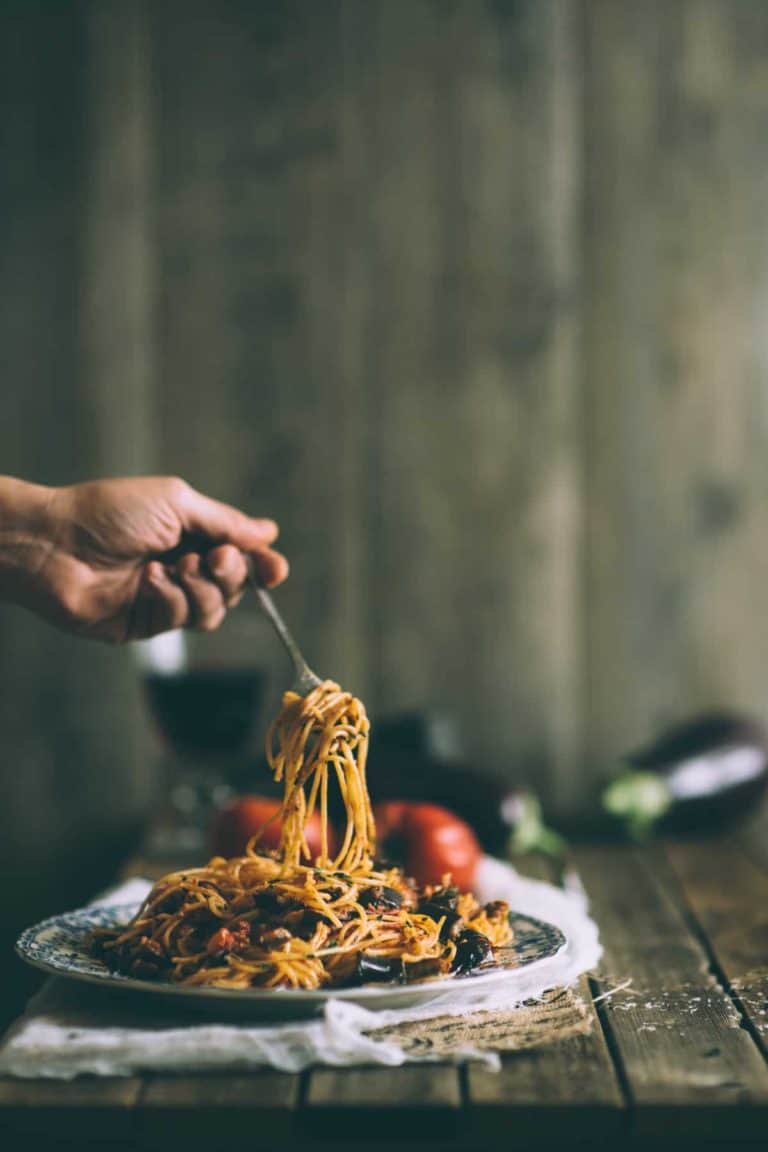 As soon as I finished making my melitzanoslata recipe, I quickly went to work on using up the remainder of my overabundant eggplant supply.  So I made pasta alla Norma.  If you thought my previous creation was simple then this is even simpler.  It can be on the table in approximately thirty minutes!
If you're not familiar with this dish, then let em do a little explaining.  It's a pasta dish that uses eggplants, tomatoes, garlic and olive oil.  A fair bit of olive oil as a matter of fact!  It's a dish which originates from Sicily and is said to be named after Bellini's opera Norma.  I ate it everywhere on my recent trip to Sicily.
It was sampled it numerous times and each time I was blown away at how tasty it was. It was like perfection on steroids!  Presentation might have differed a little but the core ingredients were always present.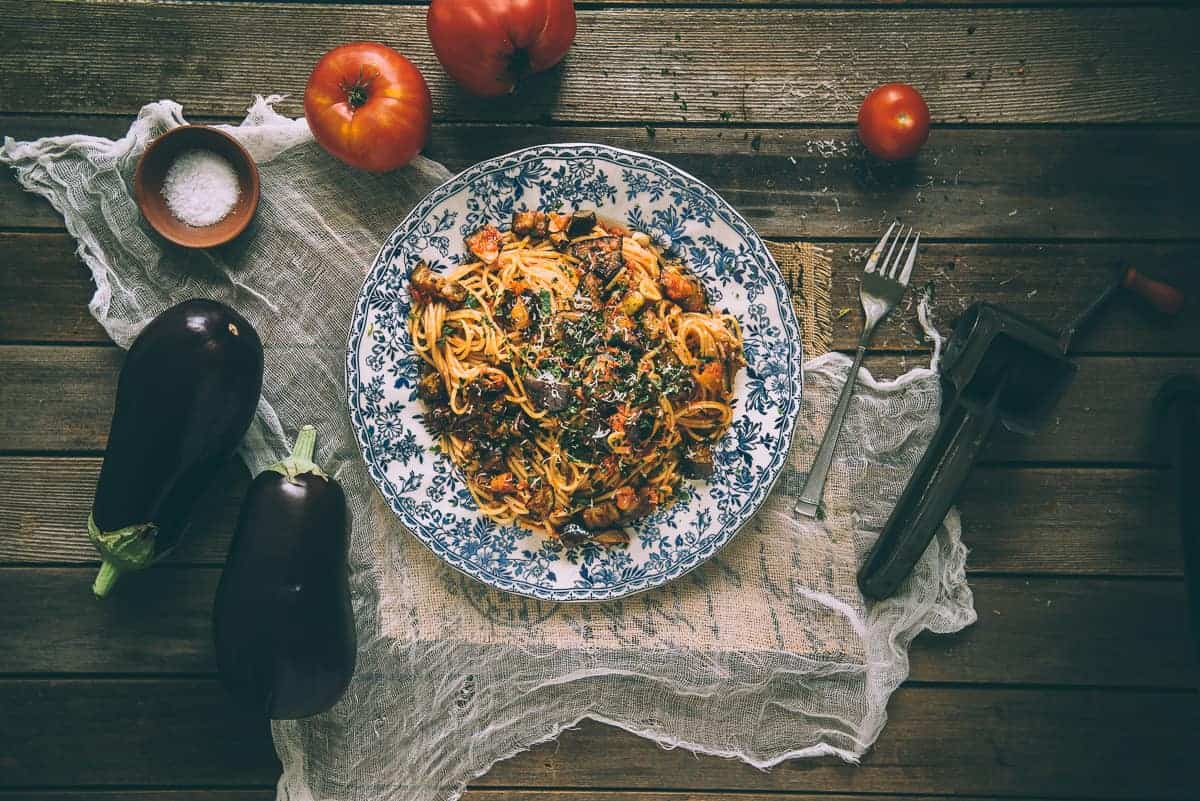 For my version I used spaghetti. That's what I had hiding in my pantry.  I chose to chop up the eggplants in even sized chunks. You could also slice them into rounds and use them that way.  I also made use of fresh tomatoes which are just at their peak now. If you have canned tomatoes, it's not an issue. Go with those.  And please don't be afraid of the olive oil. The eggplants will soak it up after they have been fried.  A little more for the sauce is mandatory.
Finally, if you can get hold of ricotta salata use that to garnish your glorious pasta dish.  It's a pressed, salted and dried form of ricotta cheese. It's the traditional cheese used for this Sicilian classic.
Excuse me while I go help myself to another serve…
Cheers!
Pasta Alla Norma
Pasta all Norma is Sicily's staple pasta dish of eggplants and tomatoes topped with ricotta salata.
Ingredients
2 medium-large eggplants chopped into even chunks
1 tbsp salt
½ cup olive oil plus ¼ cup extra
4 cloves garlic, thinly sliced
400g freshly chopped tomatoes or canned tomatoes
1 tbsp freshly chopped basil
ricotta salata cheese for grating
250g cooked spaghetti or penne pasta
Instructions
Sprinkle the salt over the eggplant, place in a colander over a sink or bowl. Leave for approx. 1 hour. Drain the excess liquid, rinse the eggplant and pat dry. Set aside.
Heat ½ cup olive oil over a medium heat. Fry the eggplant in batches until browned. Drain on paper towels.
Add ¼ cup olive oil to the same pan. Add the garlic and allow to fry a little. Add the tomatoes and season with salt and pepper. Allow the tomato mixture to cook for 10-15 mins ensuring to stir continuously.
Finally add the cooked eggplant to the tomatoes, stir and cook for a further 2 mins.
Toss the pasta through the eggplant mixture. Garnish with basil and top with grated ricotta salata cheese.
Notes
If you can't find ricotta salata use grated Pecorino Romano cheese instead.