This lemon ricotta cake is perfect if you have a number of lemons leftover.  Add a little extra sweetness with some warmed honey!
I never thought I'd be one of those people beginning a blog post with an apology…
But here goes.
I'm sorry.
I apologise for being absent over the last few months.  It was never intentional for me to be away for this long.  Early in May, I encountered some health issues which required some strict rest and recuperation.  I was under doctors orders and subsequently had to endure a very bland diet.
When you suddenly have all this time on your hands your mind begins to wander.  Funnily enough, it was through my Facebook feed where I read one of those corny quotes (which friends love sharing!) about accepting the past and moving on etc… that I had my moment of "catharsis".
During this time, I discovered I still enjoy blogging and photography and would continue to pursue these endeavours.  I'm not going to lie.  The whole blogging landscape had changed over the years.  With the increase of social media and "always on connectedness" blogging had taken a backseat and was seen as less relevant.
I get it.  Things change.  But Souvlaki For The Soul is my baby and there was no way this parent was going to abandon his child!
Once my body and mind had healed, I set off on a path of fitness and exercise.  I accidentally discovered a love of boxing in the process and have been quite active honing my skills in this area. Let's just say there's still a lot of work to be done!
And here I am today.  With cake.  Of course!  I won't ramble too much regarding this cake, except to say that it ticks all the boxes.  The lemons give it quite a nice "zing", the ricotta gives it that perfect creaminess and the added honey rounds off the sweetness.
Make it.  Eat it and more importantly, enjoy it!
Life's too short.
Thank you again.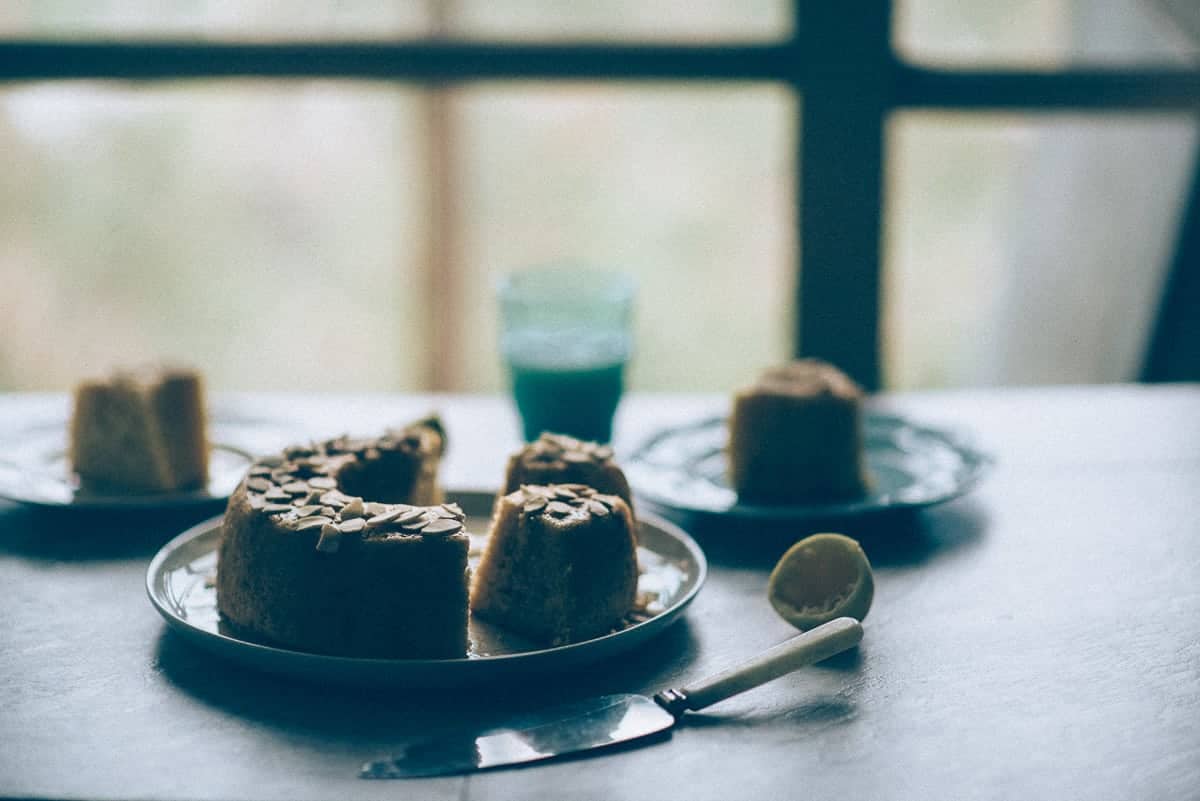 Lemon Ricotta Cake
A ricotta cake flavoured with lemons. Made with almond meal and topped with warmed honey and flaked almonds.
Ingredients
250g fresh ricotta
2 eggs
150g caster sugar
100g butter, melted
3 lemons, juiced and zested
220g plain flour
1 tsp baking powder
60g almond meal
½ cup warmed honey
¼ cup flaked almonds
Instructions
Line and grease a 22cm bundt cake tin and pre heat your oven to 180 deg C.
In a large bowl with a stand mixer combine the ricotta, eggs and sugar and beat until pale and smooth (2 mins.).
Add the butter and lemon zest and juice and mix again until well incorporated and then add the flour, baking powder and almond meal to the batter and fold through gently until well combined.
Cook in the oven for 40-45 mins. The cake is cooked when a skewer inserted comes out clean.
Allow the cake to cool slightly before removing and then allow to cool completely before topping with warmed honey and flaked almonds.