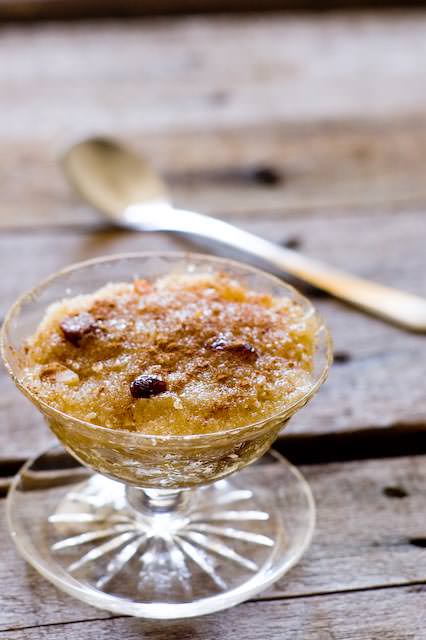 It's time for the Royal Foodie Joust again!  Folow the link and head on over to participate in the foodie blogosphere's biggest cooking challenge.  There are great prizes and it certainly allows you to put your "thinking cap" on to come up with a creative recipe based on three ingredients.  Kittie who won last months joust, chose whole grains, citrus and ginger.   Initially I was a little stumped and after doing a little research I decided to apply this months ingredients to that Greek sweet known as halvas.  In all fairness, Greeks aren't the only ones who make halva.  Many countries in the Middle East have their own versions as do the Indians.  This version of halva utilises coarse semolina (as my wholegrain), orange juice and glace ginger that make up the syrup.  Semolina as defined by the Wikipedia is "the inner, granular, starchy endosperm of wheat (not yet ground into flour)".  It's quite a complex explanation but the easiest way to understand it is that there are two types of semolina and it all comes down to how they are milled and how they're used.  The "softer" one is used as a base for puddings and commonly goes under the name of "cream of wheat".  The "harder" one is often used in the production of pasta and is derived from durum wheat.  Phew!  All I know is that it tastes great in this halva pudding!
Halvas can be made with olive oil or butter or a mixture of oils.  I used a combination of olive oil and sunflower oil.  Also, some recipes call for almonds or pine nuts and some use sultanas,  My other little twist was to use craisins (because I had some that needed using).  I also added some bruised cardamom pods into the syrup mixture.  It really turned out wonderful.  You could taste the orange, mixed with the ginger, the cloves and the cinnamon.  It was sweet with out being sickly and the spices were just enough to make you go "mmm" without being overbearing.  I also added sesame seeds and sprinkled it with ground cinnamon.  You can serve it individually in little bowls or make a large one (in the form of a bundt pan) and slice it up.  I chose to serve it in some cute little vintage dessert glasses I found at the flea market.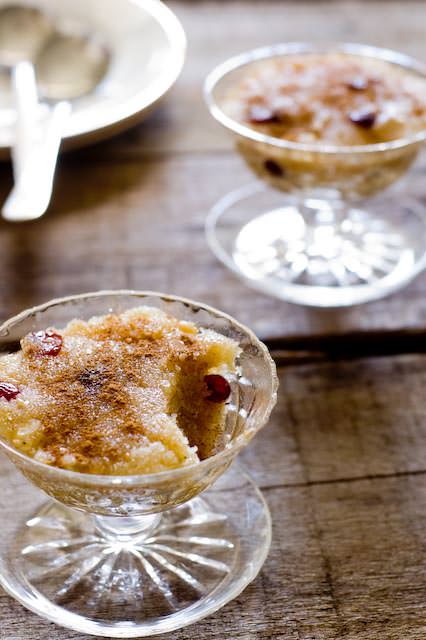 RECIPE FOR HALVAS
The recipe is divided into two parts.  First we make the syrup and then we cook off the semolina and the syrup to it until we achieve a thick paste.
FOR THE SYRUP
3 cups of water
1 and ½ cups of caster sugar
the rind and juice of one orange
1 cinnamon stick
5 whole cloves
3 bruised cardamom pods
⅔ cup of glace ginger
Place all the ingredients in a heavy bottomed saucepan on a medium heat.  Allow the mixture to come to a boil.  Lower the heat, stir and leave it cook for about 10 minutes.  Remove form the heat and allow to cool.
FOR THE PUDDING
1 cup of coarse semolina
½ cup of olive oil
½ cup of sunflower oil
½ cup of balnched slivered almonds
½ cup of craisins (or raisins or sultanas)
¼ cup of sesame seeds
Heat the oil in a sauce pan and gradually add the semolina.  Stir it through allowing the semolina to soak up the oil.  We're lookinfg at toasting the semolina.  The more we toast it the darker it becomes.  Be wary of over toasting it as it can become quite bitter.  We're looking for a nice golden toasted colour.
Add the almonds, craisins and sesame seeds.  Stir continuously until we achieve the "golden toasted colour".  This can take up to about 10 mins.  DON'T FORGET TO KEEP ON STIRRING!
Once the semolina and other ingredients have turned golden add the syrup.  BE CAREFUL!  as the mixture will spit once the syrup has been added.  Long sleeves are advised.
Stir the mixture vigorously.  Initially it will seem quite "soupy" but it willl thicken up quite nicely.  The aroma will be mesmerising!  Continue to stir until the mixture has thickened and it pulls away cleanly from the sides of the saucepan.
Remove form the heat and cover with a tea towel.  This will allow the steam to be absorbed.
After 10 mins of resting the semolina, place it in your preffered mould.
Sprinkle generously with cinnamon and serve warm.  (the halva can also be served cold and will last a few days)