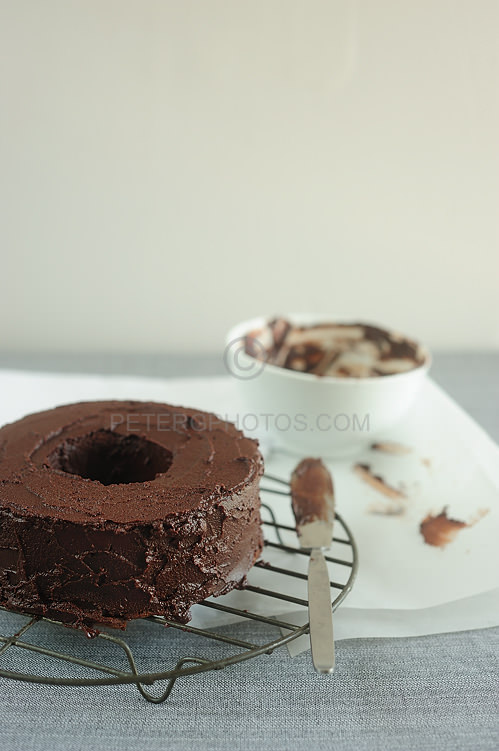 I promised myself recently (right after the roast pork actually) that I would be attempting dishes that seemed relatively "easy" but were ones that had caused me a lot of mayhem in the kitchen. 
One of these "classics" is definitely chocolate cake. I cannot tell you how many times I have made this, mostly for others mind you, and have ended up with a usually dry cake. I know there's a lot of scientific specifics involved with baking. Measuring correctly and not deviating (well most of the time!) and oven temperature are two that come to mind. I think primarily it's been my past oven units that have let me down. Don't get me wrong, the cakes were edible but they were missing a "moist" factor. When I eat cake I like to pig out. I want to feel the need for a second piece! Call me greedy but if I'm going to indulge, I'm gonna go for it!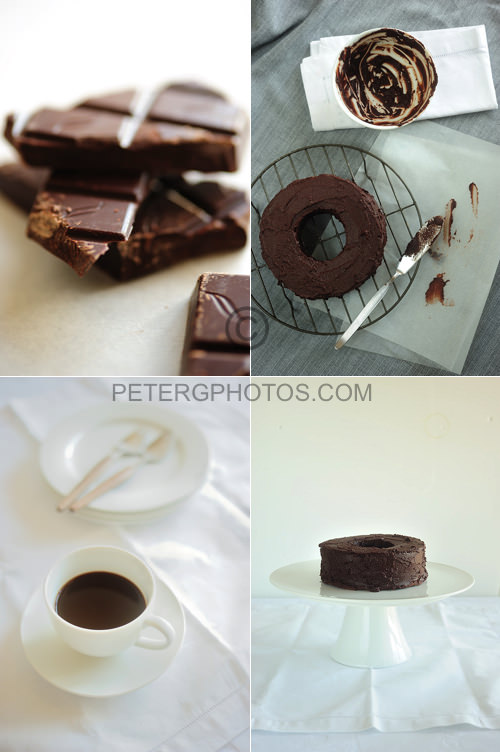 There is something really comforting about chocolate cake. Childhood memories come to mind of after school snacks and glasses of full cream milk. Birthday parties filled with children, balloons and home made chocolate cakes covered in whipped cream and dressed in "Smarties" (the Australian version of M&M's). Except that none of these memories are mine!!! I think they belong to a sitcom of the 50's! As I got older I tried the adult version of the chocolate cake a.k.a "Flourless". Whilst these were delicious when I ordered them out, whenever I tried to recreate them at home they would turn into a soupy, molten, mess! I mean I ate them but they were still missing that "oomph".
Which brings me to my best friend Paul. He makes a mean chocolate cake.  It's the type of cake that you wished you had baked.  For years I had hounded him for the recipe and he wouldn't share!  It was only recently that he decided to give up his recipe and when I finally saw it I was a little disappointed.  I was half expecting a list of semi exotic chocolates and all sorts of things.  Nope.  Everyday ingredients (except for the Dutch cocoa).  His biggest piece of advice to me was to watch my oven temperature and timing.  When I asked him how long I should cook the chocolate cake for his response was "about 50 mins".  Which I think equates to about one hour in my oven.  So I took his master chocolate cake recipe and it worked!  I was ecstatic to say the least!  The only thing I did different was to cover the cake in a chocolate ganache made with olive oil.  For this I used the remainder of my chocolate supply leftover from my cookies.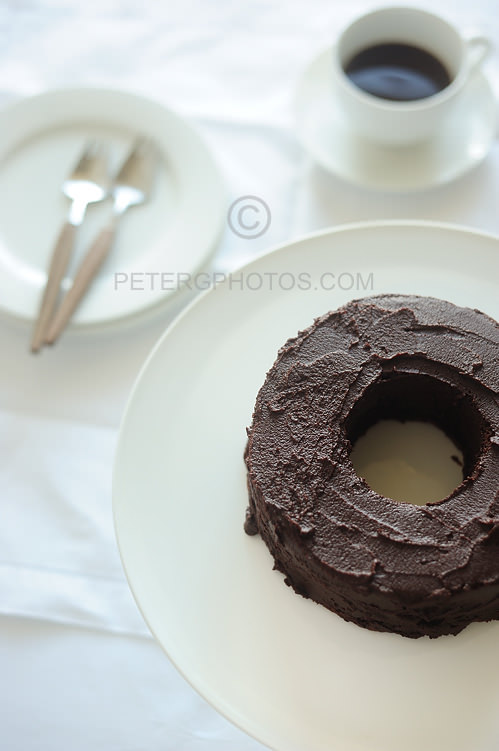 CHOCOLATE CAKE RECIPE
(Adapted from Paul B my good friend who in turn adapted it from a Sunday newspaper magazine! Can you believe it??!!)
*I used a 18cm "ring" cake tin for this*
125 gr unsalted butter
1 and ¼ cups of brown sugar
2 eggs
2 tbsps vanilla extract
5 tbsps of Dutch cocoa powder
¾ cup of water
1 and ⅓ cups of self raising flour
RECIPE FOR CHOCOLATE AND OLIVE OIL GANACHE
100 grams of good quality dark couverture chocolate broken into pieces
¼ cup of cream
¼ cup of olive oil
For the cake: (all done in a mixer)
Start off by pre heating your oven to 170 deg C. Grease your cake pan/tin and dust lightly with flour, ensuring to shake off any excess.
Cream your butter and sugar ensuring it is all mixed well-about 2-3 mins.
Add your eggs one by one ensuring they are incorporated into the butter/sugar mixture.
Add your vanilla extract and then add your cocoa powder a tablespoon at a time.
Finally add your water and flour and mix to a smooth consistency.
Cook for about 50 mins to 1 hour, testing and turning your cake around at about 30 mins
Once a skewer inserted comes out clean, remove from the oven and let it rest for 5 mins in the cake tin.
Remove from cake tin and place it on a cake rack until it's completely cooled down
Spread with chocolate ganache.
For the ganache:
*You can either use a microwave to melt the chocolate or the old "double boiler" method. If you use the microwave be sure to check the chocolate at 30 sec intervals. If you use the traditional method ensure that your top container is not touching the boiling water!*
Add cream to melted chocolate and stir well using a whisk, ensuring everything is mixed well. Add your olive oil in a thin stream whilst still whisking the ganache until it's incorporated and is nice and glossy. Let it cool completely before spreading on the cake.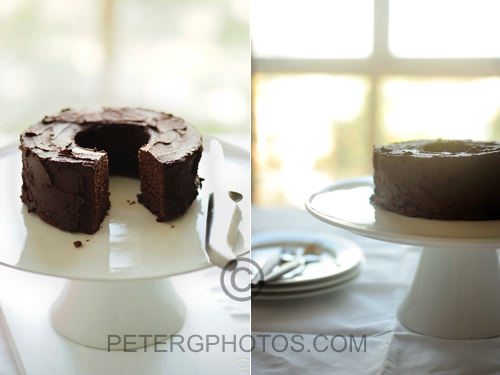 Verdict: Delightful. Delicious. Moist. And most of all success!