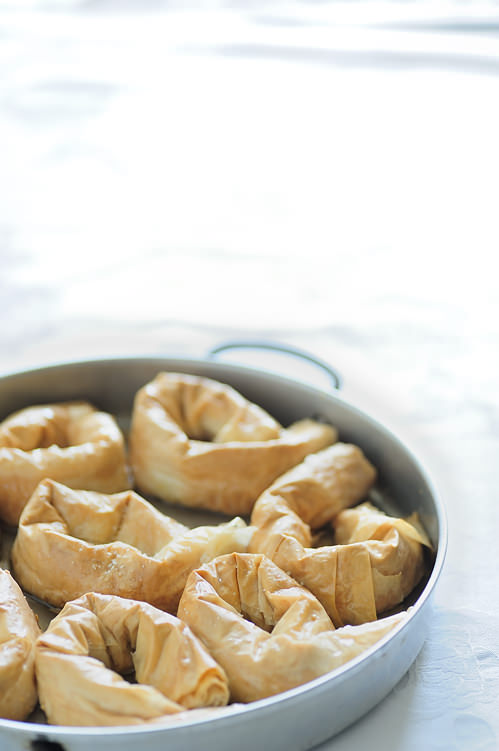 Looking for something simple, sweet, light and crunchy?  Then these sesame pies or crescents will definitely satisfy all those urges. Similar to baklavas and typical of Greek sweets they are doused with a simple syrup when they come out of the oven.  Sweets made with phyllo pastry are some of my favourites in Greek cooking.  To me they represent a time of celebration and family gatherings.  You may even call it "sweet comfort eating".
I made a few adjustments to the original recipe, especially the amount of sugar that was required for the sugar syrup. The rest is easy.  Some store bought phyllo, ground sesame seeds, brown sugar and a few spices.  And for all you good people fasting out there these are also Lent friendly.  I  also opted to brush the sheets with Greek olive oil instead of butter.  Enjoy these for morning or afternoon tea with a lovely cup of Greek coffee.  They are really delicious!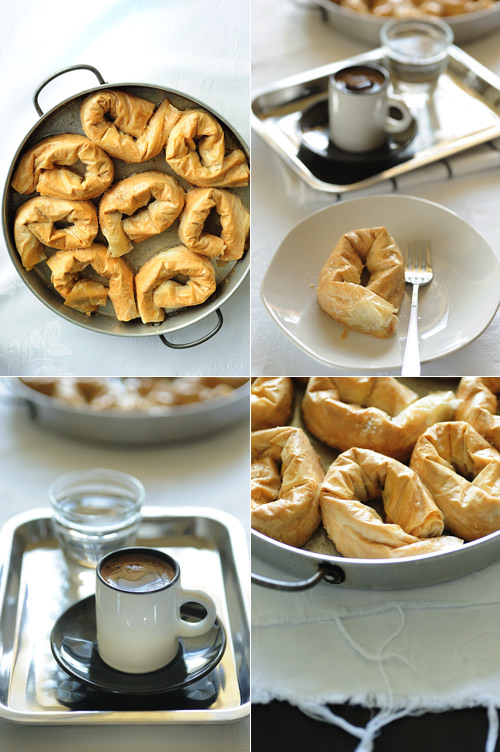 RECIPE FOR  PHYLLO AND SESAME PIES
1 packet of store bought phyllo
olive oil for brushing
FOR THE FILLING
500 grams of toasted sesame seeds
1 cup of brown sugar
1 teaspoon of ground cinamon
1 teaspoon of ground cloves
FOR THE SYRUP
2 cups of sugar
2 cups of water
1 cinnamon stick
1 teaspoon of squeezed lemon juice
Place the sesame seeds, sugar and spices into a food processor and blend until a paste forms.
Stack four pieces of phyllo together, ensuring each sheet is brushed with olive oil
Spread the sesame paste all over the top sheet and then proceed to roll up the sheets into a long cylinder.
Cut the cylinder in half  and shape each part into a half moon or crescent.
REPEAT STEPS 2-4 UNTIL ALL THE PHYLLO SHEETS HAVE BEEN USED UP
Place the pies into a baking pan and bake in a pre heated 180 deg C oven and cook for about 45 mins or until they are golden brown
To make the syrup combine the water, sugar and cinnamon in a pot and bring to a boil, stirring until the sugar dissolves.  Boil for a further 5 mins without stirring, add the lemon juice, remove from the heat and remove the cinnamon stick.  Carefully pour the syrup over the pies when they come out of the oven.