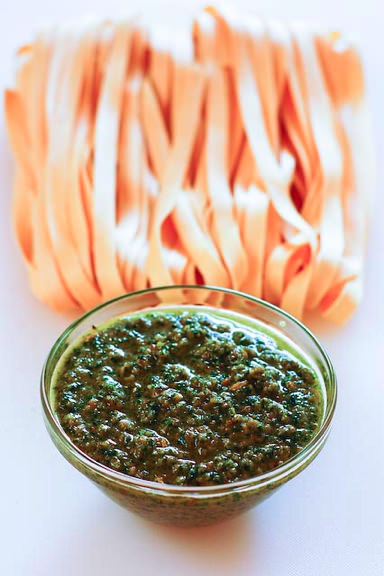 I came back from the markets the other day with bunches of fresh parsley wanting to make the classic Lebanese dish "tabouleh". A good look at the weather had me thinking otherwise. So after a change of plans I utilised the fresh parsley by making a gremolata for my lamb shanks. With the remainder of the bunch I decided to make a pesto. I had never ever thought about using parsley as a herb in pesto before. After a quick Google search I found this recipe on the "Country Living" website. It sounded so fresh and I also had a whole heap of walnuts that were waiting to be used.
Let me start off by saying that I have never really had an opinion on parsley before. I always remember the "curly" variety being the star for garnishing a lot of dishes in the 70's….(yes I'm that old!). Then I discovered the "flat leaf" variety or "Italian" parsley as it was referred to. It was only until I got older and a lot more adept in the kitchen, that I truly discovered its many versatile uses. Tossed through pasta with a Neapolitan sauce, used with lemon to flavour dish and of course tabouleh! It has a lot of health benefits and is very rich in anti oxidants and iron. Reading through Wikipedia I also discovered a lot of medicinal uses for it. You can see a lot more information here.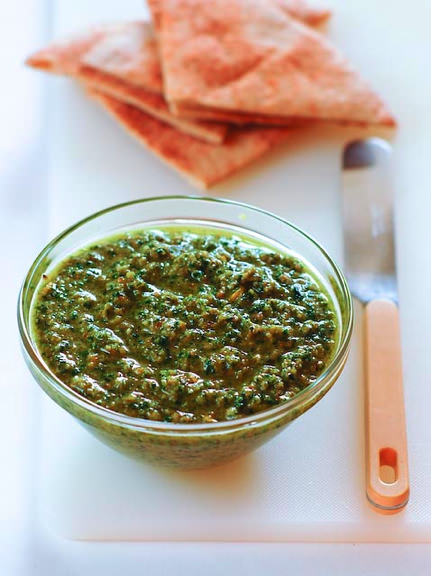 Anyway, back to the recipe at hand. This was by far one of the most tastiest pestos I have tossed through pasta in a long time. The lemon, provided the perfect zing and the toasted walnuts gave it an extra crunchiness that was just magical. Apart from being used in pasta I also smeared it on warm, freshly toasted pita bread as well. Highly addictive and dare I say delicious. So this is my entry for this week's Weekend Herb blogging event hosted by Laurie. This woman should be named Queen of the Herbs! She has so many delicious recipes and I always learn something when I read her very informative and delicious posts.
Again I varied the original recipe slightly. Not by much. I always encourage people to play around with their food!
1 cup of parsley leaves tightly packed or a big bunch with all the stems removed
1 cup of slightly toasted walnuts (shells removed of course!)
1/2 a cup of grated Parmigiano Reggiano cheese
1 clove of crushed garlic
juice and zest of half a lemon
3/4 cup of extra virgin olive oil
salt and pepper to taste
Place all ingredients except for oil in a food processor or blender. Once the ingredients have been pulsed a few times proceed to add the olive oil in a thin stream. Scoop out the mixture and toss through some warm, freshly cooked egg noodle pasta. Or smear it lavishly over flat bread or pita.