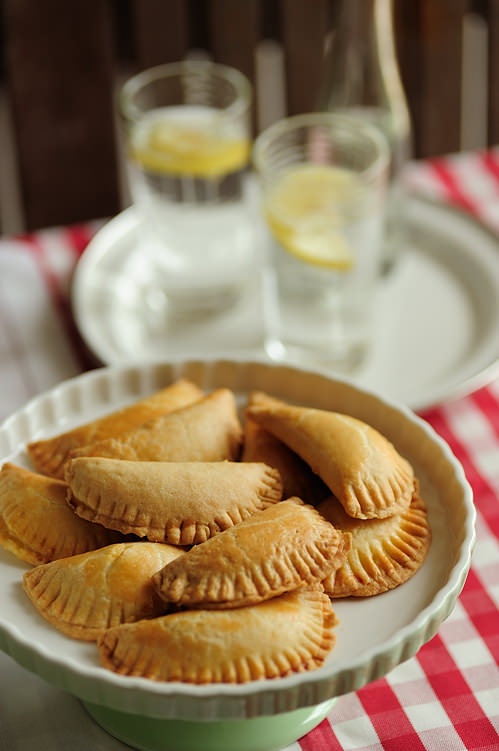 Making my own pastry has always been a bit of a challenge for me.  On my recent break I experimented with a few different types playing around with different flours and fats.  I finally found a pastry that I was comfortable with and with that I proceeded to make a kohlrabi and greens pie (recipe coming soon).  I also managed to get a copy of Vefa's Kitchen
(finally!) which is a wonderful Greek cook book.  It covers the "basics" plus a lot of regional specialties.  As I was flipping through I noticed a few different versions of "tyropita" or cheese pie.  One recipe that particularly caught my attention was this shortbread cheese pie recipe.  It hails from Greece's Northern region of Macedonia.  It uses a combination of olive oil, melted butter and yogurt in the pastry.  I was curious about this and I knew I had to play around with this straight away!  Shortbread is not something I am used to seeing used as a savoury ingredient.
The recipe makes individual smaller pies otherwise known as "tyropitakia".  The pastry was a little frustrating to work with but very worth it in the end.  It broke a few times whilst I was rolling it out but I simply patched it up with an off cut.  Once cooked it was almost like a savoury biscuit.  The yogurt added a lovely tang and I have to say, these shortbread cheese pies were were devoured instantly!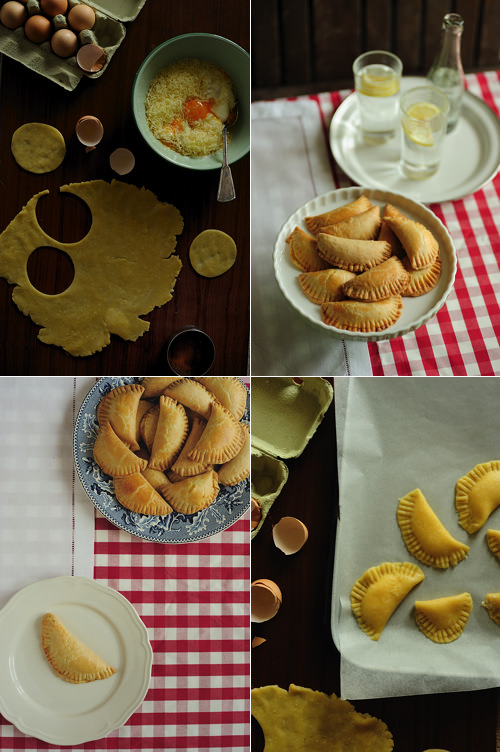 RECIPE FOR SHORTBREAD CHEESE PIES (KOUROUBOUGATSES)
Adapted from Vefa's Kitchen
For the Dough
3 cups of sifted plain flour
2 tsps of baking powder
1/2 tsp of salt
1/2 cup of olive oil
1/2 cup of melted butter
1/2 a cup of Greek yogurt
1 egg yolk
For The Filling
2 eggs ightly beaten
250 gr of crumbled feta cheese or goats cheese
1 cup of grated kaseri cheese or Gruyere cheese
3 tbsps of single cream
Method
To make the pastry place all the ingredients in a food processor until the mixture forms a ball.  Cover in plastic wrap and let it rest in the fridge for half an hour.
Once the dough has rested remove it from the fridge and roll it out to about 3 mm thick.
Cut out rounds using a 12cm cookie cutter.
Lightly mix the filling ingredients in another bowl and proceed to place 1 tbsp of filling in each round.
Fold each round in half and seal the edges with a fork to achieve a nice crimped edge.
Place the pies onto a baking tray, brush with egg wash and place in a preheated 180 deg C oven for about 25-30 mins (depending how your oven works!)
This recipes yields approx 25 small pies.