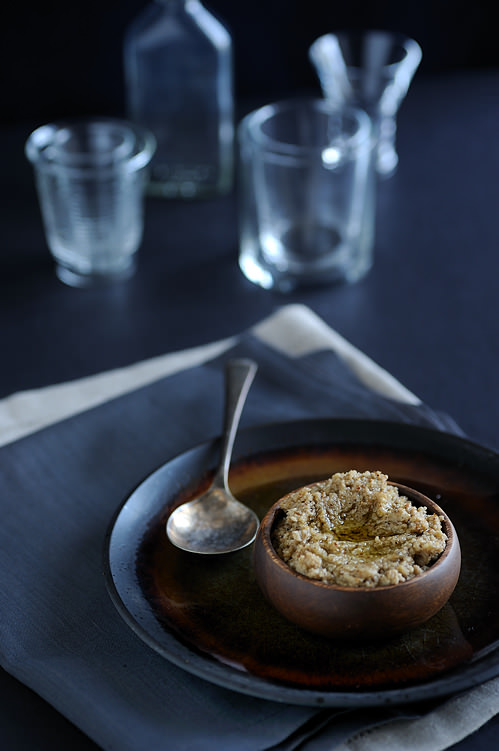 I've been trying to work out a way to start this post that won't sound like I'm asking for sympathy.
A few things have kept me from posting the last few weeks.  "It's all good" as we say here in Australia and I'm ready to begin blogging again. (The last thing I made was ladenia and that was approximately five weeks ago!).
During this absence I've done a lot of re-evaluating.  I've started going to the gym again and am taking a more relaxed approach in my day to day activities.  Stress is not worth it I tell ya!
What is worth it is the quick time it takes to make and prepare this skordalia. Traditionally, skordalia is made by crushing garlic (alot) in a mortar and pestle with salt and adding olive oil until you derive a thick garlicky purée.
Mashed potatoes are then added and this is traditionally served with bacalao. (fried battered cod). 
I have vivid memories of my mother making this in a traditional wooden mortar and pestle known as a "gouthi"-γουδι.  She used to love and prefer serving it on wild greens that she had picked up at the local market.
It was only when I was older that I discovered that there were many other versions of skordalia.  Some were made using almonds, others included bread but my favourite version of skordalia was the one made using walnuts.
I believe this recipe comes from the North of Greece in Macedonia.
I find it terribly addictive but in a healthy, good way.  The walnuts get a good toasting on a hot pan, there's lots of garlic and a smallish amount of Greek extra virgin olive oil.
You'll love it on just about anything you cook.
I like serving it up with rack of lamb or for you seafood lovers out there, try it on some of these fried prawn cakes I made eons ago on this blog.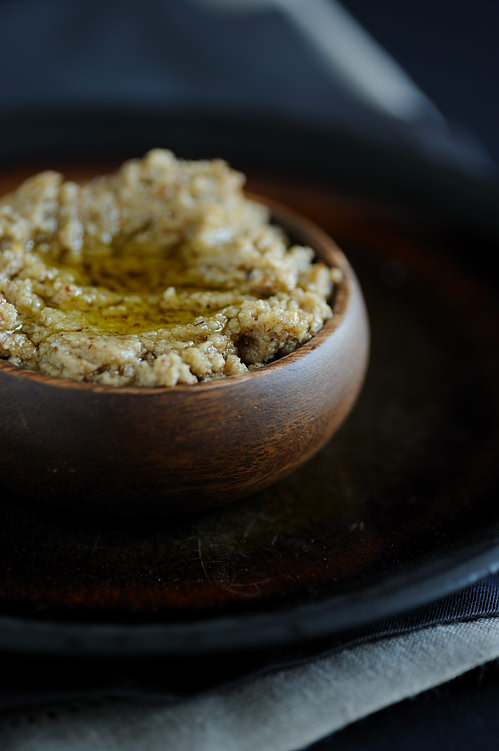 Walnut Skordalia Recipe
Walnut skordalia is similar to a pesto-ground walnuts and olive oil blend to form this magical paste.
Ingredients
1 cup of walnuts (shells removed and dry roasted on a hot pan for 5 minutes)
1 cup of day old stale bread with the crusts removed-I used wholemeal sourdough
4 cloves of crushed garlic
2-3 tablespoons of red wine vinegar
¼-1/2 a cup of extra virgin olive oil
salt and pepper to taste
Instructions
Take your bread and dip it into some water-remove it immediately and squeeze out all the excess water.
Place the bread, garlic, dry roasted walnuts and red wine vinegar in a food processor and blend until it resembles fine bread crumbs or meal
With the food processor still running start adding your olive oil in a thin stream until a fine paste forms. (be wary not to add too much oil here)
Add salt and pepper to taste, mix well and transfer to another bowl.
Drizzle with a little olive oil on top
For something a little different I decided to serve up my walnut skordalia on top of some toasted crostini and garnish it with some micro herbs.  I think it works wonderfully as a canape to be served with drinks or cocktails.