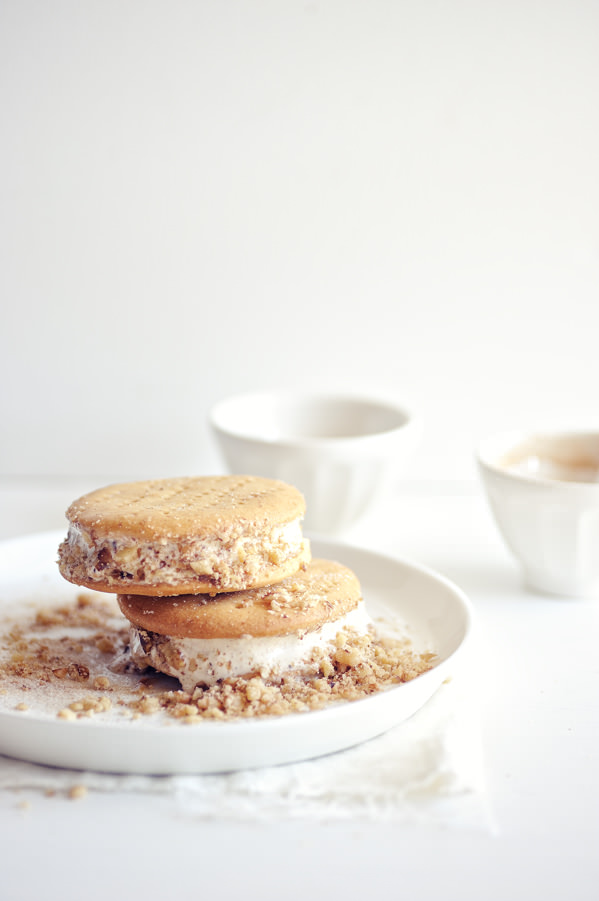 After making the cinnamon ice cream I wanted to push the envelope a little further by having a go at making ice cream sandwiches.
These were not going to be any ordinary ice cream sandwiches though.
I wanted to apply my "Greek touch" to the whole process.  For quite a while I had wanted to incorporate the flavours of baklava into some kind of ice cream dessert.
I tinkered with the idea of making my own ice cream  cones and incorporating a honey flavour through them but I had no success in this area.  They usually ended up in a soggy mess.
Then I remembered those ice cream sandwiches you used to buy as a kid.  Australians seem to have a fascination with these-the Monaco Bar was brought back after heavy pressure from an online petition!
To achieve the baklava style  flavours I was after, I mixed honey into a biscuit dough and baked these in the oven.
Once they had cooled I scooped my pre made cinnamon ice cream in between the two biscuits and rolled them in a crushed walnut/cinnamon/brown sugar combination.  The flavours were spot on!
I had cinnamon, walnuts and honey…all the flavours of a Greek baklava.
My biggest disappointment is the presentation.
If I had known I would be making these before hand, I would have poured the freshly churned ice cream into a shallower pan and "cut out" the ice cream to sandwich them perfectly around the biscuit.
I found scooping it and shaping it a little frustrating as it kept on melting.
Trying to photograph these without the ice cream melting was also challenging!
The heatwave showed no mercy folks.  I tried refreezing them but they were still too soft.
Overall though, I was quite happy with the flavours.
They turned out a little bigger than what I would have preferred and a little messy to eat but hey, that's the price you pay for wanting to be nostalgic.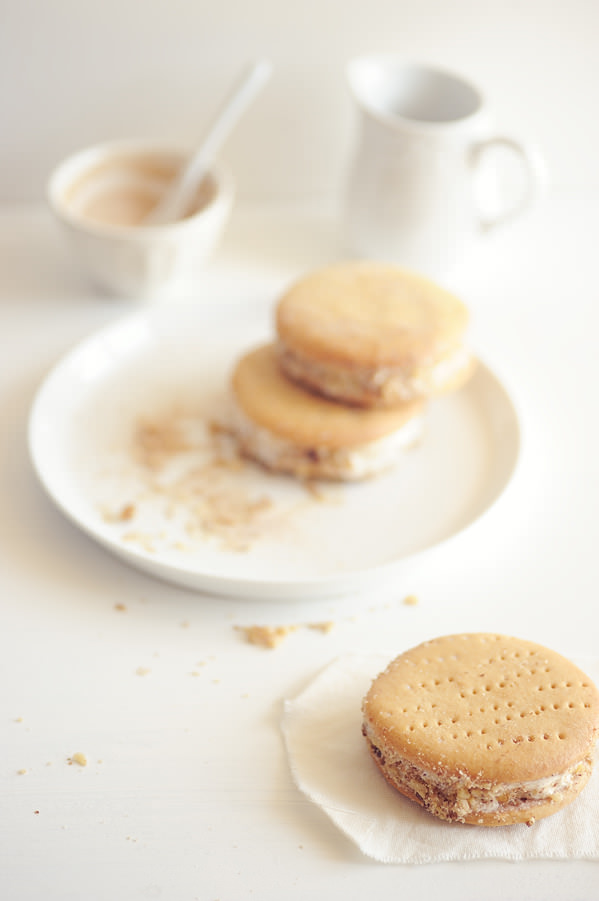 "Baklava" Ice Cream Sandwich Recipe
A recipe for Greek style baklava ice cream sandwiches
Ingredients
120 grams of unsalted butter at room temperatue
½ a cup of brown sugar
½ a cup of Greek honey
2 medium sized eggs
1 tsp of vanilla extract
1 tsp of baking powder
2 cups of plain flour or "all purpose" flour (may need to add a little more to get a good, pliable dough)
a pinch of salt
Instructions
Using an electric mixer with a paddle attachment, beat the butter, sugar and honey until you have a creamy consistency-this will take between 2-3 mins. Lower the speed on your mixer and proceed to add the eggs one at a time ensuring they are well incorporated. Add your vanilla extract.
In a separate bowl combine the flour, baking powder and salt. Slowly add this flour mixture to the butter mixture and mix until a dough begins to form. You may need to add a little more flour to form the dough.
Roll the dough into a ball, wrap in cling wrap and refrigerate for one hour.
Pre heat your oven to 180 deg C and line a baking tray with some baking paper.
Remove the dough from the fridge and on a lightly floured surface proceed to roll it out to ¼ inch thick.
Using your preferred cookie cutter cut out as many pieces as you can. Line the cookies on the baking pan and pierce the tops with a fork.
Bake for 8-10 mins, remove from the oven and allow them to cool completely before sandwiching the ice cream.
Once you have sandwiched the ice cream, roll the sides of the sandwich in the walnut mixture (1 cup of coarsely chopped walnuts, 2 tablespoons of brown sugar and 1 teaspoon of cinnamon)
Notes
The cookie cutters I used measured in at 9 cms. I think it would be better to use smaller ones say 6-7 cms. I'll leave that up to you. Also as I stated earlier, it would be preferable to use the same cookie cutters to cut out the ice cream once it had frozen in a shallow pan. That way they would fit perfectly around the two biscuits.