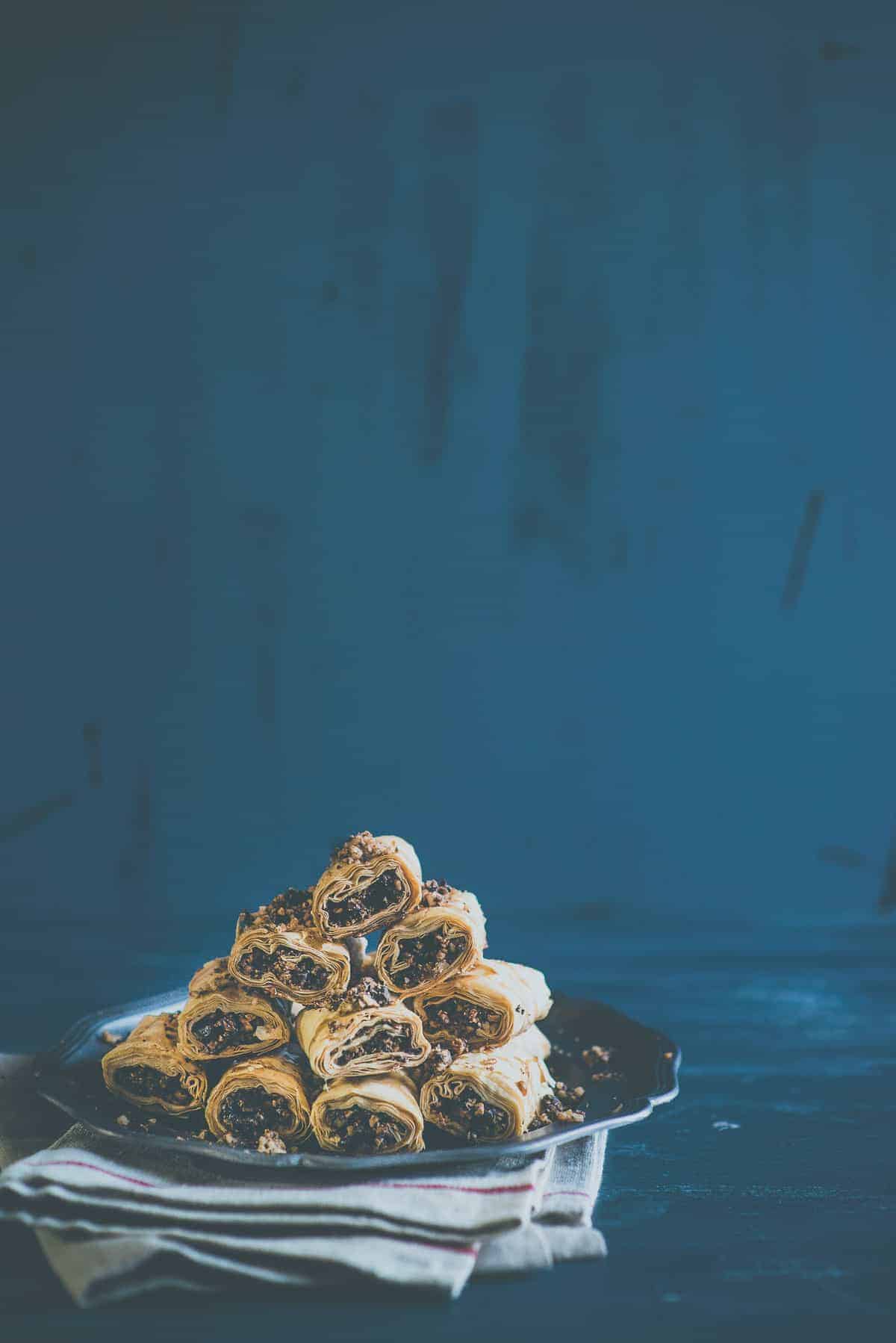 Baklava.
The mere mention of this word can often bring up heated discussions about the origins and authenticity of this dish.
I've indulged in a variety of versions over the years whether it be Greek, Turkish or Lebanese.
Each variation is delicious in its own right. You can't argue against that!
One thing they all share in common is fillo pastry, nuts, spices and sweetness.
Today I'm sharing a chocolate baklava recipe that is a little different and I hope will ignite as much passion as the other ones! (I'm kidding of course!).
Recently I dined at a Turkish restaurant enjoying a 17 course extravaganza feast. When it go to the dessert stage our waiter explained that we would be enjoying the house special "Choclava".
Of course I misheard and thought it was something to do with "chocolate lava".
Until I saw the familiar fillo pastry I finally realised it was "Chocolate Baklava".
Linguistics aside, my first thought and instinct was "I need to make this at home".
With my thinking cap on and my apron fitting snugly (a little too snuggly…ahem!) I tested a number of versions until I was satisfied.
As Goldilocks would say…"This one's just right…".
You could easily make this in the traditional manner using a "tapsi" (Greek word for baking dish) like my other version of baklavas - but I opted for little rolls.
The filling was a little tricky because even though it was a chocolate baklava I didn't want the chocolate to be overpowering and sickly sweet.
In the end I settled on a mixture which was not only tasty but both aromatic and fragrant.
I combined walnuts, cashews and spiced it up with cinnamon, cardamom and orange zest.
When they were piping hot out of the oven I drizzled over a simple sugar syrup which was enhanced by a little honey and orange juice.
Mmmmmmmmm…..
Hope you enjoy this version.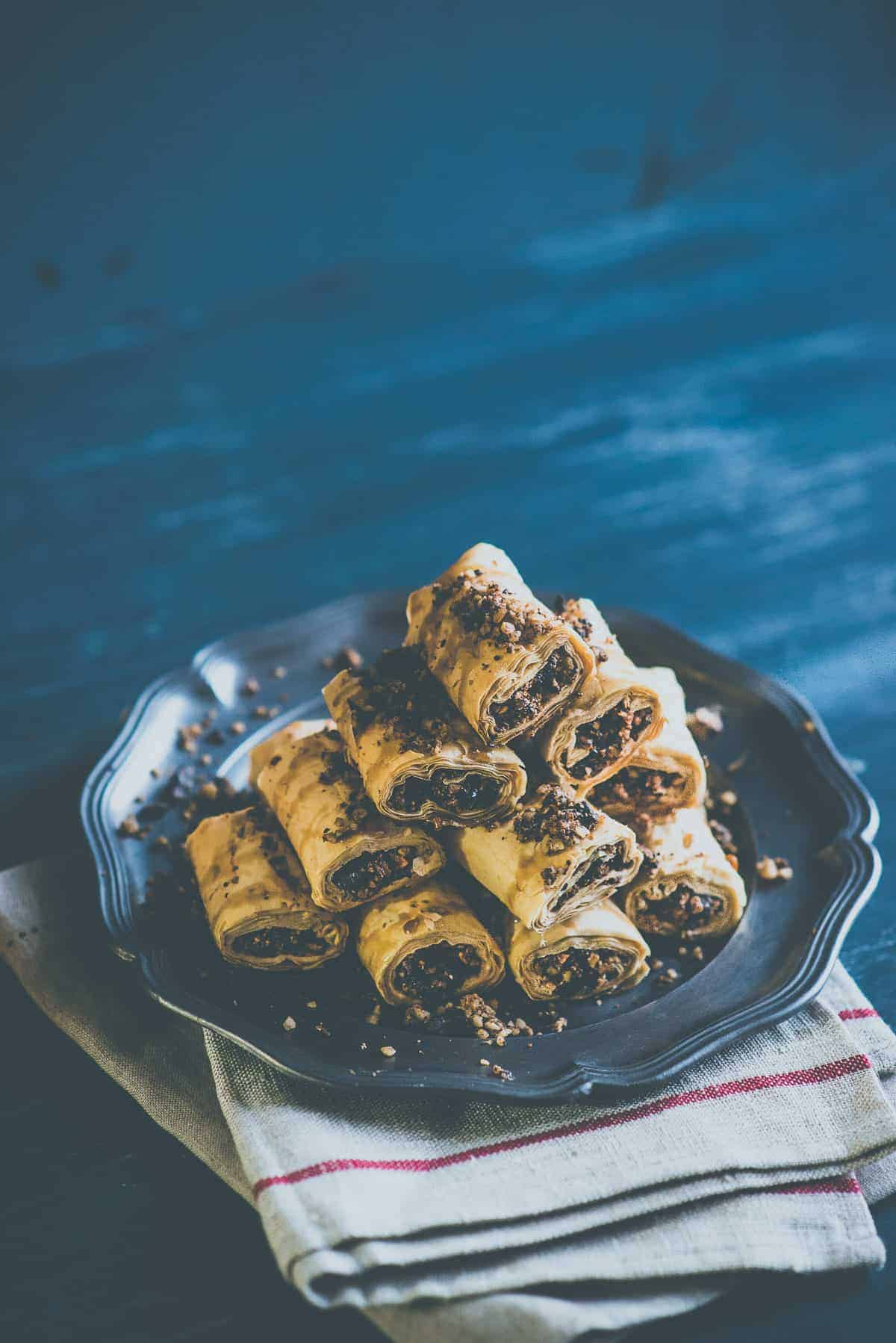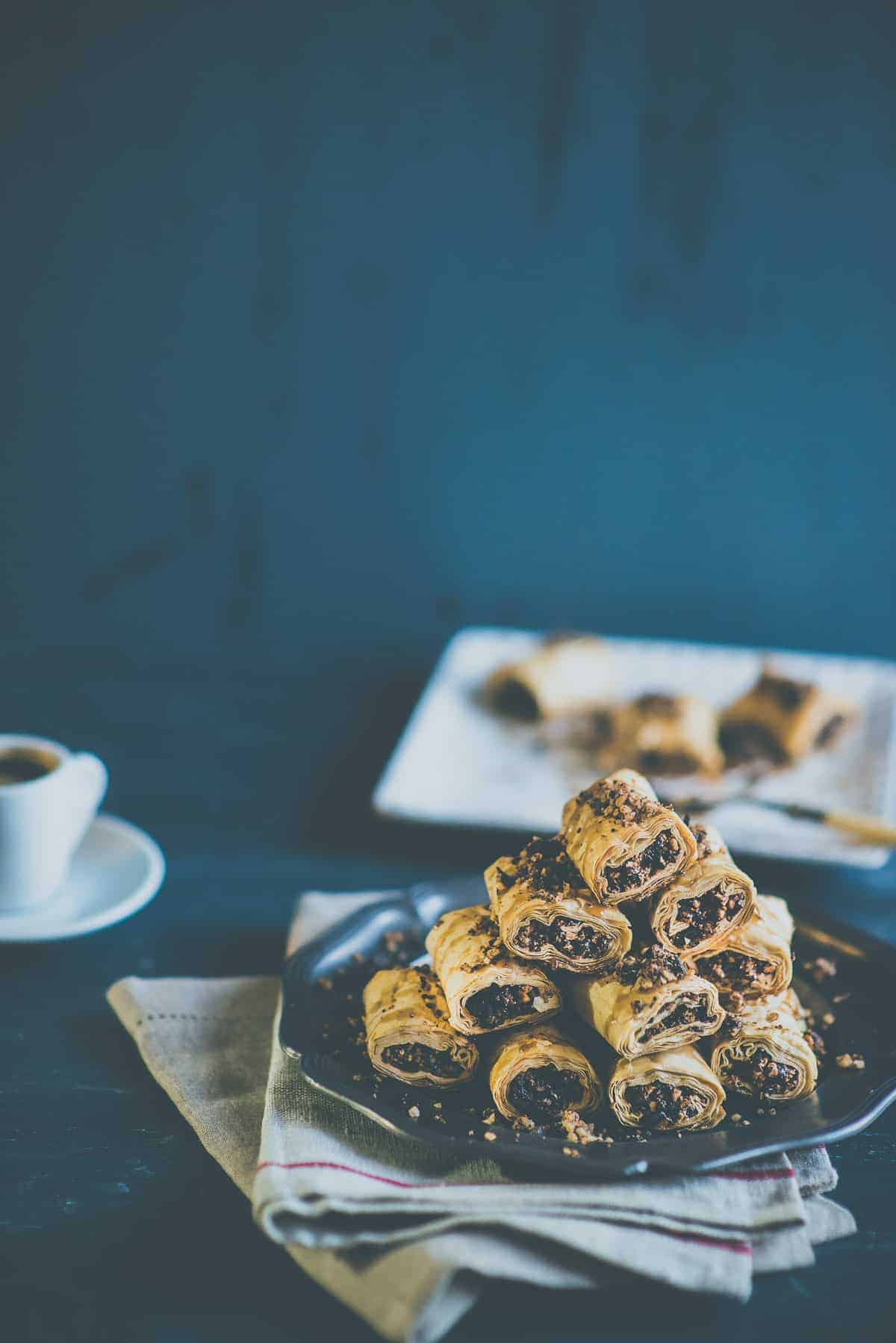 CHOCOLATE BAKLAVA RECIPE
Yileds approx 24 pieces
Ingredients:
1 cup shelled walnuts
1 cup raw cashews
zest of 1 orange
1 teaspoon ground cinnamon
½ teaspoon ground cardamom
100 grams dark chocolate (min 70%)
100 grams butter melted
12 sheets fillo pastry
For the syrup
1 cup caster sugar
½ cup water
2 tablespoon honey
juice of half an orange
Instructions:
Prejeat your oven to 180 deg C and line a baking tray with baking paper.
Combine the walnuts, cashews, orange zest, cinnamon, cardamom and dark chocolate in a food processor and process the mixture till it becomes coarsely chopped (do not over mix to make it look like meal). Set aside.
Take a sheet of fillo and lay it on a clean bench with the longer edge facing you and brush liberally with butter. Repeat with 3 more sheets and stack neatly on top of one another (you will need 4 sheets total).
Leaving a 5cm border, spoon 5-6 tablespoons of the baklava filling in a single line across the longer edge. Roll the fillo tightly to form one long piece and cut into 8 portions. Repeat with the remainder of the fillo and filling until you have 24 pieces.
Brush with butter and bake for 20-25 mins or until golden brown.
Start the sugar syrup 10 mins before taking out the cooked baklava rolls. Combine the sugar, water, honey and juice in a saucepan on a medium high heat. Allow the mixture to come to a rapid boil and then lower the heat and simmer till you have a thick syrup. Spoon over the baklava whilst hot from the oven.
Serve as a snack or with coffee.