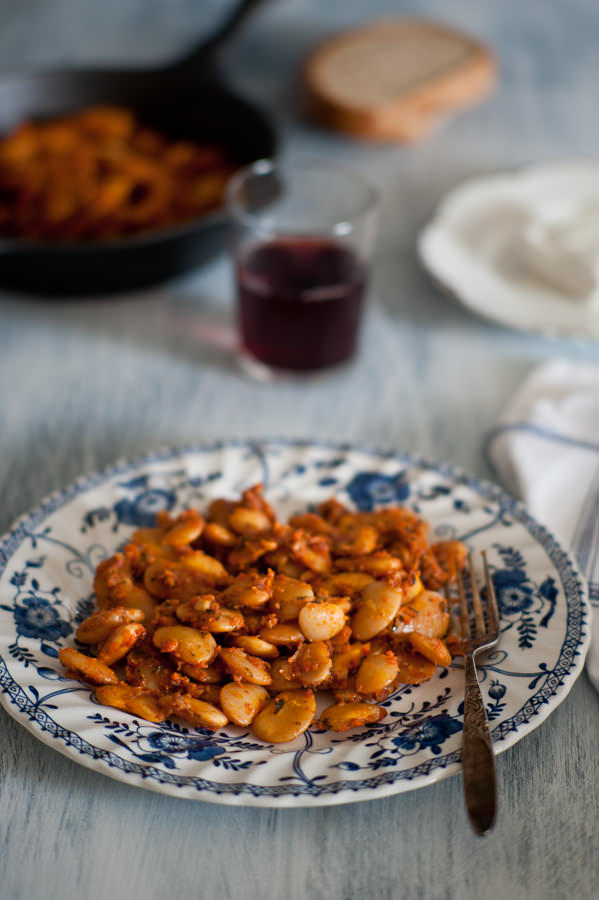 "Beans, beans are good for your heart.  The more you eat the more you f..."
This was the mantra of my childhood.
We used to repeat this (obviously changing the last word!..I'll leave you to work that one out!) and giggle every time we said it.
And whilst it provided a sense of entertainment to a bunch of children the true health benefits of eating beans and legumes cannot be overstated.
I'm sure we've all read about them. Beans are full of fibre, they can help you feel full longer and they are def great for "regularity".
Personally, I love them. I try to include them in at least one meal a week.
But it wasn't all rosy between me and my beloved beans. I detested them as a child and like many dishes grew to love them the moment my taste buds matured.
During my "body building" phase (circa late 80's-early 90's) I downed a can of the commercial "baked variety" every morning on toast.
I thought I was doing my body good but a closer inspection of the label revealed a high sugar and salt content.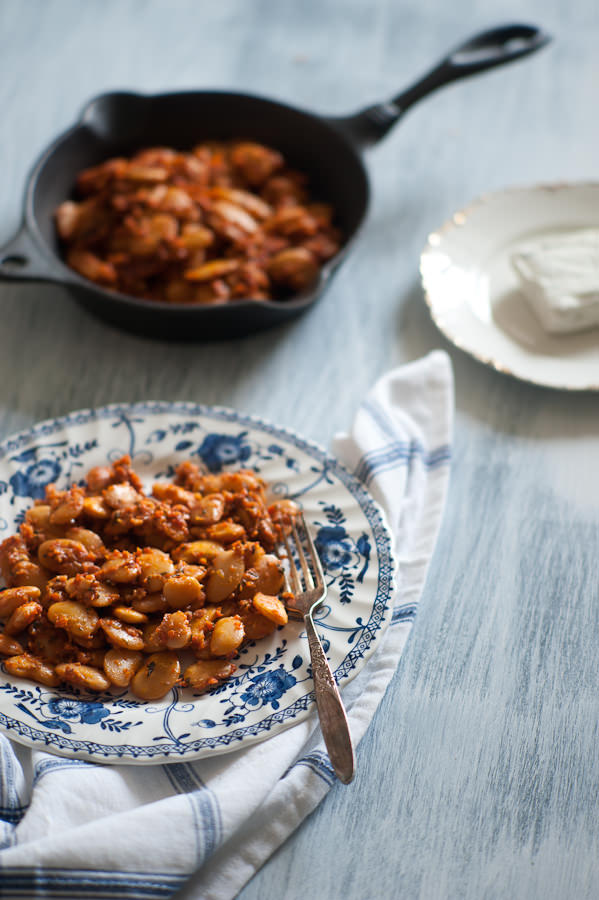 Nowadays, I make a batch of "Greek style baked beans". These are similar (and I mean similar) to the Greek favourite known as "gigantes plaki".
Gigantes translates as giant baked beans. They are traditionally cooked with a tomato based sauce in the oven and as with many Greek dishes there are a few variations.
I've used lima beans for today's recipe but you can use butter beans if you wish. I've also added a few extra ingredients to the original recipe my mother makes (I can't help it!).
I like to fry off a little bacon and add some of my home made tomato ketchup and sugar to the mix.
These came out a little drier than I would have liked. They needed a little longer on the stove top before they were finished off in the oven.
Serve them up with some of my jalapeño and feta cornbread and some winter greens for a complete meal or do what I do and serve them up with a fried egg on top.
GIGANTES PLAKI-GREEK STYLE BAKED BEANS RECIPE
A delightful twist on the traditional Greek baked beans known as "gigantes plaki".
Ingredients:
2 cups of dried lima beans washed and soaked overnight
6 rashes of diced streaky bacon
Olive oil for frying
1 medium sized onion, finely diced
1 medium sized carrot, finely diced
1 stalk of celery, finely diced
2 cloves of garlic, finely diced
300 grams of tomato passata
100 grams of home made tomato ketchup (a good quality commercial variety can work well here too)
½ a cup of water
1-2 tablespoons of brown sugar
A good handful of chopped parsley
Salt and pepper to taste
Instructions:
Using a large cast iron pot fry off the bacon, onion, carrot and celery in a little olive oil until everything is soft and translucent.
Add your beans and give everything a good stir.
Add the tomato passata, ketchup, water, sugar and parsley. Allow the mixture to come to a boil and then turn the heat down to medium
Let this simmer for half an hour before covering the pot and placing it in a 160 deg C pre heated oven.
Cook the beans for one hour covered and the last half hour uncovered.
We're looking for the beans to have a "creamy" cooked centre and be a little firm. If you find they are drying up too quickly lower your heat slightly and add a little water. It also ok if they are a little charred and crisp on top.
Notes
If you don't like the bacon you can definitely omit it form the recipe. This recipe makes a very big batch. Just freeze any leftovers.