When I made this pea and ham soup the other day, I spent the best part of the day "switched off".
Fighting the beginning of a cold, isn't the best of fun.
But neither is being "always connected" to the vast array of technology and social media at our disposal.
True.
We can choose to not participate. However, I find taking a good break every now and then the best remedy.
This soup requires nothing more than a little time…
And no interruptions!
(Ok…rant over!)
Related: Try my carrot and orange soup for something different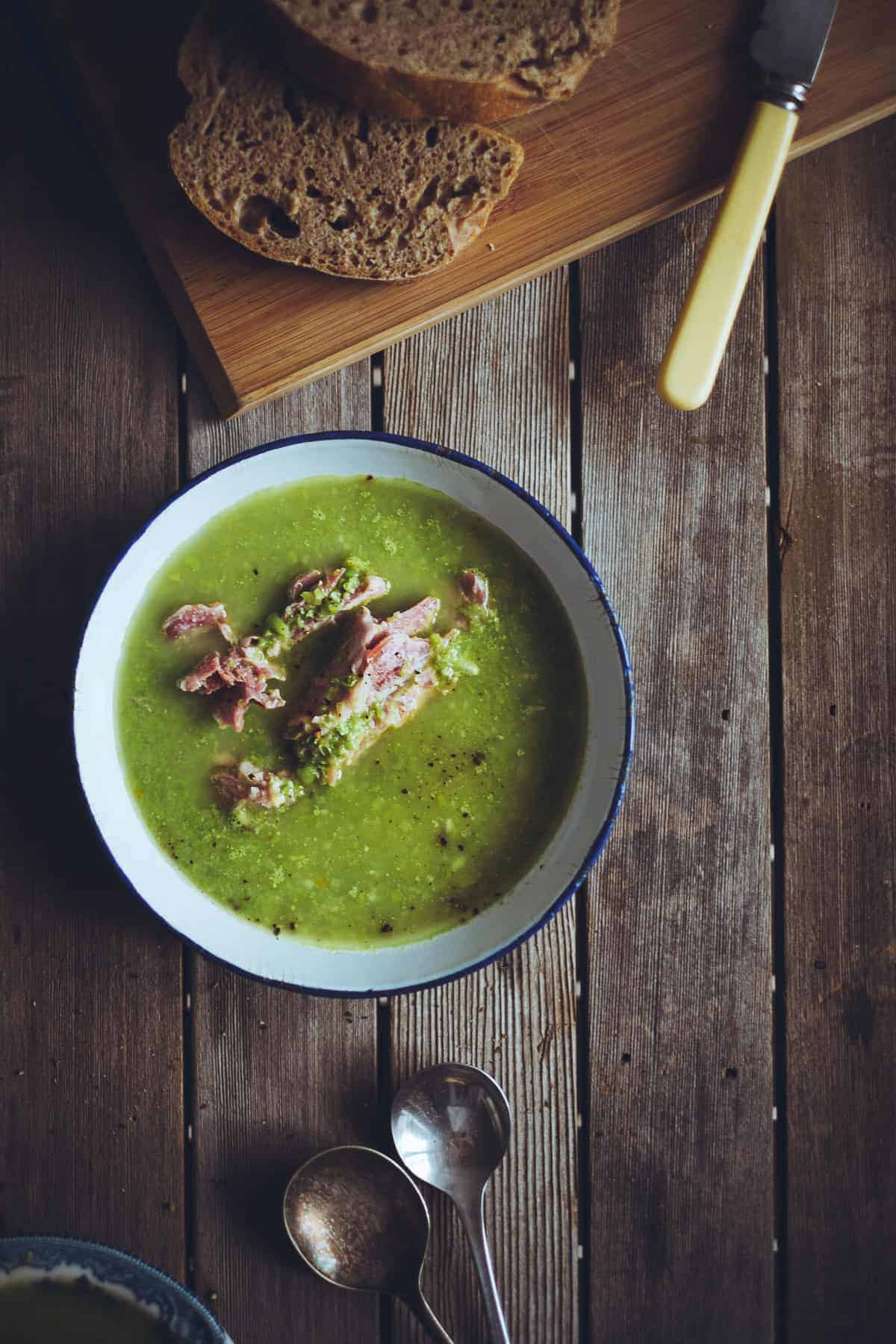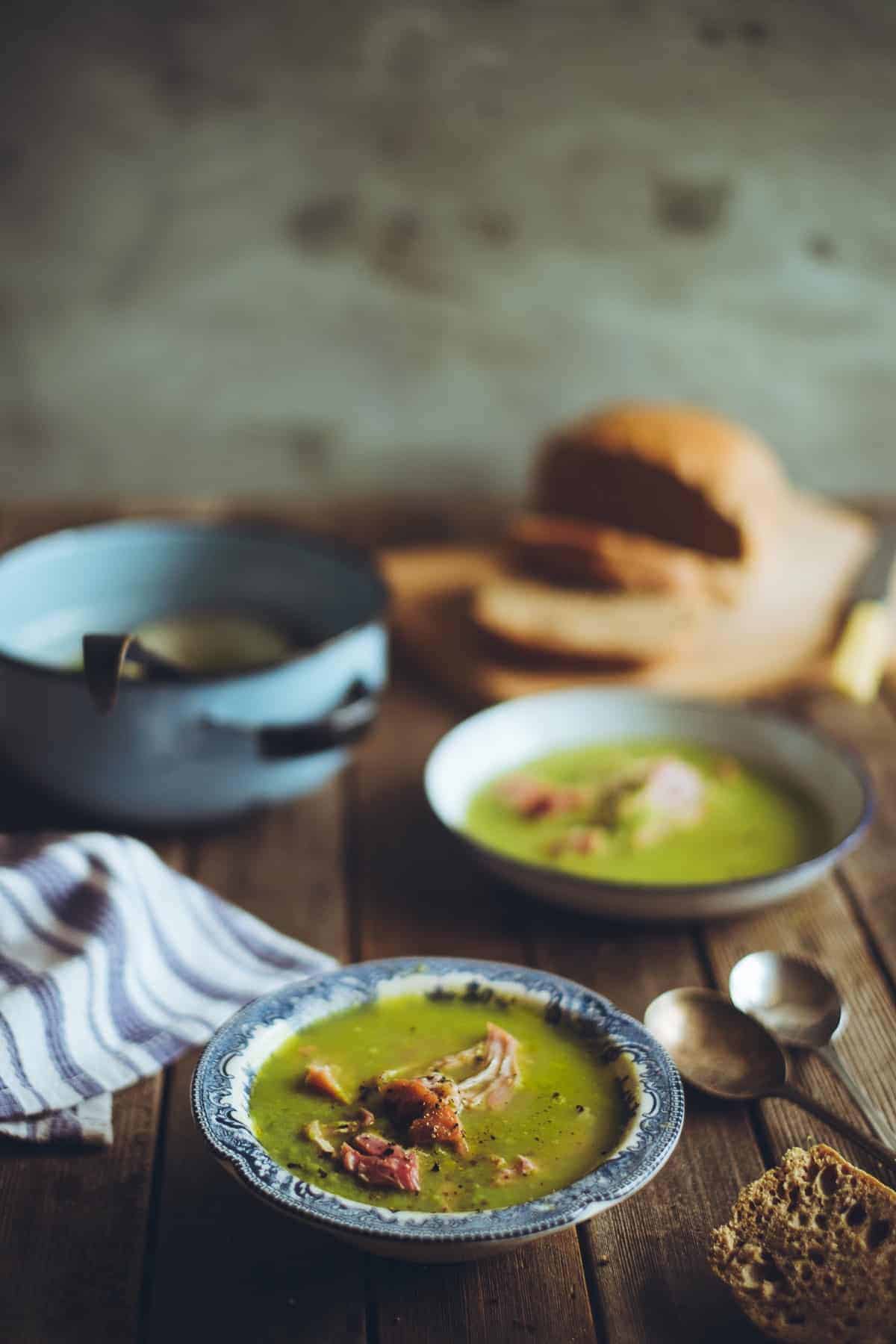 I've been wanting to make a version of this soup ever since I can remember.
For whatever reasons, I couldn't find smoked ham hocks so when I spotted them the other day I snapped them up to experiment.
My research revealed that there's numerous versions to making pea and ham soup from scratch.
I went with making the stock first. I let it simmer in peace and quiet to extract the maximum "porky goodness" from the ham hocks.
Once I was satisfied with the flavour, I made the soup using my favourite satand-by ingredient-frozen peas.
The end result was a rich, hearty soup perfect for the cooler evenings. (even though it hardly feels like winter in Sydney this year).
I accompanied it with some home made "no knead" spelt bread (recipe coming soon-it's a beauty!) and enjoyed it in peace.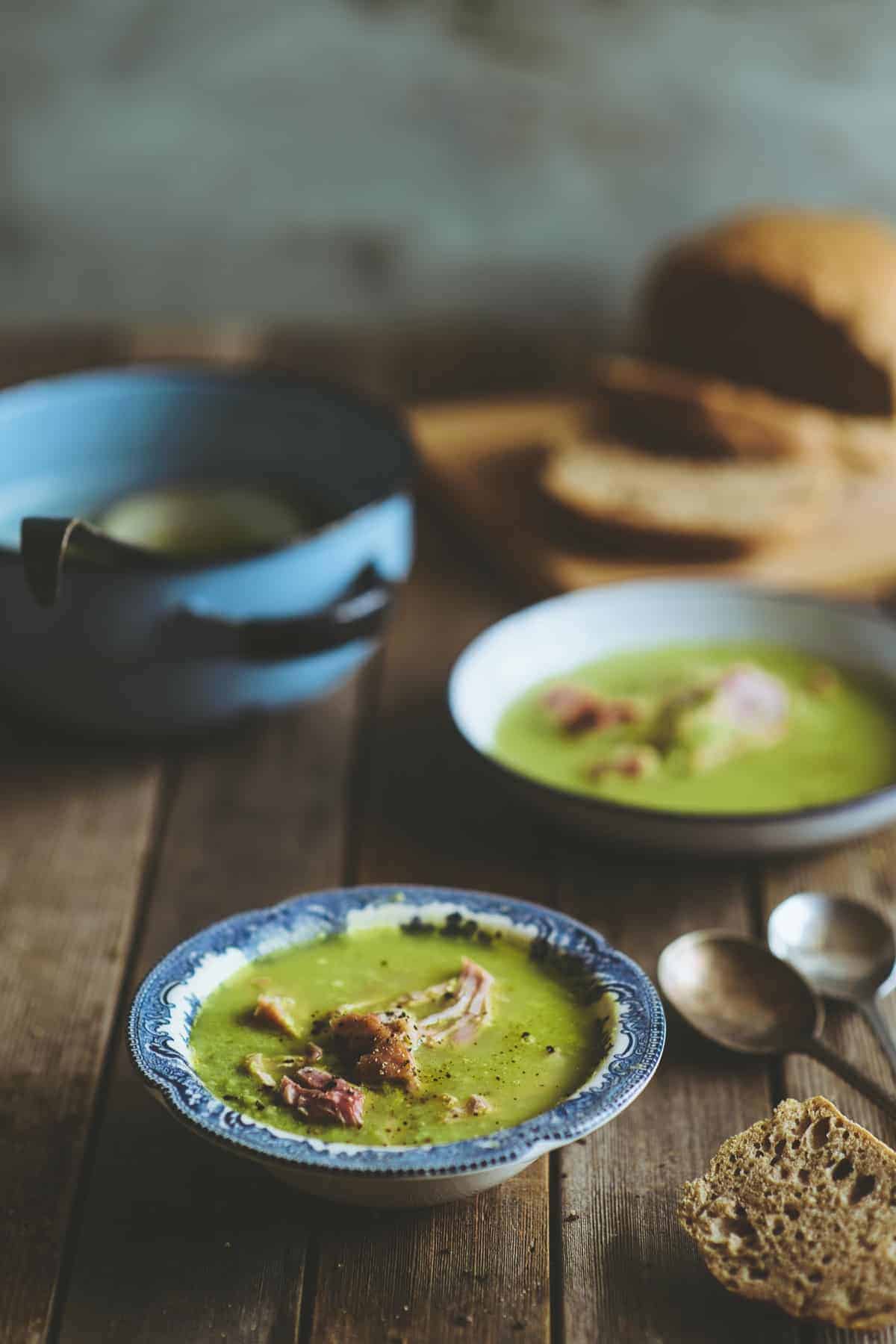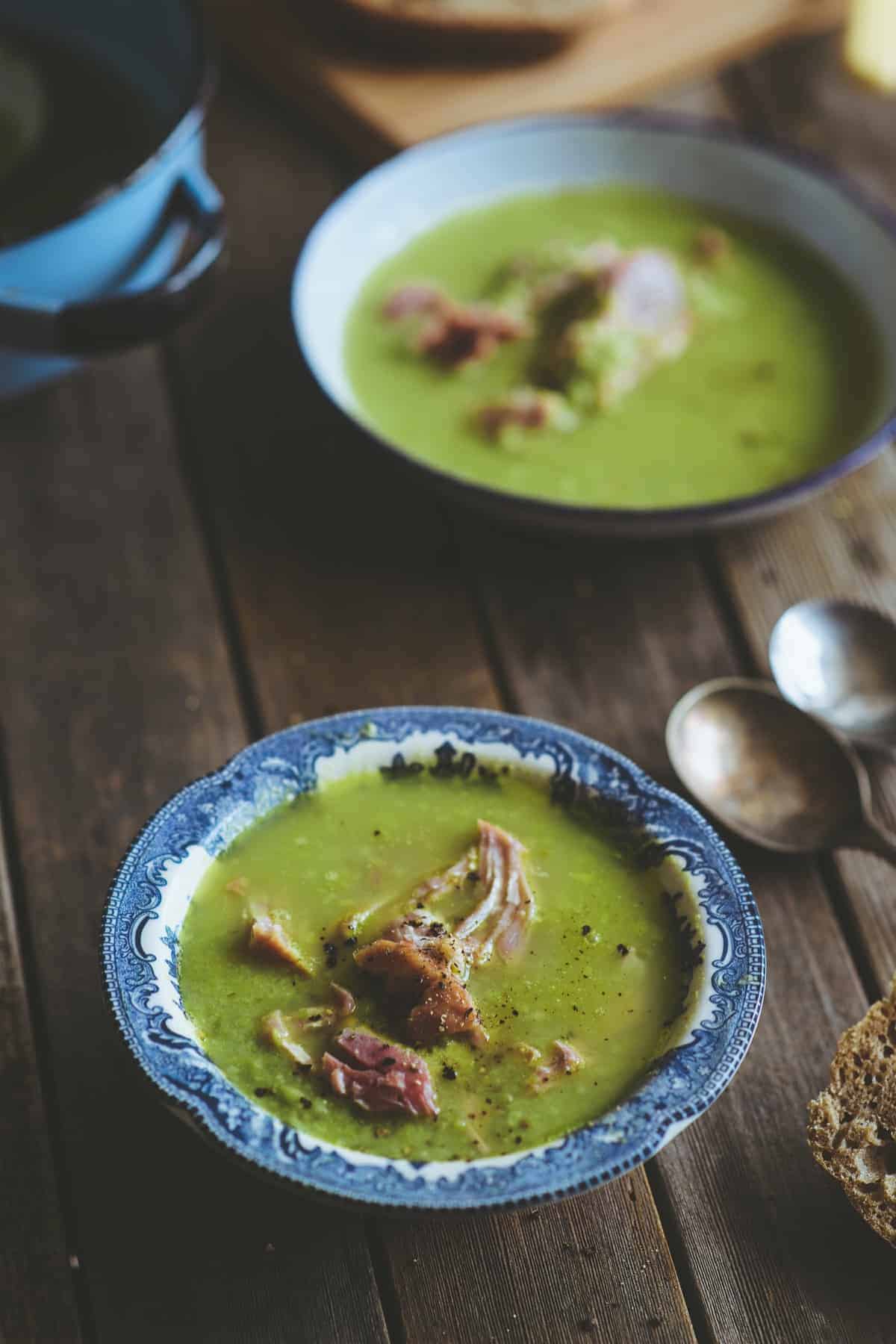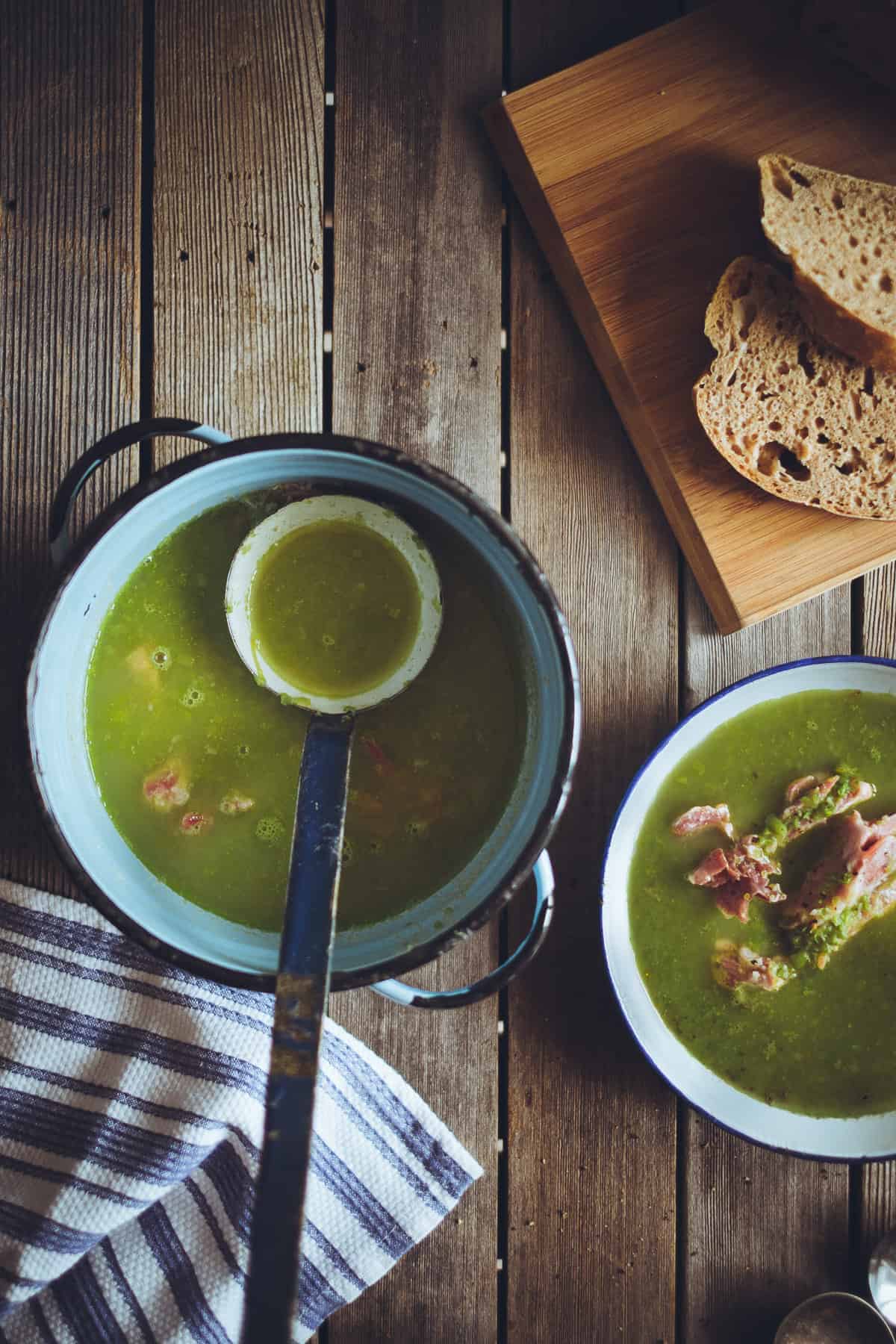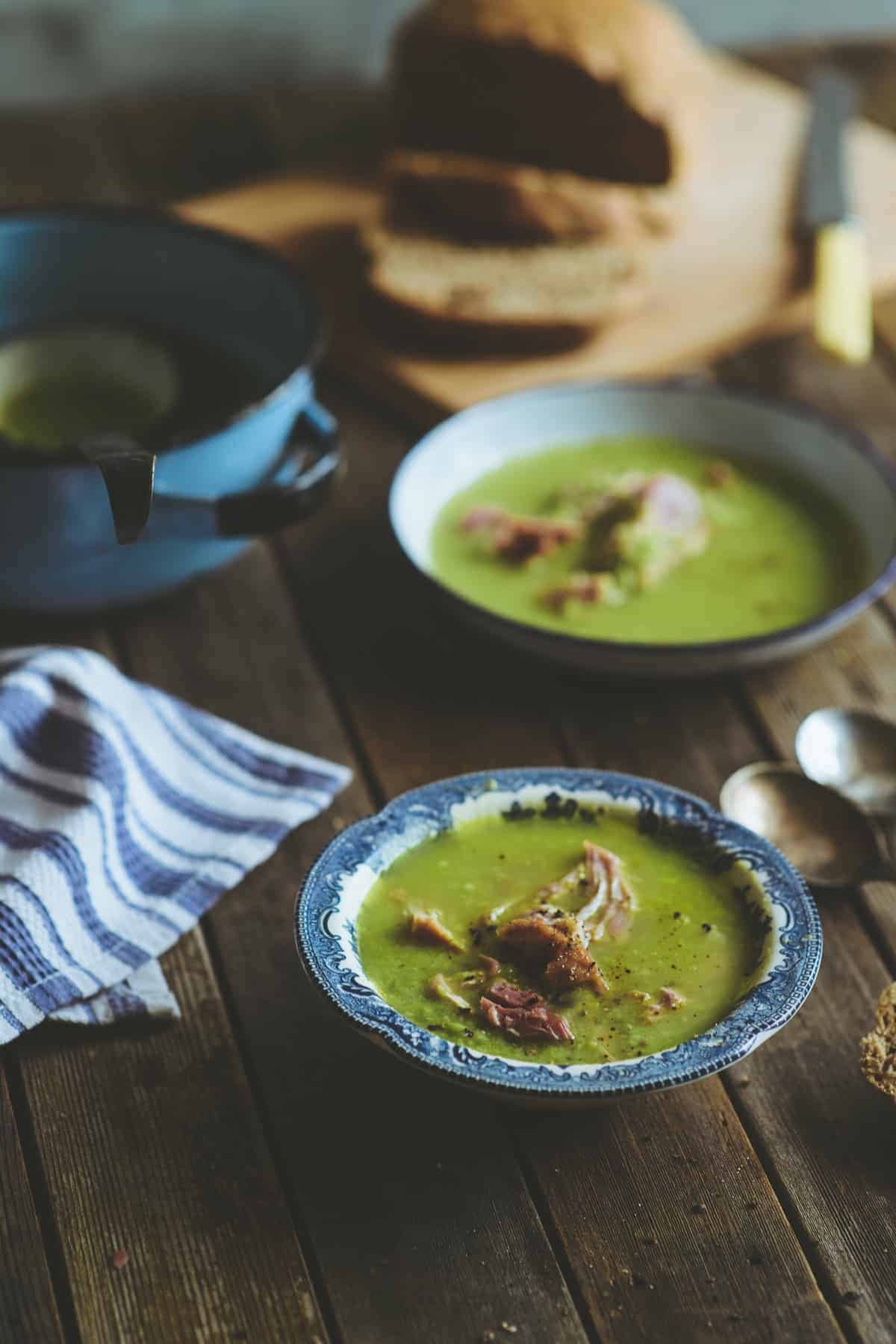 PEA AND HAM SOUP RECIPE
Ingredients:
For the stock:
1 smoked ham hock, weighing approx 600 grams
2 litres cold water
1 leek (white part only)
½ brown onion
2 small or 1 large carrot chopped into even chunks
½ celery stalk
a bouquet garni made up of 2 bay leaves, 5-6 peppercorns, 4 sprigs fresh thyme, 4 stalks parsley
For the soup:
2 tablespoon olive oil
1 onion, finely diced
2 cloves garlic, crushed
500 grams frozen peas
salt and pepper to season
Instructions:
Place the ham hock along with the water, vegetables and bouquet garni in a tall, stock pot. Bring to a boil and then lower to a simmer. Skim off any impurities that rise to the surface.
Cook for approx 2-2.5 hours until the ham hocks are soft and nearly falling off the bone.
Remove the ham hocks and set aside to cool. Discard the bouquet garni and using a hand blender blend all the veggies and stock. Set aside.
In a separate pot heat the olive oil, add the onions and garlic and allow to soften for a few minutes. Add the peas and the ham hock stock and allow to simmer for 15 minutes. Blitz with a hand blender and add the shredded ham meat (discarding any fatty bits) to the soup. Season with salt and pepper.
Serve immediately with crusty bread