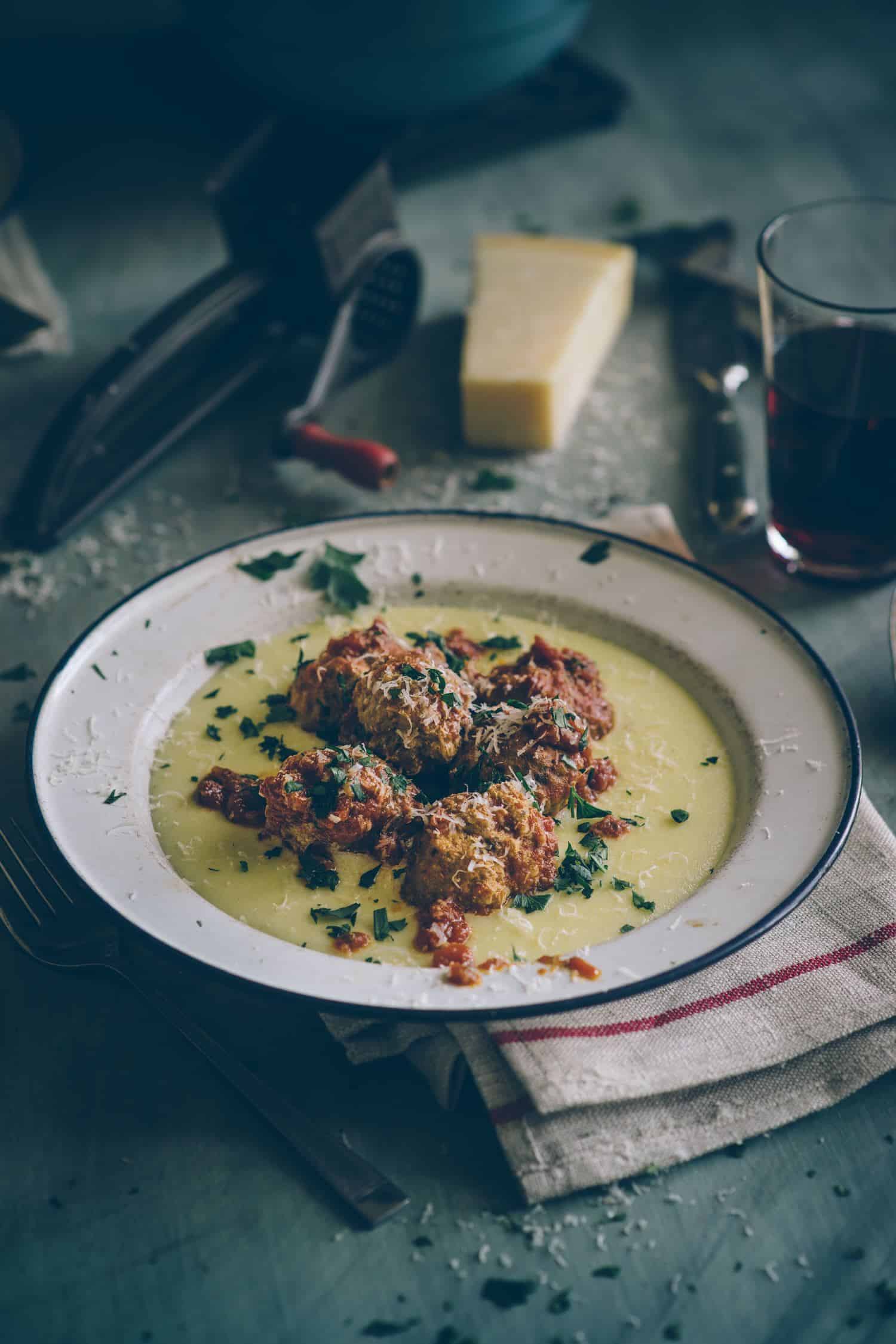 At last!
Finally!
Why am I rejoicing, you may ask?
Because the weather has changed. It's a lot cooler, the humidity has vanished and I can begin on some winter cooking.
Think long, slow braises.
Robust, red wines and cozy fireplaces. (Not that I own a fireplace. Just thought I would set the scene…).
The other day I went back through the archives here on Souvlaki For The Soul and I came across my slow cooked lamb shanks.
It struck me that I hadn't cooked polenta in ages and I wanted to revist this ingredient again.
Polenta is one of those ingredients that people either love or hate. Maybe it has something to do with the texture?
I know a few of my Italian friends refer to it as "peasant food". Nothing wrong with peasant food, I say! All I know is that with a little love and care it's tasty and works well with "saucy type" of dishes.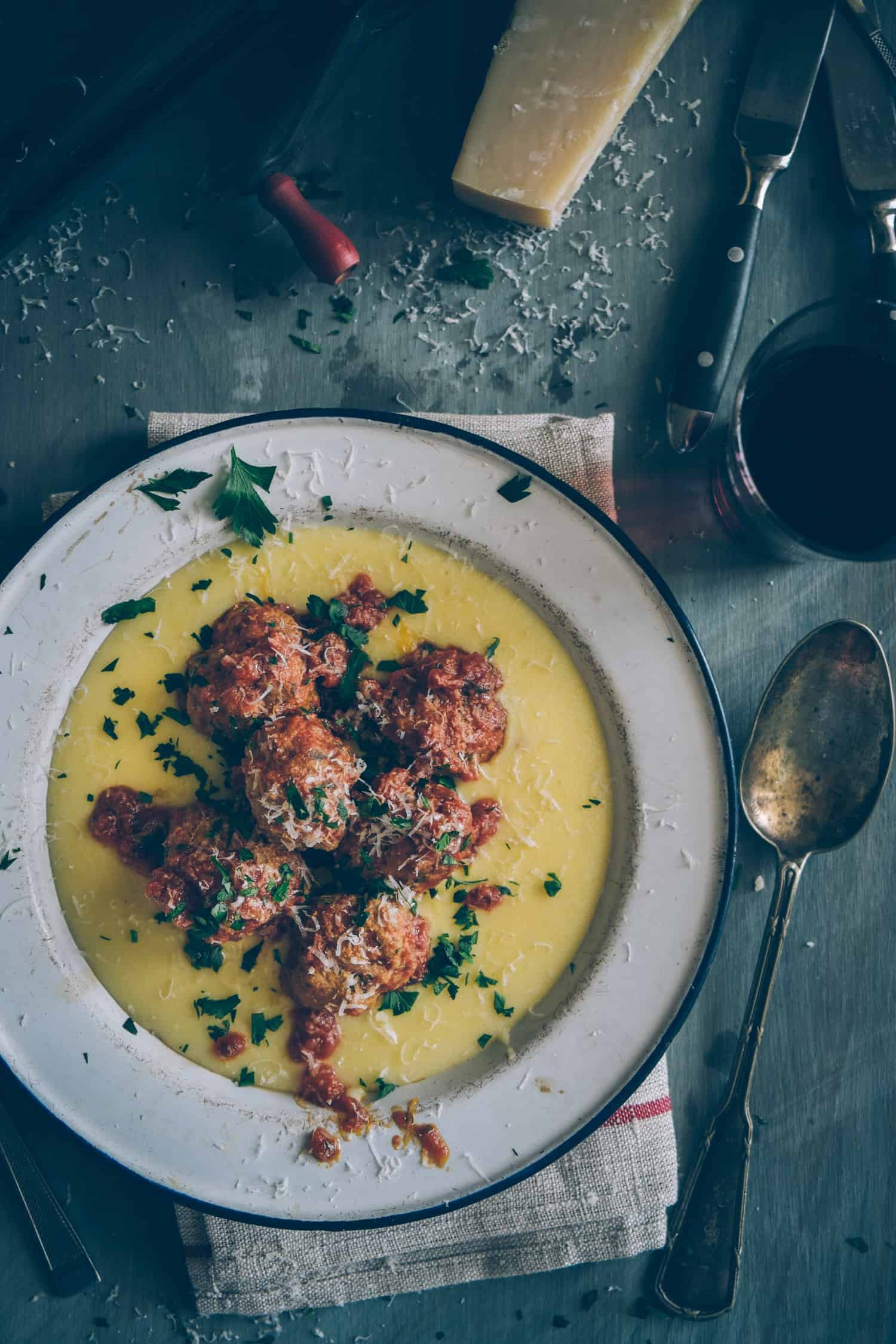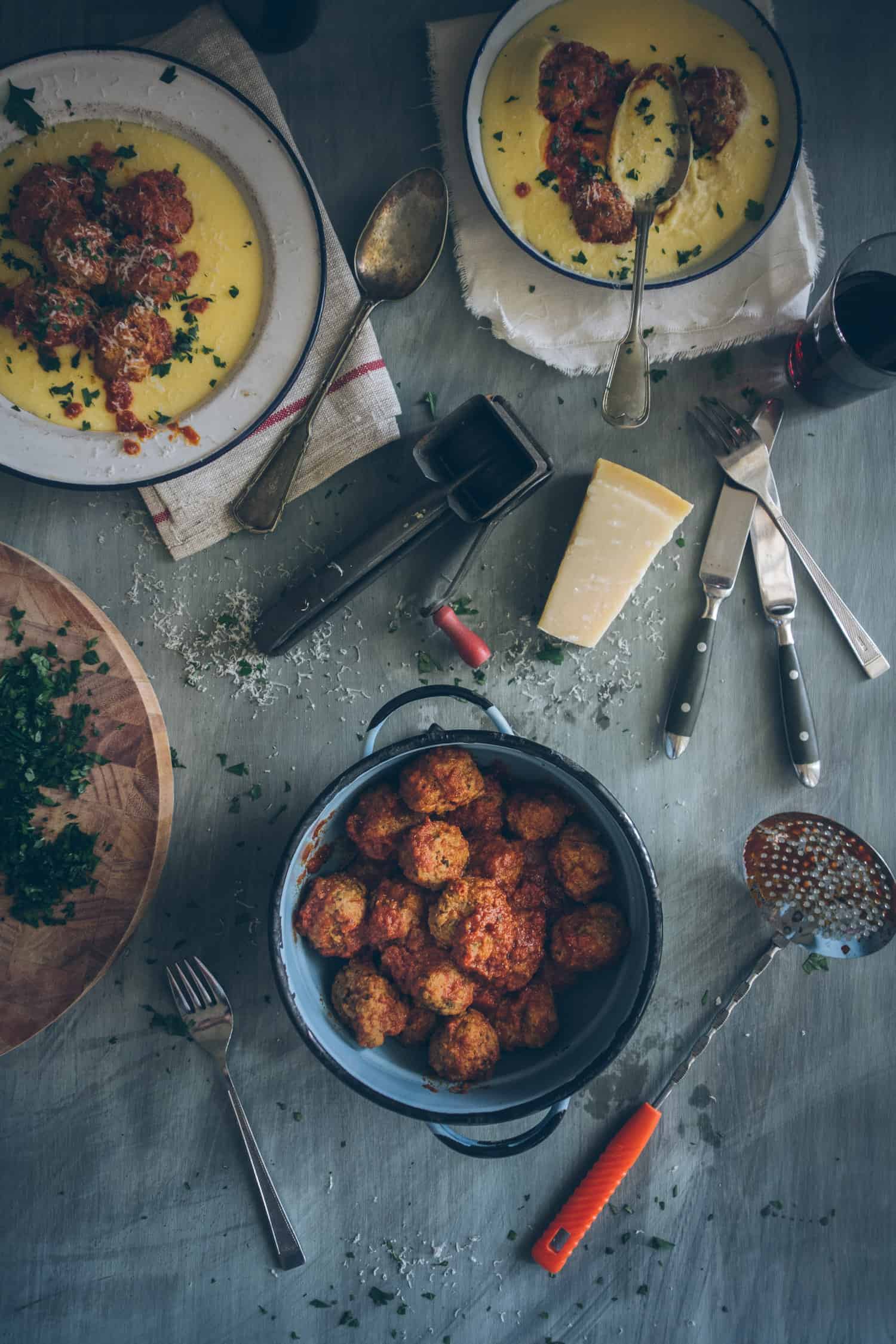 Today I've chosen to pair the polenta with some traditional, Italian meatballs a.k.a. "polpette".
These on the other hand are loved by most people. Apart from vegetarians I can't think of anyone who doesn't like them!
I've tackled these before however I used to fry them off before I cooked them in a sauce. This time I was advised to cook them straight in the sauce and I believe they turned out just as good. Plus it saves you an extra step in the cooking process which can only be a good thing.
I used good quality minced beef and went by "feel" when I was kneading the mixture. Initially it felt a little dry so I added an extra egg to the mixture plus a little extra grated Parmesan.
Use the recipe as a guide and trust your instincts. In my opinion, that's what cooking should be all about. I've aslo made the polenta a little "wetter" than I was used to it and it worked perfectly.
The recipe may look like a lot of steps but I've produced it using the sequence I follow.
Make sure you have loads of Parmesan on hand and a good red!
Bring on the cooler weather I say!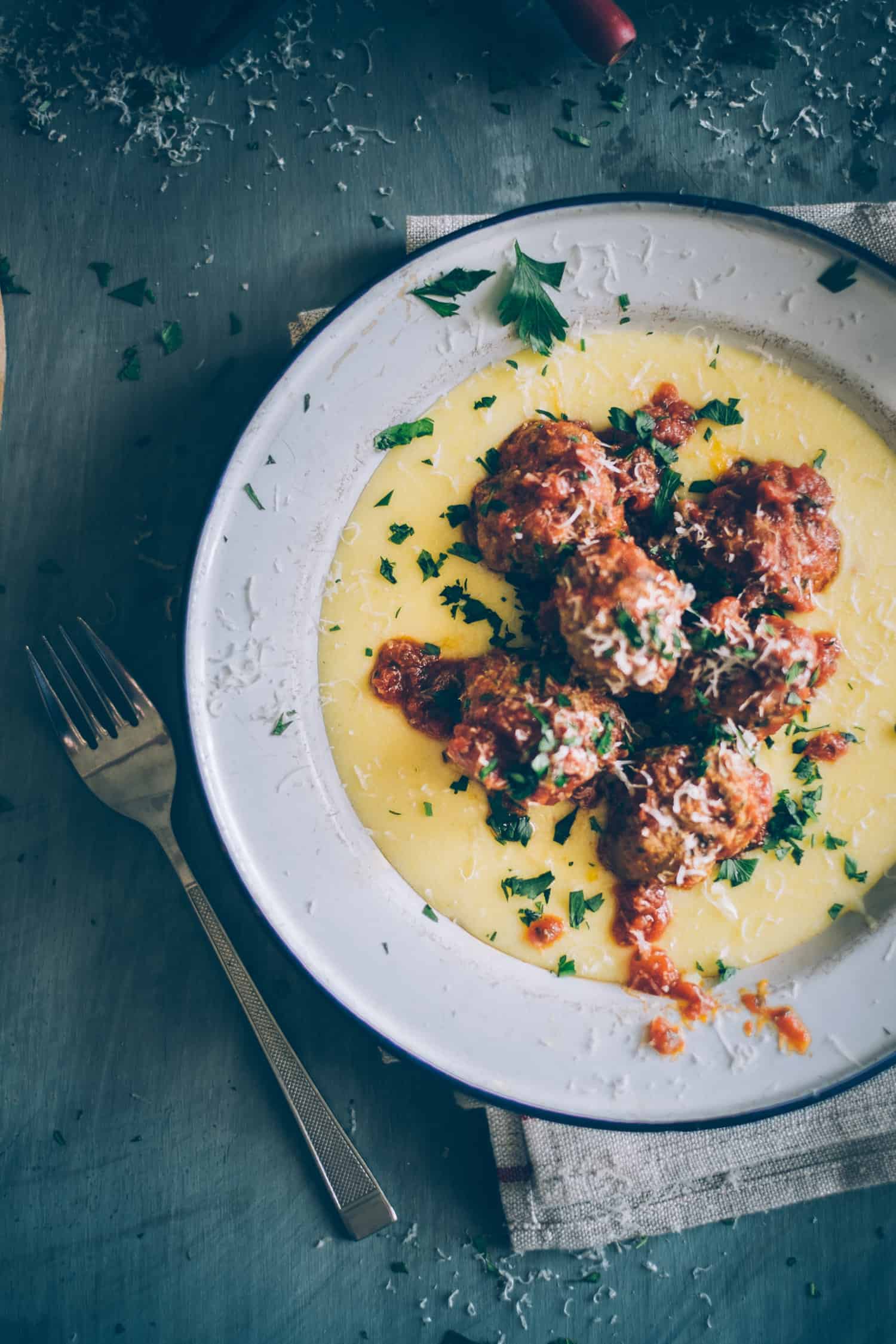 POLPETTE WITH POLENTA RECIPE
Makes approx. 35-40 meatballs
Ingredients For the Polpette or Meatballs:
1 kilo minced beef
2-3 eggs
2 cups freshly grated Parmesan cheese
2 cups fresh breadcrumbs
2 cups freshly chopped parsley
2-3 cloves garlic, crushed
salt and pepper for seasoning
Instructions:
Combine all the ingredients in a large bowl and knead until the mixture feels soft and pliable. If it feels too wet add a little extra Parmesan and/or breadcrumbs. If it feels a little dry add another egg.
Using wet hands, pinch a little of the mixture (using the space between your thumb and forefinger as a guide) and roll into balls. (Use the size and shape of a golf ball as a another guide).
Once all the meatballs are rolled out, set them aside as you prepare your sauce.
Ingredients For the sugo or sauce:
3 tablespoon olive oil
2 cloves garlic crushed
600 grams passata or canned tomatoes
1 cup basil, finely shredded
salt and pepper to season
Instructions:
Heat up a pot with the olive oil and fry off the garlic until aromatic (2-3 mins).
Add the tomato sauce and the basil and allow to cook on a medium to low heat for 20 mins.
Once the sauce is cooked place your meatballs in the sauce ensuring they are covered and cook on a low heat for 30 mins.
Once cooked set the pot aside and make the polenta
Ingredients For the polenta:
3 cups milk
3 cups water
1 cup of instant polenta
75 grams butter
1 cup grated Parmesan cheese
salt for seasoning
Instructions:
Combine the water and milk in a suace pan over a medium high heat and bring to the boil.
Slowly add the polenta, whilst using a ballon whisk to mix everything together.
Continue to stir untl the mixture begins to thicken (this can takle anywhere between 5-7 mins).
Once thickened add the butter, Parmesan and salt and mix until soft and creamy.
To serve, dollop some polenta onto a plate, top with polpette and sauce and garnish with extra Parmesan and parsley.