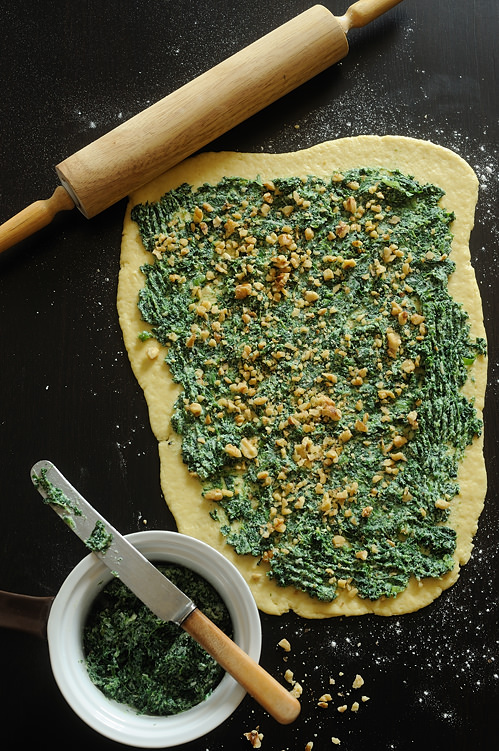 At times, even I get bored with spanakopita!
Yes it's true!
Lately I've wanted to get creative with traditional Greek recipes and bring a little "oomph" to them.
So...out with spanakopita (for the time being) and in with the scrolls. Whilst flicking through the April edition of Delicious magazine I came across a recipe for blue cheese and pecan scrolls.
I immediately loved the whole concept of this and decided to change the ingredients by substituting feta, spinach and walnuts.
What a hit!
They were wonderful served warm as a snack with coffee and perfect for a quick breakfast the next morning.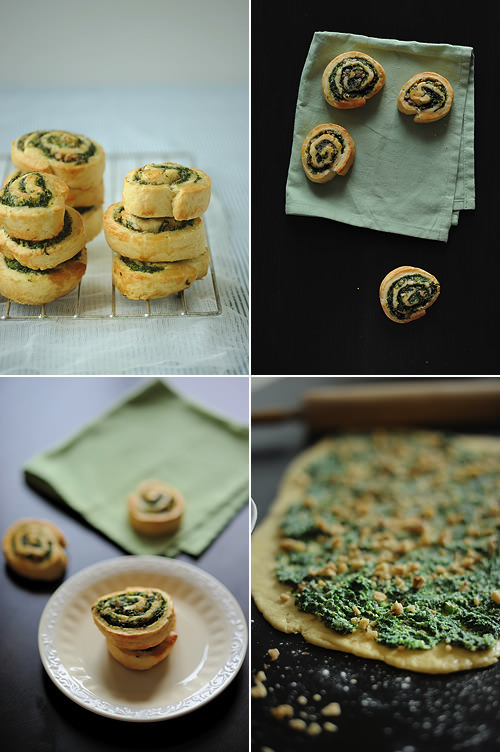 I also made my own pastry again - using the recipe from my hortopita,
It was quite simple actually and even I was surprised at the ease of this. Buttery, flaky and very delicious! And all made in the food processor.
Once I rolled out the pastry, I spread it with my spinach and cheese mixture and freshly crushed walnuts. I rolled it up into a log and cut it into slices. Brushed with a little egg and baked for 15 mins...voila! Freshly baked scrolls.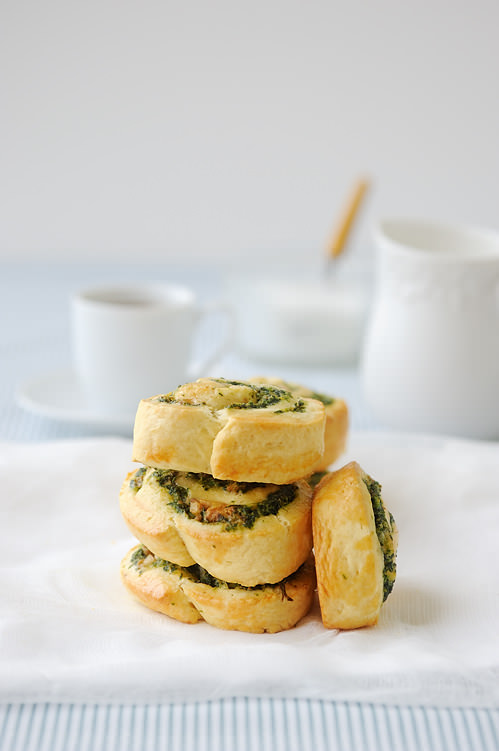 RECIPE FOR SPINACH AND FETA SCROLLS
For the pastry:
2 cups of self raising flour
1 teaspoon of caster sugar
80 grams of chilled, chopped good quality butter
½ a cup of milk
Place all ingredients except milk into a food processor and whizz until the mixture resembles fine breadcrumbs. Tip this mixture into a bowl and add the milk and mix thoroughly with a fork until it forms a soft dough. Turn the dough out onto a floured surface and knead for about 5 minutes, until it's quite smooth Shape into a 35 x 20 cm rectangle.
For the filling:
2 big bunches of freshly chopped spinach, quickly blanched and squeezed of any excess water. (makes approx 150 grams)
1 cup of crumbled feta
1 egg
half a cup of grated Romano cheese
salt and pepper to taste
1 cup of crushed walnuts
Place all the ingredients, excluding the walnuts in a food processor and whizz until you have a nice, creamy paste.
Spread the spinach mixture on the freshly rolled dough and spread the walnuts evenly on top. Roll the dough up until it resembles a log, making sure to seal it with a little beaten egg on the final roll. Place the roll into a refrigerator and allow it chill for 2 hours. Preheat the oven to 200 deg C. Gently transfer the roll onto a cutting board and using a lightly floured serrated knife cut into 2cm thick slices. Arrange the slices on a baking tray, leaving a little room between them to allow for spreading during cooking. Brush a little egg on the top and sides and bake for 15 mins until golden.