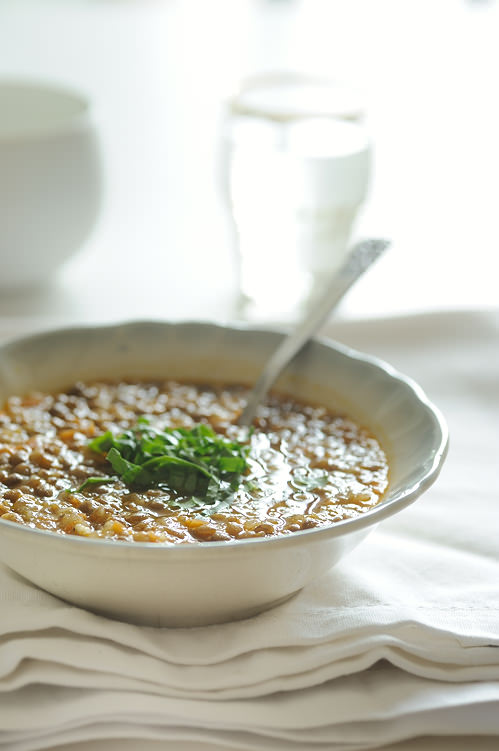 I love lentils! I'm thinking of getting that printed on a t-shirt and telling the whole world. Ok. Maybe that's a little over the top but what's not to love about this legume? It's healthy, full of fibre and definitely fills you up. And I do love lentil soup. I've made lentil soup with chickpeas and quinoa and I've also combined pumpkin to make a hearty pumpkin and lentil soup but I do not have a recipe for the Greek version of lentil soup a.k.a "fakes" (pronounced fah-kes). Sacrilege! All jokes aside regarding the pronunciation, this oh so simple and very warming on those cooler days. The beauty is you can jazz it up any way you wish. Like extra spice? Add some chili. Cumin is another spice that marries well with lentil soup as well. I've taken the more traditional road here and used bay leaves and some oregano. Having said that, I've seen lentil soup served in many Greek households a number of ways. I've had it with chunks of potato, rice and even hilopites (Greek home made pasta). It all depends where you come from. But I think one thing is pretty universal with the Greek version of lentil soup. As it's being served it's wonderful with a few splashes of vinegar. It just lifts the dish to another level. I sometimes like to drizzle some extra virgin olive oil too. It's all good.
RECIPE FOR LENIL SOUP-"FAKES"
250 grams of small brown lentils rinsed and washed of any debris
2 brown onions finely chopped
2 large carrots finely chopped
3 cloves of garlic chopped
2 teaspoons of dried Greek oregano
3 bay leaves
750 ml of water
1 cup of pureed tomatoes with 1 tablespoon of tomato paste
a handful of chopped parsley to garnish
red wine vinegar to serve
In a large pot saute your onions, carrots and garlic until translucent.
Add your lentils and stir well.
Add the water, tomato mixture, bay leaves, oregano and season with salt and pepper.
Let the mixture come to a boil on a medium high heat and then bring it down to a simmer.
Simmer for about 30-40 minutes.
Serve immediately garnished with parsley and red wine vinegar.