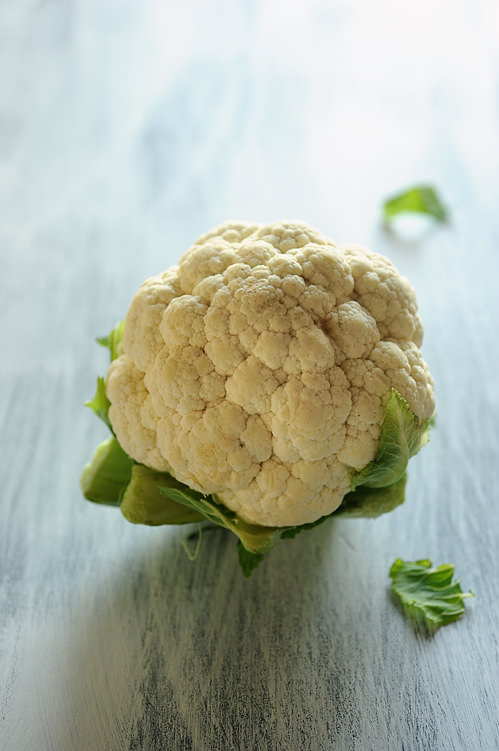 I just realised that in my three and half years of blogging, I have never featured a recipe for cauliflower on Souvlaki For The Soul!
Shock!  Horror!
It's a vegetable I have not really experimented with much over the years.  It's not that I don't like it…I'm just "meh" about it.
My mother used to boil the living daylights out of it and then dress it in olive oil and lemon juice.
Have you ever tried overdone cauliflower?  It has the same textures as cooked brains!
It was only when I got older and has my first "real stir fry" that I noticed you could eat it slightly firm.  (the things you learn!)  I also don't mind cauliflower when it's spiced up a little and served the Indian way with potatoes in a dish known as "Aloo Gobi".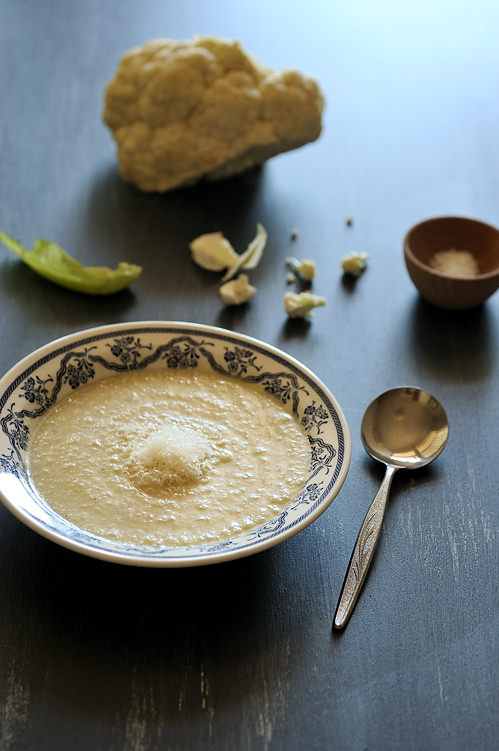 Today I offer you no spice though.
The cauliflower I picked up at the markets had seen a few too many days in the fridge so I thought it was time to use it!
Also,  I don't care how many sunny days we are having at the moment.  It's still chilly and slightly windy in the evenings and this is where the "wonder food" soup comes in handy!
It might seem like cheating to use the cauliflower in a soup but it hits the spot I tell ya!
The cauliflower soup uses milk and a little cream to make it mellow.  I've also added some grated Parmigiano Reggiano just before serving to give it a nice bit of added "sharpness".  Feel free to add a variety of spices to the following recipe.  I'm thinking nutmeg or even cumin would work well here.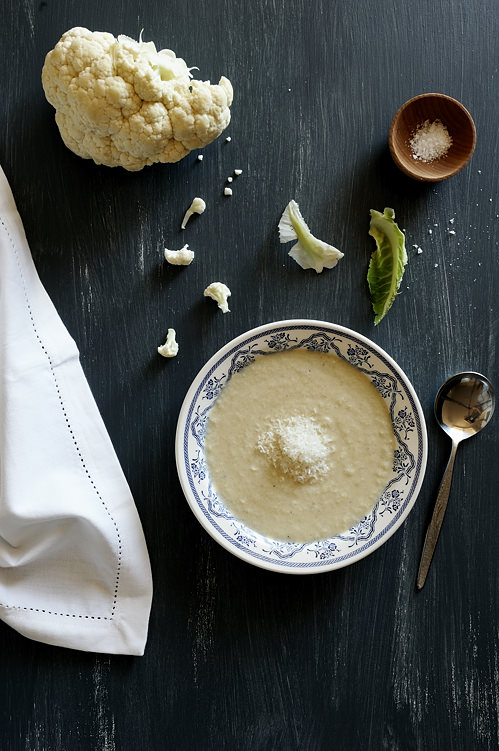 Cauliflower Soup Recipe
A warm and creamy cauliflower soup recipe
Ingredients
1 medium sized cauliflower (or half a large one) with outer leaves removed
one small onion, diced
2 cloves of garlic, crushed
100 grams of butter
250 mls of chicken stock or vegie stock or water
milk-to cover
salt and pepper to taste
A "splash" of cream-optional
Instructions
Cut the cauliflower into approx one inch florets
Saute the onion and garlic in the butter until softened
Add the florets and stir through the garlic/onion mixture for a few minutes
Add the stock and enough milk to cover the florets
Season with salt and pepper
Bring the mixture to the boil and then let it simmer for 20-30 mins. (florets will be tender)
Using a handy stick blender, whizz everything up until you have a nice smooth consistency
Add a splash of cream to achieve a lovely, extra smooth, velvety texture
Serve with a generous amount of grated Parmigiano Reggiano on top.