Greek salad is a dish favoured by many. But how many actually get it right? I'll show you how easy it is to create this classic Greek dish.
If there was ever a Greek dish which summed up "the Greek experience" – it would definitely have to be horiatiki  salata.   This is a humble dish. (It translates as a village salad). It's simple to prepare and relies on the freshest summer produce to do it justice.  Although it is simple, I have seen many versions which claim to be the "real deal" but aren't.
Now don't get me wrong. I'm all for "playing with your food".  Add whatever you like to your salads…  But if you set out to recreate this classic Greek dish please do it a favour and don't add lettuce!!!  My father will refuse to eat in restaurants that don't reproduce a real horiatiki salata! People are serious when it comes to this dish!
When Dodoni Feta approached me here in Australia, to work with them on some recipes, I was beside myself.  Here was a brand that I had grown up with all my early life in inner suburban Melbourne.  All the Greeks knew the Dodoni brand and I can guarantee you, it was in most Greek households along with a Kelvinator fridge!  It was almost legendary!
Just like this Greek salad.
I thought it would only be fitting to start off this working relationship with a classic dish.  And like I explained earlier it's about simplicity.  All you need is tomatoes, cucumbers, peppers, Kalamata olives, onions and Dodoni Feta Cheese. Dress it with some golden Greek olive oil, a little red wine vinegar and finish it of with some dried rigani – oregano.  You may notice that the cheese is quite a large chunk. That's ok. The more cheese the better the salad!
But. I also couldn't help myself.
I also created a "variation" on this classic dish. I kept the original ingredients but presented them on toasted bread.  It makes a great light lunch and works well as a starter at a bbq or dinner.  Think of them like "Greek style bruschettas"…whatever that means!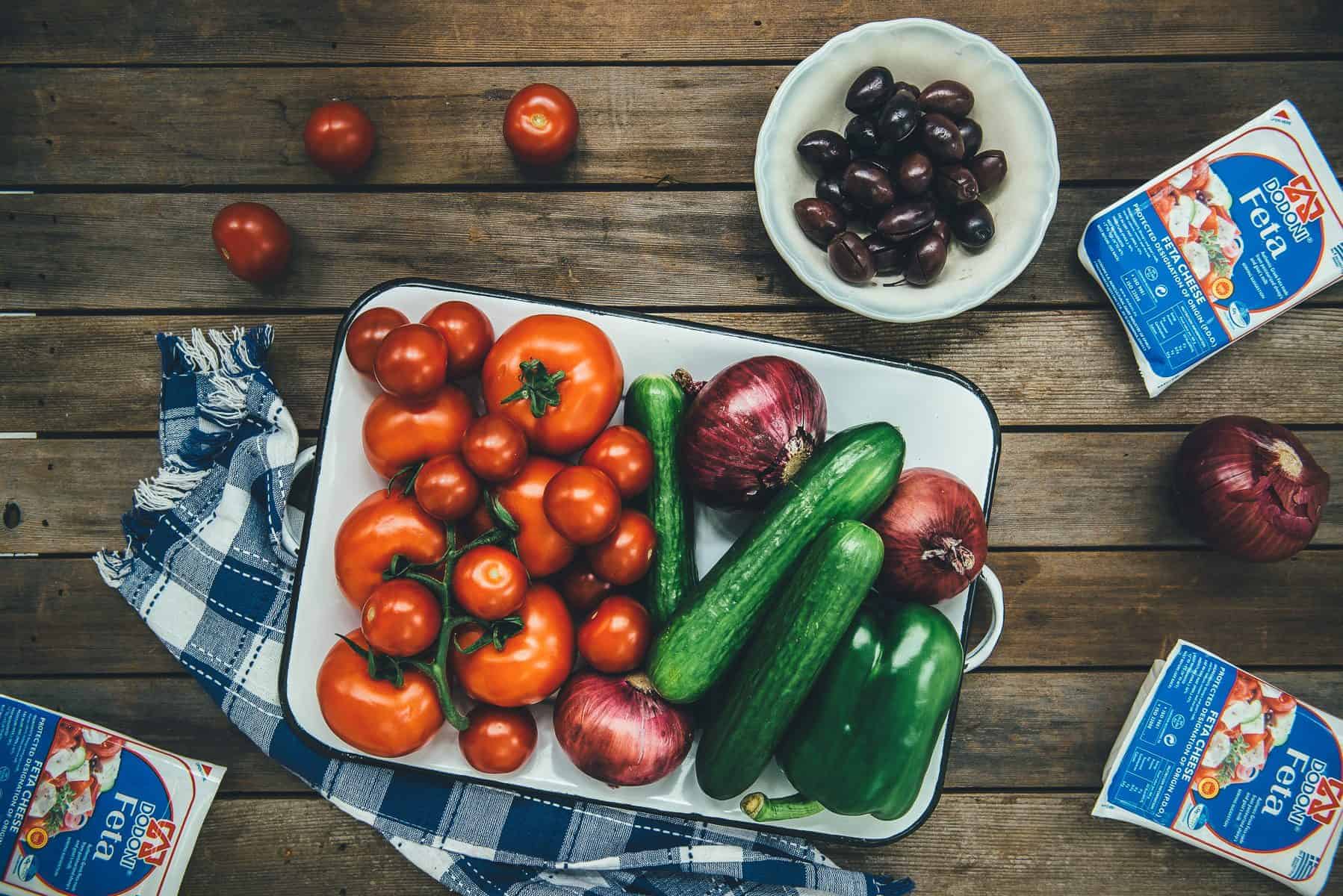 I'm happy to present you this Greek salad today. And I look forward to sharing some other creative recipes using Dodoni cheeses.
Cheers!