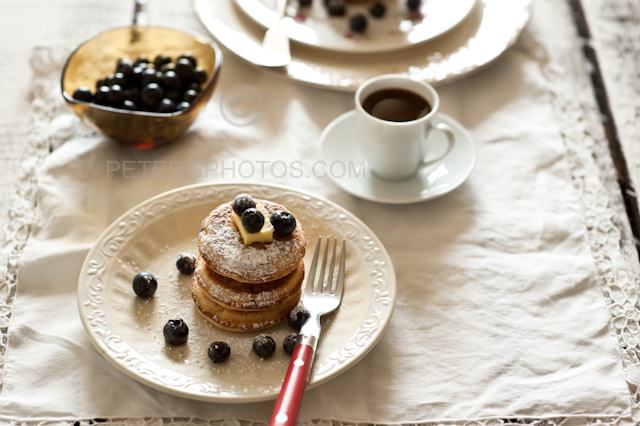 When I woke up this morning I was in the mood for pancakes.
Drizzled with a load of maple syrup and lashings of creamed butter.
Then I remembered I was trying to be "good".  It took all of two minutes to decide to make pikelets.  Pikelets are plumper than pancakes, made using a thick batter.
I used wholemeal flour and a little Greek yogurt amongst other things.
I was in no mood really to be stuffing around the kitchen greasing up pans when I remembered a gift I was given this Xmas by a loving friend.  She bought me a "pie maker".  It's quite a versatile little contraption and that's when I thought about using it to make these blueberry pikelets.
My only concern was that they would come out like hockey pucks but I kept an eye on the machine and flipped them accordingly.  They were delicious hot but I wouldn't bother eating them if they got cold (who keeps pancakes anyway?!).
Consumed with my usual double espresso, I was good to go the whole day!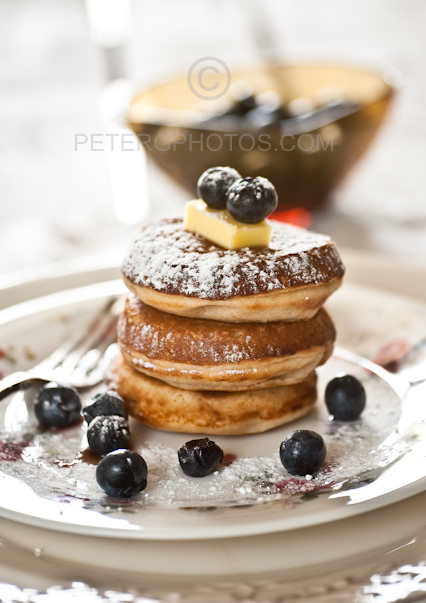 BLUEBERRY PIKELETS RECIPE
1 cup of wholemeal self raising flour
1 teaspoon of baking powder
a pinch of salt
½ a cup of milk
¼ cup of thick Greek yogurt
1 egg
a good "splash" of vanilla extract
(your choice of fruit for topping)
Mix all the dry ingredients together.
Blend all wet ingredients together ensuring they are mixed well.
Make a well in the centre of the dry ingredients and pour in the wet mix.
Combine everything until JUST MIXED.
Leave the batter rest for half an hour before using.
If you don't have one of those fancy contraptions like me make sure your pan is hot and well greased.  Ladle the batter in dollops ensuring a little height.  Once the pikelets form holes on the top flip them over.  Remove and repeat.
Top with blueberries or any fruit for that matter and eat!