My lamb empanadas make use of leftover roast lamb. A delightful and delicious meeting of two different cultures.
There's only so much roast lamb one can eat.
Right?
Well sort of…
Obviously the Greek slow roasted lamb I prepared during the Easter festivities was a lot. Especially as there was only a few of us feasting.
As I've explained previously, I'm not one to throw away perfectly good food.
No way.
With this philosophy in mind, I set out to get creative with the leftovers. (I sometimes think that leftovers can actually be better than the original meal).
And my mind turned to South America.
My leftover Greek lamb was headed for some empanada love.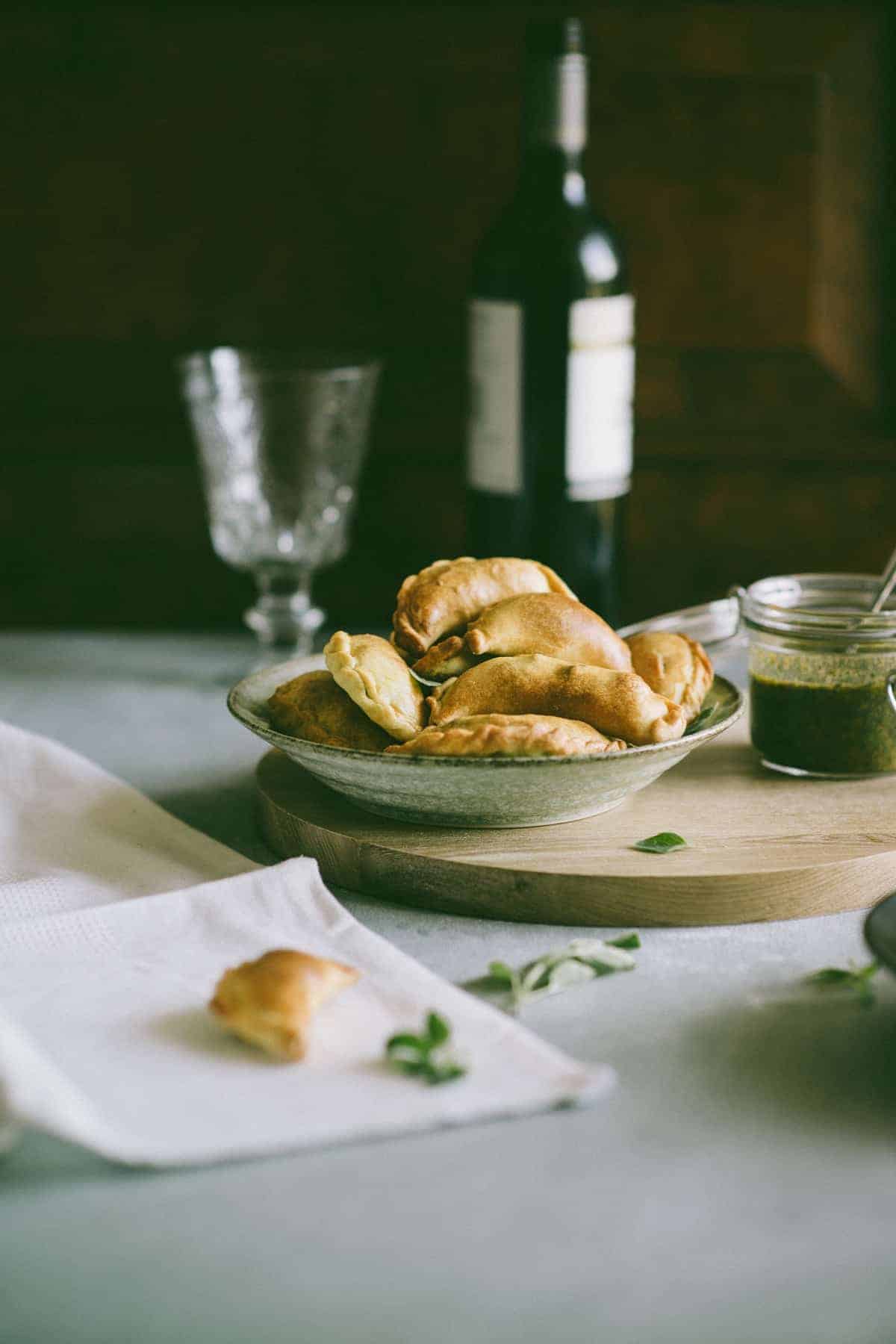 Empanadas, for the uninitiated are little parcels of dough filled with either meat/fish/chicken/veggies and sometimes include cheese. It just depends on the type. I often think of them as mini calzones or little "pites" (Greek pies).
I first discovered these addictive (and that really is the best adjective for them) on a trip to Argentina.
Dare I say that these crescent shaped pies were the highlight of my South American travels!
Fried or baked I had a hard time NOT ordering them when I saw them on a menu.
My version uses the same dough I used to make my recent hortopita-wild greens pie. I know it's not the traditional dough but I find using that Provencal dough very easy.
The filling consisted of finely chopped leftover lamb, shredded kale, crumbled feta cheese, Kalamata olives, a little sumac and an egg to bring it all together. I have not included amounts for the filling as I ended up going with what I had on hand. I know that the dough ended up yielding approx 16 empanadas. I used a 10cm cookie cutter to form the circles before folding them up and sealing them.
And because I love a good sauce, I made a chimichurri style sauce with lots of fresh oregano to dip these beauties in once out of the oven. It's not compulsory but it definitely adds another level to their enjoyment.
Do you enjoy leftovers as much as I do? What do you do with your leftovers? I'd love to know.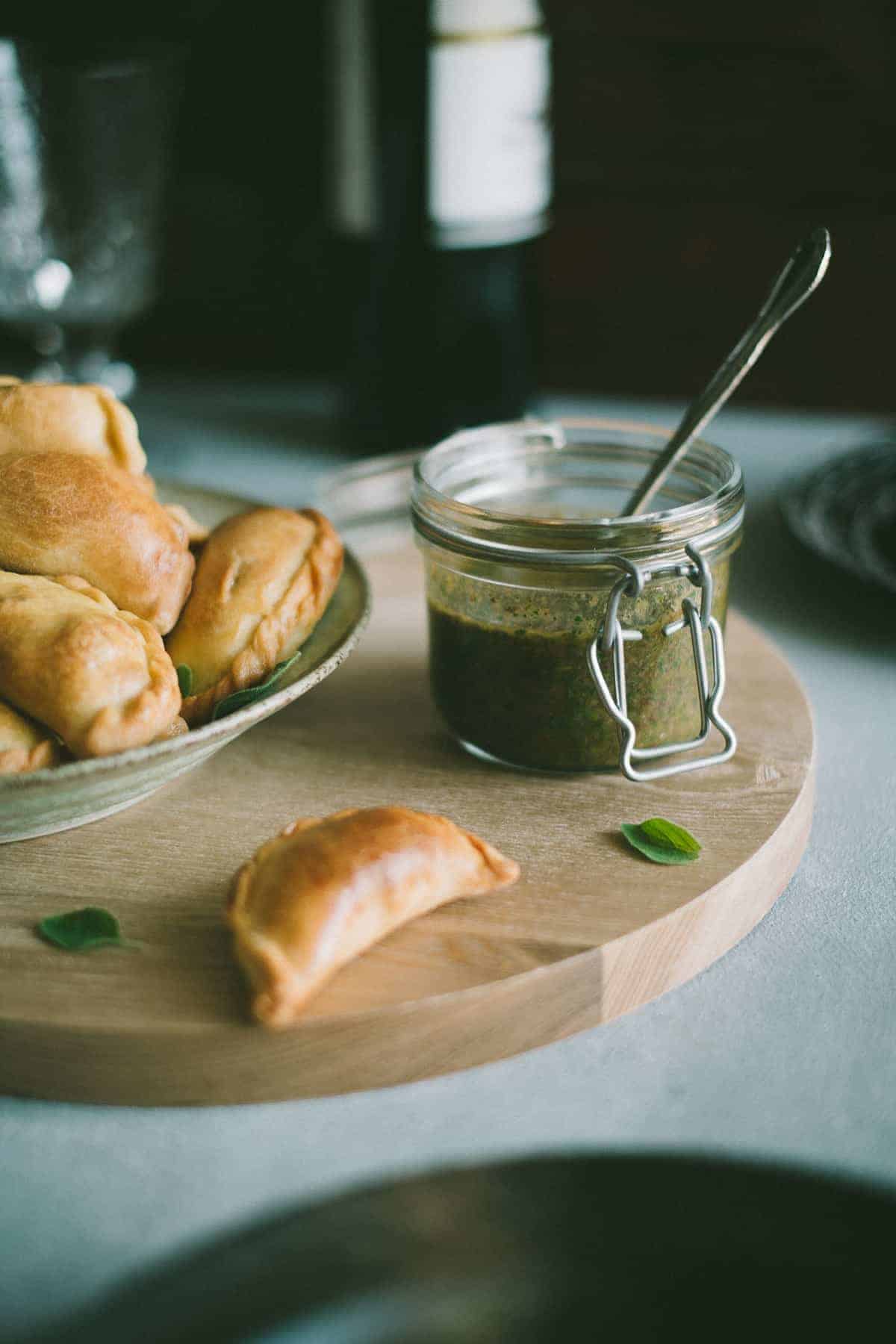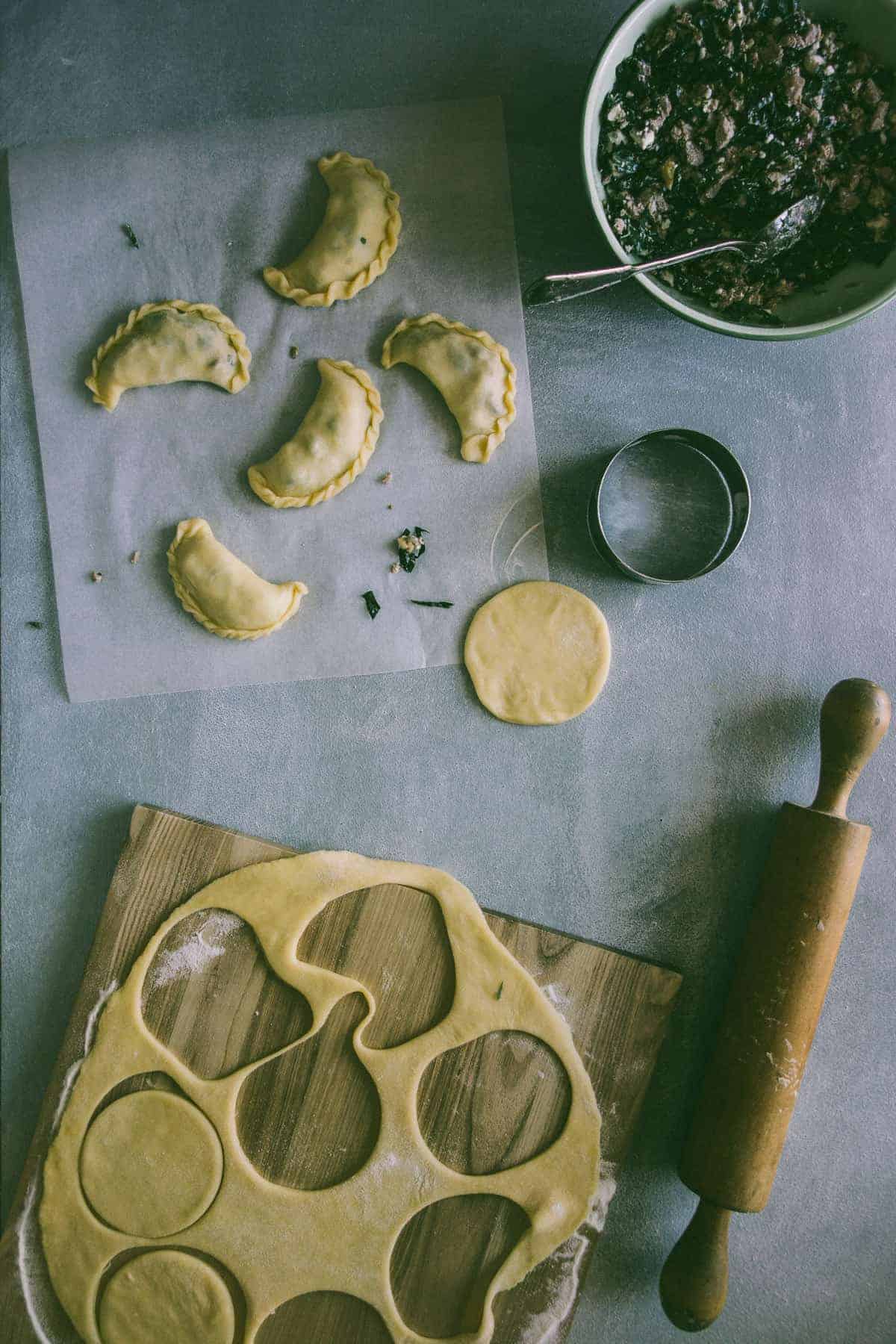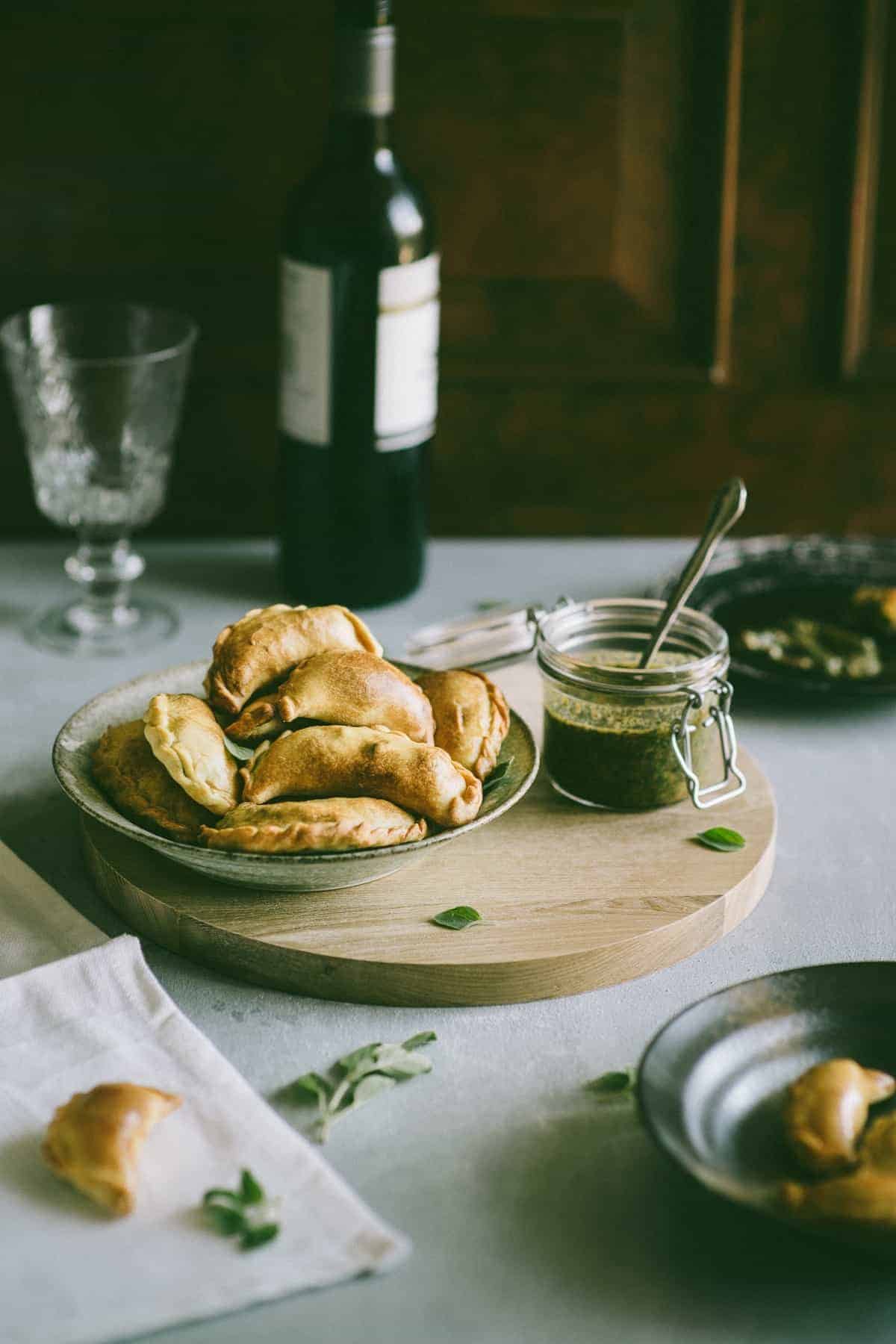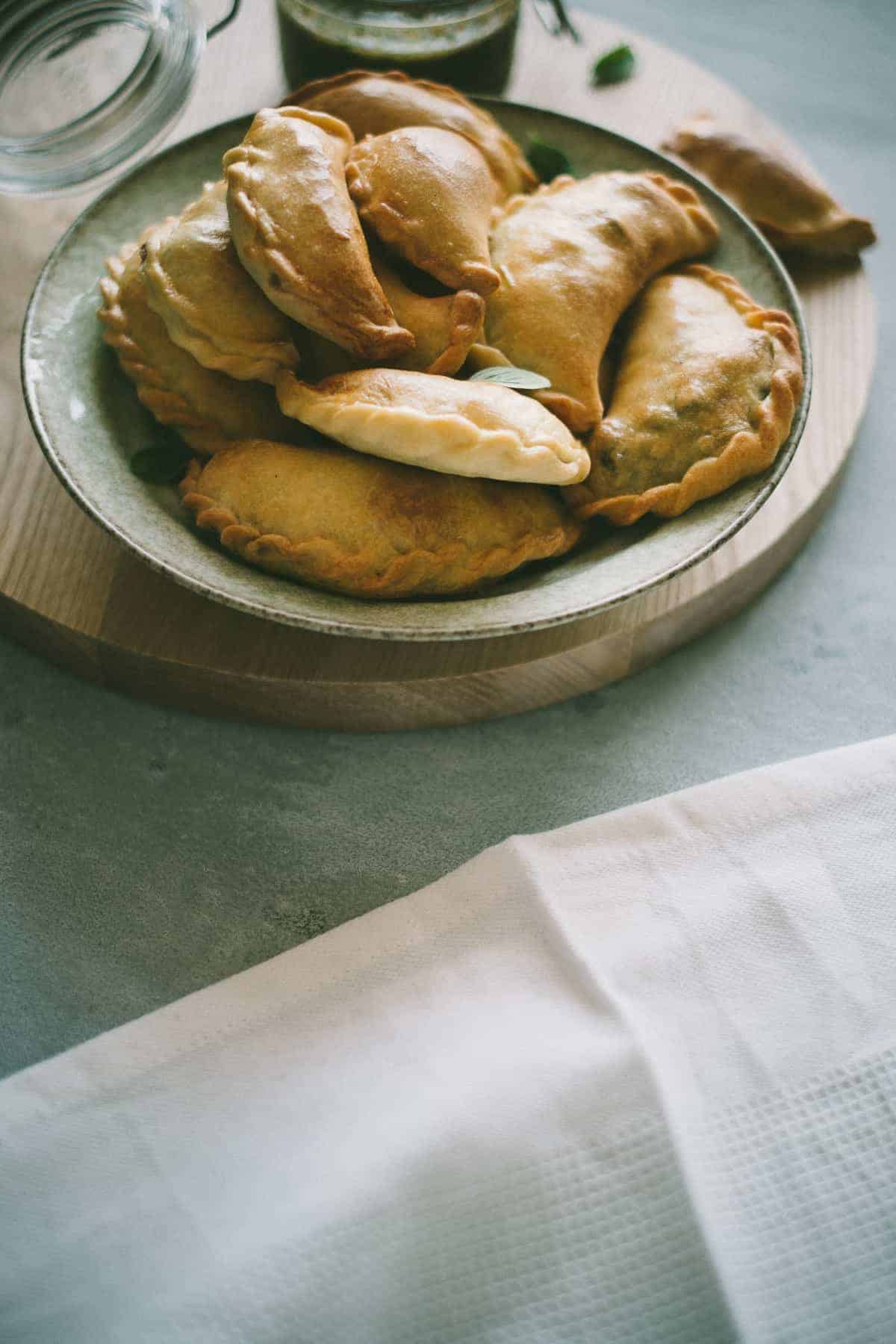 LAMB EMPANADAS
Ingredients:
1 x quantity of Provencal pastry
leftover roast lamb, finely chopped (or meat of your choice)
a handful of shredded kale
⅓ cup crumbled feta or goats cheese
⅓ cup Kalamata olives, seeds removed
pinch of sumac
2 eggs (one for the filling and one for the glaze)
Instructions:
Preheat your oven to 180 deg C. and line a baking tray with baking paper
Roll out the dough approx. ½ cm thickness and cut rounds using 10cm cookie cutter.
Fill the centre of each round with 1 teaspoon of the lamb filling, fold into a crescent shape and seal the edges, allowing the air to escape. Place on baking tray.
Repeat until you have all the empanadas made and brush each with a little beaten egg mixed with water.
Bake for 20 mins or until the tops have become golden. Aloow to cool slightly before serving with dipping sauce.
OREGANO CHIMICHURRI DIPPING SAUCE RECIPE
Ingredients:
1 cup fresh oregano
½ cup fresh mint
½ cup fresh flat leaf parsley
2 cloves garlic
1 whole chilli, top removed
2 tbs red wine vinegar
salt and pepper for seasoning
⅓ cup olive oil
Instructions:
Place all the ingredients in a food processor or high speed blender and pulse a few times. With the motor running add the olive oil slowly until you achieve a thick sauce. (Adjust by adding extra olive oil if sauce is not coming together).