Kolokithopita is the Greek version of pumpkin pie. Many variations exist throughout Greece; however, this recipe uses rice in the filling with a combination of mashed pumpkin and warm spices.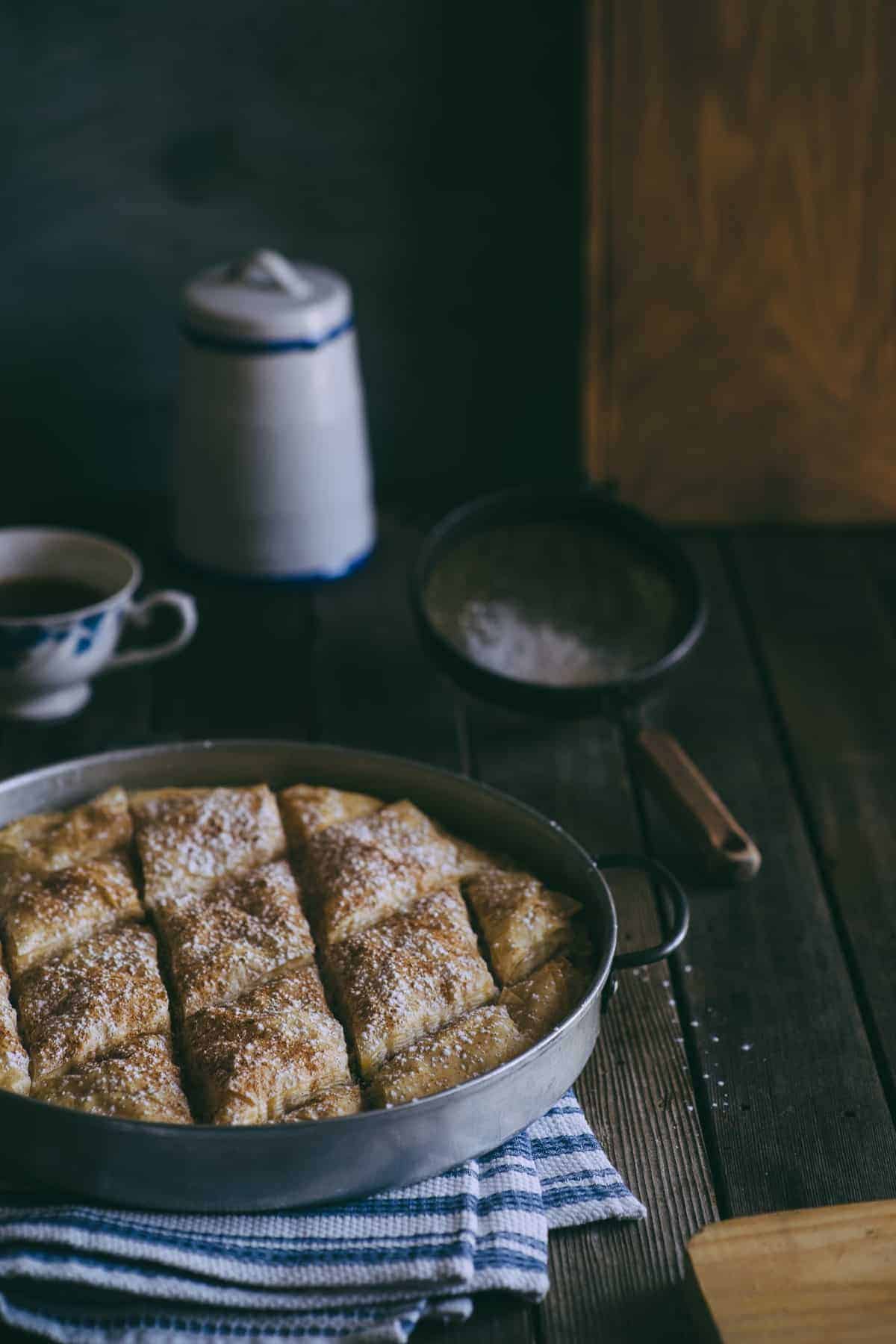 This pumpkin pie or "pita" had been on my mind for months.
Is it only me or do you get an idea about food in your head and then get obsessive about it?
However, it wasn't until I shared my pumpkin and cardamom tsoureki recipe with you recently that I actually got around to cooking it.
I distinctly remember this pie when I first visted Greece as a youngster.
Now, I've explained many times on this blog that my eating behaviours as a child were quite fussy. I tortured my parents with my difficult requests (which were not always met, by the way!).
Somehow this pie made its way to my palate and I think my tastebuds went on a very happy journey.
The pumpkin provided a natural sweetness and combined with the heady aroma of cinnamon and cloves, it was a force to be reckoned with!
And let's not forget the home made fillo, lovingly rolled with precision and care.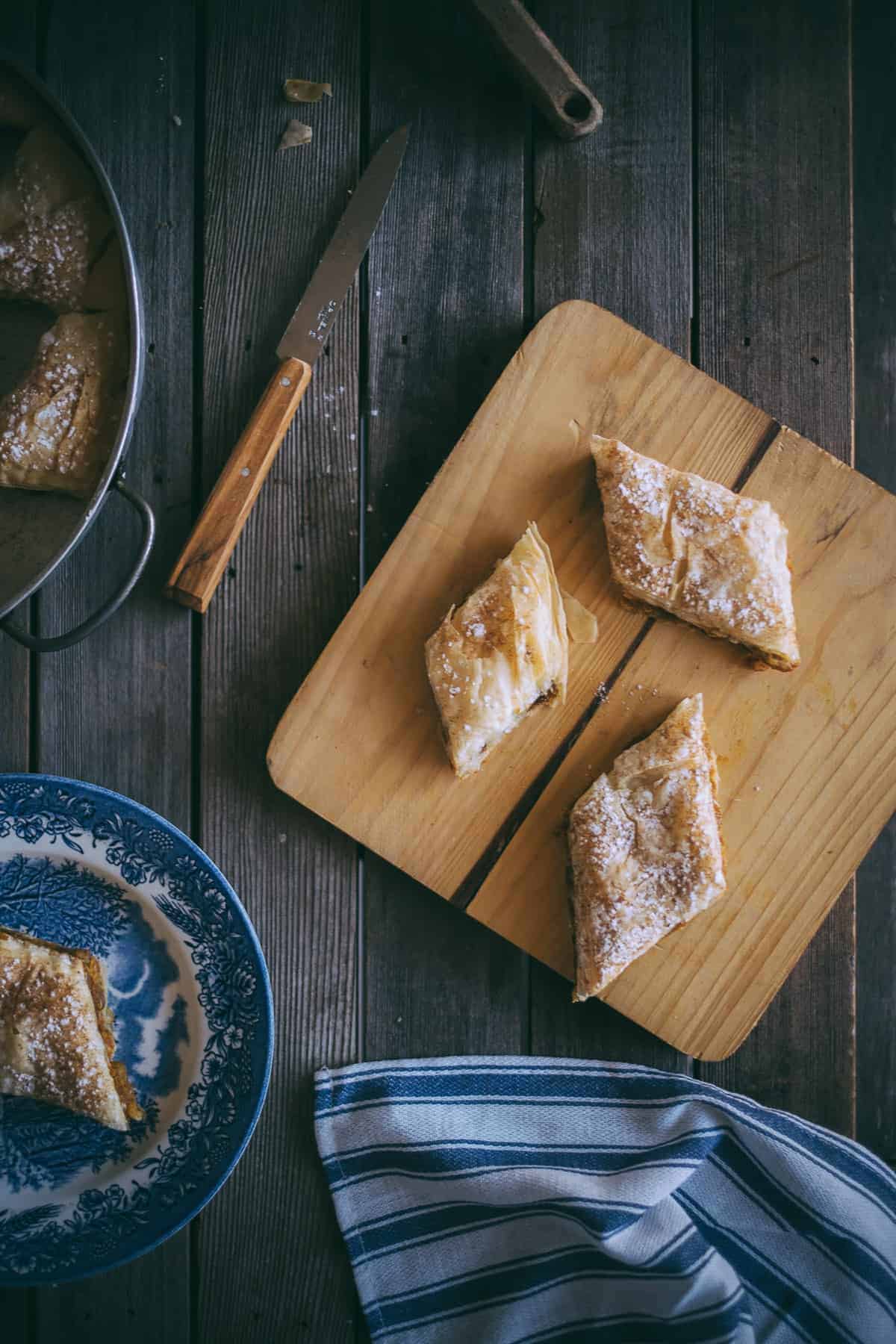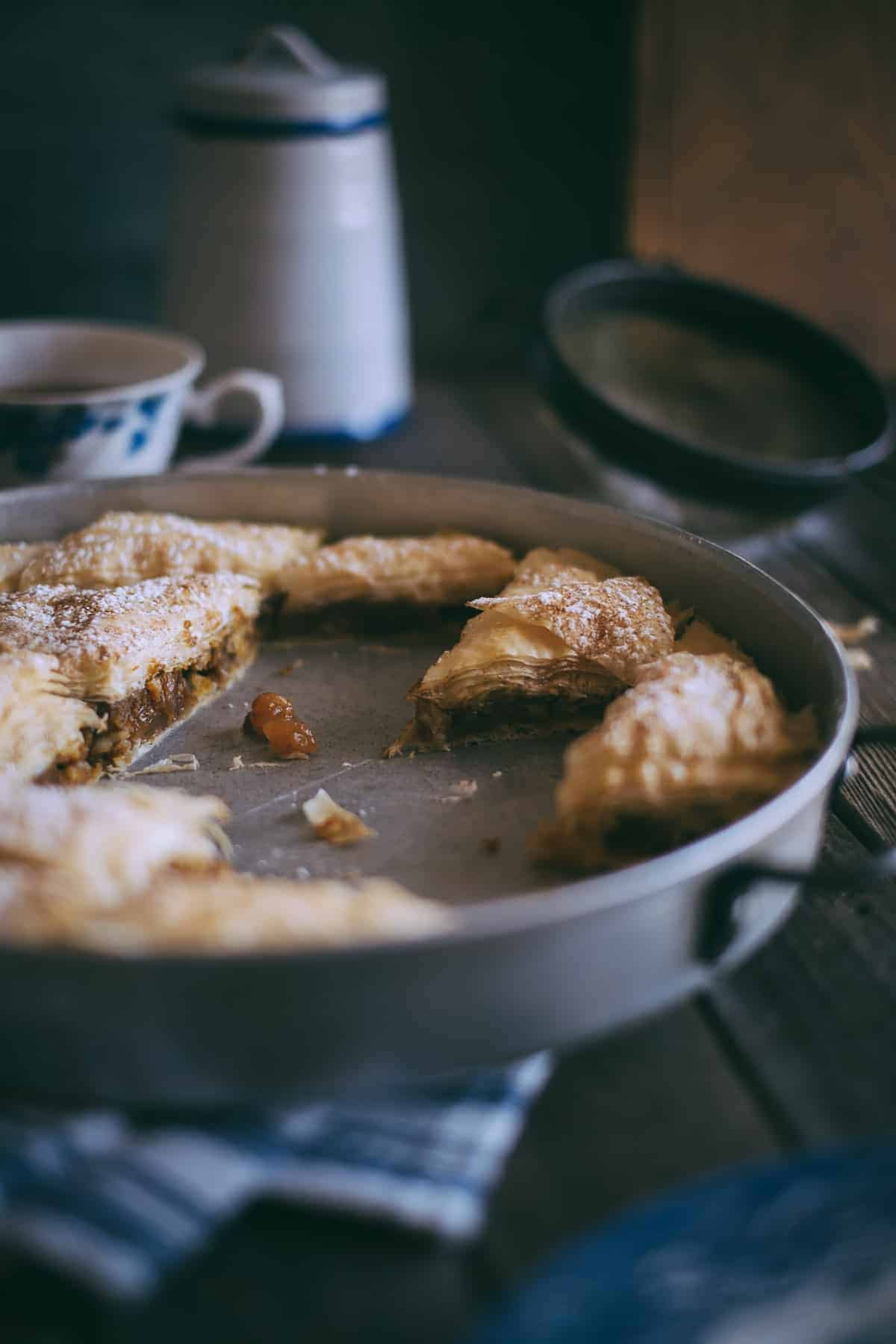 The version I tried also included currants and rice.
I know it sounds odd to include uncooked rice but I believe it was used to absorb the excess moisture created by the grated pumpkin.
For this first time experiment I decided to use mashed pumpkin and the results were very similar tasting. I did include the rice as well however the texture was a lot softer.
If you don't have currants, you can substitute them by using sultanas or raisins.
The final step is to dust it all with a little icing sugar and extra cinnamon (oh yes!).
I like to serve it slightly warm and it's perfect with a cup of coffee for breakfast.
I think my Greek pie cravings are satisfied.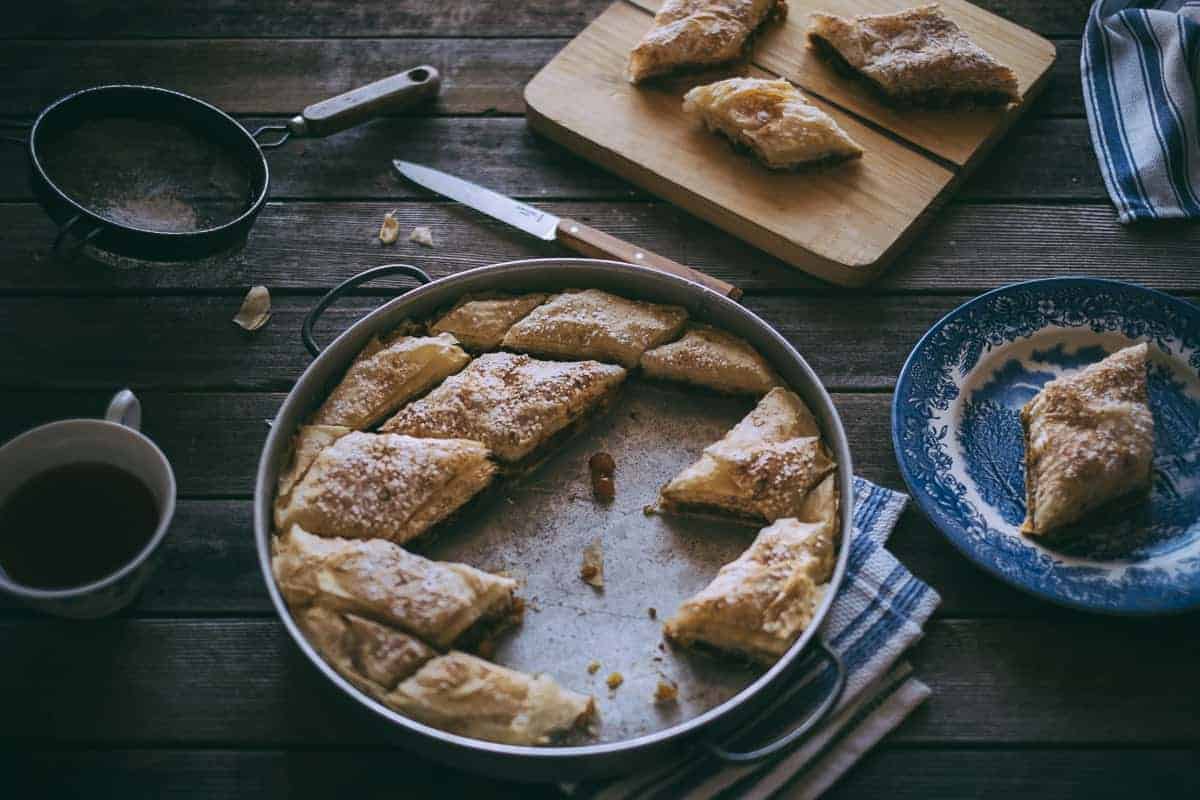 KOLOKITHOPITA-GREEK SWEET PUMPKIN PIE RECIPE
Ingredients:
400 grams mashed pumpkin
90 grams caster sugar
60 grams short grain rice, uncooked
100 grams raisins
2 tsp ground cinnamon
½ tsp ground cloves
10 sheets fillo pastry
100 grams melted butter
extra cinnamon and icing sugar to dust
Instructions:
Preheat your oven to 180 deg C and butter grease your baking pan with a little melted butter.
Combine the pumpkin, sugar, rice, raisins and spices in a bowl and set aside.
Brush the first 5 sheets of fillo with melted butter and proceed to layer them in your pan, ensuring they are overlapping.
Spread the pumpkin pie filling over the fillo and smooth it out. Any excess fillo overhanging can now be tucked over the filling.
Take the next 5 sheets of pastry, brush them with melted butter and proceed to layer them over the top. Brush the top of the pie with any excess butter and score the pastry with a sharp knife to create a diamond pattern. (do not cut right into the pie-just the top layers of the fillo).
Bake in the oven for 40-45 mins until golden brown and allow to cool before dusting with extra cinnamon and icing sugar.
Notes
I used a baking pan or "tapsi" as it's known in Greek that measured 28cm in diameter. It's a lot smaller than the traditional larger ones.