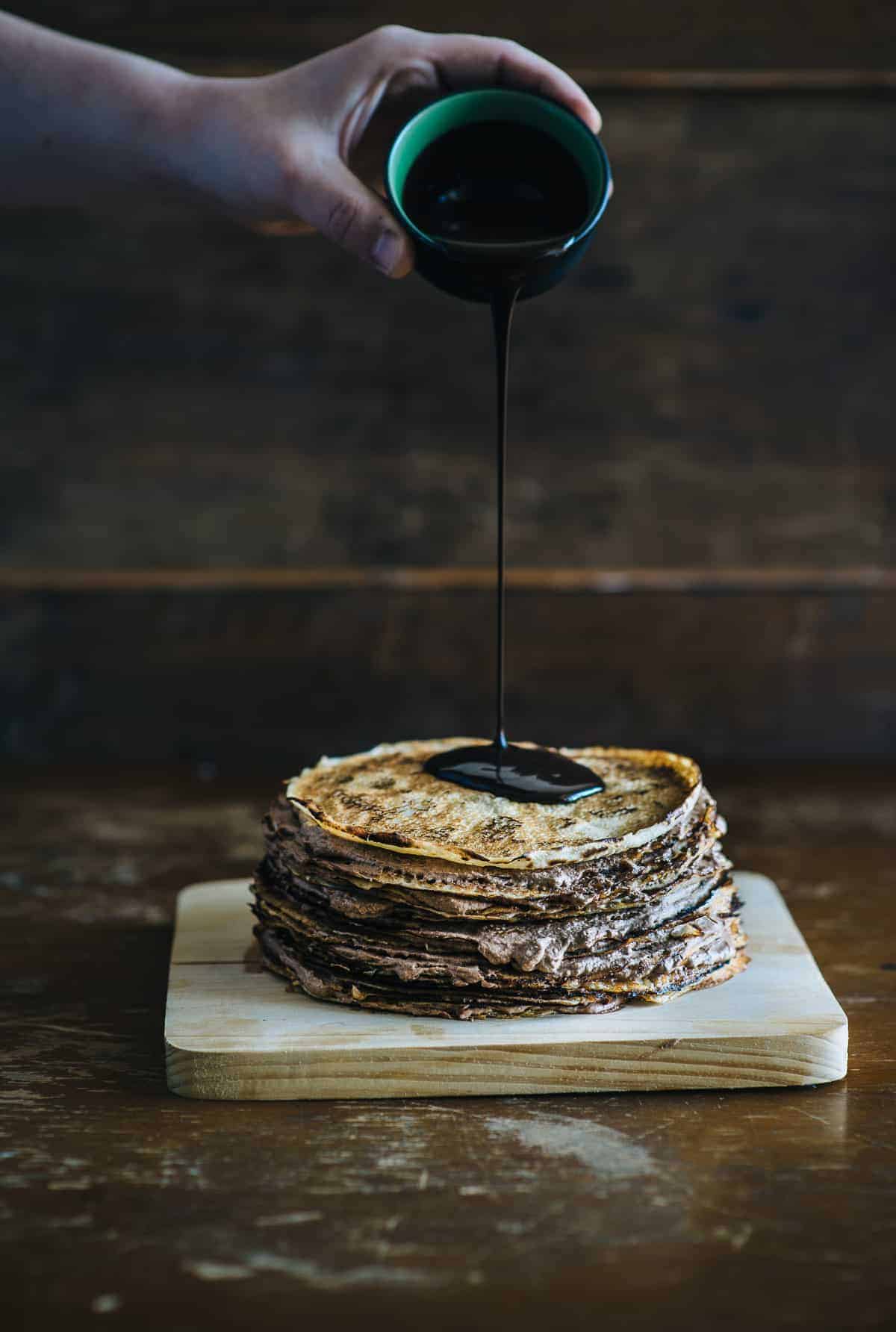 And that my friends is the "money shot"!
It had only taken me 6 hours to get to this point…
Let's go back a little in time shall we?
When I first embarked on making this Nutella crepe cake I had envisioned it would only take a few hours.
I mean, there was no baking involved.
A little stirring of some crepe batter, cook the crepes and put it all together…
Um…sort of.
Now, I can't remember the last time I actually made a crepe. I think it was probably back in the 80's sometime during a Home Economics class in high school.
To say I was "rusty" is an understatement.
I mean I've made my fair share of pikelets here on the blog so I didn't think it would be too hard.
Except that crepes are a lot thinner than buckwheat pikelets!
Yes. There is a little skill involved and my crepe making skills didn't surface till I had ruined four in a row!
I know a crepe pan is quite useful in these scenarios but there was no way I was going to let kitchen "gadget-itis" get the better of me.
I have a perfectly good set of pans and I was confident in their ability to get the job done.
The most difficult part was turning over the thin crepes. This is where I failed.
Eventually I "cheated".
I used one pan to heat one side of the crepe and once it was done I flipped it into another heated pan nearby to complete the other side. That's my method and I'm sticking to it!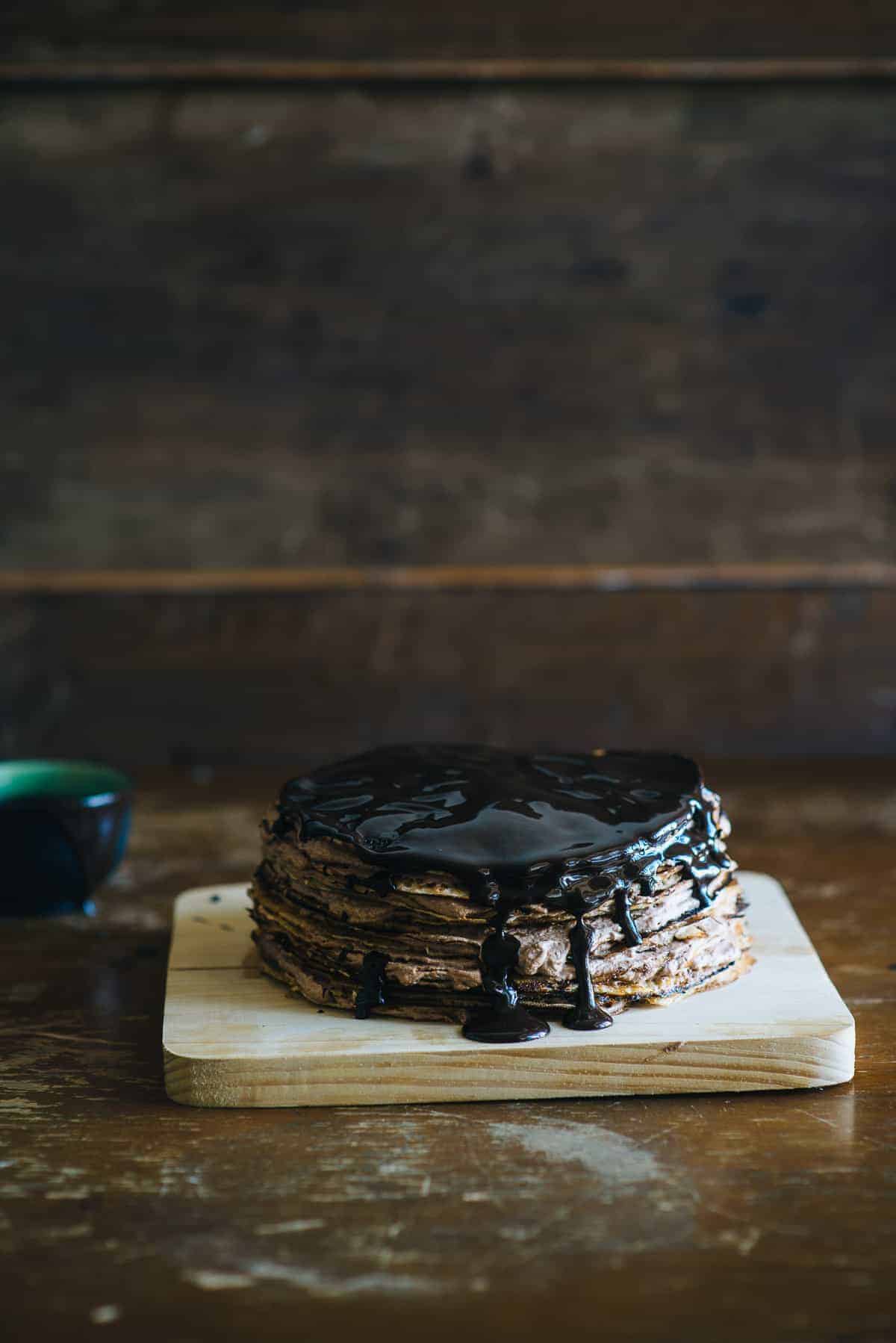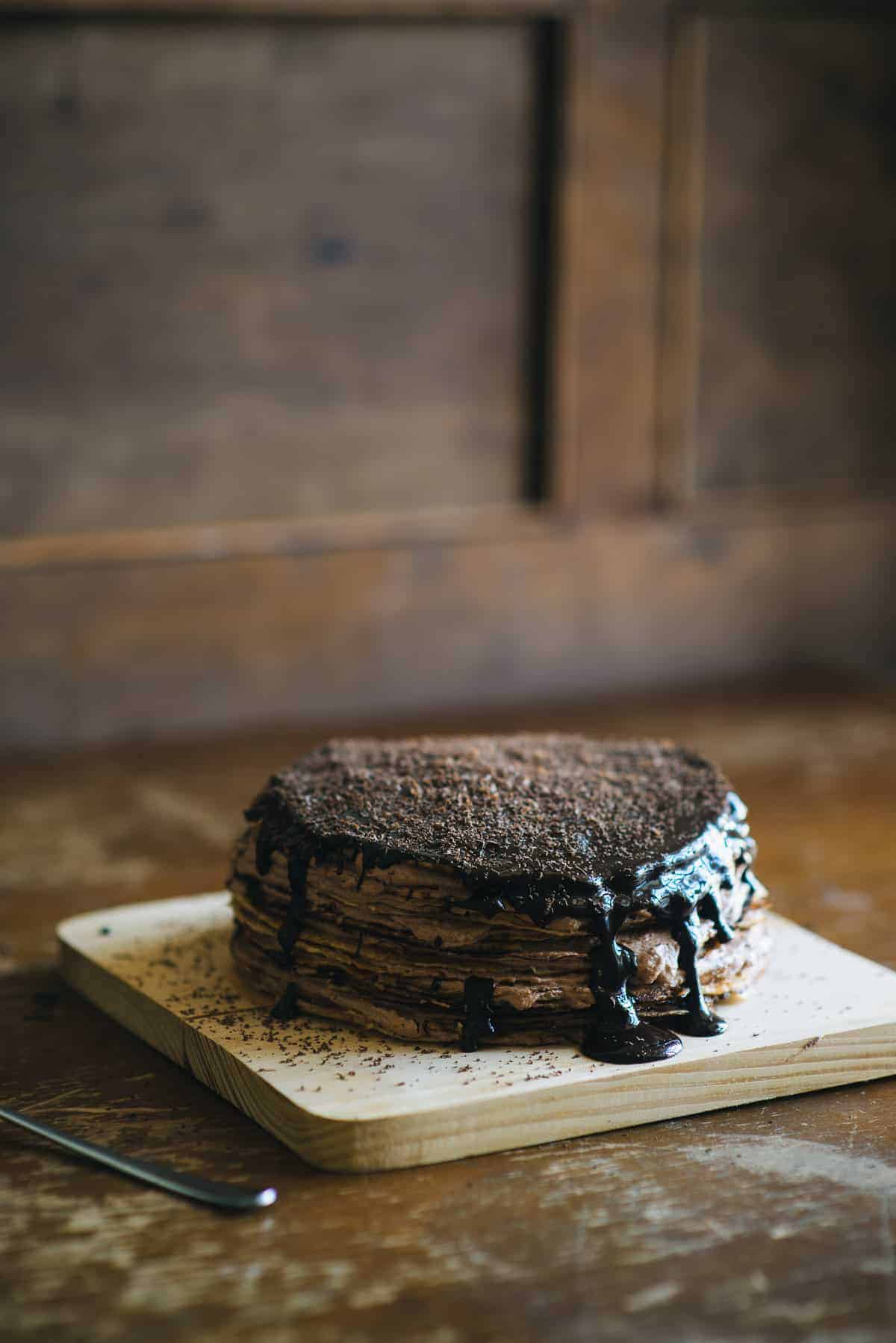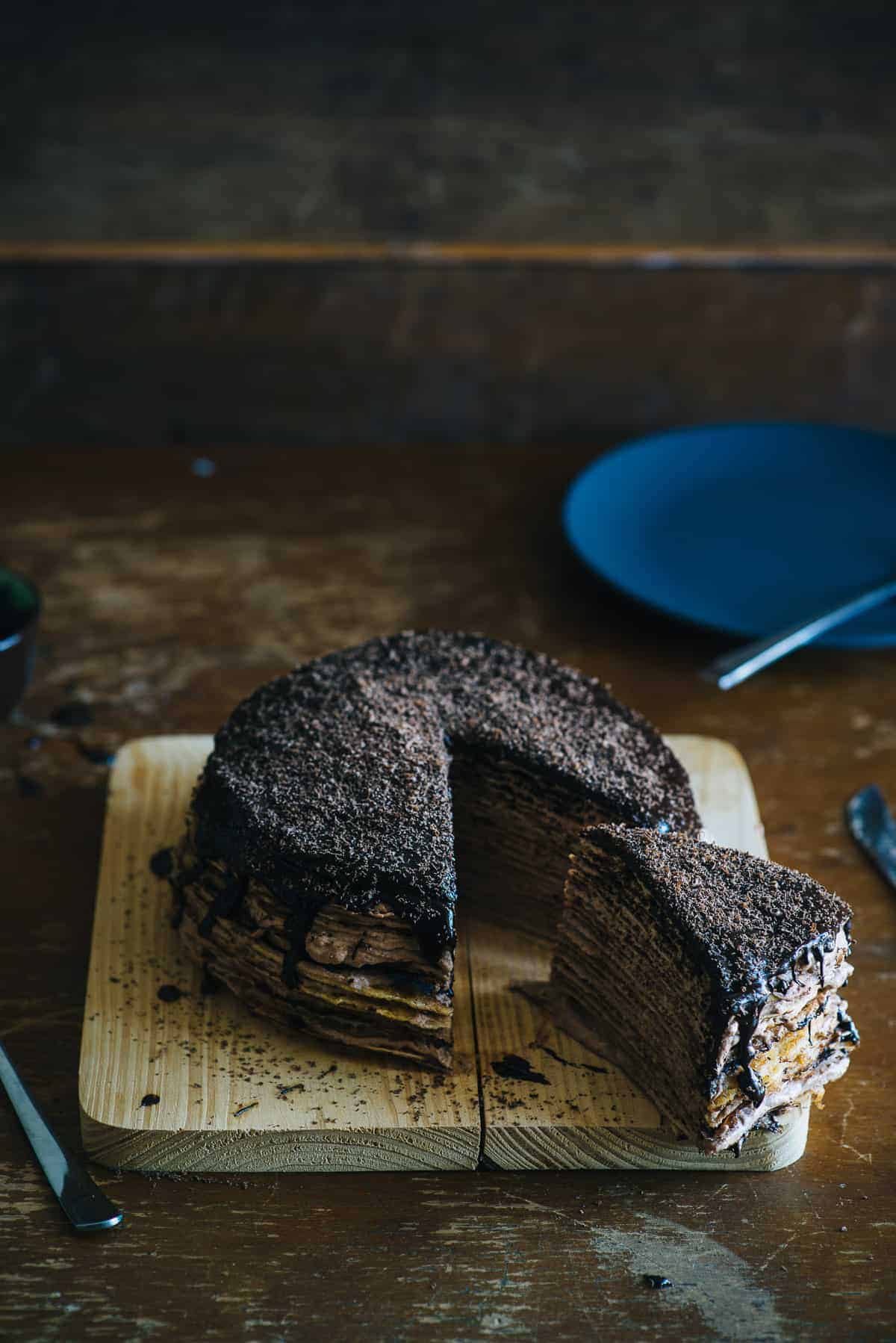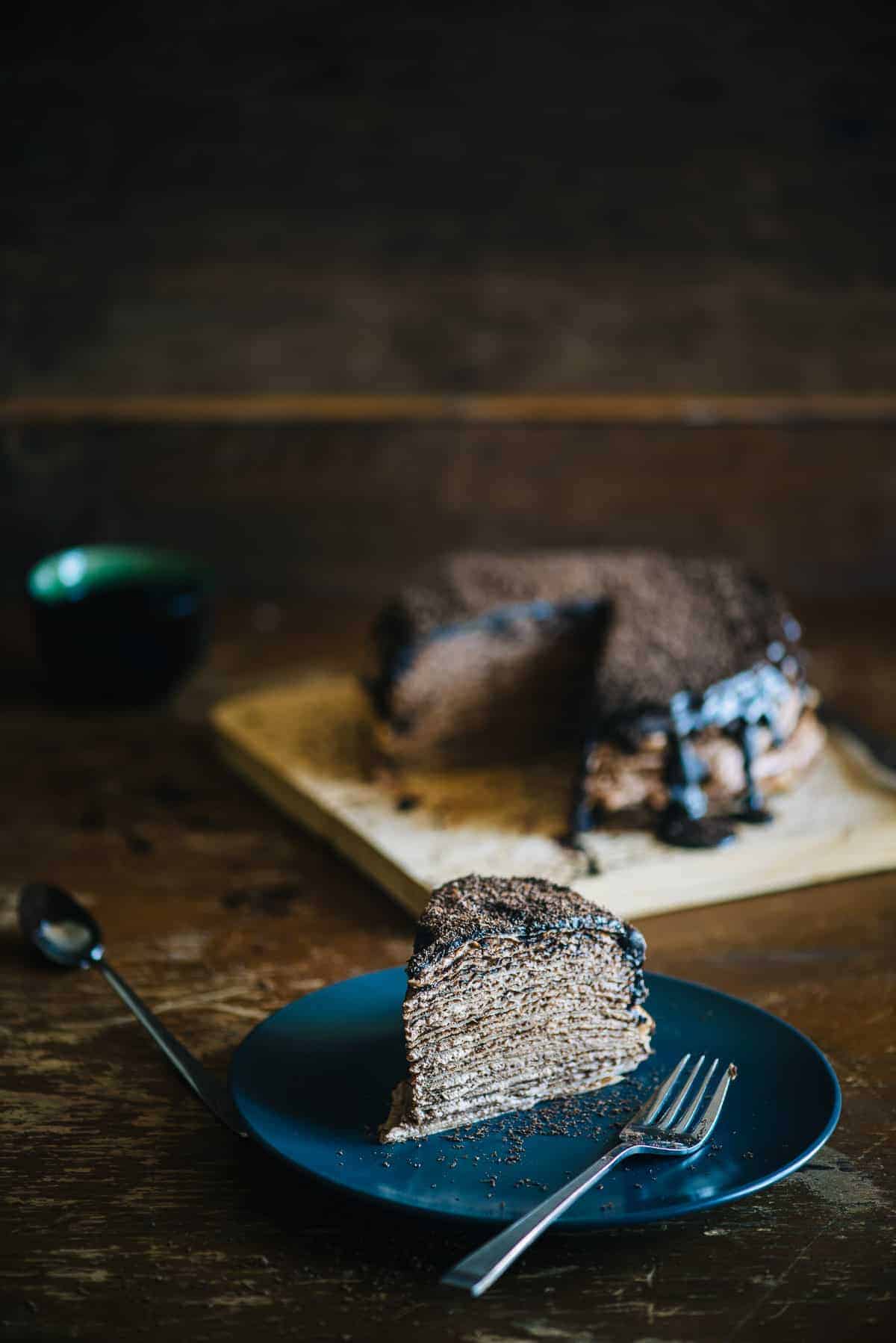 In all seriousness though I'd seen this cake around on the internet and just had to make it.
Once the crepes are cooked and cooled you can pretty much add any kind of filling you desire.
I think a lemon curd variation would be beautiful!
In the end I went with Nutella. And why wouldn't you?
I keep my Nutella in the fridge (purely for cooking of course) so I heated it up a little in the microwave to soften it before folding it through some whipped cream.
The final touch was to drizzle over some melted 70% dark chcolate blended with a little coconut oil. I was initially going to top it with some chopped hazelnuts but ran out. Never mind. The grated chcocolate worked beautifully as well.
And how did it taste?
Surprisingly it was quite light. I had imagined those 22 crepes spread with Nutella cream would be too rich and heavy but my taste buds didn't think so.
You have been warned. Practice with a few crepes before you start this and be prepared to spend a good part of the day constructing it.
Enjoy!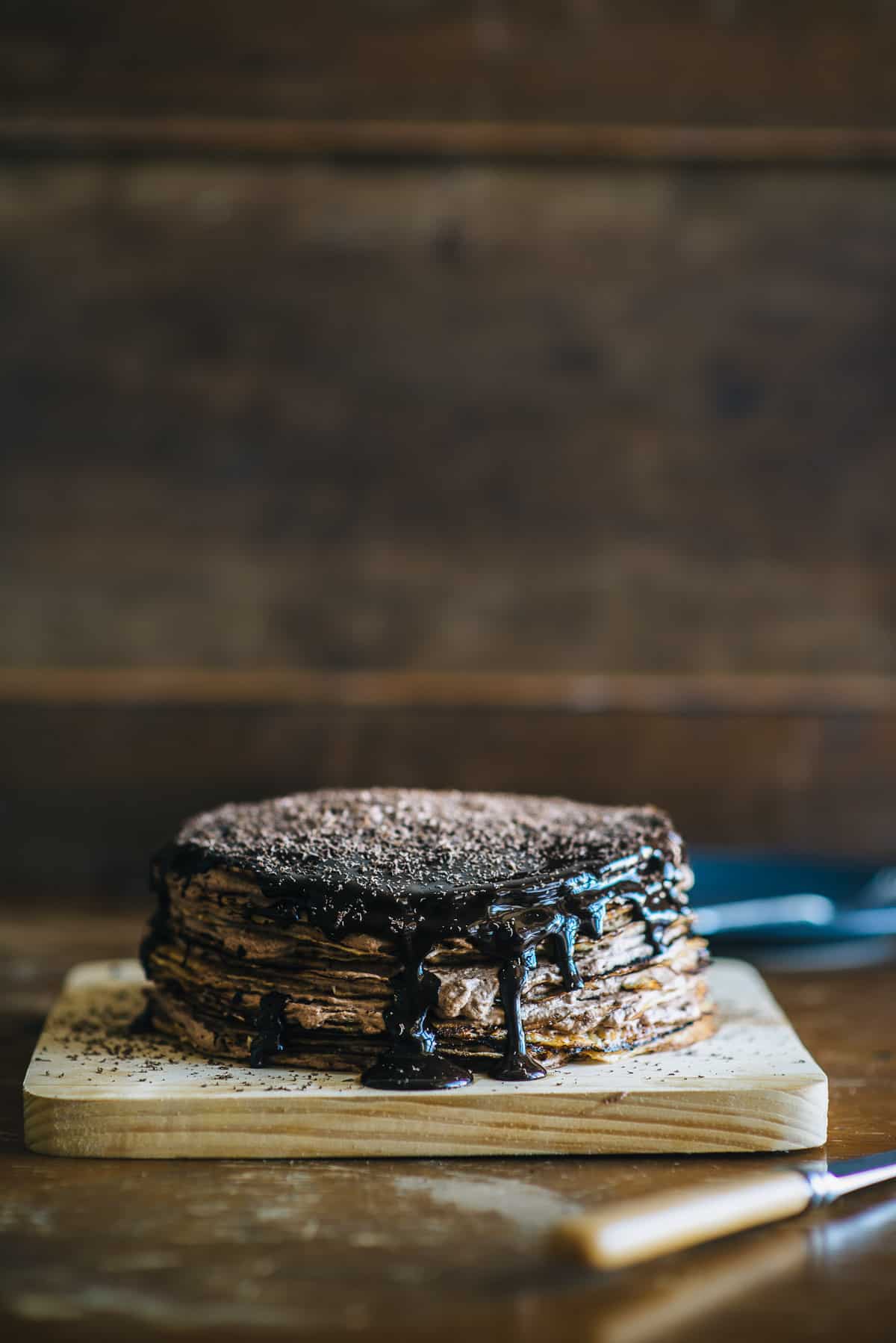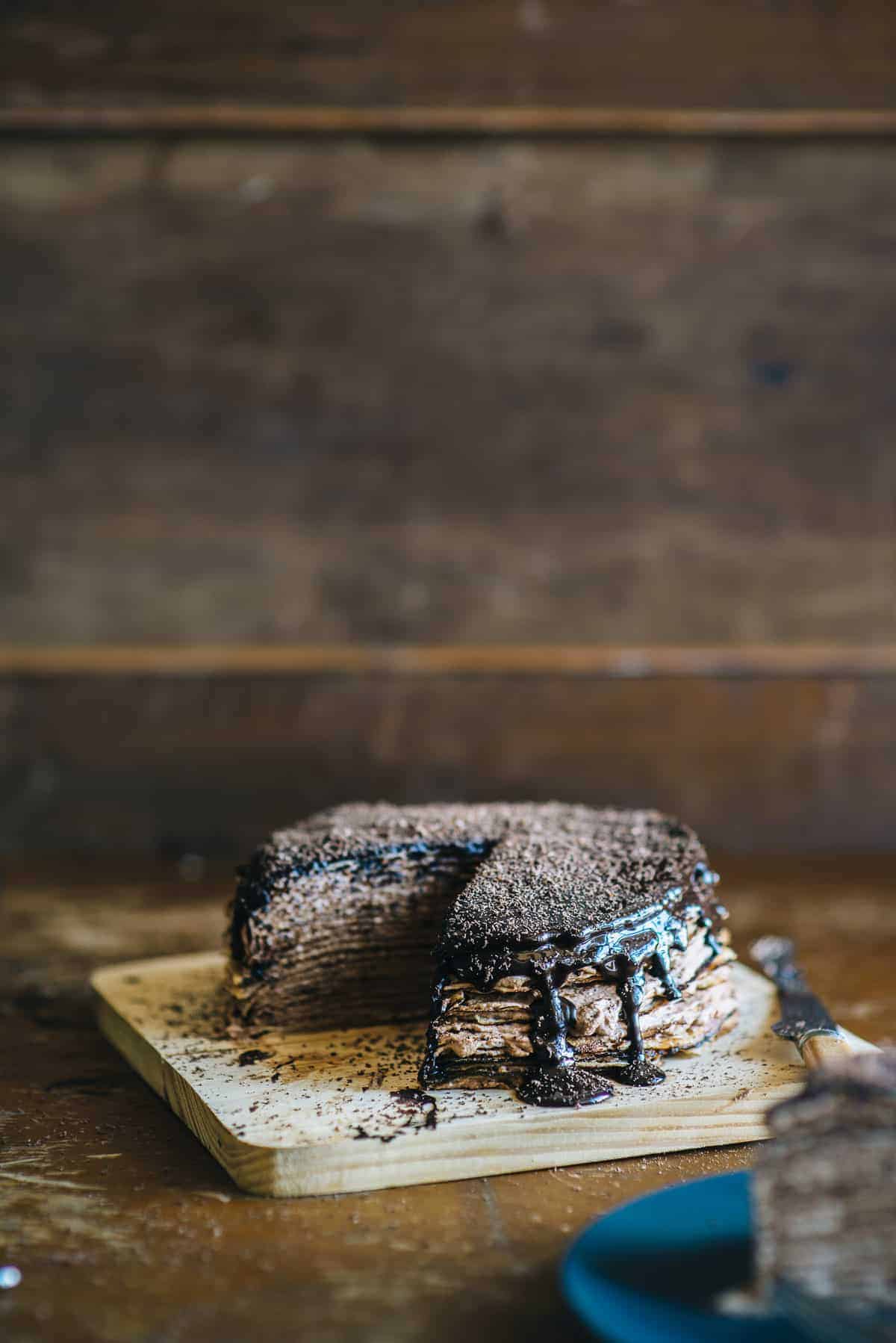 NUTELLA CREPE CAKE RECIPE
Serves 8
Ingredients:
1 cup plain flour, sifted
1 teaspoon caster sugar
pinch salt
1 cup milk
1 cup water
3 eggs
1 teaspoon vanilla
25 grams butter melted
¾ cup Nutella, softened
300 ml whipped cream
100 grams 70% dark chocolate, melted
2 tablespoon coconut oil
Instructions:
Combine the flour, sugar and salt in a bowl and stir to combine. In a large jug or bowl whisk together the milk, water, eggs and vanilla and add to the dry ingredients. Whisk until smooth and add the melted butter to the batter and whisk again. Set aside.
Heat a 20cm (8 inch) pan on a medium high heat and add a little grapeseed oil to coat. Take a ¼ cup measuring cup (use this as your guide for the amount of batter to make each crepe) and pour into the hot pan. Swirl around till the base is evenly covered and cook for 1 min or until the top is no longer "wet". Flip on the other side and cook for half a minute more.
Repeat with the remaining batter ensuring you keep your pan oiled between crepes. You shoud end up with approximately 20-22 crepes. Allow to cool completely before arranging the cake.
Fold the Nutella through the whipped cream and proceed to make the cake by spreading 2 tablespoon of Nutella cream between each crepe. Finish off the cake by combining the melted chocolate with coconut oil and pouring over the top.
Garnish with grated chocolate and allow to rest for half an hour before serving.