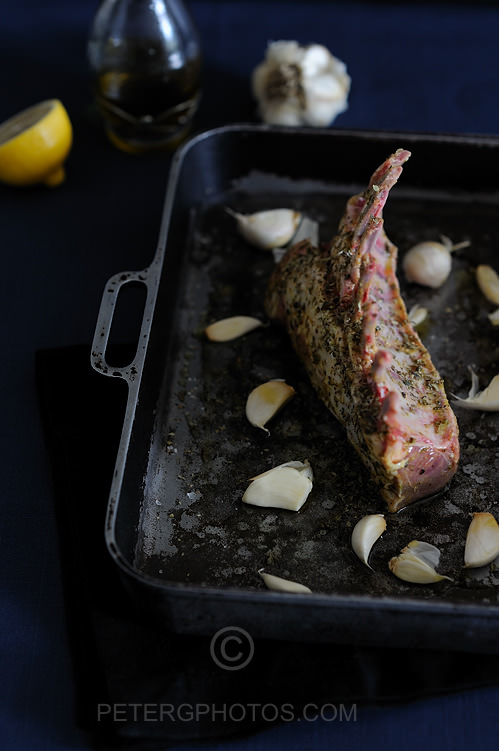 Oh!  Let's see...Greek Easter was over a week ago now and here I am posting my celebratory Easter dish that I cooked.  A little late I know, but hey!  no one said this was a race or a competition.  And really, you don't need a special event to eat and enjoy this dish.  It makes a perfect meal in any season but traditionally I do like the flavours of lamb in spring.  As usual I encourage you to play around with flavours you like and occasionally "step off the beaten track".
I kept this dish quite simple with my "Holy Trinity" of Greek spices.  I used dried oregano, olive oil and lemon juice.  I did also add a little bit of chilli to the mix only because I like a little spice every know and then.  I let it marinate overnight and let it come to room temperature before throwing it in a hot oven.
Related: See my Greek slow roasted lamb for further inspiration.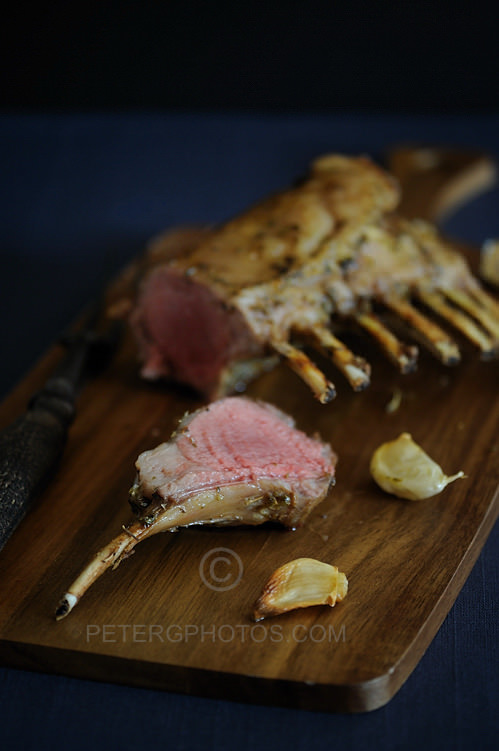 It's pretty well known that Greeks prefer their lamb well done.
I know my mother would look at this and scream with horror that the meat isn't cooked!
But I prefer it medium rare.
Just a preference...that's all.
The other thing I did was roast a few cloves of garlic with the lamb.
I love their flavour when they are roasted...sort of sweet and not at all "garlicky".
I served this dish with "fat chips". I used big potatoes, leaving the skin on and cut them into large chips (or fries).
These had a head start because I wanted everything to be ready at the same time.
Don't forget to let your lamb rest for a good 10 minutes afterwards.
Oh! I also forgot! I made a batch of tzatziki to go with the lamb and this completed my Greek Eatster feasting!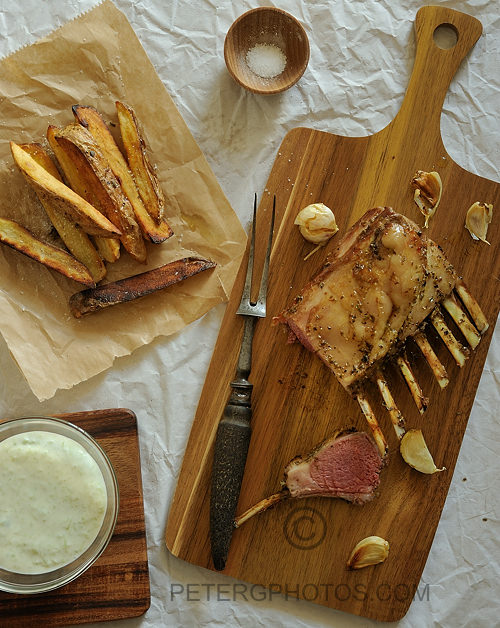 RECIPE FOR GREEK STYLE RACK OF LAMB
Jazz up your rack of lamb with this Greek inspired version
1 organic rack of lamb with a little of the fat removed
a good handful of Greek rigani (oregano...if you can't find the Greek stuff just use regular oregano)
the juice of half a lemon
2 cloves of garlic finely minced plus a handful of garlic cloves with skin intact
1 teaspoon of dried chillies
salt and pepper to taste
¼ cup of olive oil
I like to combine the above ingredients (excluding the garlic cloves that you will roast) to form a nice paste. I then apply it liberally to the rack of lamb ensuring it's massaged in really well. I leave it marinate for a few hours but overnight is better. Bring it to room temperature and place it in a hot pre heated 200 deg C oven. Let it cook for about 15 mins. Remove it and let it rest for 10 mins before slicing. You can leave the garlic cloves cook for a little longer so they can caramelise.
FAT CHIPS
I used a few gigantic good ol' regular potatoes for this side dish. I washed them and sliced them into thick wedges. I tossed them in some extra virgin olive oil, lots of sea salt and black pepper. I placed them in a baking pan in a very hot 220 deg C oven and let them cook for about 45 mins. I made sure to check on them and turn them around half way through. (Just remember that 20 mins into cooking them I placed my lamb in the oven and turned the temp down to 200 C...just stagger everything and time it accordingly.)
So. Are we over lamb yet?