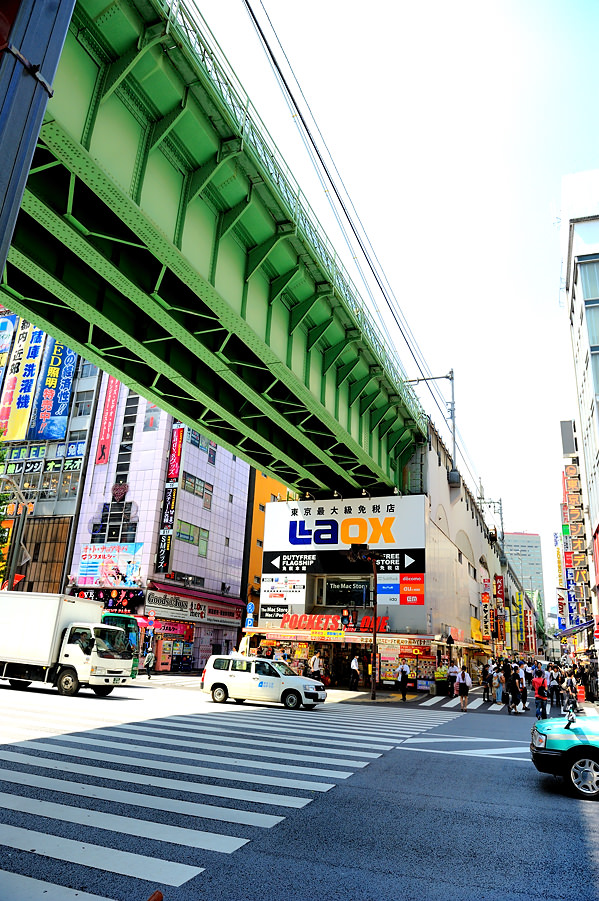 This is the first image that greeted me as I got off at Akihabara station in Tokyo, Japan. It was 40 degrees Celsius in mid August when I decided that I would finally attempt to make a day trip into Tokyo. I had been meaning to do this a number of times, and of course I chose the hottest day of the year to embark on my journey! (What on earth possessed me to wear long khaki pants and sneakers I will never know!)
I left the comfort of Narita town and proceeded on a walking tour that would take me to some of the most interesting areas of Tokyo. I walked a lot that day and walked some more.
I also spent a good amount of time navigating the Tokyo rail system. That was a feat in itself! I may have been a little "lost in translation" but I had fun.
Sit back, relax and come on a little journey as Souvlaki for the Soul takes his camera to showcase a slice of urban life in one of the world's busiest capitals.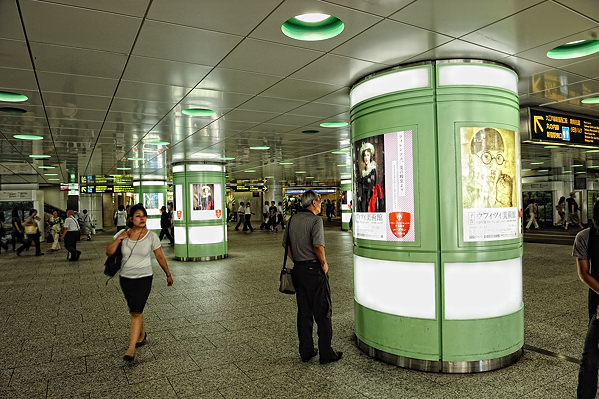 As I explained, navigating the train system can be a little challenging.  It has more to do with the number of train lines and the fact that everything is written in Japanese (funny that!).  I relied on this guide to help me out.  I downloaded the articles and saved them on my iPhone and used them as a reference point.  The rest was pure luck and some basic Japanese!
I was keen on seeing Akihabara or Akihabara Electric town, as it's renowned for being the biggest shopping area for electronic goods. A geek's paradise. Cameras, lenses, computers...it's totally an overdose and even managed to scare me.
As I was walking back to the station I was approached by this lovely lass in a maid's outfit handing out flyers to a "maid cafe". Maid cafes are quite common in this part of Tokyo. You are served tea and coffe by girls dressed as maids...a novel concept and it's not what you may be thinking! I advise you to read the link I have provided as it explains this whole concept quite well. Somehow, I don't think maid cafes will be making in appearance down under soon...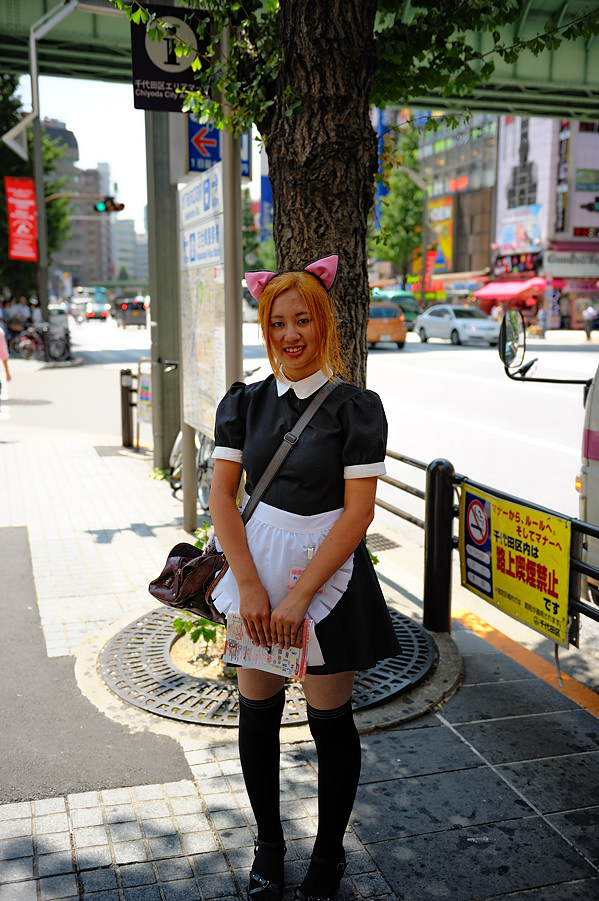 11 a.m. and my stomach is growling. I notice a van selling kebabs. I order a "Bigboy" kebab for 600 yen and have a quick talk with the owner. He is Turkish and has been living in Tokyo for the last ten years and explains how he wouldn't be anywhere else in the world. He loves the energy and the madness and advises me to "soak it all up" and enjoy myself.
Kebabs in japan?
Why yes! It was delicious! There was plenty of time to sample the local cuisine.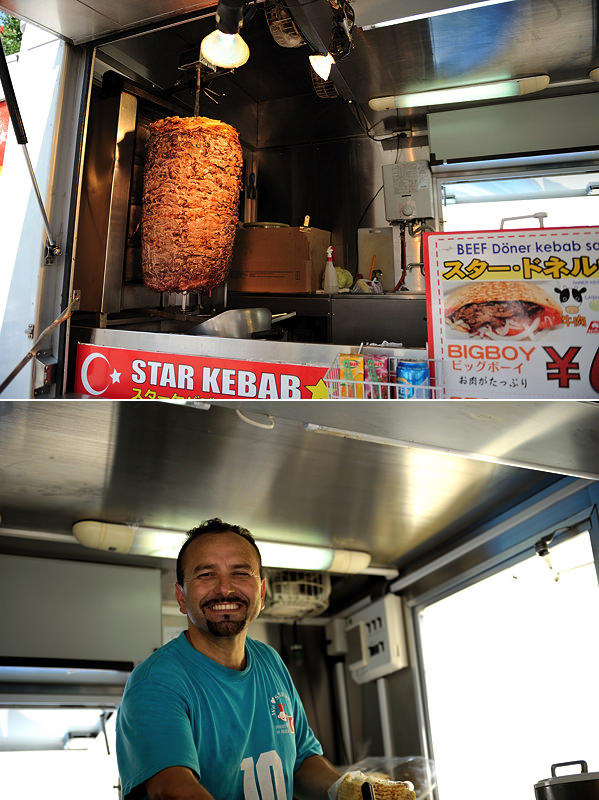 Next stop. Shinjuku. This would be my first real taste of walking and exploring. I managed to veer off the main road and find myself down an alleyway littered with tiny restaurants and bars. According to my body clock, it's beer o'clock.
A quick Asahi and it's back to the stifling heat. I'm trying to take it all in and I do find it quite overwhelming. I realise that due to the density and the amount of buildings, there is no air circulation. Beads of sweat are forming everywhere. The heat is full on but I continue. Even though it's quite congested the colours of the scenery seem more pronounced. Or is that the Asahi talking?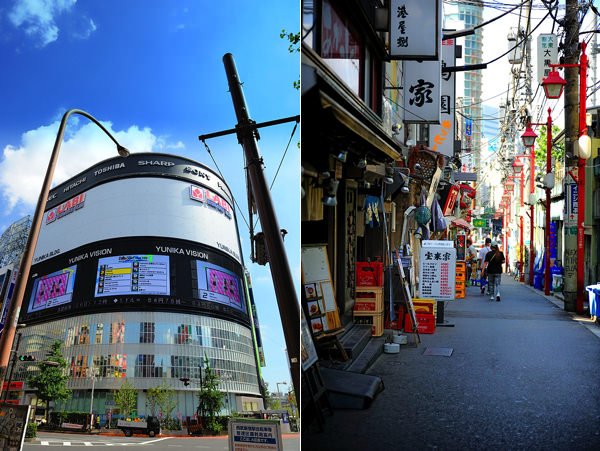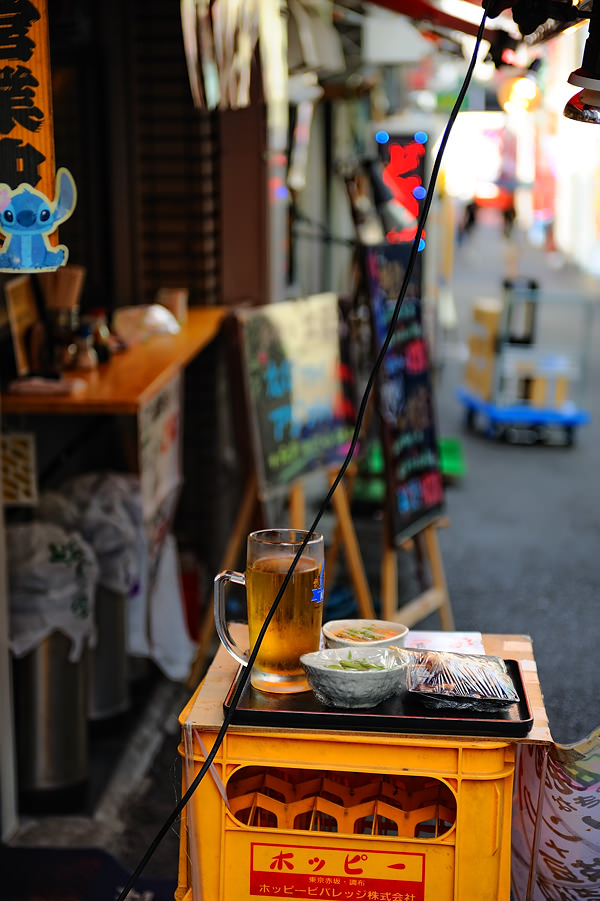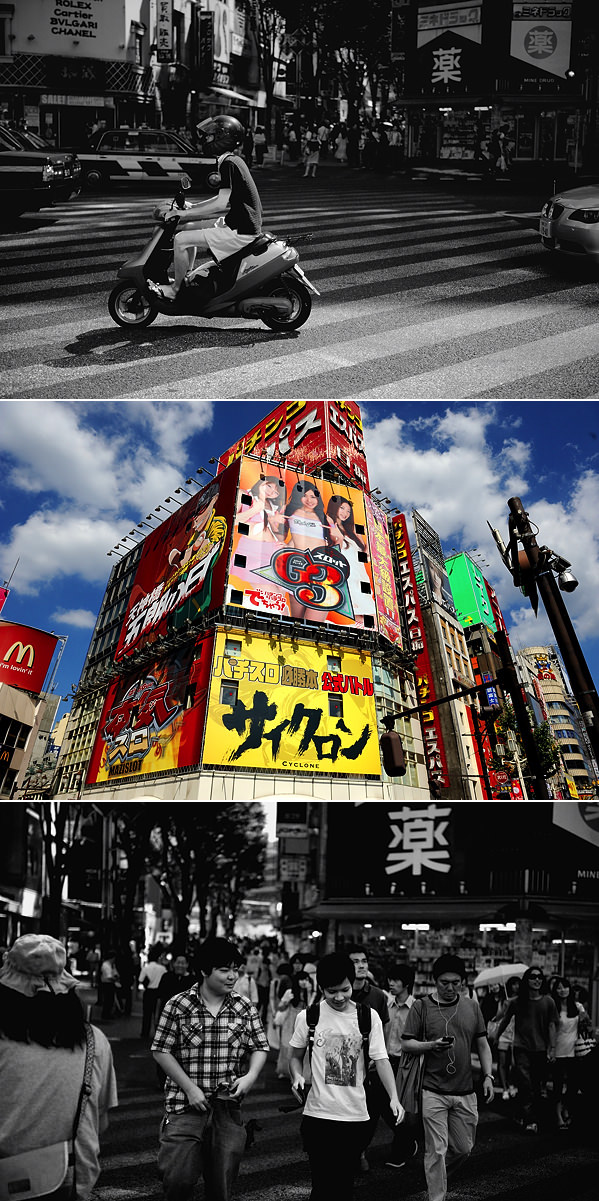 A quick train ride later I find myself in Harajuku. Harajuku is the fashion capital of Tokyo. I'm hoping to catch a glimpse of the youths who dress up as rockabillies and "Gothic Lolitas". I later learn that this ritual occurs only on Sundays. Being a Thursday I luck out.
I make my way down the famous Takeshita St. Here you will find a combination of "unusual" styling concepts catering to mostly younger Japanese girls. Think "Barbie goes punk". Anything goes really. The atmosphere here is almost carnival like. It's like a local fair on steroids! Again, there are people everywhere and this time I notice a lot more tourists (it's amazing where those guide books will take you!).
The Harajuku area of Tokyo houses a lot of local Japanese clothes and many international brands. If you're looking for something a little "individual" this is the place to find it.
I take a break and enjoy a Japanese iced coffee at Doutor. The Doutor Coffee Co are a chain of coffee shops found all over Japan. In my few days there I became quite addicted to their iced coffee. It's rich, strong and I loved how it's served with little caplets of sugar syrup and cream.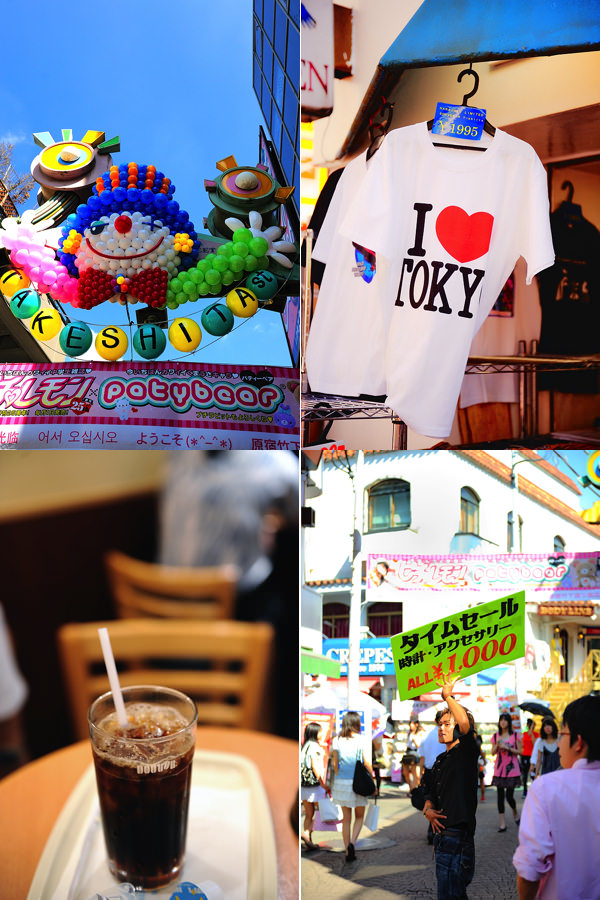 Another quick train ride and I get off at Shibuya station. In my 10 hours or so of exploring Tokyo, I spend the most time here, walking the streets of this famous shopping and entertainment area.
As soon I make my way out of the Hachicko Exit from the train station I come across one of the largest intersections surrounded by neon lights and a giant video screen playing music videos. People are crossing the street and I don't mean a "few people".
I mean hundreds and hundreds of people cross this intersection when the lights go green. I consider myself a "people person" but this is ridiculous!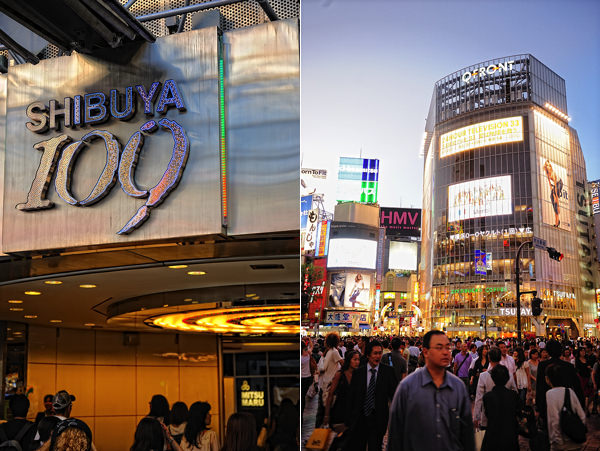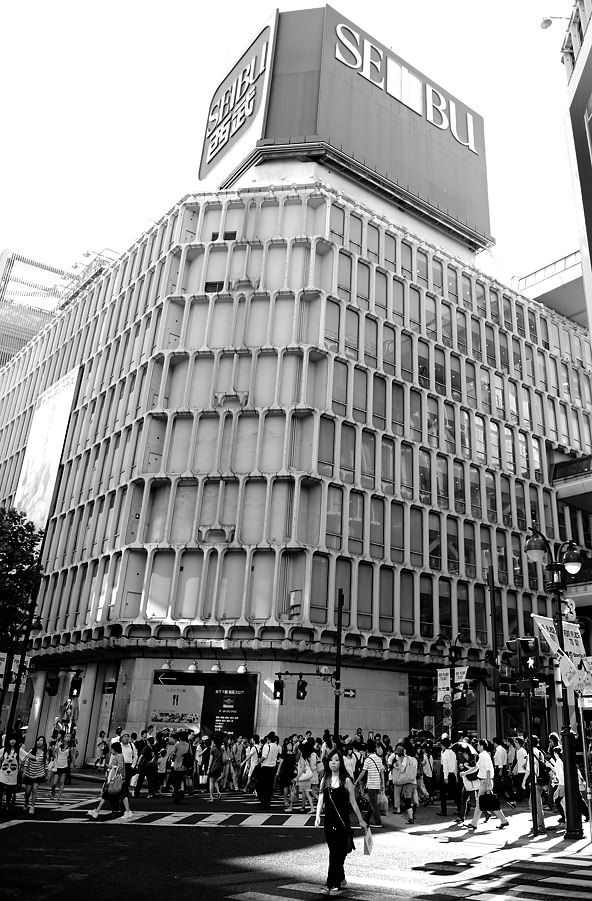 It's late afternoon now and the heat has subsided a little. My walk takes me past the two major department stores-Seibu and Tokyu. Time for a spot of shopping? Not this time. My swelling feet continue on this mammoth hike taking in all the scenery and environment. More buildings...more people.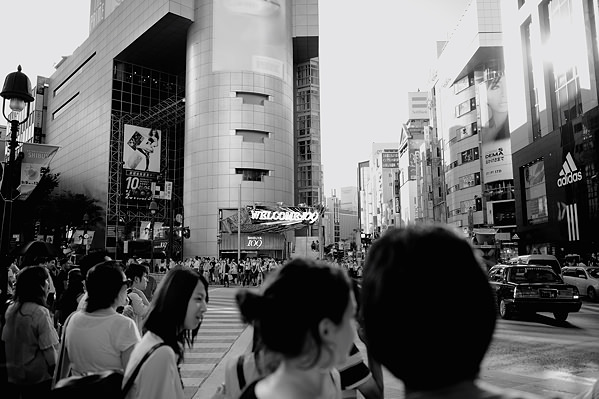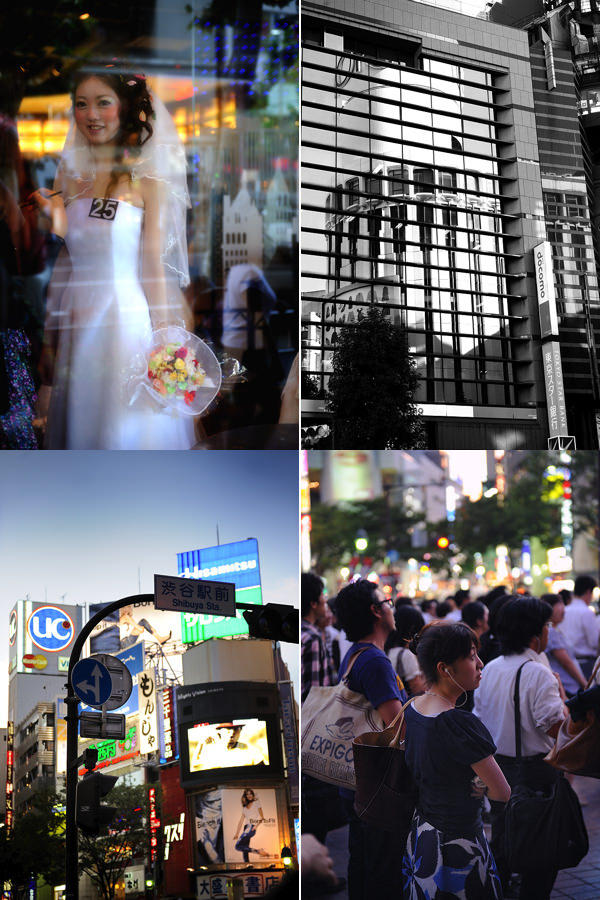 Further on I spot a fashion parade in progress and I manage to take a few snaps from outside. The models are all giggling at me as they are being styled.
I'm totally in awe at the one dressed as a geisha. She is so beautiful! She poses for the camera and manges to give me a quick wink with a little cheeky grin! Hilarious!
People watching is fun at the best of times but here in Tokyo it's a lot more colourful. Everyone I encountered was friendly and smiled for the camera.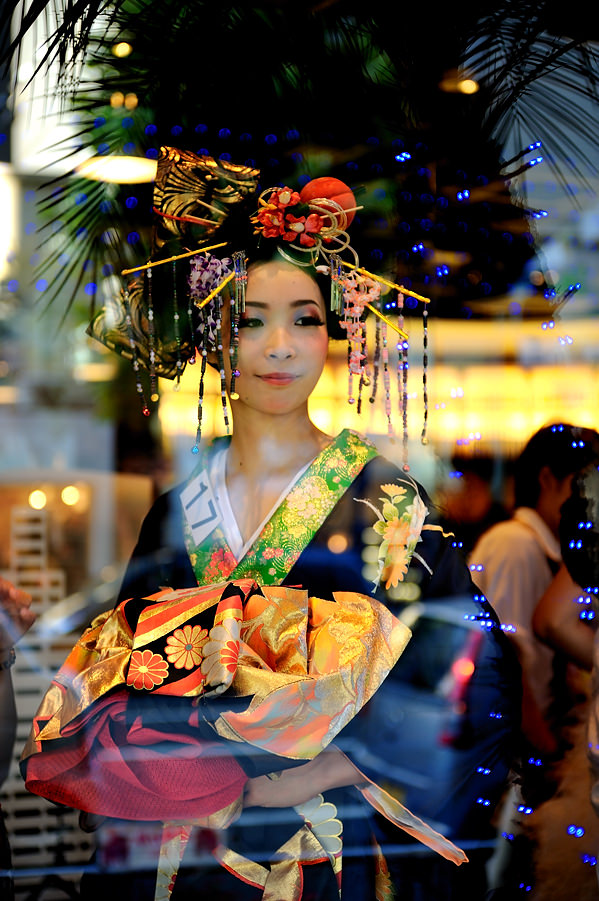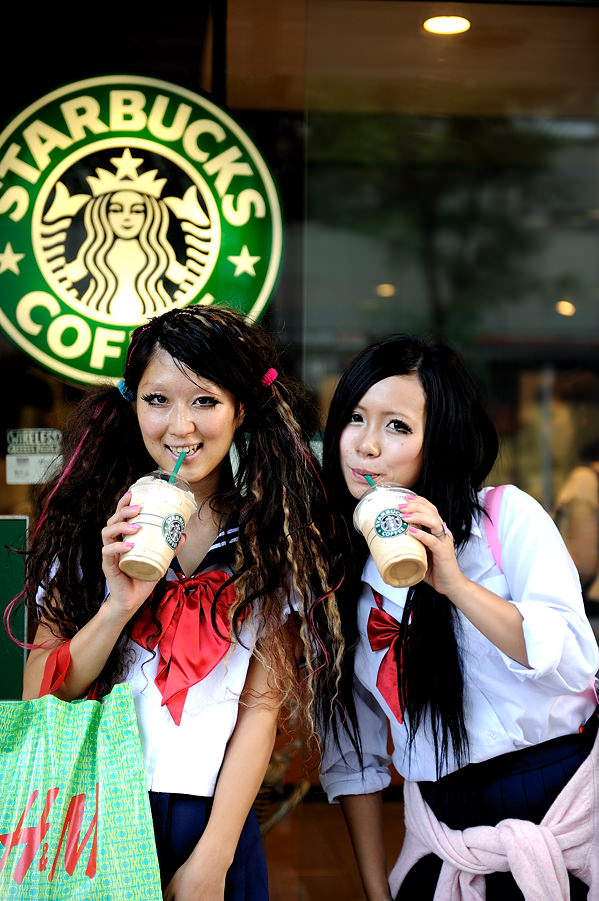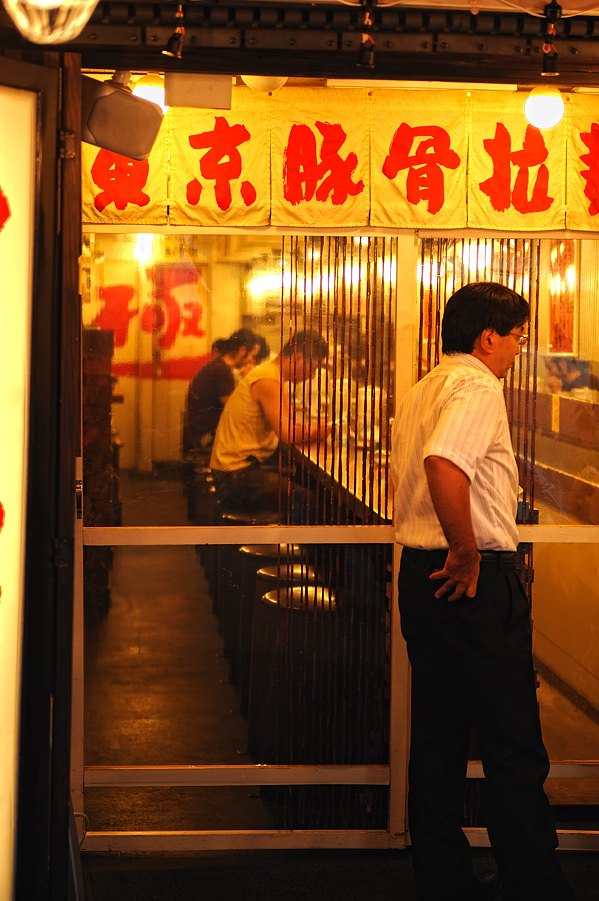 Dusk is approaching and I make my way back to Shibuya station. I'm keen to get a few shots of the people crossing the major intersection. About 250 shots later I settle on these few to give you an indication of just how busy it is and they still don't do it justice.
By now, I'm exhausted. I have (another!) train to catch and as it turns out it takes me three whole hours to get back to Narita and I'm caught right in the middle of Tokyo's rush hour!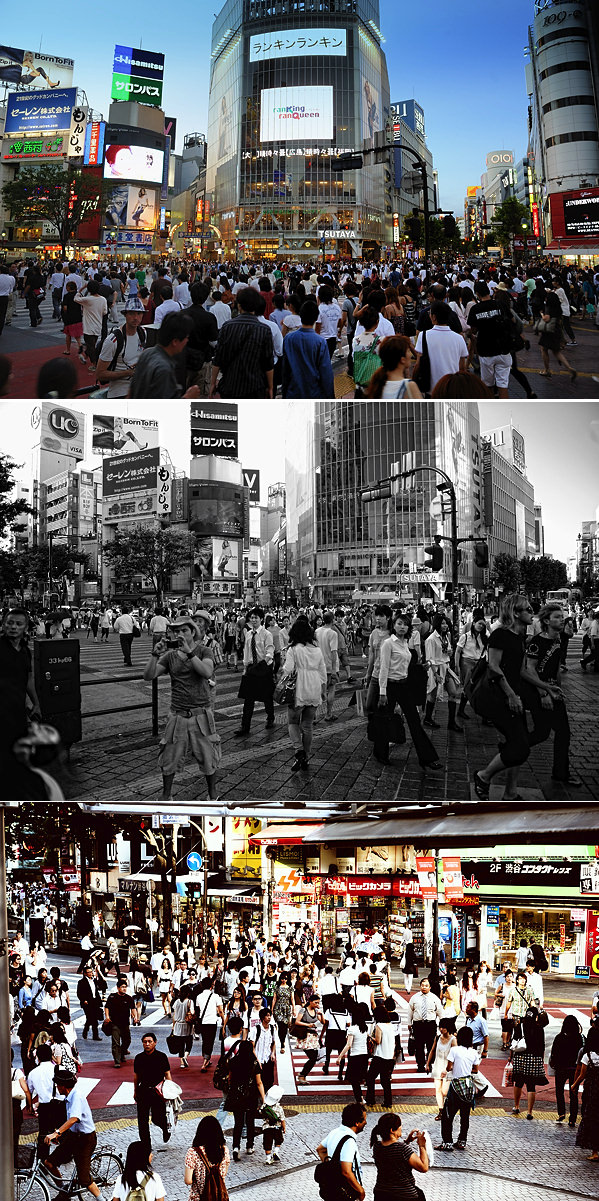 I hope you've enjoyed my little photographic "slice" of my day in Tokyo. I have another post planned that will cover a temple I visited and some fried Japanese delicacies I enjoyed.
Take care.