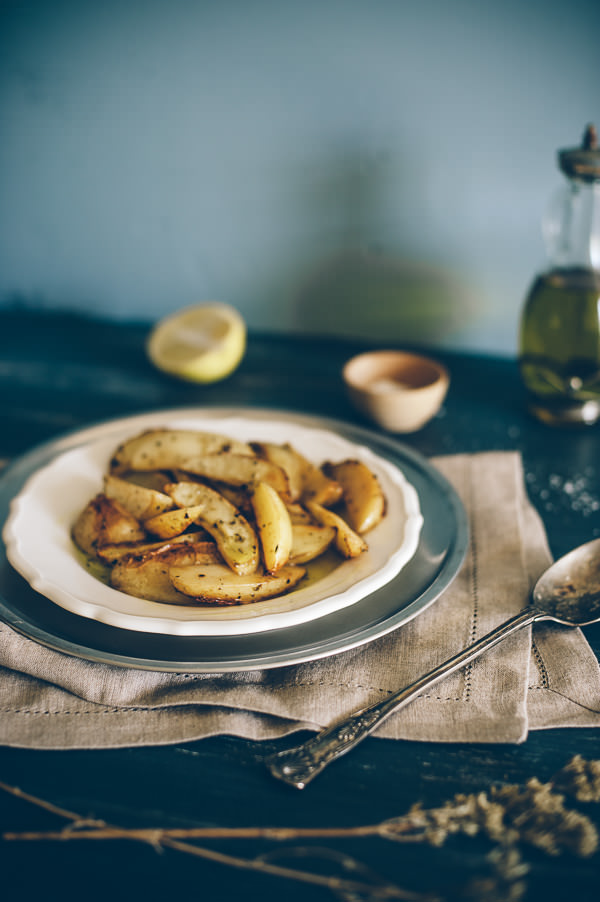 Today I present a Greek "classic".  Patates sto fourno a.k.a. potatoes in the oven.
This dish also goes by "patates riganates" and "patates lemonates".
Are we getting the idea yet?
It's basically potatoes cooked with oregano, lemon juice and olive oil.  It's a simple dish but if prepared correctly it's a taste sensation.  There's a particular kind of magic that comes into play when you combine what I refer to as the "Holy Trinity" of Greek cooking.
The oregano needs to be Greek oregano.  Yes, there is a difference.  The bland, tasteless green stuff they sell in jars at the supermarket just won't cut it.  I have a deli nearby that stocks authentic Greek "rigani".  I buy it with the stems and crumble it as I need to use it.
Make sure you have nice juicy lemons and the finest extra virgin olive oil on hand.  When it comes to choosing the potatoes, I'll leave that up to you.  I personally am not a fan of using waxy potatoes when preparing patates sto fourno.  Those potatoes are much better suited to potato salads-where they can hold their shape well after being boiled.
I also want to add a few personal observations about this dish.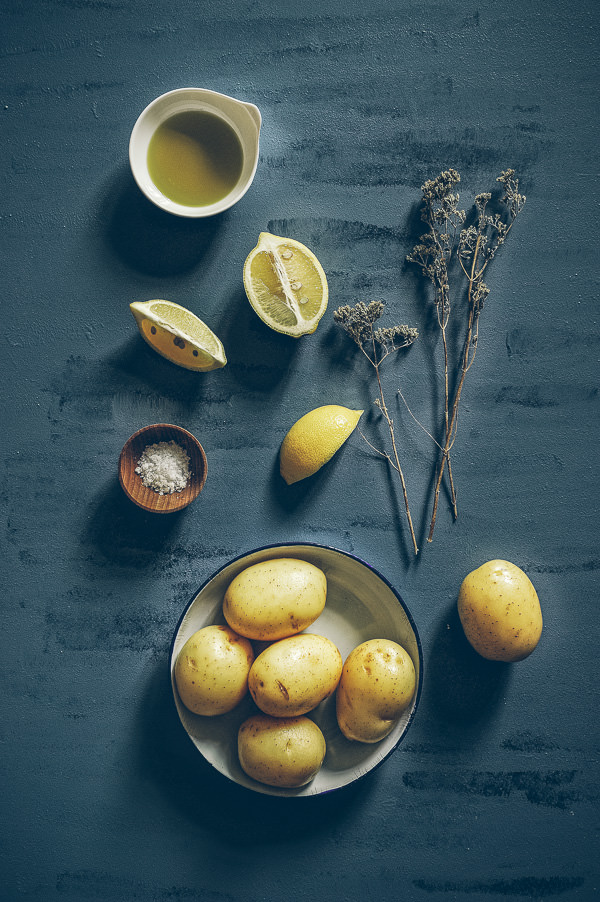 I'm sure we've all had roast spuds at one time or another in our life.  A roast just wouldn't be a roast without some kind of potato dish on the side!
These Greek style potatoes are magical when cooked alongside a roast lamb or chicken.  They soak up all the roasting juices and when you combine that with the oregano, lemon juice and olive oil the potatoes turn out slightly crisp, yet deliciously soft (but not soggy!).
Today I've gone for the "veggie" version.
I usually like to whip up a batch of these when I'm serving a "buffet style" dinner.
These are always the first to disappear!
What can I say.  People must love their spuds!
"Patates sto Fourno"
Greek style potatoes cooked in the oven
Ingredients
4-5 medium sized potatoes, washed, dried and cut into wedges
1 tablespoon of dried Greek oregano
juice of 1 lemon
½ – ¾ cup of olive oil
½ a cup of water
salt and pepper to taste
Preheat your oven to 180 deg C
Instructions
Start off by drizzling a very small amount of olive oil on the potatoes. Proceed to toss them in the oregano along with some salt and pepper.
Place the seasoned potatoes on a shallow baking pan (mine measured 10″x12″)
Pour the remaining olive oil, lemon juice and half the water in between the gaps created by the potatoes (if you pour these over the potatoes you will wash off the oregano!)
Cook for 45 mins-1 hour checking halfway through…you may need to add a little more water. Potatoes are cooked when they are pierced with a fork and feel soft and tender
Serve immediately along with some of the olive oil from the pan