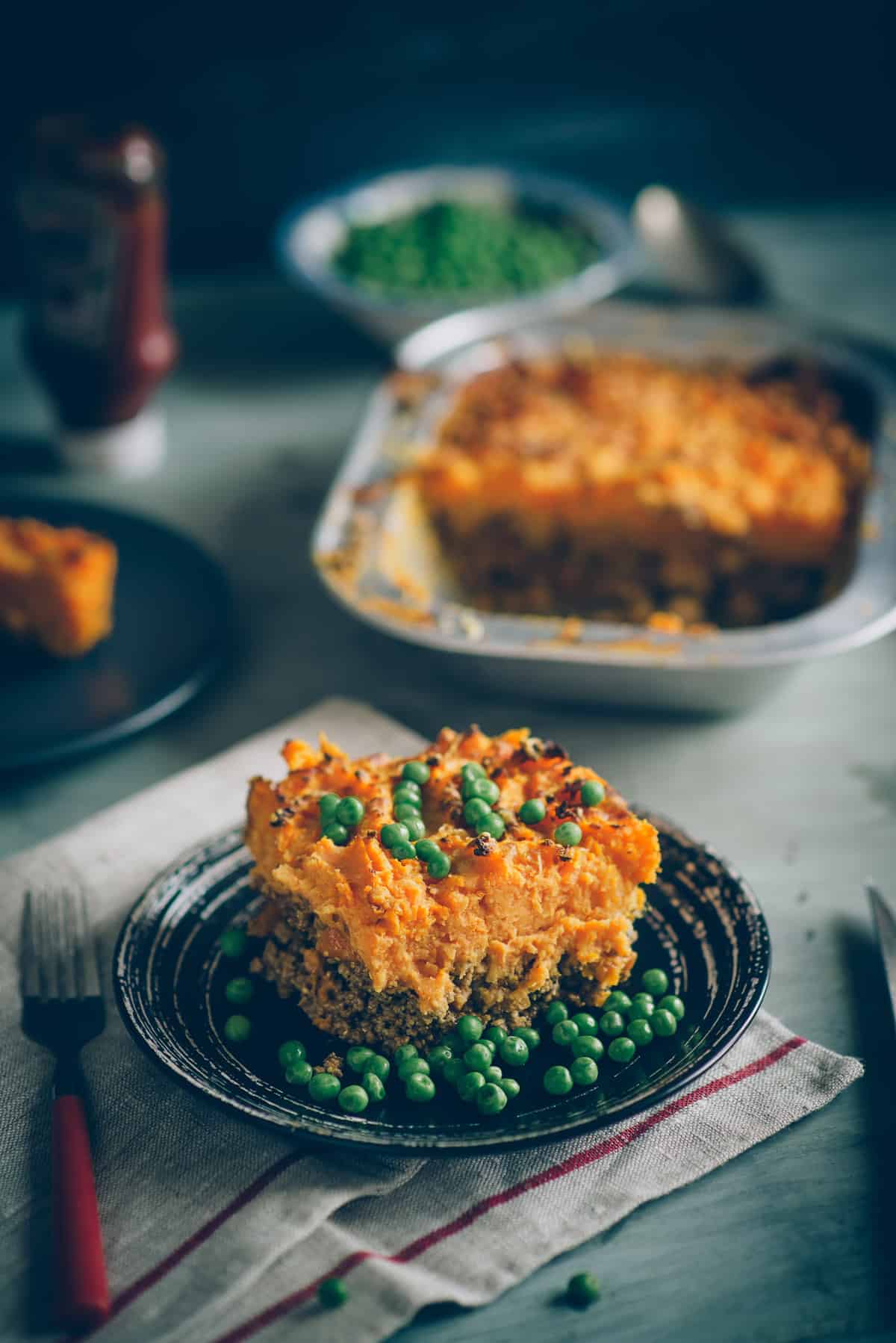 If you live in Sydney, I'm pretty sure you've had enough of seeing your umbrella over the last week or so.
It rained. It rained again. And it rained some more.
Perfect comfort food weather, in my opinion.
I've been dishing out favourites like my  cinnamon braised lamb shanks, kota me hilopites and lots of giouvarlakia!
Today I wanted to share another one of my favourites I enjoy during the cooler months.
Shepherd's pie.
Mine is probably a litle different than the "typical" recipe for shepherd's pie.
It was created by accident a few years ago when I ran out of regular potatoes and decided to use sweet potatoes as my topping.
I fell in love instantly and have been making it like this ever since.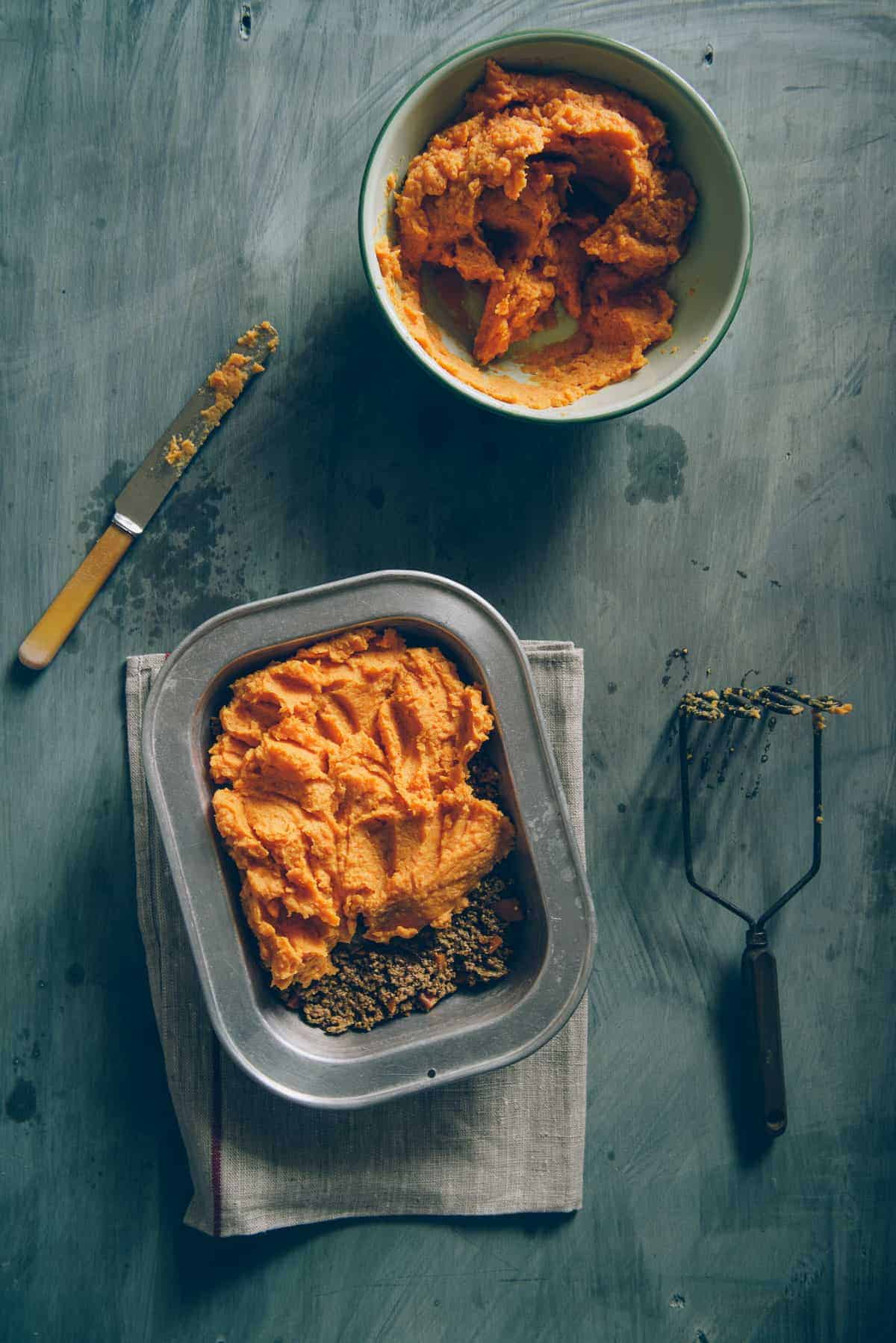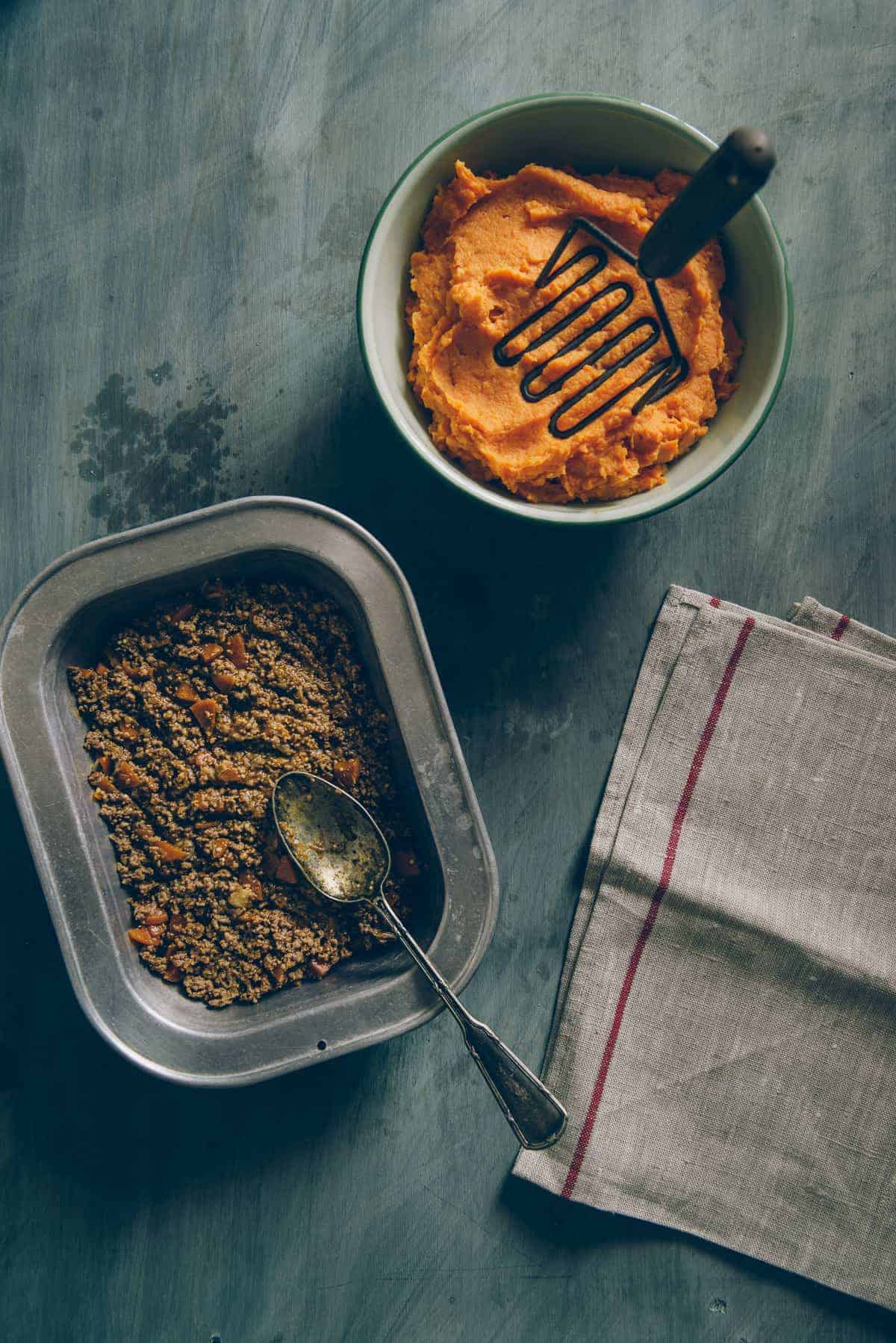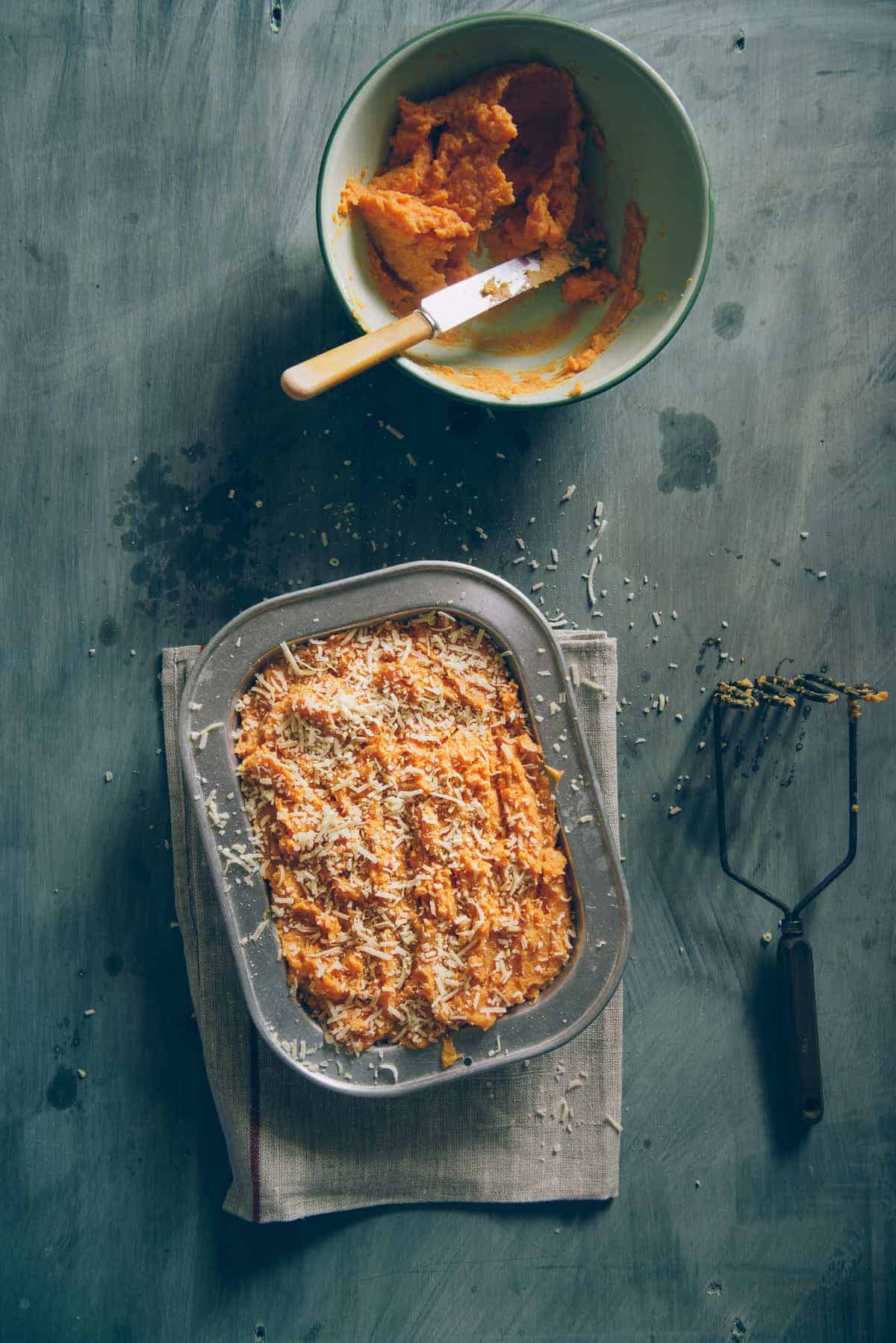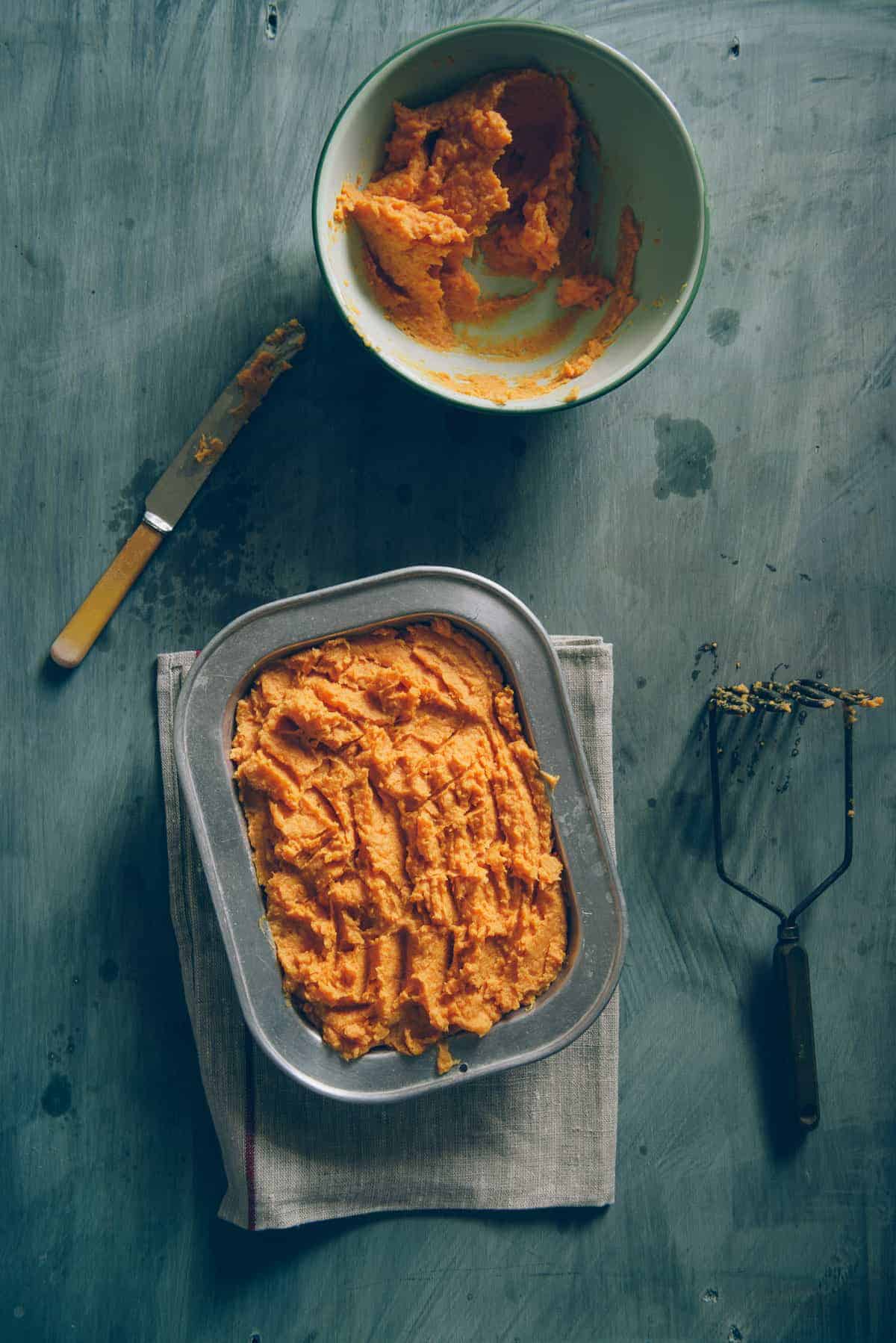 Some traditionalists may balk at this creation but I can tell you it's a lot less heavier than the regular version.
The sweet potatoes used to make the mash are mixed with butter and milk to create a very addictive, "can't stop eating" topping!
I don't like to play by the rules most of the time. (And who said you had to?).
The meat sauce is jazzed up with Dijon mustard and Worcestershire sauce. Sometimes I add carrots and peas to the meat sauce and other times I don't.
It just depends what's in the fridge. You can opt to use a lamb mince instead of beef but I prefer beef.
Again. Play it your way.
And don't forget to add some grated Cheddar on top for an added cheesy taste.
Mmm… Excuse whilst I tuck into piece number two…
I'd love to hear if you have any variations/tips/tricks when making shepherd's pie.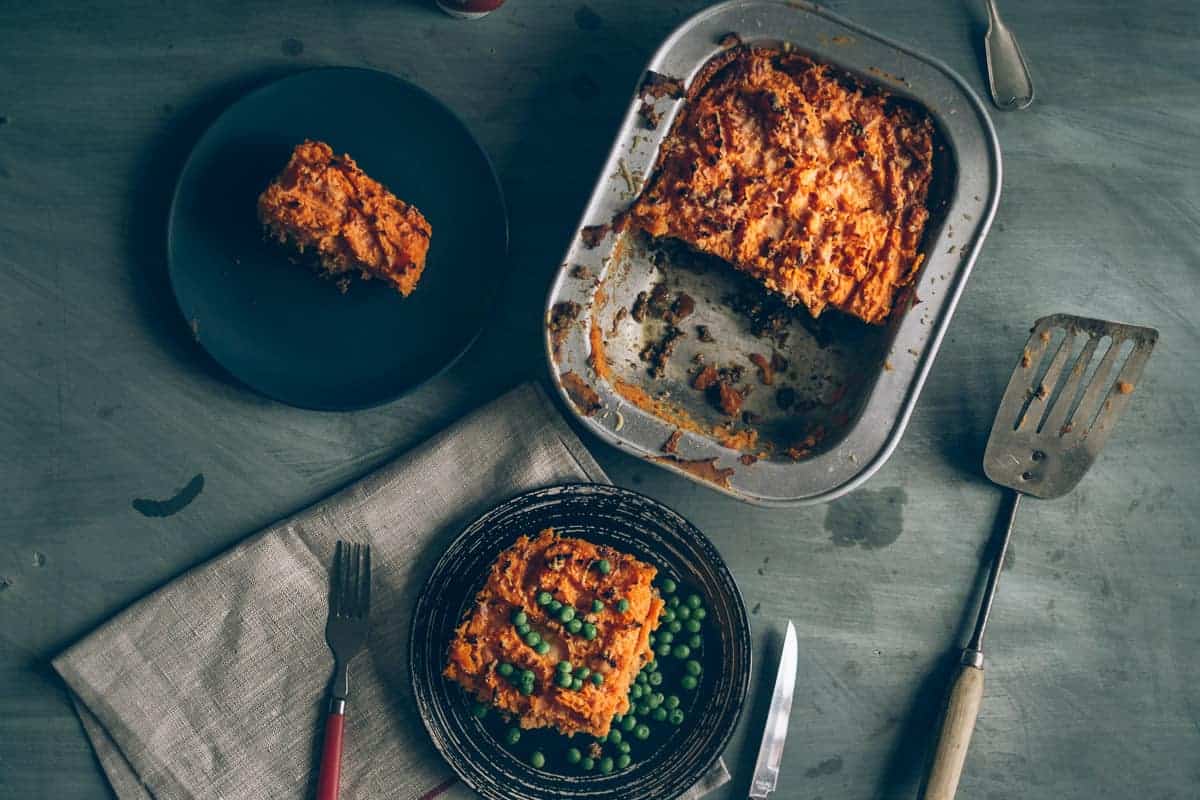 Shepherd's Pie with a Sweet Potato Topping Recipe
Ingredients
For the meat sauce:
2 tablespoon olive oil
1 onion, finely diced
1 carrot, finely diced
1 stalk celery, finely diced
500 grams beef mince
1 tbs arrowroot powder
2 tablespoon Dijon mustard
3-4 "glugs" Worcestershire sauce
1 tablespoon tomato paste
1 ½ cups beef or chicken stock
salt and pepper to season
For the topping:
750 grams-1 kilogram sweet potatoes, peeled and chopped into even chunks
50 grams butter
¼ cup milk
salt and pepper to season
a good handful grated Cheddar cheese
Instructions
Preheat your oven to 180 deg C.
Heat the olive oil on a medium heat in a medium sized pot. Add the diced onion, carrot and celery and allow to cook and soften (approx. 5 mins).
Add the mince and using a wooden break up the mixture so there are no lumps. Once it has browned add the arrowroot powder and stir well. Add the mustard, Worcestershire sauce, tomato paste, stock and seasoning and allow the meat sauce to cook for 30 mins until thickened.
Whilst the sauce is cooking boil the sweet potato for 10-12 mins until tender (do not over cook!). Drain and add the butter, milk, salt and pepper. Mash until you have a thick, smooth consistency.
Add the meat sauce to a large baking dish, spread with the sweet potato mash and top with grated cheese.
Bake for 30-40 mins until golden and allow to rest for 15 mins before serving. Serve with minted peas.