My buckwheat pita bread is another experiment in gluten free cooking. I've taken the traditional Greek pita bread and given it a slight makeover.
This was an "interesting" experiment.
The only other time I had used buckwheat flour was when I made some buckwheat pikelets earlier on this year.
I was itching to do something else and decided to try my hand at recreating the famous souvlaki pita.
Notice how I said recreate NOT reinvent?
Like I've stated on numerous occasions it's fun to play around with "good for you" ingredients and I enjoy the challenge of making something gluten free with natural, wholesome ingredients.
How did they turn out?
They were tasty however I did find them a lot more dense than the usual souvlaki pites. I definitely had to use a lot more flour than I thought I would during my cooking experiment.
Plus they were quite filling. I can usually down two souvlaki wraps quite easily but I found one to be enough.
Another thing I noticed was the pita was a little thicker than I had hoped, so next time I will roll them out a little thinner.
They puffed up perfectly in the cast iron pan and I highly recommend that you serve them warm with your desired meat and veggies.
I had a few leftover the next day so I used them as pizza bases and they were quite a hit with a friend's daughter who has recently been diagnosed as coeliac.
I think they'd also make great pita chips. Serve them up with some tzatziki and you have a great party snack.
Enjoy your weekend everyone and I'll see you next week with some more recipes.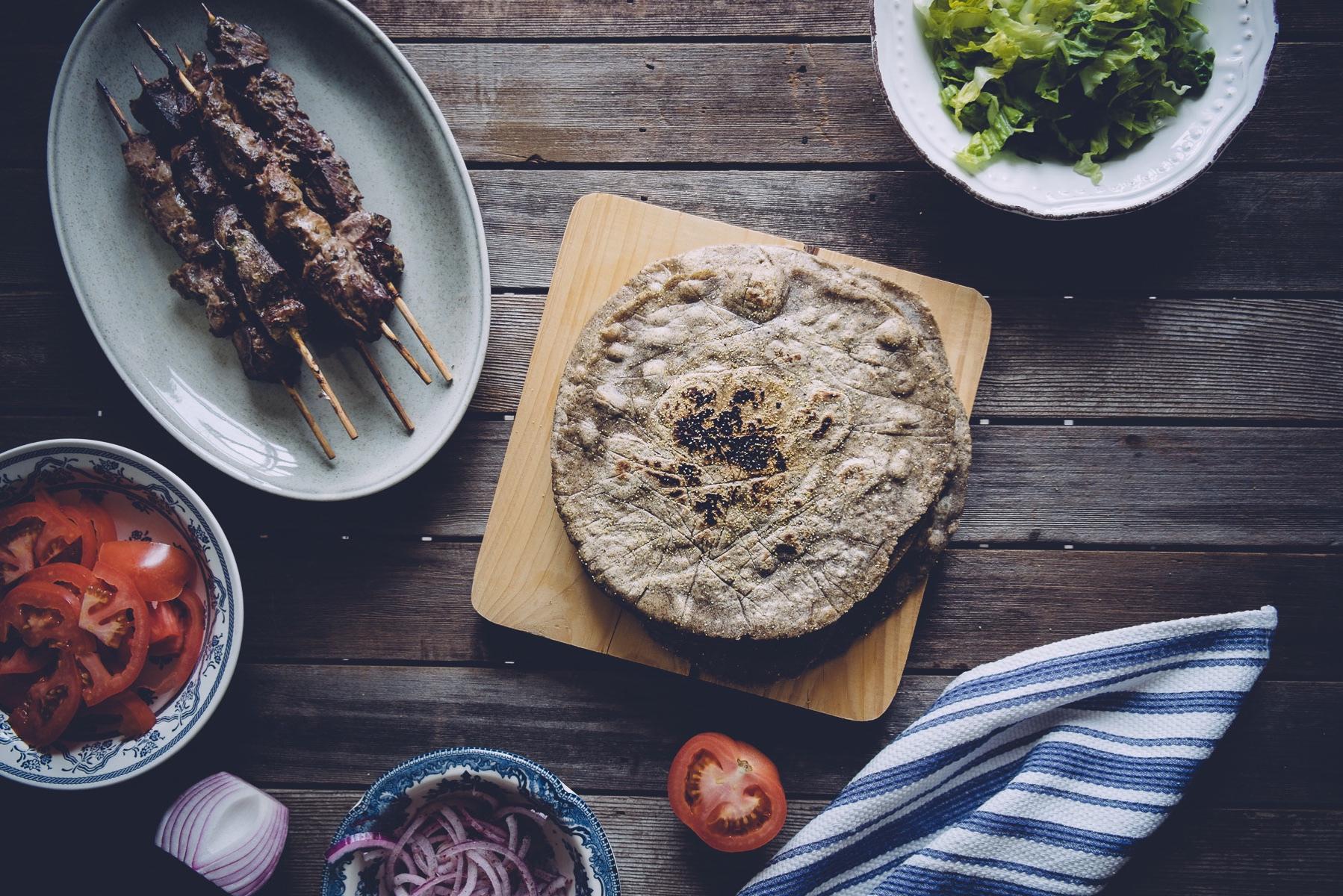 Buckwheat Pita Bread Recipe
By Peter G
Prep time:
Cook time:
Total time:
Yield: 6
Buckwheat pita bread is a gluten free version of Greece's popular pita bread made with buckwheat flour.
Ingredients
– 375ml lukewram water
– 1 x 8 gram packet dried yeast
– 500 grams buckwheat flour
– 1 tsp sea salt
– 3 tbsp olive oil
– polenta for dusting
Instructions:
Combine the water and yeast and allow the mixture to activate (approx. 10-15 mins).
Combine the buckwheat flour, salt and olive oil and add the yeast mixture. Work slowly to make a dough, cover and allow to rise in a warm spot for 1 hour.
Divide the dough into six pieces. Take one piece, shape into a flat disc and place beteween two sheets of baking paper. Carefully roll out the dough into a round pita shape approx 1/4 inch thick. Pierce the dough with a fork a few times and dust lightly with polenta.
Heat up your 10″ cast iron pan and brush with olive oil. Cook the pita for a few mins on one side until puffy and repeat on the other side.
Fill them up with your desired meat and vegetables and serve immediately. Alternatively you may put them into the fridge wrapped in foil and they can be reheated the next day in the oven.
Notes:
I used a 10 inch or 25cm cast iron pan to make these pittes. If you're using a smaller one adjust the size as you roll them out.
Nutritional Info:
(per serve)