Ouzo and lemon biscuits will become your new favourite treat. Serve them with a coffee or with some ouzo poured over ice.
I realise my recipe and Greek food archive is a bit of a mess.  I'm currently working on fixing that and I'm hopeful to have this organised by the end of the year.  In the mean time, I don't think that adding another biscuit recipe to the archive will hurt!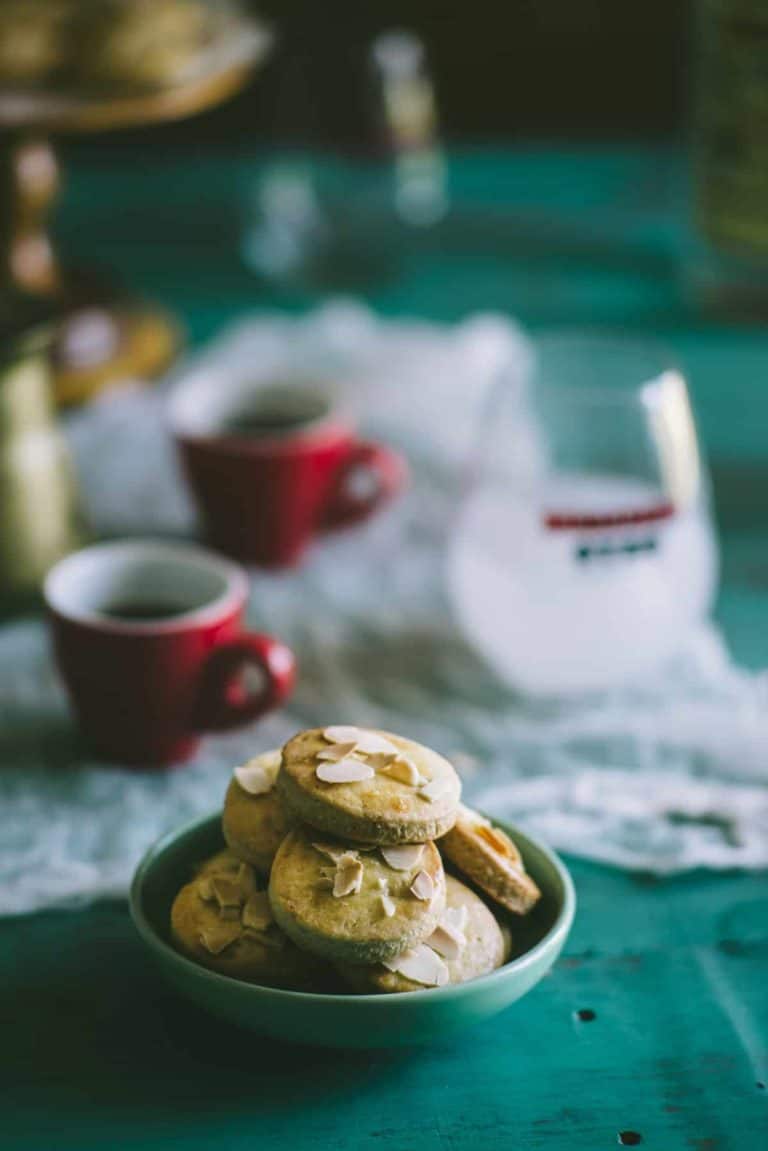 This is my final recipe that I'm producing for Australia's number one ouzo - Barbaresso Ouzo.  I feel quite happy to have workshopped a few ideas that will perhaps help you see ouzo in a different light.  I don't want to sound like a broken record (but it's inevitable I will!) don't be afraid to use ouzo in your kitchen.  Ouzo is bold enough to star in a cocktail and strong enough to lend the right flavour to a stunning cake.
Today's recipe marries ouzo with a little lemon, a touch of aniseed and a good helping of olive oil.  I couldn't think of anything more Greek than that!  This "perfect" trio help makes these ouzo and lemon biscuits a real treat.
Although not quite as "toothy" as shortbread, they still hold well on their own.  My only real issue was the topping.  My initial idea was to cover them in sesame seeds but I didn't have any on hand! (I still think this would work the best).  I tried rolling them in poppy seeds but found the favour "not quite right".
Finally, I settled on some flaked almonds which added a nice texture and crunch, once cooked in the oven.  Serve them up with a Greek coffee and some ouzo on ice and have yourself a complete Greek treat!
Enjoy!
Scroll down for the ouzo and lemons biscuit recipe.
Ouzo and Lemon Biscuits Recipe
Ouzo and lemon are the perfect pair in these biscuits. Topped with flaked almonds they are crunchy and a little aromatic. One to serve with coffee.
Ingredients
120ml olive oil
120g caster sugar
2 eggs
80ml Barbaresso Ouzo
1 tsp ground aniseed
1 tsp good quality vanilla extract
zest of 1 lemon
380g plain flour
1 tsp baking powder
flaked almonds or sesame seeds
Instructions
Preheat your oven to 180 deg C and line a baking tray with baking paper.
Combine the olive oil, sugar and eggs in a bowl of a stand mixer and beat until light and fluffy (approx. 2 mins)
Add the ouzo, aniseed, vanilla and lemon zest and stir to combine again. Add the flour and baking powder gradually until a smooth dough forms.
Roll the dough out between two sheets of baking paper measuring approx. 1cm thick. Using a 5.5cm cooke cutter, cut out little rounds and place on lined baking tray. Repeat this process until you end up with 30 biscuits.
Brush a little beaten egg on top of each biscuit, top with flaked almonds and bake for 15 mins. until golden. Allow to cool before serving up with ouzo and Greek coffee.
Souvlaki For The Soul would like to acknowledge its partnership with Barbaresso Ouzo for this sponsored post. The recipe above was created, developed and photographed by Souvlaki For The Soul using Barbaresso Ouzo.