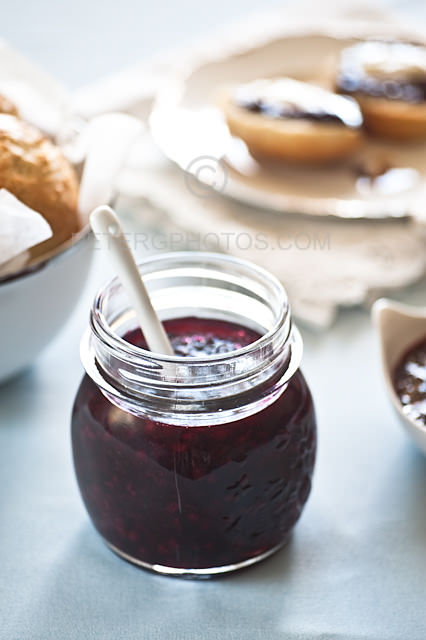 Sorry but this is another "summer fruit" post!
I've had this in my backlog of recipes and I really wanted to share it with you.  I promise there will be some savoury stuff soon.
What I like about this recipe is how easy and quick it is. I've been going mad buying all sorts of berries and stone fruits.  As usual I ended up with way too many and I thought making a jam would be a great way to utilise them.
So I thought I would share a blackberry jam recipe.  Actually, this is really, really good!
I didn't bother with sterilising jars (you could if you wanted to) so the shelf life of this jam isn't long.
I ended up making a batch of scones to use it on.  Then I had it on toast, English muffins...even as a topping for some good quality vanilla ice cream.  The thickening agent is actually corn flour a.k.a. corn starch.
I've adapted this blackberry jam recipe from here and as usual, changed just a few things to make it my own.  The original recipe called for "Creme De Cassis", that beautiful blackcurrant flavoured liquer.  I didn't have any on hand but I think it would have made it even better.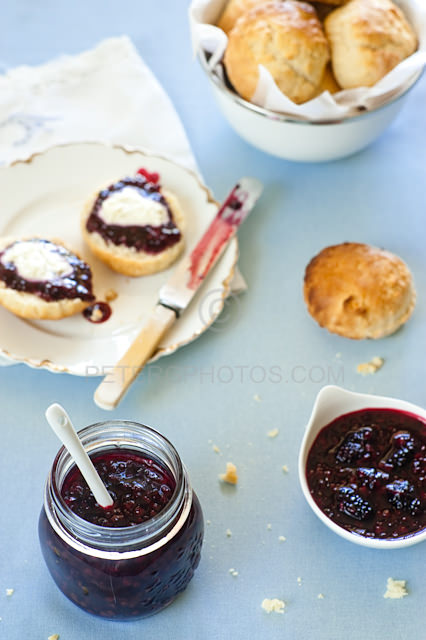 BLACKBERRY JAM RECIPE
2 punnets of freshly washed blackberries
½ a cup of water
¾ cup-1 cup of sugar (this can vary depending on taste and sweetness of berries)
juice of half a lime
¼ cup of lukewarm water
1 heaped tablespoon of corn flour
Combine the berries, water, sugar and lime juice in a non reactive pot over a low-medium heat.
Allow to cook for about 10 mins.  The berries will have softened and everything will be a lovely deep red colour.
Using a fork, mash the berries completely.
Whisk the corn flour with the water to make a paste.
Add the paste to the berries mixture and stir vigirously.
Turn up the heat to high and cook for a couple of minutes, continuing to stir (be careful of the splatters!)
Remove from heat and allow to cool completely.
*The mixture should be thick and  have a "jam like" consistency.  Store in an air tight container and use within ONE week*